InboundCon is almost a month away! It's been a wild ride getting everything scheduled and prepared for Canada's Largest Inbound Marketing Conference. This is the 3rd year Powered by Search has hosted InboundCon and let's just say we stepped it up a notch 😉
This year InboundCon will be hosted on Thursday, October 8 at the Jane Mallett Theatre in downtown Toronto.
Just before I get into all the juicy details about InboundCon 2015, I wanted to give you a heads up that although our Super Early Bird tickets are all sold out we are still offering Early Bird tickets at a ridiculously affordable price.
Get a full day of presentations, an all-inclusive breakfast, lunch, snacks and a big after party all for one low price.

So you want to know more about InboundCon?
Well the first thing you should know is, InboundCon is definitely not your typical conference. Don't get me wrong we want you to learn a bunch, but we also want you to have a blast doing it. 
The conference is what we call "fluff-free" and will only provide you with actionable information you can take home and immediately apply to your marketing efforts the next day. We want InboundCon to be the go-to digital marketing conference in Canada where once a  year attendees can soak in a wealth of knowledge from some of the industries most brilliant marketers. 
If you don't believe me. Check out what last year's attendees had to say…
What marketing topics will be covered?
If you're in a marketing related position you would know that all marketers need to know a little bit about ALOT of different things. When it comes to digital marketing there are so many different topics to cover and it's very difficult to be an "expert" in all of them. We realized this and thought instead of focusing on one marketing topic like most conferences do, let's cover as many topics as possible in one day.
This year you will learn about over 10 different marketing topics all in a single day. These topics include: search, social advertising, content marketing, full-stack marketing, growth hacking, landing pages, inbound marketing, conversion optimization, ppc advertising, digital marketing and more.
What's on the agenda?
Since InboundCon is a digital marketing conference we thought, "why would we have paper agenda's?" It just didn't make any sense to us. So this year you can access the agenda 24/7 on your mobile device by visiting inboundcon2015a.sched.org/mobile. You will also be able to view this year's speakers and bios, the attendee list, sponsors, a map to the venue and the full breakfast, lunch and snack menu.
Tip: To easily access the mobile agenda follow these simple steps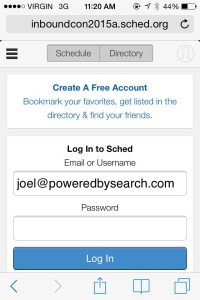 Update your profile with your headshot,  bio,

facebook

and twitter.

If you are using an

iPhone

you can click the box with the arrow at the bottom of your screen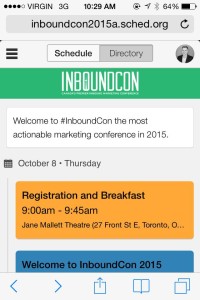 Then you can select "Add to Home Screen" to easily access the agenda anytime.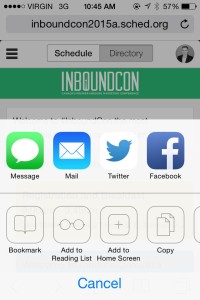 What will I learn?
So now that you know what topics we are covering let's discuss everything you will learn this year (this is the part your boss want's to know about 🙂
If you have ever been a speaker at InboundCon in the past, you will know that we are very strict on what we allow our presenters to include in their sessions. Don't you hate it when you listen to a keynote and the points you got from the talk can easily be found for free in a blog post online? We really make an effort to avoid this.
All of our sessions this year include actionable tips, tricks and strategies from 14 brilliant speakers. You will get the opportunity to experience 9 actionable sessions, 1 full-stack panel and 1 fireside chat all in a single day.
Here's a preview of four of the eleven sessions this year…
Getting Your SEO House In Order
Before you should ever consider link building or any other offsite SEO tactic, you need to have your own site optimized first. Jon will cover onsite SEO best practices, including site structure, modern coding techniques, page speed, structured data (e.g. schema.org) and how to properly build a responsive, mobile-friendly site for search engines.
The 12-Step Landing Page Rehab Program
Think you're marketing is awesome? Most marketers do, however accepting that you have a problem is the first step to recovery. In this session Oli will show how to design a high-converting campaign using landing pages and campaign experience optimization. Anyone running campaigns through paid search, email marketing, and social will learn 12 things they might be doing wrong and how to fix them. And for the first time, Oli will be sharing brand new Unbounce data that tells conversion stories never heard before.
How to Become a Marketing Super-Freak
Is it possible to turn your marketing ship around in 6 months or less? Learn how to shed your bloated marketing practices and take on high intensity training that will push the limits of your team and creative thinking to take your marketing to the next level. Learn where your marketing is broken and how to fix it starting today.
A Fireside Chat With Sean Ellis
Sean Ellis will be discussing future trends in growth hacking, its impact on startups and SMBs alike, and some of his biggest learnings along the way! Moderated by aspiring growth hacker and Director of Strategy at Powered by Search, Tiffany daSilva.



Who's Speaking at InboundCon 2015?
You don't need to highlight the speakers that look interesting. Why is that? Because they are all interesting… no seriously. We are so lucky to recruit such incredible talent this year for your eyes only. Since the conference is only one day we did our best to jam pack it with as many brilliant speakers as possible.
Here is a preview of some of the speakers that make InboundCon possible…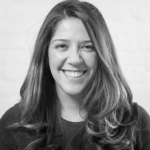 Tiffany daSilva is the Director of Digital Strategy at Powered by Search. She's worked on over 300 websites and with multi-million dollar budgets, driving results such as increasing PPC conversions by 800% and increasing blog traffic from 1 to 4 million.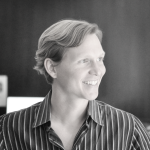 Mark Sullivan is the Director of Partnerships at CallRail. He has worked in online marketing at various companies since 2006. Mark spends most of his time educating SMBs and marketing agencies on how to better analyze marketing metrics to extract meaningful insights.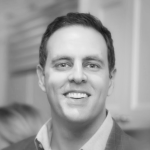 Yoav Schwartz is the CEO and co-founder of Uberflip. With over a decade of experience in product development and marketing, he knows what customers want and consistently delivers. Yoav is also a powerful speaker, advisor and thought leader in the technology space.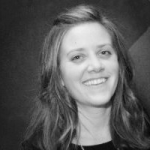 Jaclyn Jordan is a Senior Paid Search Strategist at WordStream. She has experience managing over 200 international accounts across more than 25 industries. Her past speaking engagements include SMX Advanced 2014 and SMX West 2015.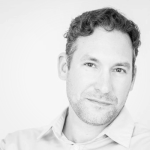 Matthew Hunt is the COO & Partner at Powered by Search. He has spent the last 8 years obsessed with digital marketing and has had the opportunity to help brands like Fedex, Rogers, Remax, and Valvoline with their digital marketing.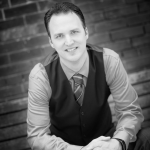 Chris Stolz is a Senior Analytics Implementation Consultant at Ensighten. He has spoken and taught workshops to fortune 500 companies on Internet Marketing Strategy, Content Writing and Advanced A/B Testing and Dynamic Content Techniques. Chris specializes in real world conversion rate optimization with a practical approach.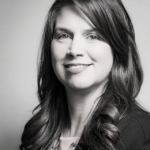 Shannon Dougall is the Director of Marketing at Shift CRM. She had been compared to a Swiss Army Knife, using her experiences and learnings towards an all-in-one type of customer acquisition that includes storytelling, blogging, lifecycle marketing, digital marketing, SEO, paid advertising, email marketing, and analytics just to name a few.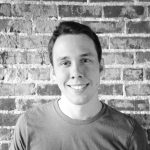 Jon Cooper is a link builder & author of Point Blank SEO, a link building blog. Through the blog, Jon runs an agency helping in-house teams consistently acquire quality links at scale.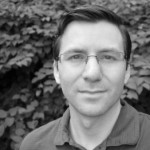 Jason Kotenko runs the platform at Zapier. He is used to wearing many hats at previous roles at Milo, eBay, and others. Jason can make the technical components of a marketing strategy work together seamlessly.
View last year's most popular rated session from Chris Stolz on Optimization Advice You'll Actually Use
What will I walk away with?
It's not always easy to absorb all of the information from 6 hours of lectures. It's also not always easy to type or write notes all day. We realize this and wanted to make your lives a bit easier.
So we have arranged all of the best note takers from the Powered by Search team to assist you by writing your notes for you. All notes will be sent to you in PDF format at the end of the conference, so you can relive your experience at InboundCon 2015 again and again.
Not only are you going to walk away with perfectly written notes from all our sessions, you will also leave InboundCon with all of our speakers' decks and worksheets / checklists from selected sessions.
Once your boss sees all the "marketing gold" you're going to bring into the office the next day they won't think twice about sending you to InboundCon 2016 😉 .
To remind you of InboundCon 2014, check out Dev Basu's deck on Storytelling in a Digital World.
Who will be there?
One of the best parts about going to a conference is meeting all the incredible people that share the same passion as you. When you are able to walk into a room filled with talented marketers you have never met before, or reconnect with old friends you haven't seen in years, there's no better feeling.
InboundCon isn't just the perfect place to meet new marketing friends. It's also a fantastic opportunity to gain new leads and opportunities for your business or startup.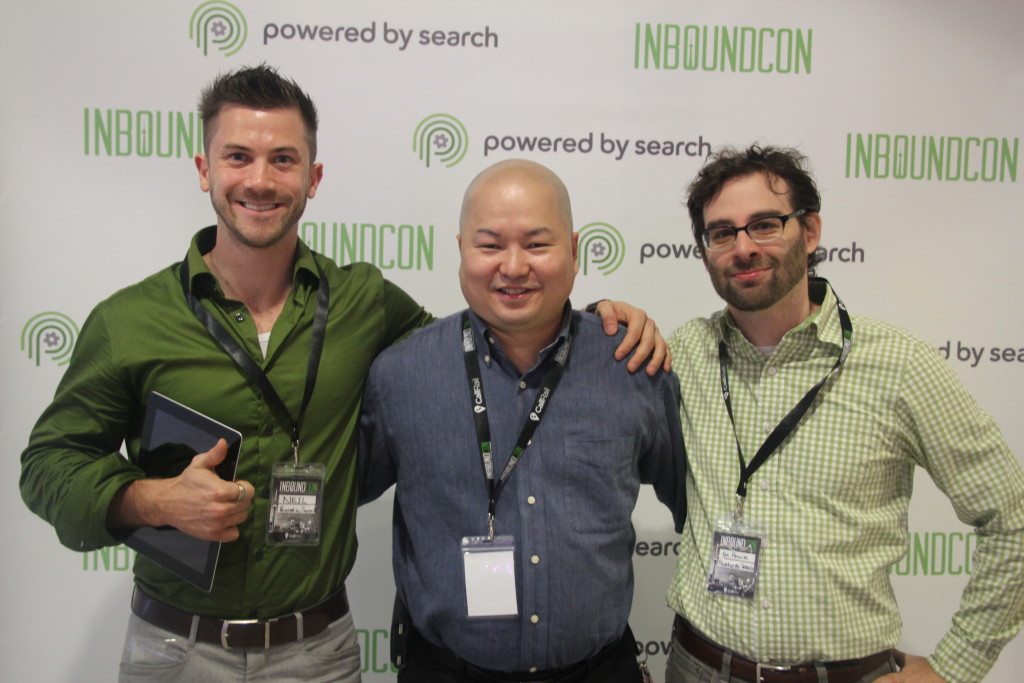 You can expect to see…
CEOs

Marketing VP's

Marketing Directors

Marketing Managers

Marketing Strategists

Paid Search Specialists

Small & Mid-Market Business Owners

Startup Founders
and plenty of people that are just looking to learn more about digital marketing.
We have had past attendees from companies such as…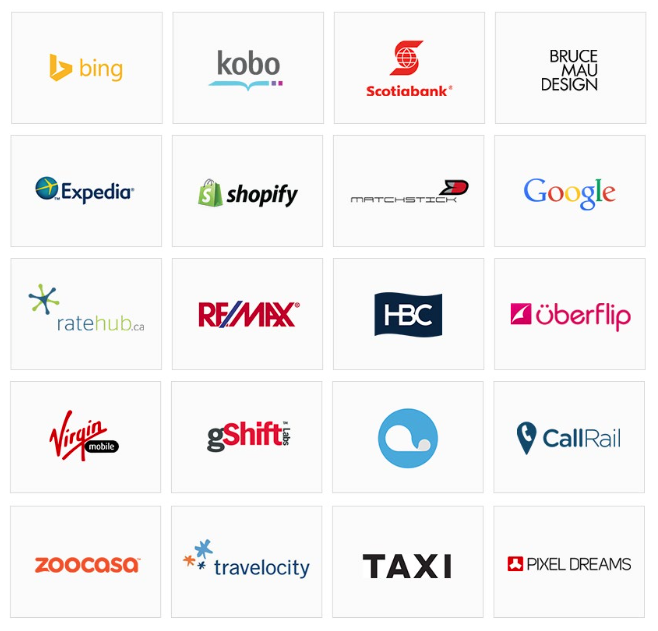 InboundCon Perks (NEW to InboundCon 2015)
Every year we have new companies that are eager to associate themselves with Canada's Largest Inbound Marketing Conference. This year we convinced a bunch of marketing related companies to give you some incredible discounts.
Here are some of the great perks we got for you…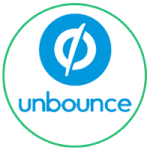 GET 50% OFF UNBOUNCE FOR 3 MONTHS & SAVE UP TO $300
About: Unbounce is the most powerful landing page for marketers. Build, publish and test landing pages without I.T.
GET THE PERK >>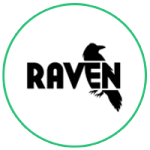 50% OFF ONLINE MARKETING TOOLS FOR 3 MONTHS
About: With Raven you can end the tedium of monthly reports, impress clients when you show them where their campaign stands and X-ray anyone's website for technical SEO issues.
GET THE PERK >>
GET A FREE RIDE TO INBOUNDCON 2015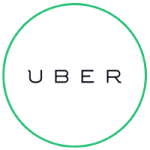 About: Uber is evolving the way the world moves. By seamlessly connecting riders to drivers through our apps, we make cities more accessible, opening up more possibilities for riders and more business for drivers. From our founding in 2009 to our launches in hundreds of cities today, Uber's rapidly expanding global presence continues to bring people and their cities closer.
GET THE PERK >>
What will be on the menu?
You might be planning on bringing your own breakfast and lunch because of what you were served at another marketing conference. Don't worry, we got you covered.
You won't be seeing dried out bread and processed cheese at InboundCon 2015. We make an effort to be a lot classier than that.
This year's menu!
Breakfast
Hot Breakfast Sandwich (English Muffin, Scrambled Egg, Bacon, Cheddar, Smoked Tomato Ketchup)

Breakfast Cookies

Banana, Dates, Rolled Oats, Dark Chocolate, Dried Cherries, Flax Seeds, Chia Seeds

Fresh Fruit Display

Mini Croissants & Mini Muffins

Mini Cinnamon Bun Lollipop with cream cheese frosting
Lunch
Mini Beef Burger on a Sesame Brioche Bun

Root Vegetable Chips

Tuna, Crab & Salmon Sushi Roll

Quinoa Sushi

Closed Face Sandwiches on Mixed Breads, Wraps, Baguettes (may include: Tuna Salad, Egg Salad, Roast Beef, Brie & Cranberry, Grilled Vegetable with Goat Cheese & Pesto, Curry Chicken Salad)

Gluten-Free Closed Face Sandwiches

Pissaladière: French Pizza-Style triangle Puff Pastry, Tomato, Black Olives, Onion & Goat Cheese

Garden Green Salad: Romaine, Leaf, Boston Lettuces, Tomato, Carrots, Red Pepper, White Balsamic Vinaigrette

Whole Wheat Bowtie Pasta Salad: Zucchini, Spinach, Mushrooms, Red Onion in a Creamy Parmesan Dressing

Cookies, Assorted, Nut-Free
Snack
Popcorn! Including flavours like Bacon and Cheddar, Ranch, Pizza, Choco Peanut, and Caramel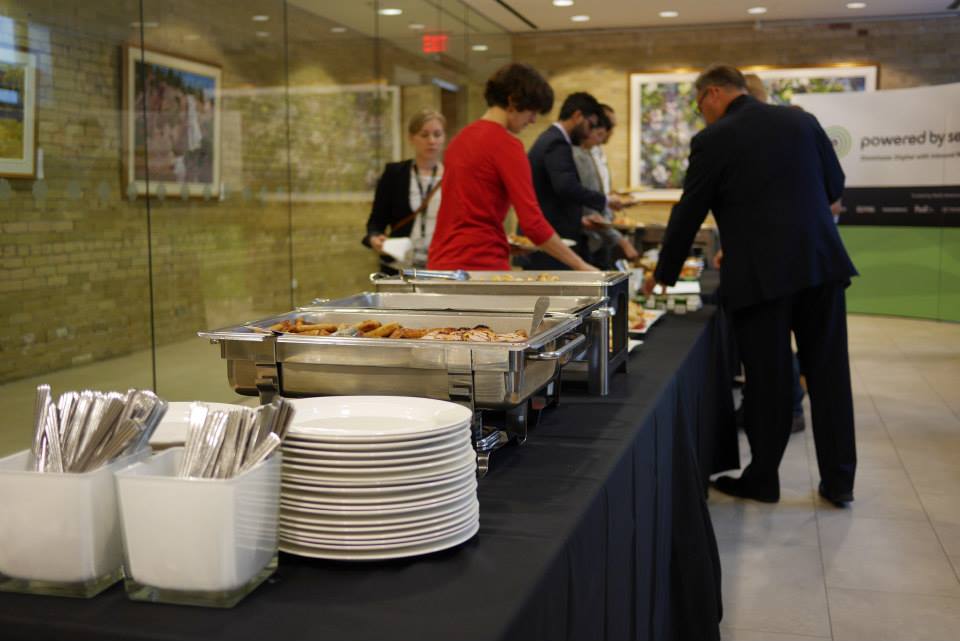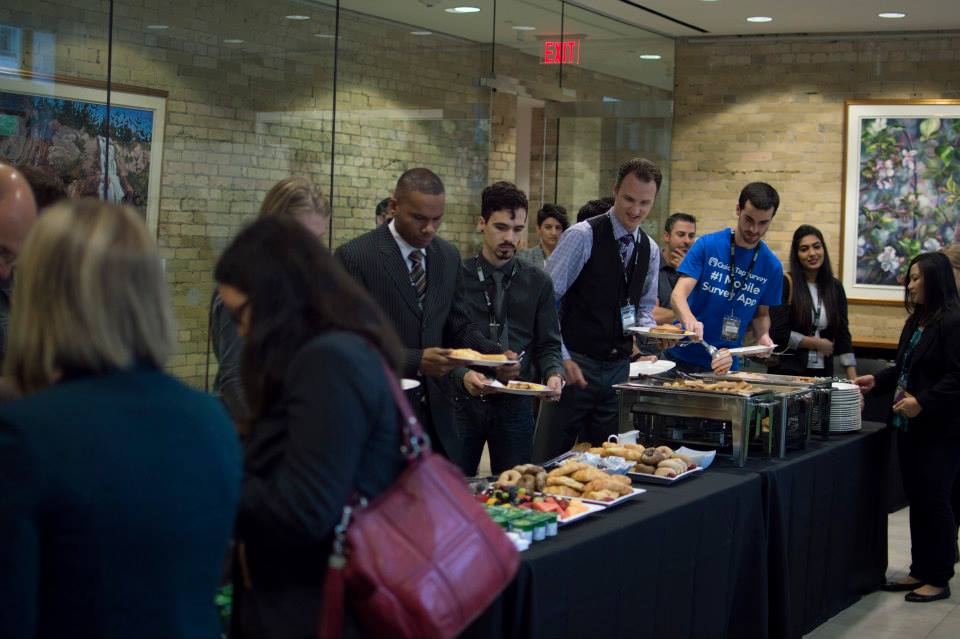 Where is InboundCon this year?
Every year, InboundCon grows exponentially. We went from a small coffee shop, to a conference center, and now to a 500 seat theater on Front St. in downtown Toronto. This year's InboundCon will be hosted at the beautiful Jane Mallett Theatre.
You will be super comfortable in the theatre seating and will have a great view of the stage and projection screens no matter where you sit. Our speakers will also be comfortable with a massive stage and two huge projection screens.


Where is the After Party?
No conference is complete without an awesome after party! We haven't confirmed the location yet, but I promise you it will be epic. Expect to see plenty of hors d'oeuvres, games and the craziest group of marketers in town. Oh and expect a drink or two…
Last year we had a blast at C'est What.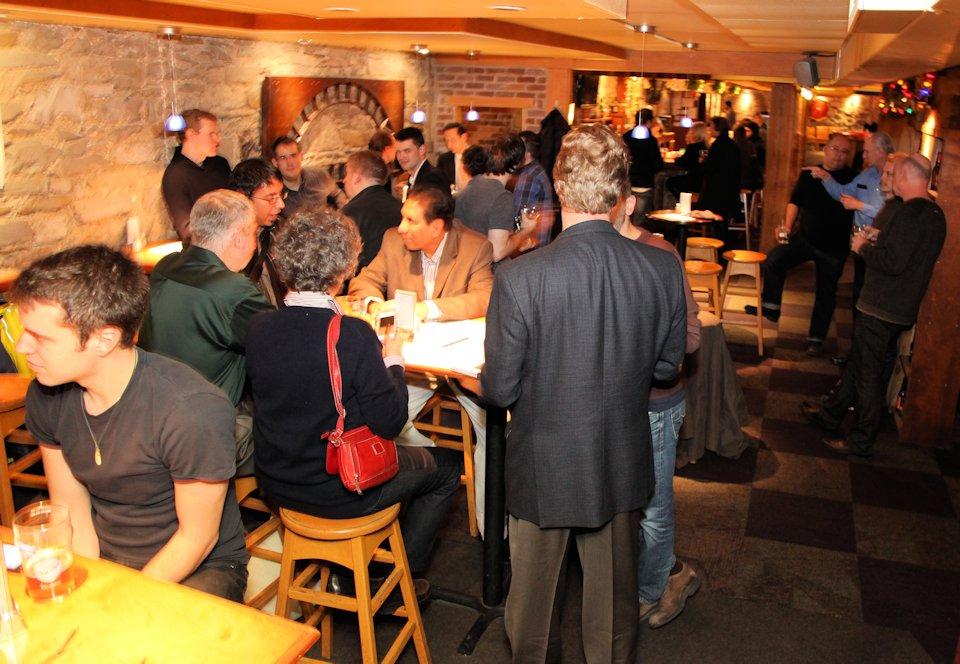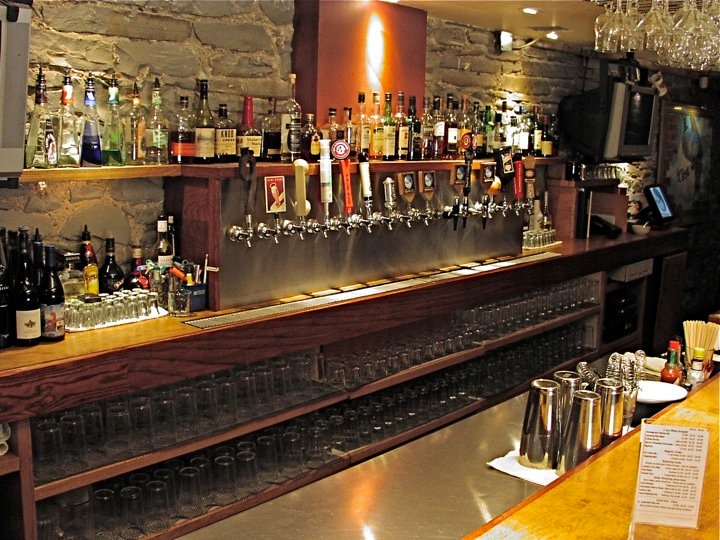 Is InboundCon the only thing to do in Toronto?
InboundCon is definitely not the only thing you should enjoy in Canada. While you are in Toronto, go enjoy yourself! Toronto is absolutely beautiful in the fall #MapleLeafs.
Here are a couple of attractions you can visit while you're here:
Still not convinced? Don't just take our word for it.
Check out what some of our attendees had to say about InboundCon 2014…
"One of the most difficult things for any conference organizer is to bring together consistently interesting and engaging speakers it's easy to find one or two great speakers but it's rare that anyone finds an entire days worth of genius. The InboundCon team managed to do just that. They found a group of fascinating, talented and interesting people who spoke to a room full of people and inspired every single one of them.
I left InboundCon feeling more sure of my career, more proud of my abilities and more certain of my focus in the digital space than I have in years. Thank you to Joel and Goran and the entire team for inviting me to be part of such an invigorating conference."
Shannon Hunter – Social Media Manager at Virgin Mobile Canada
"InboundCon was one of the few conferences I've spoken at that focuses on giving the audience actionable takeaways. The workshop / panel style format for some of the sessions was a great way to send attendees home with an actual game plan – not just the motivation to do more."
Hana Abaza – Marketing Director at Uberflip
"This is a room full of smart and industrious digital marketers. These minds know what digital integration really means, and where marketing is headed. It was a pleasure to be a part of it."
Matthew Stradiotto – Co-Founder at Matchstick
"Dev and the Powered by Search team really outdid themselves with the second InboundCon. Bigger and better, this year's conference exceeded everyone's expectations – from the stunning venue to the calibre of speakers; from the meticulous organization to the bustling after-parties, everything was several notches above the inaugural event. Best of all, my teammates who attended have already started implementing ideas that they learned from the conference! Great work, Dev & co."
Hamza Khan – Founder of Splash Effect
Is your boss giving you a hard time?
Sometimes bosses can be tough to convince, even for events that can dramatically improve your marketing efforts. Don't worry we have literally thought of everything. To help you convince your boss to let you go to InboundCon 2015, we have created an email template (or if you're old school, a letter template). It will be hard for them to say no after reading this…
What's this year's #hashtag?
If you have attended InboundCon in the past you would know that we are kinda a big deal on Twitter. #InboundCon was trending last year right underneath #EdSheeran. Make sure your phones are fully charged this year and get ready to make us trend again by tweeting…
#InboundCon
You now know everything about InboundCon 2015!
I know there was a lot to take in, but I couldn't leave out anything. You now know just about everything there is to know about InboundCon 2015. What are you waiting for?
Go get your tickets now while they are 57% off the general admission price!!! Visit InboundCon.com and enter the promo code: InboundConSave100 to get an additional $100 off early bird pricing.