This blog post contains edited excerpts from our free whitepaper: The Marketer's Guide to Local SEO . Get the full guide for even more details on how to successfully implement a Local SEO strategy for your business
I've been noticing more and more lately that my personal online searches have been largely location based. I was recently planning a party, which meant lots of thought put into food, decorations, drinks, and party games. This also meant lots of time spent searching for restaurants, cupcake shops, and party supply stores that were in a reasonable vicinity to my house. The results that I was given through these searches, including region, ratings, and recommendations, definitely determined where I ended up spending my money.
This is not a trend unique to my own search habits. With increased frequency consumers are performing local searches. In fact, about 20% of desktop searches have a local intent, while over 50% of mobile searches are locally focused – and these numbers are only growing. This growth points to the simultaneously growing importance of strong local SEO strategies.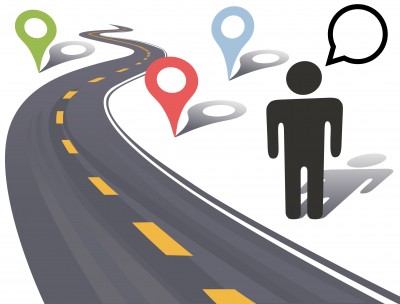 Local SEO helps you acquire traffic from those who are seeking the products or services you provide and who are located in the area in which you operate. Where your business ranks in local search engine listings is largely dependent on 3 factors:
Your Webpage Optimization
Your Citations, Links, and Local Listings
Your Reviews and Recommendations
While the consumer need for local products and services is not a new phenomenon, the tools available to find these local businesses, however, are. Prior to the digital age, physical local directories like the Yellow Pages were the go-to resource for this kind of information. This has been almost entirely replaced by computers, search engines, and mobile devices.
With this rapidly growing shift in the way search is being conducted, there is no better time than the present to start thinking about a serious local SEO strategy for your business.
Part 1 – Optimizing Your Website for Local Search
To begin optimizing your local presence you need to start with your website. Once you've optimized this crucial element of your local online presence you can then branch out into listings, social media, and link building! By starting with your website you'll have a strong resource and foundation to point/link back to on all of these other platforms. Your website should be the foundation of your local presence – here's a breakdown on how to optimize it for local SEO.
Step 1 – Include Regional Keywords in…
Your URL
Page Titles
Meta Description
H1 and H2 Tags
Your site content
Step 2 – Include Local Information on Every Web Page
Your address as it will appear on local listing (don't forget your postal code!)
Your local phone number (make sure to use your local phone number and not an 800 or toll-free number)
Link to either your Google+ Local listing or another landing page dedicated to that location
Step 3 – Create Unique Content
Blog about local news such as promotions and events
Step 4 – Mobile Optimize Your Website
Increasingly, mobile users are turning to their devices to search for local businesses. Therefore it is very important to have a strong mobile strategy in place
Part 2 – Citations, Links, and Local Listings
What is a Citation?
A citation is a reference to or a "mention" of your business name, address, and phone number (NAP), regardless of whether or not there is a link to your website. Similar to links, search engines use them when evaluating your business's online authority.  All other factors being equal, a business with a greater amount of citations will most likely rank higher than one with fewer citations.
For a citation to actually contribute to your local SEO efforts it is important that it is identical to the NAP on your website and your Google+ Local page. It is incredibly important that you remain consistent with your citations.
Where to Get Citations?
It is a misconception that the only place to get a citation is from a directory (however, they are a good place to start). In addition to directories, blogs, forums, social media sites are also great places to build local links. Limiting yourself when it comes to building citations will only limit the success of your business. Here is a list of some alternative sources for citations and links:
Press releases
Articles and guest posts
Question and answer sites like Quora
Profile pages
Forum signatures
Chamber of Commerce
Better Business Bureau
In addition to citations, every business should at least have a local listing on each of the 3 big players – Google, Bing, and Yahoo!.
Google
The biggest player of the all, Google is the alpha dog of the local listings. As a result, it is also very competitive. Local listings on Google involve two features – Google Local Search and Google Places for Business. For Google Local Search, Google takes into account both the authority of your website as well as how it ranks organically on the SERPs in determining your position on local search inquiries. Even other local listings take into account Google's ranking of your business in their own engines as well. A strong local SEO strategy is therefore essentially to do well not only on Google, but on other listings as well.
Bing Local
Bing Local is similar to Google's local services and will therefore look pretty familiar to most users. Just as local businesses that are indexed in Google Maps have Google Places for Business pages, Bing has an equivalent. In fact, most businesses with a brick and mortar address will find that they already have a local listing with Bing that just needs to be claimed through the Bing Places for Business.
Yahoo! Local
While Yahoo! is powered by Bing, they still maintain separate search engines. Similar to the other listing services, Yahoo! Local offers a variety of ways for consumers to connect with business listed on the site. Some of the features include: location details, customized contact information, detailed business description, branding capabilities, and special offers.
PART 3: Reviews and Recommendations
Reviews are not only a significant ranking factor for local search engines, they are also extremely important to consumers. The value of testimonials cannot go understated, as they provide much needed social proof. For potential buyers, reviews quickly signify whether or not a certain brand is worth their attention and dollars. This applies to both the quality and the quantity of the reviews. If a business has 20 positive reviews it is much more likely to gain click-throughs than a business with 5 reviews with some of them being negative.
There are a few avenues you can take to help generate reviews for your business. Here is a list of the most receptive methods:
1. Create Calls-to-Action (CTA) on Your Checkout Pages
2. Reach Out to Current Customers
3. Create In-Store Calls-to-Action
4. Be Creative!
Reviews are one of the harder aspects of your local listings to optimize as they are user generated.
For this reason is it super important to be continually monitoring your reviews! It is good to address negative feedback as soon as possible. For positive reviews, you can use these as content for your corporate social media accounts. Not only does this give your business more social content to post, but is helps establish a wider net of social proof!
Conclusion
It should be clear by now that a local SEO strategy is important to the success of your business. If you are in any way targeting regional consumers it is definitely in your best interest to begin and maintain a local search strategy so that you are visible to these consumers. Hopefully this guide is able to help you begin this process. Following these steps will ensure that you're business is ready for both the present and the future of local SEO.