The Worst SEO Advice: 17 SEO Experts Weigh In
Last updated: June 2nd, 2014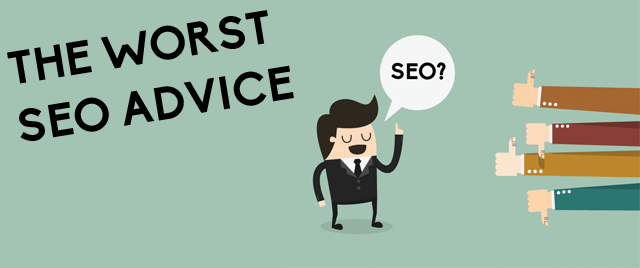 The internet is a mysterious black hole of half truths, whole lies, and what often seems more bad than good. Many misconceptions regarding SEO are floating around the internet, which create a lot of confusion about correct best practices that will actually help to achieve results. What better way to clear the air, than with the help of 16 SEO experts from around the world who were asked to answer the following question:
What is the worst SEO advice you have ever heard or received?
A.J. Ghergich
Just Create Great Content!
You will hear Matt Cutts and conference circuit gurus repeat this all the time. On the surface this sounds like very solid advice. The line goes something like this…
Content is King! If you continue to create great content and don't give up you will be rewarded.
I can't tell you how many clients I have worked with that believe this and can't figure out why they don't see results. The reality of this approach usually goes like this…


Without a vibrant community or laser-targeted outreach your great content is going to flop. You will not gain the links or the community you need to aid your SEO.
The little known secret is that nailing outreach and building an engaged community around your content is actually harder than creating great content.
What you need to do is create a single great piece of content and use it to hone your audience/community building and outreach skills. Learn from your mistakes and only then rinse and repeat.
Piers Moore Ede
For a small business the worst advice might be to focus on search engine optimization at all. Everyone's telling them they need it. But do they? With Google now the tremendously competitive playing field it is, we are generally discouraging smaller businesses from wasting their resources by attempting to compete on an SEO level. There's far great bang for your buck by using Facebook ADS, email marketing and social media. These days, SEO is for people who have the budget to really attempt a page one ranking.
Adam Connell
I've heard a lot of bad SEO advice. And I hear more every day. I run my own blog and because of that there are a lot of people that I deal with, some technical support people and other marketers. Some of the things that these people come out with has blown my mind. In most cases they have no idea that my background is in SEO or that I've ran an agency before. Some bad advice that I hear regularly:
Having lots of pages with thin/low quality content won't affect your rankings (tell that to eBay)
Duplicate content doesn't matter
I can get you ranked #1 for any keyword in a week
We can get you links off our own network of 2500+ sites
Our 'public' blog network has no footprints and is 100% Google safe
Any offer of a guarantee (how can you guarantee rankings in a 3rd party search engine?)
Put all of your budget into SEO, that's the only channel you should focus on
Seeing how other people I know have responded to advice like this, I'm glad that I have a background in SEO. It's easy to see that there are plenty of people that would take advantage if I didn't. Especially considering all of the low quality SEO services about, they must be churning clients at a rate of knots. There's another thing that I see more and more now – people reading a blog post and thinking they now know enough to ignore people that know what they're talking about. Although with how some of the lower quality services operate, I can definitely see why people find it difficult to know who to trust.
Larry Kim
WordStream | Twitter | Google+ | LinkedIn
For the sake of discussion, lets exclude obviously bad SEO advice, like buying links, etc. At a high level there's a lot of bad advice that is based on the fear of annoying people. For example "don't tweet too often", etc.  I've found that sometimes it's not worth worrying so much about bothering people because (a) they're following you for a reason and (b) they're not paying attention to you all the time.  To get attention, you sort-of have to overdo things to get noticed,assuming they aren't looking +80% of the time. To that end, it might be worth it to "test being annoying" in your social and content marketing efforts. You never know, annoying might work wonders with your audience.
Julie Joyce
Link Fish Media | SEO Chicks| Twitter
I've heard so much bad SEO advice that figuring out the single worst piece of it is going to make my brain explode. We get a lot of clients who have run through several SEOs and I'm rarely shocked, but the worst advice has to be that creating tons of different completely duplicate sites on other domains that don't 301 to yours, but simply function as separate sites, is a great way to rank better and get more traffic. I've encountered that advice twice now and the fact that it's still being said blows my mind. I didn't even do that nonsense in 2002.
Jennifer Horowitz
Sadly, it's hard to narrow it down to just one piece of advice!  There is so much bad advice floating around out there.  I think the one that probably bugs me the most is "Just pick some keywords and put them in your text and ALT tags and Meta tags, Google loves to see keywords there".  My problem with that is there is no mention of strategy.  SEO success is very much due to the data and the details.  Meaning use data to figure out what actions you should take (including keyword selection) and then pay attention to detail when optimizing the site – use a comprehensive strategy that includes best practices for on-page and off-page.  Just "throwing up keywords" won't get you very far these days.  When it comes to the data portion of that, I also get so frustrated when I hear "just run a ranking report to see where you rank" – that is not the kind of data you need.  Due to personalization, social influence and geography, an accurate ranking report these days doesn't exist.  Focusing on the wrong data is as bad as focusing on no data.  If you want to see the effects and benefits of an SEO campaign, track your visits from the engines and look at how those visitors interact with your site.  If they are high quality, due to a targeted keyword strategy, the bounce rate should be low and your sales or leads should increase.  I can really sum it up by saying the success is in the data and the details.  If you have a well-planned strategy and you analyze data you have a solid foundation under you and can expect growth and results.
Caleb Donegan
The most obvious answer here, at least in my experience, is around link building strategy. There are so many corners to cut, "new" techniques and a great deal of ambiguity around what an ethical approach to link building entails. But because this is so prevalent, I wanted to use a different piece that was just as bad. The worst advice has to have come when I first broke into the SEO field and was more or less drinking from a firehose of information, desperately trying to consume as much knowledge as possible in as little time as was feasible. During this time I was instructed by an agency contact to just copy portions of blog articles from other similar industry sites and paste them on ours. Basically, the advice was to do this as much as possible, and pull from as many sites as I could and then compile all of the portions into one long article and then repeat this process over and over. Not knowing better I employed the recommendation a number of times (which now makes me cringe) only to find out later what a terrible strategy this turned out to be. Fortunately, for every bad piece of advice I have received just as many good ones. The great thing about the SEO community is the collaboration that occurs and the shared knowledge that is exists. At this point I know when I get bad advice, and simply work hard to not dish out any myself.
Paul Rogers
The worst SEO advice I've seen someone give recently was probably from an agency, who recommended making all dynamic search and layered navigation pages available to search engines, in order to optimise for long tail queries. The website was a fairly large ecommerce site and the agency were quite big, so they definitely should've been aware of the impact of thin pages.This is a hell of a question and took a bit of time for me to figure out the best answer and I am still not 100% sure I know how to answer it now. To best frame my answer I figure I need to give a little bit of background and then explain just why I like Google now more than at any point in it's history.
Kane Jamison
There's a bunch of recommendations coming to mind like fake business reviews, spun content, and comment link building campaigns, all of which rear their ugly heads less often nowadays (post-Penguin/post-Panda).
I think the most misguided advice I still hear dished out would be in regards to building traffic for the sake of traffic. Projects launched purely for brand visibility are too risky for businesses that don't have the budget to spend testing lots of risky projects. If a project has very little chance of producing conversions or brand visibility with the target buyer, it should probably be scrapped in favor of a project that does achieve those goals.
Moosa Hemani
Unfortunately, I am from a country where this whole SEO and digital marketing game is highly misunderstood. People still think they can game Google and that is the right way of going about it. They recommend the same lousy advice to businesses and I believe this is the reason why Google animals are very busy doing their job! When you say worst advice I have ever heard, it was from a local professional here in my city. When asked how to rank for extremely competitive key phrases, he suggested to buy expired keyword rich domains (dozens of them) and redirect all of them to homepage and other important pages of the website. His explanation was that when different keyword rich domains redirect to the main domain Google finds it more authoritative. Over the years Google has evolved a lot, and their algorithms to rank websites are really smart. As far as dozens of different keyword rich domains directing to one domain, I believe this can be a great red flag to Google.
Takeshi Young
One of the worst pieces of SEO advice that I hear repeated often is that "Content is King". While it's true that content is a key piece of the SEO puzzle, it is not sufficient for having a site that ranks well. Even a great piece of content will die on the vine if your site has poor site architecture or poor on-page optimization. Likewise, if a piece of content receives no promotion and doesn't generate any links, it won't be found by people or search engines. There are many cases where mediocre content ranks above higher quality content because it resides on a better optimized site with higher domain authority. In short, quality content can be a great asset in improving your organic rankings when paired with a solid site and a solid content marketing strategy, but is not an SEO strategy in and of itself.
Marc Nashaat
Over the years I've heard a lot of bad SEO advice ranging from keyword stuffing and link automation to cloaking and injections – I once overheard a couple of 'gurus' talking about the opportunity around php vulnerabilities at a local Starbucks. It's pretty difficult to narrow down but for the purpose of this post I'll focus on three little tidbits that while not necessarily blackhat, are still misconceptions to avoid.
1) 301 redirecting entire domains  I can't count how many times I've heard the "buy aged domains and redirect them" schpeel. If you're looking for a quick way to waste a valuable asset, this is a sure-fire tactic to engage in. Matt Cutts has already clarified that granular, page-page redirects are more effective at passing page rank. Rather than redirecting an entire domain, redirect pages on that domain to the pages on your main site that are relevant to that content.
This way, you maximize the benefit you get from the aged domain. If the aged domain has no content, it's more worthwhile to create content for that domain, allow those pages to develop PA or PR and then redirect them to the appropriate page on your 'money site.'
2) Noindexing Category Pages on WordPress I've heard this one a few times as well – that category pages aren't useful and should be no indexed. Category pages allow people to discover content topically and can often be found in search results. To demonstrate: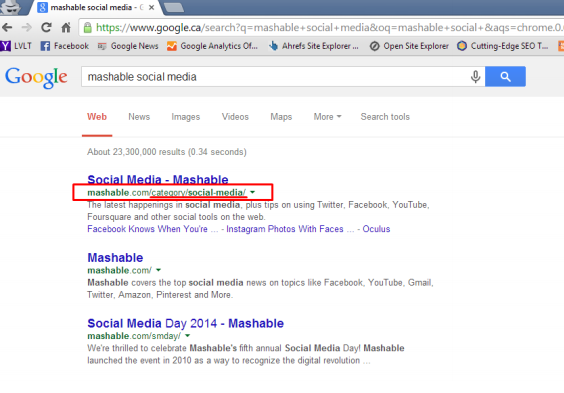 That's a keyword that has 880 monthly searches.
The argument supporting the noindexing of category pages is that these pages may be considered duplicate content as they contain verbatim excerpts from actual posts, but Search Engines are smart enough to distinguish between category pages and duplicate content, and with enough published content on your site your category pages should all be relatively unique. In my time as a marketer I've yet to see any correlation between Panda penalties and indexable category pages.
What I have seen are a number of sites getting upwards of 20% of organic entrances to category pages. Take it one step further, in analyzing traffic for 3 different blog properties over a period of 12 months, users who entered through category pages had higher pages/session metrics than users who landed directly on a post. Correlation is not causation but check these metrics out on your own sites and see what the numbers tell you!
3) Emulating Competitors as an Holistic Strategy Don't get me wrong – competitive analysis is important, and often you can achieve a lot of quick wins by simply looking at what competitors are doing. But it's important not to get into the mindset that duplicating your competitor's link profile will allow you to rank as effectively as they do. When link building one of the strategies that should be at the forefront of achieving your goals is to develop links and relationships that your competitors can't emulate.
So the implication here is not that you shouldn't look to your competitors for ideas or opportunities, but that you should work on creating a link profile unique to you that others couldn't turn around and copy.
Mark Walters
The worst SEO advice is to use keywords everywhere and every opportunity. Whilst I think they're still important, even post-Hummingbird, there's no need to jam them into every url, page title, meta description, image tag, H1, paragraph, anchor link text, etc. Using a keyword, or a variation of it, in 2-3 of those places mentioned is sufficient for Google to be able to recognise the topic of a page and know what keywords to rank it for. Rather than making a page seem more relevant, forcing keywords in actually detrimental, and it's probable that an over-optimisation penalty will follow, which means that regardless of how relevant to a keyword the page is, and how good the content contained on it is, it will never rank highly.
Razvan Gavrilas
Cognitive SEO | Twitter | Google+ | LinkedIn | Facebook
Here are two misconceptions that I still hear from people very often:
People are focused on the number of links. This is IRRELEVANT. The number of referring domains is the correct metrics they should look at. If you have 1 million links from 100 referring domains it doesn't mean anything compared to 2000 links from 1000 referring domains. This is a BIG MISCONCEPTION that still kicks in today.
Unnatural Links are often mistaken with Low Quality Links. These are two different concepts. Actually it is rather natural to have a bunch of low quality links pointing back to your site. Across the entire web you will see a very big proportion of deep pages that do not have themselves High Quality in terms of metrics. Unnatural Links on the other hand are links that are created with the intent to alter the SERPS. As you can see the concepts are really different, so do not mistake one for another.
Jason Menard
Digital Echidna | Personal | Twitter | Google+ | LinkedIn | Facebook
I've been in the game for a while, so I've heard a lot of things. Back in the day, I was a founding member of LookSmart Canada – a time when categorizing and reviewing the Internet with human editors was semi-realistic. So SEO is something I've grown up with, been a part of, and seen from both sides of the fence: corporate and media.
I've heard a lot of bad advice. I've met any number of social media wizards, ninjas, gurus, shamans, Grand Poohbahs… And I've strongly opposed their efforts for one reason and one reason only – they advocate being fake.
The worst SEO advice? Write 'for' something.
There are dozens of permutations of that statement and we've seen people over the years try to game the system: keyword-stuffing, fake tags, black-hat SEO, writing overly keyword-rich content.
And it all comes down to one fatal error: writing FOR something and not AS yourself.
There is one SEO-positive and algorithm-proof way to create content – and that is writing like a human.
Today's customers are savvy. They can spot a fake. I'm not going to start talking to my daughter's friends using their words, lingo, and jargon. They're going to know it's not authentic and they're going to realize it's an act (that said, I will do it to my daughter – but that's just a father's 'I'm going to annoy you' prerogative). The same goes for business.
Too often brands try to be cool and it doesn't work. Give your customers some credit and speak to them in your own voice, treat them with respect, and you'll get results.
The same goes for SEO. Write like a human, use plain speech, and be honest. Provide your customers with valuable information in a way that's accessible to them – and don't spend all your time using jargon, shoehorning keywords into the text, and trying to sound 'smart.'
The problem with trying to write "for" something, or trying to game the system, is that eventually the rules change. With SEO – and we've seen it with Google's Panda and Penguin updates – there's a premium on authentic, quality content that's of value to the customer. There's a premium on delivering upon your promises. By being honest, clear, and focusing on quality writing, proper headlining that represents the content, and complementing with properly tagged images, you're going to future-proof your content.
You can only do that by being yourself and writing content that answers one question: "What's in it for the customer?"
Simple. SEO-proof. Honest.
Nyagoslav Zhekov
Whitespark | Twitter | Google+ | LinkedIn | Facebook
As my background is in local search, my example of the worst advice I have heard is also closely related to local SEO. There have been a number of people over the years that have been promoting call tracking phone numbers as a way of analyzing leads, and more specifically – their "abundant" usage (different call tracking number whenever possible). I do not question the value of call tracking phone numbers. However, their excessive and careless usage can lead to significant business information inconsistency issues, which could turn into a major problem when it comes to local search rankings. A call tracking phone number placed on a Yellowpages listing, or on a DexKnows listing could easily spread through the ecosystem and help tens of listings with inconsistent business information to be auto-generated. Specialists agree that consistency of business information online is one of the most important ranking factors in local search (check "Foundational Ranking Factors" #3 here). Here are a few good resources on the topic: A Guide to Call Tracking and Local Search (by Mike Blumenthal) The Real Truth About SEO & Call Tracking (by Mary Bowling) Why Call Tracking Numbers in Local SEO Make Me Angry (by Will Scott)
Brian Jensen
During my time working in the digital marketing industry, one of the worst pieces of advice I've ever received is that the websites with the most backlinks wins.
Today, this mentality can become a very slippery slope, especially if a team is pressed to hit numbers, and the quality starts slipping to meet the demand for quantity. While Google's ranking algorithm has evolved over the years, and spammy tactics still can result in visibility, the reason I say this is the worst advice I've heard, is that not only does it oftentimes replace real marketing, it's a KPI based on perceived, not real, value (here's a spreadsheet of links and a rankings report, talk to you next month!).  Any digital marketer who's successfully worked with a client through a manual action or algorithmic penalty will tell you an ounce of prevention is worth 10 pounds of cure.
As we heard Matt Cutts confirm in a recent Google Webmasters video, Google is heavily invested in the link graph and will continue to use links to assess the reputation of pages and sites for many years to come. While Google currently relies heavily on the link graph, it's important to remember that not all links are created equal.
Link building should be synonymous with relationship building, and sustainable strategies that focus on relevance and community will typically lead to an increase in awareness, authority, and visibility.
Direct value from links comes from businesses creating value-driven assets and building mutually beneficial relationships that put their clients' products, services, or solutions directly in front of their target audience. Links and organic visibility are the by-product of great marketing. Effective online marketing takes smart ideas, time, research, relationships, and perseverance.The time frame between the Brandy update in 2004 up to the Vince update in 2008 was a really great time for SEO in my opinion. The current period certainly is reminiscent of that but does not come without further challenges. The post-Brandy pre-Vince era was great because it was simple [in a way that is likely to never be seen again.]
Matt Green
Ethical SEO Consulting | Personal | Twitter | Google+
When I was just getting into SEO the old-style link building tactics were still working really well. So, in hindsight, being told to do things like submitting crappy content to article directories and paying for links on link farms was not such great advice. However, Penguin made for a quick learning curve with those tactics. Overall, I have been very lucky with the caliber of SEO's that have been willing to share their expertise throughout my first few years in the field.
There are also plenty of bad habits that I have had to face as an SEO. One of the things that I have tried to stop doing altogether is checking my client's rankings on a frequent basis. I find that it's not only a waste of time, but also leads me to think only about how to improve the rankings of a few keywords, rather than keeping my eye on the bigger picture in terms of achieving the client's business goals (getting more clients).
Summary
From keyword stuffing to poor link building strategies, there is no doubt that many misconceptions about SEO are floating around the web. Is there advice that you strongly agree with? Advice that you don't agree with? Let me know what you think in the comments below! Thanks again to all the experts who contributed; keep an eye out for more advice in case I receive new responses.
Image Source: Dooder, Shutterstock 
You've heard the worst SEO advice, now hear the best! Schedule a free 25 minute consultation with us and find out how you can grow your business with Powered by Search.

What you should do now
Whenever you're ready…here are 4 ways we can help you grow your B2B software or technology business:
Claim your Free Marketing Plan. If you'd like to work with us to turn your website into your best demo and trial acquisition platform, claim your FREE Marketing Plan. One of our growth experts will understand your current demand generation situation, and then suggest practical digital marketing strategies to hit your pipeline targets with certainty and predictability.
If you'd like to learn the exact demand strategies we use for free, go to our blog or visit our resources section, where you can download guides, calculators, and templates we use for our most successful clients.
If you'd like to work with other experts on our team or learn why we have off the charts team member satisfaction score, then see our Careers page.
If you know another marketer who'd enjoy reading this page, share it with them via email, Linkedin, Twitter, or Facebook.