It's been nearly 1 month since Powered By Search hosted the second annual InboundCon event, Canada's premier inbound marketing conference. I attended on behalf of e-commerce agency Le Site, to whom I brought back buckets of tips and tidbits to help elevate and innovate our online marketing strategies.
The conference offered useful information on a variety of topics, ranging from Web design to content marketing and beyond. As a specialist in e-commerce communication strategies, 3 talks in particular stood out in my mind and delivered insights that I took back home and immediately began applying to my work. Although I strongly encourage you all to attend the next InboundCon event in person to get the full experience, I hope that my illustrated notes from these 3 talks will help to bring the experience to life for those who could not attend.
Krista Lariviere
Founder & CEO, gShift Labs

Incorporating Search, Social & Mobile Discoverability Trends Into Your Digital Marketing Strategy
Krista offered great insights about how to leverage the data amassed from your content marketing efforts in order to optimize it and create "smarter" content. Some of her tips and tricks are listed below.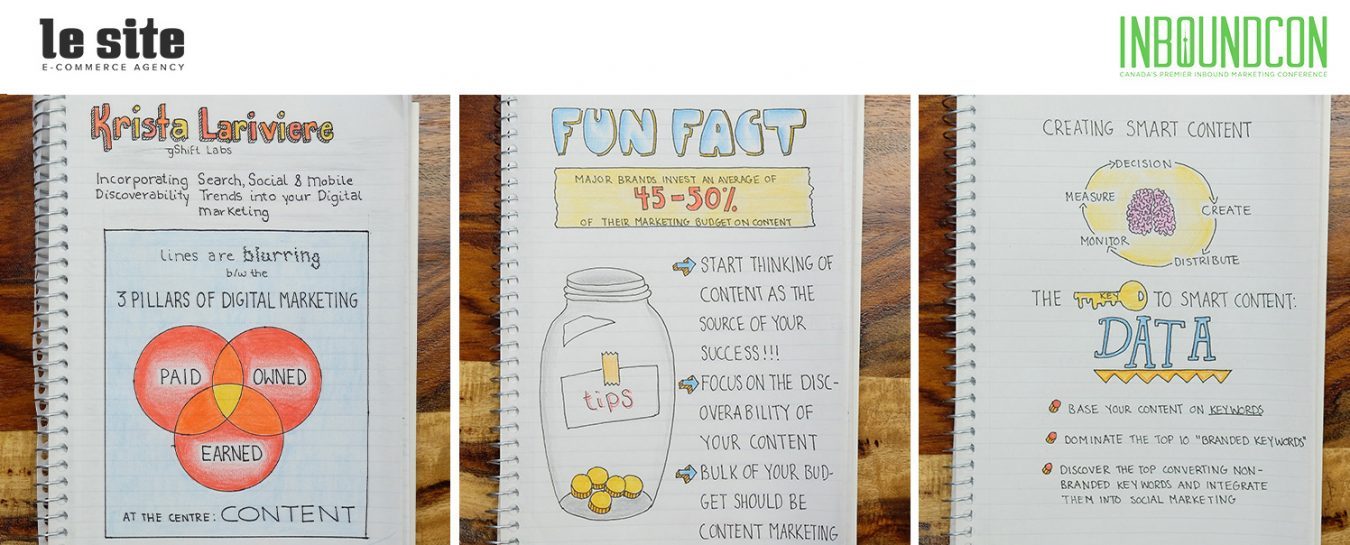 Dev Basu
Founder & CEO, Powered By Search
Storytelling in a Digital World: Why Inbound Marketing Works
Dev did an excellent job of bringing together the two worlds of storytelling and digital marketing. His insights about how to use a classic story arc in order to connect with your customers and create your own consumer journeys were inspiring, to say the least.
Chris Stolz
Head of Web Analytics and Optimization at HBC
Optimization Advice You'll Actually Use
Chris offered great insights derived from his personal experience about the strange ways in which consumers behave and how you can use analytics to unlock the potential behind your buyers. Key takeaway: don't assume you know anything! Test, test, test.