We grow your portfolio with our predictable demand gen programs for private equity backed B2B SaaS firms 
Are you a principal or partner at a growth-focused PE firm who have just acquired a new B2B SaaS company? Do you want to shortcut your learning curve to show the progress that you need to hit your IRR targets?
Hiring isn't an option here. After all: ramping up a new marketing exec could take a year. 
Before you know it, you're behind schedule on your 5 year cycle and you don't know why. 
You need to find out what the problem is and set up a predictable growth model to get back on track. 
Or maybe you're setting up your portfolio company 18 months out from being acquired. Your traction to date is so-so and to get the multiple you want you're going to need to paint a picture of how marketing gets traction. 
If those sound familiar, you're in a similar position to other partners at private equity firms who've hired Powered By Search to create a demand gen system that delivers predictable growth for their portfolio companies. 
Firms like: 
PointClickCare

(J&F, Dragoneer, JMI)

TouchBistro (Barclay, JP Morgan, Relay)

Loopio

(Sumeru, OpenView)

TitanGPS

(HKW)

HelpSystems (Charlesbank, TA, Summit)
Hire a B2B SaaS marketing agency that delivers for private equity partners. Every time.
Bringing a SaaS marketing agency in to ramp up growth and marketing in your portfolio companies is a mixed bag. We hear this time and time again. 
You might get lucky and find someone who can provide PPC, SEO, branding and positioning agencies together. 
But the problem is: even then, they don't speak the same language as you or your board. 
The disconnect between the channel expertise that those agencies can provide and the strategic, business related outcomes you need is huge.
When you're looking to hit your goals, what you don't need is someone who just tells you that your cost-per-click is too high and that they can lower it. 
If they say 'it depends' when you ask them a strategic question. 
Fire them right away. 
What you really need is someone who can talk to you, your board and your finance people and say: 'If you invest x amount in this area of the marketing, you're going to see y result which will produce z result across the next 18 months.' 
Why Powered By Search is the right growth partner for your portfolio companies
One of the key problems with hiring a marketing agency for B2B SaaS demand gen is that so many horizontally integrated agencies exist. 
Sure, they provide all the services that you're looking for in a marketing agency. But they've got none of the expertise. 
Because growing a B2B Saas is nothing like growing a services business. They don't understand how to factor payback periods into their attribution models. They've got no clue how to calculate the downstream ROI of investing in SEO. 
They can't point to a playbook of their experience and say: that's how we're going to get you the results you need for your firm. 
On the other hand, we exclusively work with B2B SaaS and so we've developed a methodology that works. We call it the predictable growth model.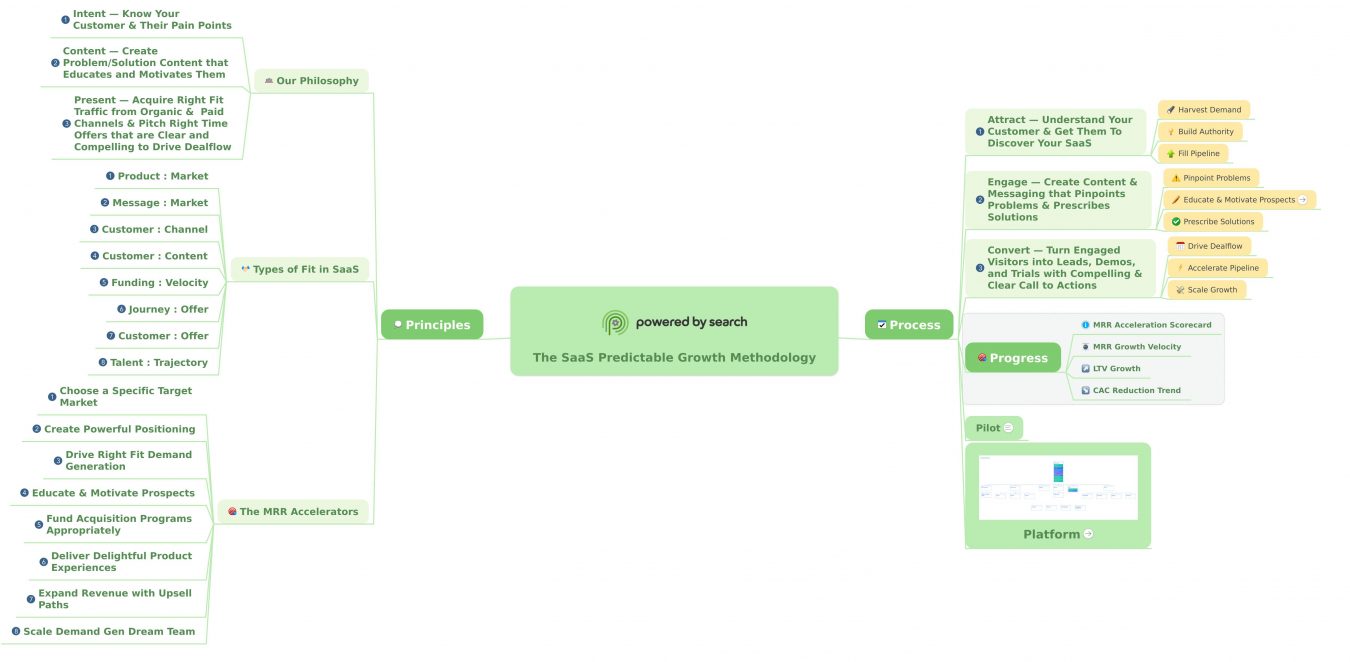 Through this model we uncover strategic opportunities to create massive business growth and then achieve those through a strategic and tactical approach to SEO, PPC and Positioning. 
You can read more about how the model works here
This is the system that we've used to grow private equity backed companies like PointClickCare, TouchBistro and Loopio and take them to their next funding round.
Where do you go from here?
Our systematic approach to B2B SaaS growth adds millions of dollars in ARR for our clients every single year. 
The process is not easy to execute but it is straightforward, and it requires intelligence, curiosity, the know-how, and perseverance of marketers and their stakeholders to follow through.
If you're ready to discuss bringing your portfolio companies to work with us, we'd welcome the conversation. 
The next step is to book in a call with our team where we'll: 
Discuss what's in your portfolio
Which companies need help
And talk about what we can do for them
To book that in, fill out the form below