The individual issues that limit results for the B2B SaaS companies we work with vary widely.
For example, if it's a search engine optimization (SEO) issue, companies experiencing similar outcomes can have entirely different things holding them back.
One might be experiencing technical issues like competing URLs. Another might be lacking comprehensiveness in their content. And another might simply need some link building to build authority.
The same goes with paid media. One company might be suffering from targeting and messaging issues. While another may have tracking and attribution errors. And yet another simply hasn't found customer-channel fit.
However, while there are many individual errors and gaps that we help our clients solve, these are typically just symptoms of a deeper underlying problem. It's the tendency for marketers to haphazardly string together a mix of outbound and inbound tactics, without intentionally syncing them together in a holistic strategy.
In short, their marketing is "tactics without strategy." It's like trying to navigate without a map. And it's a sure fire way to hit a ceiling with your growth.
The Predictable Growth Methodology
This is what led us to develop the Predictable Growth Methodology — our SaaS marketing strategy for increasing recurring revenue for demo and trial based B2B companies.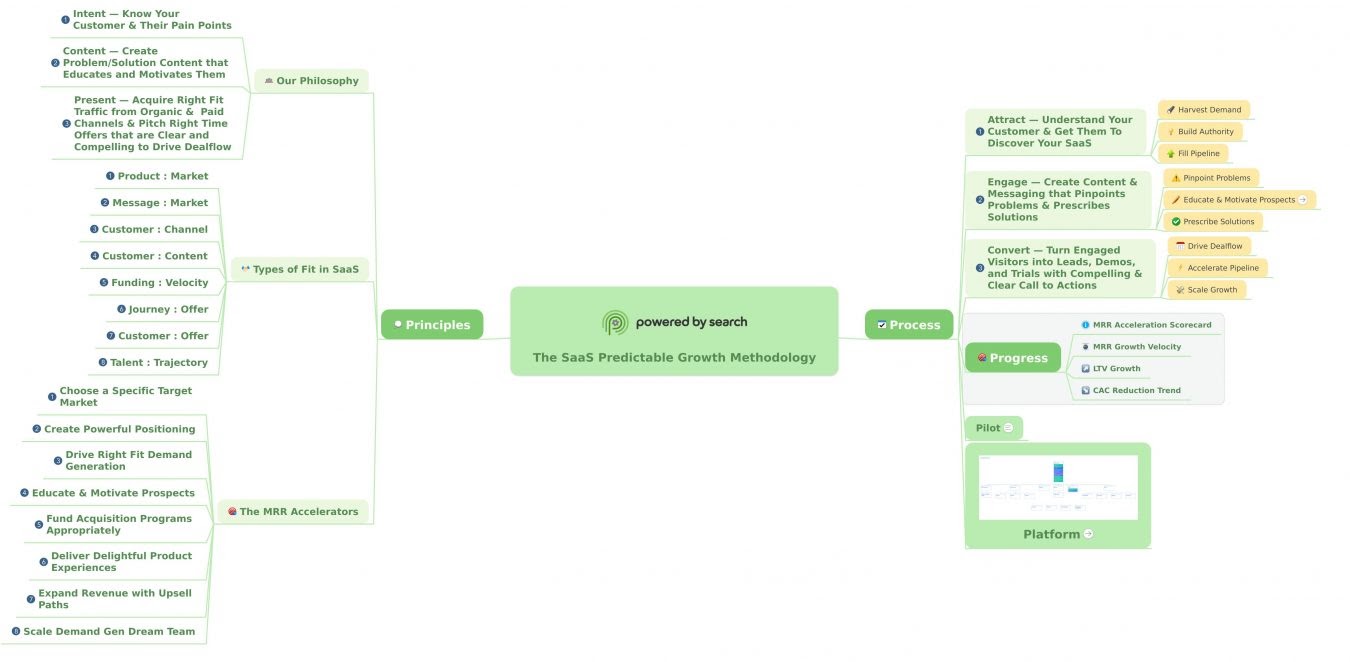 Instead of thinking of each tactic as their own individual effort, Predictable Growth helps SaaS marketers coordinate their tactics to ensure they're working together — which helps them breach the growth ceilings they otherwise tend to run into.
It's designed so that any B2B SaaS business, no matter what stage or state they are in, can systematically pinpoint their marketing problems and opportunities, and implement changes to grow revenue in a strategic way.
The 8 steps to Our Predictable Growth Methodology are:
Step 1: Evaluating Your MRR Accelerators (So You Know Exactly What to Optimize for Growth)
Step 2: Understanding Your Customer's Intent and Pain Points
Step 3: Pinpointing Why Your Visitors Aren't Converting
Step 4: Educating and Motivating Ideal Prospects
Step 5: Driving Right Fit Traffic through Paid and Organic Channels
Step 6: Creating a Proof of Concept Pilot Project
Step 7: Measuring Results, Generating Insights and Compounding Results
Step 8: Creating Your MRR Acceleration Roadmap (Assigning What Will Happen When, and Who Will Be Responsible for Results)
Case Studies
We've written several detailed case studies demonstrating how we've applied Predictable Growth to help our clients. These are great places to start learning about our strategy and see how it has played out in practice:
Top SaaS Marketing Strategy Articles
Below we have organized our top articles that detail the nuanced strategies and marketing tactics that make up our overarching strategy of Predictable Growth. Feel free to begin scrolling, or use these links to jump the the topic that interests you most:
Foundational SaaS Marketing Strategy: Positioning, Personas, Channels, and More



Getting your positioning wrong leads to a whole slough of problems. This article discusses how SaaS businesses go wrong with positioning, and provides a SaaS Positioning Canvas that companies can use to refine their positioning (along with a detailed example of how to fill it out).




It's easy to fall into the trap of trying to appeal to each of the stakeholders in your target audience at once. When you do this, your messaging and content are diluted down such that they are less compelling for any one of the individual personas. Instead of really resonating with one of them, your content and messaging falls short with all of them. This piece covers a 4 step method to targeting multiple B2B SaaS buyer personas by scaling campaigns one persona at a time.




"Identifying your best SaaS customers" is often an ambiguous endeavor. At best, most will create SaaS buyer personas to base their marketing around — but there's a lack of refinement that we believe can be the root cause of many marketing issues that companies struggle with. This article covers the process we use to identify ideal customers for our clients, including tactics like leveraging CRM data, surveying existing customers, and pooling knowledge from in-house departments (from customer success to sales teams).




If you're going to allocate a serious budget to an agency to handle your digital marketing, you should have a clear idea of what it would actually be like to work with them. This post shares 4 in depth examples of the workshops we do with our clients during our SaaS Pilot Program.




Founders of B2B SaaS companies are uniformly concerned with optimizing product-market fit. This article covers six other types of fit that B2B Saas companies commonly have issues with that get mistaken for issues related to product-market fit.




Many B2B SaaS companies abandon their paid media channels too early, without fully exploring all the options available to them, and based on hunches instead of data. This post walks through our process for testing channels for optimal fit (striking a balance between what drives leads and is also cost-effective).




There's a lot of talk in the digital marketing world about the importance of better collaboration between paid advertising and SEO teams, but in the B2B SaaS industry, that talk often fails to turn into action. In this article, we share specific examples of client insights and decisions that have come as a result of our SEO and PPC teams collaborating on client projects — as a way to demonstrate the tangible benefits of actually implementing this collaboration.
SaaS Websites and Landing Pages
SaaS Content Marketing Strategy



Many SaaS companies that produce content have trouble getting it to rank, leaving the door open for their competitors to win in organic search results. In this article, we lay out 10 underlying principles for SaaS SEO content that will help ensure the effort you're putting into your content will be well received by both search engines and your target audience.




For SaaS companies that have been doing content marketing for 6 or more months and haven't seen meaningful increases in traffic or marketing qualified leads (MQLs), it's often a result of not having mapped their content to the funnel. In this article, we'll show you a simple way for you to develop a SaaS content marketing plan to do that.




This article is for companies that want content strategy to be a part of their SaaS marketing plan, but don't have a framework to design this. In it, we break down our Buyer Awareness Matrix that maps out the content types we've found work well in each stage of the funnel. Then, we describe how SaaS companies can think about using it based on their market type. Finally, we wrap up with our recommendations for putting this tool to actual use.




This post describes the common mistakes we see being made in the marketplace when it comes to lead magnets — the ones B2B SaaS companies can learn from and avoid. Then we walk through what makes an effective lead magnet, the specific types we've found work best for B2B SaaS (beyond the traditional webinars and white papers), and a detailed example of a calculator we created for our client CartHook.




During long sales cycles, there is all this time and opportunity where SaaS companies can use marketing to support and speed up the sales process, but they often don't. In this piece, we share specific content ideas we've been testing or thinking about trying with our clients, and then wrap up with our thoughts on how to implement these tactics yourself.
Analytics and Attribution



Many SaaS companies do not have proper tracking and attribution set up, and therefore can't properly evaluate and optimize their conversion paths for acquiring new customers. In this post, we discuss the difference between attribution before and after a demo or trial signup, and how the latter requires the use of HubSpot or Salesforce data (or whichever CRM you use) whereas the former is looked at through analytics. Then we walk through our favorite Google Analytics report for attribution and show you how to access it yourself.
SaaS Email Marketing



Often we'll speak with SaaS companies who say they experience lower than ideal conversion rates during trial periods. This article discusses why we think that is, and covers how to use email marketing to set up a great trial and onboarding experience for new users. We share the exact customer lifecycle email campaigns we use to increase retention and conversions with trial users, and turn more of them into paying subscribers.
The Business of SaaS



In this article, we debunk some of the myths about working with agencies and consultants, compare and contrast agencies and consultants to explain their key differences, and lay out specific use cases where it makes sense to hire either a marketing consultant or an agency.




When companies are deciding whether to hire an in-house marketer (or in-house marketing team) versus an agency, they often struggle with the decision. There are advantages and tradeoffs with both decisions, and this piece gives our take on the biggest difference that no one talks about.




Hiring great marketers is almost always one of the top challenges our prospects and clients bring up in conversations with us. Talent-Trajectory Fit is the framework we've used to solve this problem for ourselves. Its function is to make a clear and direct connection between your growth goal, and the people you choose to hire to achieve it.