B2B SaaS Content Marketing: 10 Principles to Generate Leads Through SEO
Last updated: December 18th, 2019
For B2B SaaS companies struggling to realize results through SEO, the most common frustrations we hear of in our conversations are:
They're investing resources to produce SEO content and they'd love to see their content performing well, but progress with moving up the search rankings and bringing in traffic and leads has been stagnant.
Their competitors are dominating them in organic search results, and it's been hard for them to catch up and compete. They'd love to find a way to be more competitive, but they lack additional bandwidth to figure out how.
In this article we lay out 10 underlying principles for SaaS SEO content that will help ensure the effort you're putting into your content will be well received by both search engines and your target audience.
When strung together and followed properly, these principles increase the likelihood that you will achieve the results you're looking for.
If you've been investing resources in content and seeing stagnant or declining results through search, you can schedule a Free SaaS Scale Session to learn about how we can help you improve your SEO.
If you prefer to listen to this article, you can check it out on our podcast, SaaS Marketing Bites or listen here: 
The Fundamental Principles of B2B SaaS Content Marketing Strategy for SEO
Before diving into the principles, keep in mind the following as we move forward:
Very often, when people refer to "content" in the SaaS marketing space, they're talking specifically about blogging. But the following principles apply to all of your content, from your home page, to your product or service pages, to your blog articles.
Also, as search engines have become more sophisticated over the years, the fundamentals of effective SEO have changed. Namely, it's no longer sufficient to just create content with a high volume of the right keywords. Instead, search engines are rewarding content that is of the highest relevance and quality for the user — so most of the following principles are focused on just that.
1. Focus Your SEO Keyword Research on Intent, Not Volume
When the objective of your SEO is to generate revenue (not just traffic and pageviews), it works best to find and create content for terms that indicate prospects are in the research or buying phase of the buyer's journey.
The benefit of focusing your content marketing efforts around keywords that show buying intent is that they can produce more predictable results. With higher volume keywords, while they might bring in more traffic, the quality of that traffic will be lower, and from a conversion standpoint your results will be less predictable.
Before content creation starts, you want to ask: what are the problems, obstacles, challenges, and pain points that your customers are experiencing related to your solution?
Then, using these as a starting point, you can use your tool of choice (Ahrefs, SEMrush, etc.) to discover keywords that have the highest potential to drive conversions.
2. Mirror Your Customer's Problems
As we mentioned in our article on the marketing workshops we do with clients, most of the SaaS businesses we speak with have a deep understanding of their customers' problems, but when we look at the pages on their website, their content falls short at reflecting this. This leads to potential customers failing to understand the problems your product solves.
The reason that empathy is such a popular concept in marketing is that people want to feel understood. And one of the best ways to show you understand and have empathy for your target audience is to clearly communicate their problems and pain points directly on your page.
A few ways to dig up specific problems your customers face are:
Interview your customers
Interview your sales or customer success team
Get customer feedback via review sites, customer support tickets, or community hubs
Search Google for the keyword you're targeting or problem you're solving and look at the "People Also Ask" questions
If you can explain their problems better than they can describe it themselves, your content becomes ever more compelling.
3. Identify the Impacts of Not Solving the Problem
Raise the stakes in your customer's mind by illustrating the potential problems they may face if the problem remains unsolved. This is another element of creating empathetic, user-focused content.
Here's a prosaic example:
If you get a stone chip in your car's windshield, that's a problem. Now, the outcome of not solving that problem is that you are going to wake up one day to a completely shattered windshield if the chip is not fixed. The resulting impact is that you can't drive your car to get to work (or wherever you need to go).
By calling out what happens if your prospects do not solve their problem, you further emphasize your understanding of their pain points, and help to create the tension necessary to nudge them forward towards investing in a solution.
4. Benefits over Features
We've noticed a theme where SaaS companies will do a much better job of highlighting their product features than their product benefits.
By clearly explaining the payoffs a customer will get when they choose your product, you make it easier for them to understand how you can solve their problem.
Consider the following example from our client Hurdlr: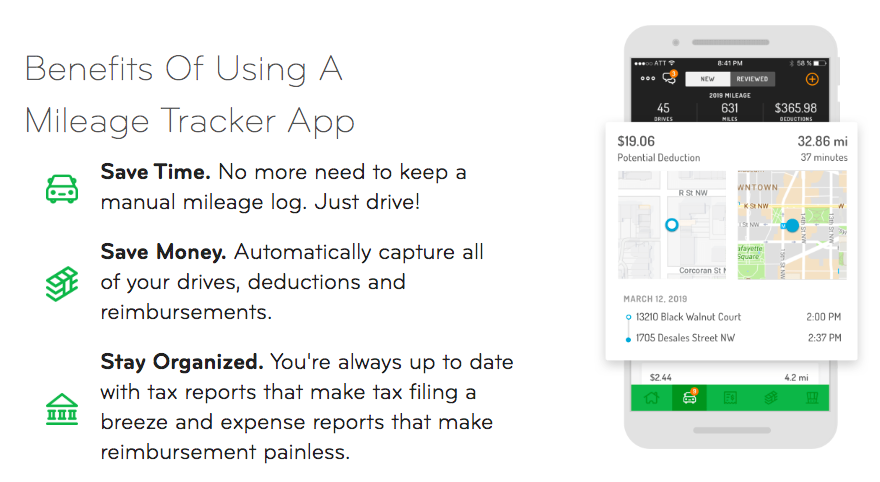 This section lives just below the fold on their mileage tracker page, and anyone reading this product page can easily see what they stand to get out of investing in their solution.
Consider these benefits framed up against the features: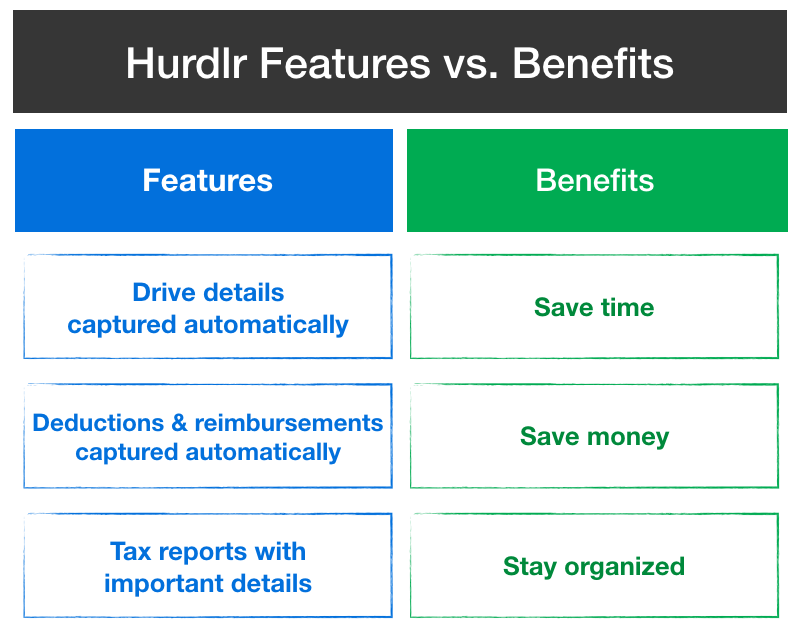 Only after you have covered the core benefits should you touch on the technology, functionality, or design features.
To continue with the Hurdlr example, further down the page you'll see: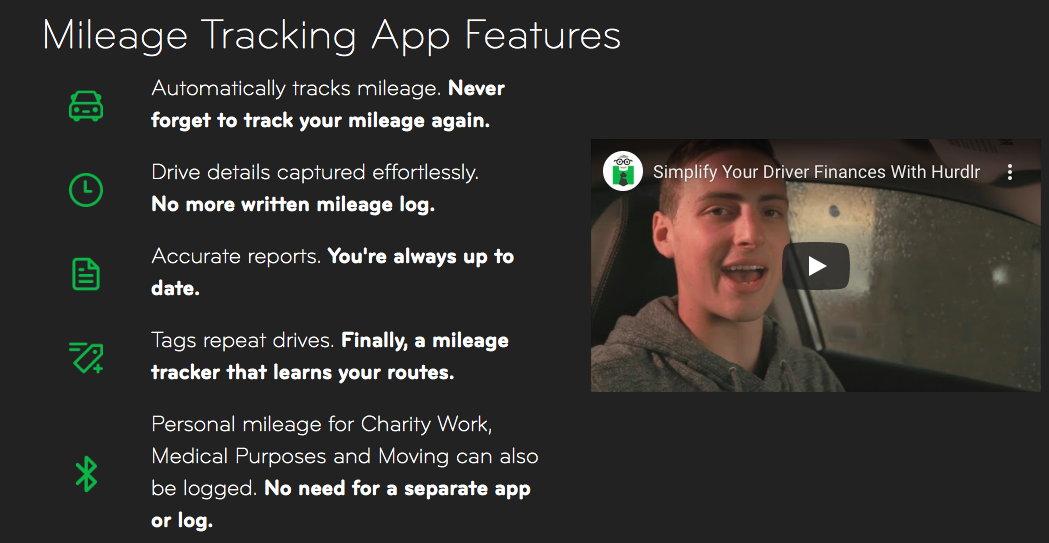 There is absolutely a place in your content to describe the features of your product, but features aren't what drive people to buy. That's why we communicate benefits first, and technology, functionality, or design features later.
5. Answer Your Customer's Questions
Structuring your content or a section of it with FAQ's (and incorporating FAQ markup) can increase the likelihood of it appearing at the top of search results as a Featured Snippet. Not to mention, answering your customer's most common questions is a helpful way to remove objections and concerns that would delay a conversion.
To do this, you can leverage the data you've collected while seeking to understand your customers' pain points, the "People Also Ask" section in Google, as well as any frequent questions that your sales team receives about your product.

This will usually include covering the basics:
What does your product do?
How does it work? How does it help solve a specific problem your customer has?
Where can a customer learn more about a certain feature?
6. Architect Pages for Topics, Not Discrete Keywords
As we alluded to above (and discussed in our article on SEO strategy for B2B SaaS), in the past, building a page around a particular keyword was sufficient enough to get a page to begin performing well in search.
Nowadays, modern search engine algorithms care about how relevant a page is for a topic and it's related entities. In particular, the following two characteristics signal relevance effectively:
Covering a topic comprehensively.
Linking to different pages on your site that all center around the topic category you're seeking to rank for.
HubSpot has a great article on "topic clusters", if you'd like to have a deeper look. One way to achieve this is to use the "hub and spoke" model.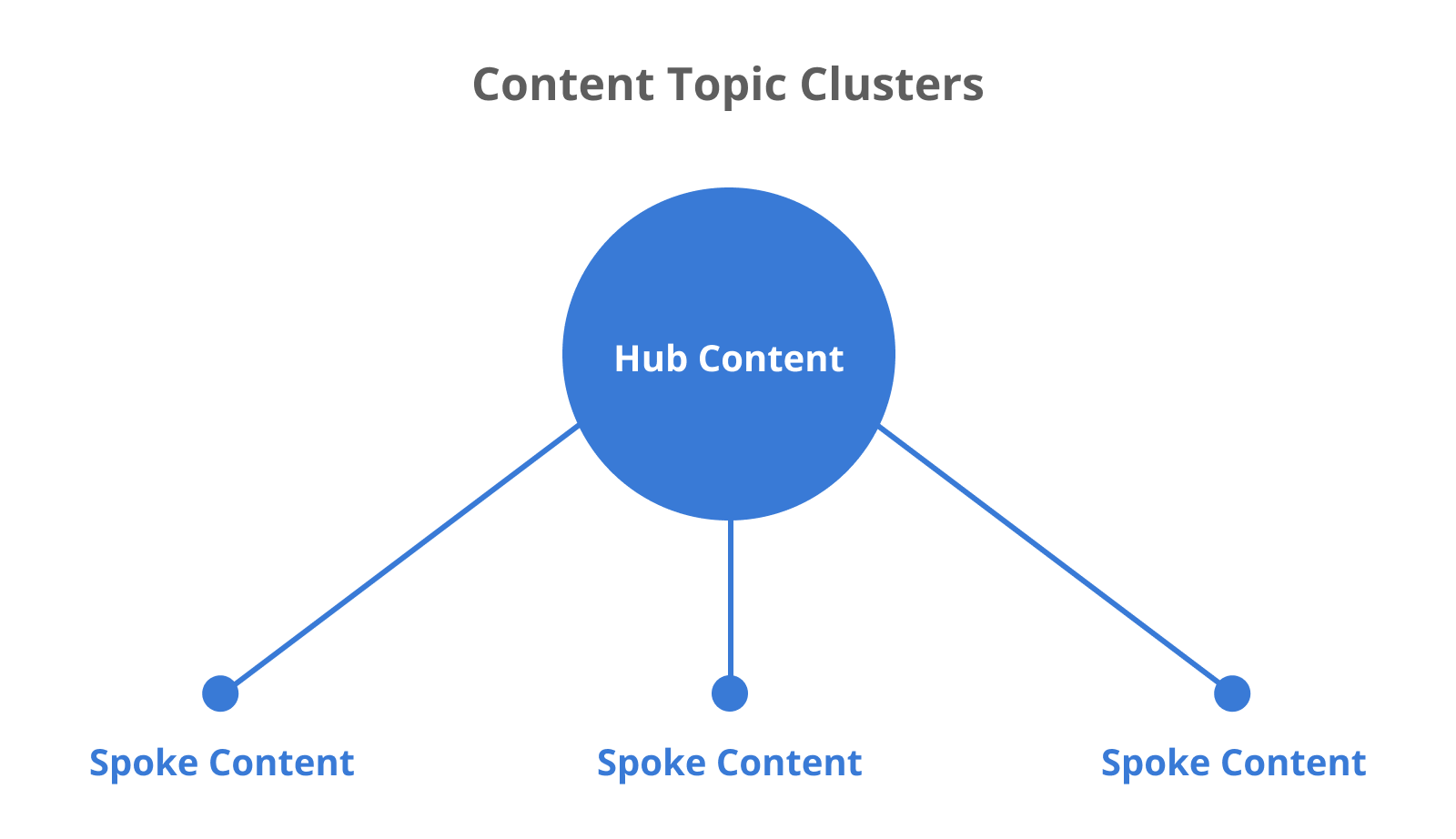 We do this on our own blog. For example, for the topic of customer-channel fit, we created a "hub" article:
Customer-Channel Fit: How to Identify the Right B2B SaaS Marketing Channels
And we also created "spoke" articles to support and link out to: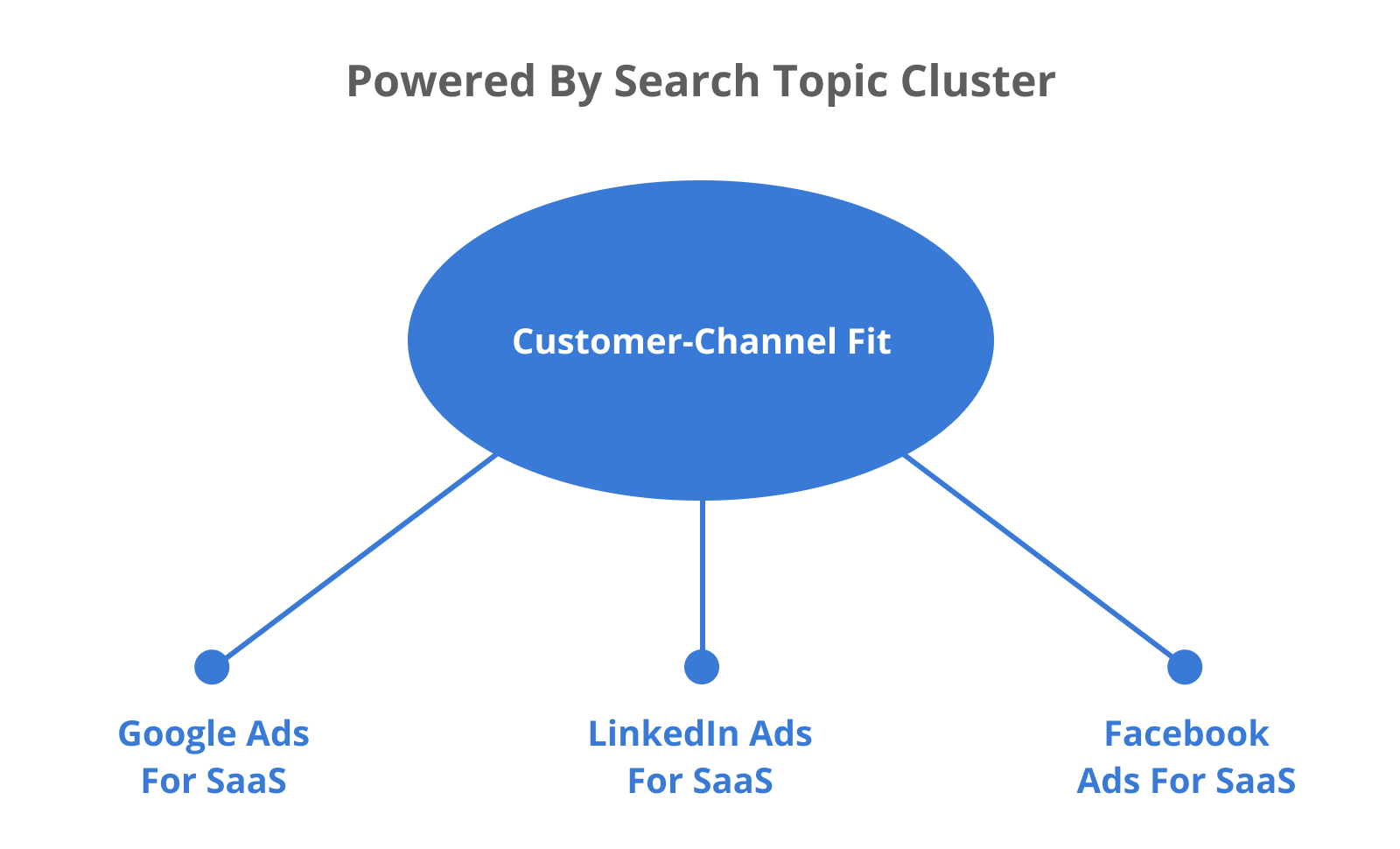 Long story short: search engines are rewarding websites that cover their topic category comprehensively.
7. Consolidate Content and Update Consistently
Very often we'll work with clients who have a number of different pieces of content on a similar topic that end up competing with each other. These can be opportunities to take multiple pieces and combine them together into a single piece of great content — something that's exceptional and much more likely to rank than any of the individual pages on their own.
Consolidation can also mean removing stale content from your website. If you have content that's not performing, in many cases it's better to delete it altogether to help keep both users and search engines focused on the content that does perform.
Lastly, content needs to be consistently updated. The nature of the SEO game is that if you have content that's ranking for high value keywords in your niche, your competitors will inevitably be trying to create content to outrank you there. By regularly updating yours, you can stay ahead of the competition.
8. Create Content for Authority, Not Word Count
Continuing the thread of how search engine algorithms have evolved, word count and keyword density have also become less relevant over time. Rather, writing for the user and going for quality have become the gold standard for gaining authority in your topic category.
The key ways to increase the authority of your content include:
Producing content by an individual contributor or brand with subject matter expertise. Content that is well researched and created from a known industry source is seen as higher quality than a piece that appears to be haphazardly put together. This is especially true in regulated industries such as medical or legal, and formal education, where credentials are an important signal of subject matter expertise.
Earning backlinks from reputable and trustworthy websites. Backlinks from other industry experts or trusted sources will increase the trustworthiness of your website. Backlinks from irrelevant or spammy sources will have a negative impact.
Creating content that is definitively authoritative. If you produce content that is more comprehensive than competing pieces, search engines will likely favour it over everything else it finds on the topic. But remember, this doesn't necessarily translate to word count. Authoritative content simply just needs to be the best at explaining.
9. Don't Forget User Experience
Google tracks metrics like time on page, bounce rate, and other user performance stats that tell them how people are acting on your site's pages.
So if you're sending someone to a page with poor user experience, or if a user needs to visit ten pages on your site before they find what they're looking for, it can be detrimental to SEO performance.
As such, following user experience best practices has become important, both when it comes to your site's design and the type of content you create.
SaaS Website UX Design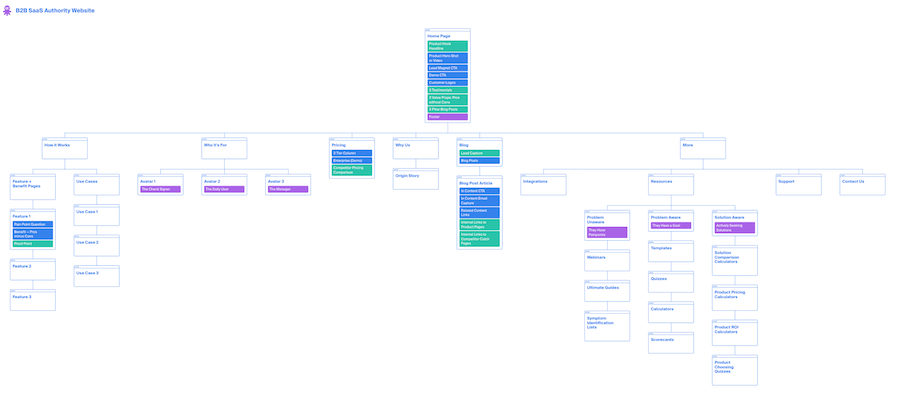 View Our B2B SaaS Authority Architecture Website Map by clicking here.
When your website has good UX design, the metrics that Google tracks will improve. People will spend more time on your pages, bounce rates will go down, and conversion rates are likely to increase.
Visit our article on SaaS website best practices to learn our entire framework for setting up your website with user experience in mind.
Types of Content for Different Channels
There are a number of different channels through which SaaS content marketing can be used for lead generation, and content often works best when it's created with a channel in mind.
For example, if you're planning to drive traffic to a piece of content through paid social media or community promotion, you might choose to create thought leadership pieces, in-depth stories, or expert interviews — unique, interesting content that causes readers to share.
Whereas if you're creating content for SEO, you might write list articles, competitor comparison pieces, or in-depth "how to" posts — formats that search engines tend to reward in search results.
To get a hint of what user experience your piece should provide, type your target keyword or keywords into a search engine (Google) and look at the formats of articles and pages that show up. The top ranked links are there because Google thinks they provide a good experience, therefore, it's generally a good bet to structure your content similarly to what shows up.
10. Conversion Rate Optimization and Capturing the Lead
Finally, if the objective of your content is to generate leads and revenue for your business, it's useful to follow CRO best practices as well.
Some of these CRO best practices include:
Making a compelling, relevant offer to the user
Displaying a clear call-to-action (CTA)
Testing user behavior to optimize for conversions
Consider this example from our client Titan GPS:

Here they efficiently make a clear call-to-action, communicate the benefits of their service, and as we covered in our article on SaaS landing page best practices, they make it easy for their prospects to understand the next action they should take.
Conclusion
The opportunities to acquire new customers through SaaS content marketing are here, and we've seen how valuable they can be when you approach SEO with the right strategy. So if you're working hard to learn how you can improve your efforts to bring in leads through search, we hope this article will help you get to where you want to go.
If you've been investing resources in SEO content and seeing stagnant or declining results, you can schedule a Free SaaS Scale Session to learn about how we can help you improve your SEO.
What you should do now
Whenever you're ready…here are 4 ways we can help you grow your B2B software or technology business:
Claim your Free SaaS Scale Session. If you'd like to work with us to turn your website into your best demo and trial acquisition platform, claim your FREE SaaS Scale Session. One of our growth experts will understand your current demand generation situation, and then suggest practical digital marketing strategies to double your demo and trial traffic and conversion fast.
If you'd like to learn the exact demand strategies we use for free, go to our blog or visit our resources section, where you can download guides, calculators, and templates we use for our most successful clients.
If you'd like to work with other experts on our team or learn why we have off the charts team member satisfaction score, then see our Careers page.
If you know another marketer who'd enjoy reading this page, share it with them via email, Linkedin, Twitter, or Facebook.