SEO Strategy for B2B SaaS: Tying KPIs to Revenue and Prioritizing Actions That Drive Results
Last updated: November 26, 2019
Effective SEO strategy for B2B SaaS companies is not about jumping in and doing everything under the sun.
Yes, your site needs to:
Be technically healthy for search engines to crawl and index
Have high-quality content that answers the intent of your customers' search queries
Attract links from other relevant and authoritative sites
But working to implement every SEO best practice all at once lacks a focus on driving results that actually make a difference in your bottom line (MRR for your business).
Results from SEO don't happen overnight and in the big picture it's a long term game.
But if you want to give yourself a chance at seeing some high impact results in a period of several quarters as opposed to several years, you need to be able to identify and focus in on the highest priority items to work on first.
For example: We were working with a client who makes landscape design software. When they began working with us, they weren't ranking on page one of Google for the most important keyword for their business: "landscape design software."
So while there was a long list of SEO-related actions we could have taken in the beginning of our engagement, we decided to focus on that one page. We made sure it was technically healthy.
We set out to create content that would match the intent of the search query better than any other page on the internet. And we developed relevant publisher relationships to earn authoritative backlinks to the page.
The results: a first page ranking on Google within 90 days. Over two years, with the combination of both our SEO and Paid services, they saw their annual recurring revenue increase from $8 million to $12 million.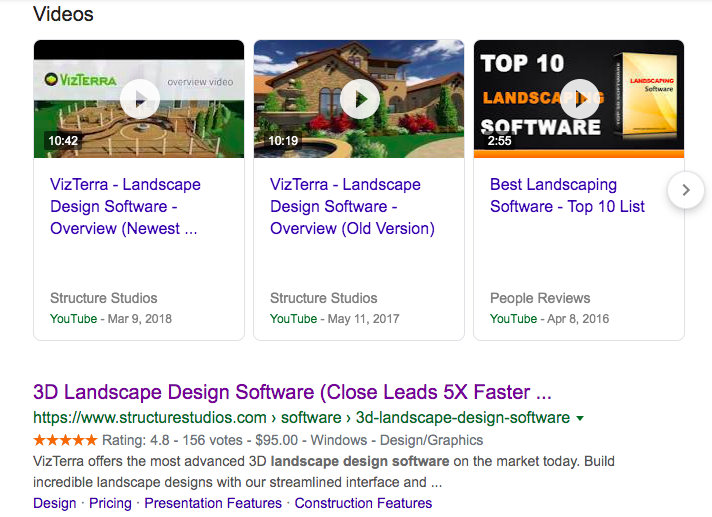 Prioritizing actions that drive results is one of the key elements of our SEO strategy. In this article, we'll be covering the things that make our approach to SEO different from most agencies out there, our SEO workflow (to give you a sense of timelines and what it's like to work with us), and our 3 pillars of focus.
If you've been putting in the work to improve your SEO and your progress has been stagnant or declining, you can schedule a Free SaaS Scale Session to learn more about how we can help you start driving results from your SEO efforts.
First, how is our SEO strategy unique to B2B SaaS businesses?
General SEO best practices don't really change. Any website needs to be crawlable, indexable, and authoritative, regardless of the vertical or niche.
However, how and where we focus does change. Here are 7 things we see as unique to SEO for B2B SaaS:
Because a SaaS is a digital product and not brick-and-mortar, there isn't usually a need for local SEO (related to physical geographical locations). There are exceptions.
While some industries rely heavily on search traffic for brand visibility, SaaS is very focused on bottom-line KPIs (MQL's, MRR, CAC), so everything we do in SEO for our clients focuses there, too.
There is more focus on forecasting. Since B2B software companies often have a higher ability to measure just about everything, there's more precision involved in setting a goal and working towards it in deliberate steps (rather than just doing 'best practice' SEO to complete an arbitrary checklist).
Keyword research can be inverted as volume is often not the goal. Especially if a SaaS is competing with a much larger competitor that holds significant market share, it's more effective to find long tail keyword opportunities rather than going toe-to-toe on terms with higher search volume.
We find there is more holistic cross-channel focus with B2B SaaS SEO than e-commerce, B2C, or local service businesses. If SEO traffic is not directly contributing to demo/trial signups then it is used as a driver for retargeting or PPC channels to ultimately earn those conversions.
Technical SEO focus is more Javascript intensive, and sites built with javascript can lead to unique challenges to ensure they are fully crawlable and indexable. If they aren't easily crawlable and indexable, it's less likely that search engines will display your pages in search results.
There's more competition with indirect competitors (eg. review aggregators like Capterra) than other industries. This changes some content focus as a SaaS has to be more aware of what content on their website can compete with these aggregators.
Now let's look at what we think separates our approach from other agencies out there.
4 Ways We Approach B2B SaaS SEO Differently at Powered By Search
A lot of the SaaS companies we talk to would love to see a clear connection between their investments in SEO and increased revenue for their business. But many of them have had a hard time making these connections on their own, or have worked with agencies who haven't made this connection for them.
For example, agencies they've worked with have reported primarily on KPI's like organic traffic and keyword rankings instead of metrics like MQL's, MRR, and CAC (which are closer or directly connected to revenue).
This is our #1 differentiator.
1. We Start by Understanding How Much Revenue Our Clients Want Out of an Engagement
Our first conversations revolve around figuring out how many customers and how much revenue you want to get out of your SEO efforts.
Then, we work backwards from there to decide what we will focus our strategy around. If we don't know what a client sees as success, it's very difficult to put together a proper plan for them.
This is how all agencies should design SEO strategies for SaaS companies – but, unfortunately, barely any do.
2. We're Highly Focused on Customer Intent
Effective SEO strategy aligns to the underlying intent of your target audience.
Our focus is on ensuring that everything we do is a result of deeply understanding your customer's motivations, wants, needs, and challenges that are the basis of their desire for the solution you offer.
Before content is created, we seek to gain clarity on these things first.
3. We Aren't a "Yes" Agency, We're a Consultative Partner
We've had clients in the past that have wanted us to just push buttons and pull levers for them, but this is not the way we like to work.
Rather, we play the role of a strategic partner that works to empower and educate you as we guide your SEO efforts in a direction that will lead to the results you're looking for at the end of the day.
4. We Do Diagnostic Workshops Rather Than Traditional Audits
Most agencies begin client engagements with an "SEO audit" where they get access to your platforms and run off for four to six weeks to prepare a gigantic report (that rarely gets read or understood) with every possible thing you could do to improve your SEO.
Instead, we have workshops every 1-2 weeks and we work through one core pillar at a time.
The three pillars of SaaS SEO we focus on are technical SEO, content, and link building outreach (more on these below). We find this approach makes the work we plan to do together more digestible, focused, and effective.
There's always something you can see, take away, and implement as quickly as possible.
Before we elaborate on our 3 pillars of focus, let's quickly walk through our SEO workflow.
How does SEO contribute to growth in an enterprise SaaS?
Many of our clients are enterprise SaaS companies. A common question is where in the overall strategy for SaaS Marketing SEO fits in.
And it makes a lot of sense to ask that – after all: isn't paid media a much faster way to drive leads for an enterprise B2B SaaS?
The reality is that at an enterprise level, there are multiple factors:
We're usually working on multiple areas of the business – we'll focus on driving growth through paid media and demand generation early on
The number of leads necessary to provide massive ROI on SEO for SaaS companies is actually really low – that said, with our strategy of early wins and longer term 80/20 strategic planning, we frequently find that companies we work with dominate the SERP for high-intent terms that turn into revenue for them with extreme predictability
Most commonly, when thinking about marketing an enterprise SaaS SEO is a part of the overall strategy for growth.
Our SEO Workflow at Powered by Search
At a high level, our SEO workflow can be summed up as:
SEO Discovery
Forecasting and Implementation
Reporting
SEO Discovery
There is always going to be some heavy lifting in the beginning of an SEO engagement. Through gaining access to your platforms and performing our diagnostic workshops with your team, we need to get the lay of the land to figure out what you want for success.
In this phase, we'll look at your SaaS website's technical SEO, your on-page SEO (content), and off-page SEO (backlinks, outreach opportunities, guest posting, etc.). Once we have that, we can start building a plan to reach the targets we've agreed on.
Forecasting and Implementation
Because it's very difficult to build out a one year plan and expect to stick to it throughout the entire year, we approach planning and forecasting in quarters.
Each quarter we'll develop a performance forecast including:
An impact-prioritized roadmap
A KPI forecast
And then we'll assign and schedule tasks to work through the roadmap on the path to meeting those KPI's.
Reporting
On a monthly basis we report on the work that has been done so far and refer back to the targets we've established.
Our reports include:
Comparing our forecast to actual performance
Technical SEO, Content, and Backlink Health Checks
Competitor Insights
Industry Insights
At the end of each quarter we look at the previous quarter, figure out what was done, what wasn't done, what opportunities are left, and we formulate our plan for the next quarter.
When we get to the end of the year, we step back even further to look at the big picture, evaluate progress, and course correct as necessary.
Along the way, we focus our strategy on the following three pillars: technical, content, and outreach.
SEO Strategy for SaaS: Our 3 Pillars of Focus
For context, a green arrow means you want more of that thing, and a red arrow means you want less of that thing.
At Powered By Search we take a very framework-driven, methodical approach in everything we do. And this is the essence of our framework for effective SEO for SaaS.
It's broken down into 3 pillars:
Technical SEO
Content Marketing
SEO Outreach
And we have five top priorities for each.
Technical SEO
Increase page level topical relevance: Modern search engine algorithms don't care about word count or the number of times you include your target keyword. They care about how relevant a page is for a topic and related entities. Algorithms for advanced natural language processing are quickly becoming the norm, as search engines learn to gauge relevance almost like a human would. So whatever you're doing to optimize content should be increasing topical relevance for the prospective customer.
Decrease website and crawl errors: If you have a lot of errors, you risk most of your content not being discovered by search engines, so we want to minimize as many of those as possible.
Increase time and budget dedicated to faster deployment: This is a matter of asking how can we break tasks up so they can be implemented faster? If it's a cost thing, how can we find more support to finish the jobs that need to be done?
Decrease response time to deploy content changes: We can give recommendations all day long, but they only work if they're implemented. So we want to make sure changes happen as fast as possible.
Increasing content and context of web content: Related to increasing topical relevance, search engines favor contextually relevant content across your site. From a technical standpoint, your content will be calculated against language processing algorithms to determine if what you have on a page and across your entire website should be considered authoritative on your topic of choice.
Content Marketing
Consolidate more pages: Search engines respond better to one page that is exceptional than several pages that are average.
Create fewer pages: Related to consolidating pages, moving forward we always want to create fewer pages whenever possible. Very often companies are tempted to create new pages every time a new benefit or feature comes up—but search engines prefer less pages and denser content.
Enrich content user experience: Not only is quality user experience better for your prospects, industry tests indicate that user experience seems to impact how Google sees the authority of websites.
Update important content frequently: If you set the bar with a great piece of content, inevitably your competitors will be trying to beat it. Continually updating and improving your content helps to keep it as relevant and high-quality as possible so you can stay ahead of your competition.
Decrease stale content: Similar to creating fewer pages, this is just making sure that what you have on your website is performing. If it's not, getting rid of it ensures you have a leaner website and you aren't sending users to pages lacking in relevancy.
SEO Outreach
Create more relevant publisher relationships: You always want to be building a strong network of influencers and people in the right places to advocate for your brand.
Build best in class content assets that publishers want to link to: Similar to the content marketing focuses, you need to have something worth linking to before you expect any publishers to give you backlinks.
Send more 2-step personalized outreach emails to publishers: This is an internal process to make sure that when we're conducting outreach, it's not lazy or template based. If you're sending them something boilerplate they'll realize it and you'll burn the opportunity without them even giving you a chance.
Send less transactional follow up emails: Related to more personalized outreach, this is another reminder not to send generic follow up emails.
Continuously reclaim brand mentions and usage: Anywhere on the web where people mention your brand and don't link to you is low hanging fruit and an opportunity to reach out for an easy backlink.
What is the role of search engine marketing in the B2B sales funnel?
The role of search engine marketing in the B2B sales funnel is to capture existing demand and to get in front of the right visitors at the moment when they have a pain your SaaS product can solve.
Most people target high volume keywords that are more informational or research based keywords. Our strategy is to target BOFU keywords which have high intent and can help us build pipeline (MQLs, SQLs, SALs) quickly for our clients.
Conclusion
By understanding where to focus your resources, you have the opportunity to drive results from SaaS SEO strategies that actually increases revenue for your business.
The process of execution requires patience and a long term outlook, but with a proper plan you can chip away at the highest priority items first to give yourself a shot at seeing results sooner than later.
If you've been putting in the work to improve your SaaS SEO strategy and your progress has been stagnant or declining, you can schedule a Free SaaS Scale Session to learn more about how we can help you start driving results from your SEO efforts.
PS: If you're interested in working with our SEO team at Powered By Search, we're currently hiring a remote Senior SEO Strategist.
What you should do now
Whenever you're ready…here are 4 ways we can help you grow your B2B software or technology business:
Claim your Free SaaS Scale Session. If you'd like to work with us to turn your website into your best demo and trial acquisition platform, claim your FREE SaaS Scale Session. One of our growth experts will understand your current demand generation situation, and then suggest practical digital marketing strategies to double your demo and trial traffic and conversion fast.
If you'd like to learn the exact demand strategies we use for free, go to our blog or visit our resources section, where you can download guides, calculators, and templates we use for our most successful clients.
If you'd like to work with other experts on our team or learn why we have off the charts team member satisfaction score, then see our Careers page.
If you know another marketer who'd enjoy reading this page, share it with them via email, Linkedin, Twitter, or Facebook.