In the intricate world of search engine optimization (SEO), we think learning about what not to do is particularly useful for achieving better results.
This is because even if you're following the majority of SEO best practices (eg. writing great meta descriptions, optimizing title tags, etc.), your SEO efforts can still underperform if you get certain fundamental things wrong.
In this article, we'll touch on some of the commonly discussed SEO mistakes, but we'll also cover key mistakes that are often left out of the conversation. You can use this list to spot opportunities for improving the performance of your SEO, and ultimately for increasing revenue through organic search.
Note: If you want to skip ahead, use this link to go straight to the lesser known mistakes.
If you'd like to learn more about how we can help you start driving results from your SEO efforts, you can schedule a Free SaaS Scale Session today.
4 of the Most Common SaaS SEO Mistakes
In the first half of this list, we kick things off by reiterating some of the more common SEO mistakes that we've covered in our previous articles on SEO strategy and SEO content marketing principles. Then we get into some of the lesser-known mistakes we think deserve more attention.
1. Creating Too Many Pages
Often SaaS companies will have a ton of pages that compete with each other and weigh their site down (sometimes even creating duplicate content!). These days, Google is rewarding comprehensiveness rather than thinner content spread out between many pages.
If you want your content to show up on the first page, you're better off consolidating similar pages into a dense, high-quality piece of content, and deleting any stale pages that aren't performing.
2. Writing for Search Engines Instead of Users
Once upon a time, writing for search engines (eg. focusing on word count or keyword density) was an effective strategy for short term results. However, in recent years, updates to Google's algorithm have shifted to reward content that is most useful for the user — so the best approach now is to answer their inquiries better than anyone else, and provide a great user experience (UX).
Some of the key qualities for great UX include:
Content that is easy to read (structured with headlines and clear sections so it's skimmable)
Pages with a quick load speed
Design that's mobile friendly and scales well to any screen size
Content that's accessible to those with visual (or other) impairments
3. Focusing Keyword Research Around High-Volume Instead of Long-Tail Search Terms
More search traffic does not necessarily equate to more revenue.

As a simple example, if you decide to target the term task management software (2,400 monthly searches with .81 competition), and you never make it to the top page because the competition is so high, revenue from organic search for this term is unlikely to increase much.

Whereas if you decide to focus on the keyword team task management software (90 monthly searches with .52 competition), while there are significantly fewer searches, you also have a better chance of ranking well because there's less competition. Not to mention, targeting long-tail keywords enables you to get more targeted about search intent and who you actually want to send to your website.
Getting onto page one for this likely could increase your revenue.
This approach, known as targeting "long-tail keywords," has come to the forefront of modern SEO strategy. If you're not on the lookout for these long-tail keyword opportunities, you're likely leaving revenue on the table and you're likely optimising a lot of your work for the wrong keywords.
4. Publishing Content Without Ever Updating or Re-Optimizing It
The nature of SEO is that if you're ranking on page one for a high-intent keyword that all of your competitors are also trying to rank for, savvy competition will work on creating even better content to move past you.
So if you don't revisit your content periodically to update and re-optimize, over time you're likely to lose ground in the rankings. The alternative is to return to your content once a quarter or twice a year to see where you can improve it even further. This is your best bet at maintaining your position.
5 Lesser Known SaaS SEO Mistakes
1. Not Aligning Efforts with Bottom Line Results
If you're running paid ads, you're almost certainly monitoring your return on ad spend (ROAS) — a metric directly tied to your bottom line. But when it comes to SEO, it's easy to be distracted with vanity metrics like traffic and keyword rankings, when the metrics that really matter are closer to the actual revenue.
Instead, you should be measuring things like MQL's, SQL's, and MRR. So you want to go beyond organic pageviews, and look at conversion rates for actions like lead magnet downloads, demo and trial signups, and closed customers.
In order to measure these metrics, you need to have proper tracking and attribution set up in your analytics tool, such as Google Analytics (GA), which brings us to our next mistake.
2. Not Tracking Behavior From First Click Through to Conversion
If you haven't set up systems that allow you to see who is visiting your site, where they came from, and how they're behaving when they arrive, then it's very difficult to attribute your SEO efforts to conversions and revenue.
Therefore you need to have a GA tag set up on every page of your site, so that you have access to the right data for monitoring your ROI. But your job isn't done here. You also want to pay attention to this data and utilize it to improve your marketing at different points in the funnel (this can also be configured in GA).
For example, let's say there are multiple pages between the first click in Google search and an end goal conversion. If a user needs to visit an initial landing page, click to view an on-demand demo, and then sign up for a demo or trial from there, you want to be able to track behavior along this path in order to find sticking points and optimize your funnel.
3. Failing to Prioritize High Value Actions
At any given time, there might be a thousand individual actions you could take to further optimize your site for search. A lot of SaaS companies simply lack the know how to decipher which of those actions will have the most impact, so they don't end up prioritizing their SEO activities to focus on the highest value actions first.
There are two ways you can consider approaching this:
Prioritize a particular high-value page: We've seen this strategy work well for our client Structure Studios (see case study). By focusing on one particular page and keyword, we were able to help them get to the top spot in Google for the most important keyword for their business. One way to prioritize is to pick a particular term that has high buying intent for what you offer, and try to create the best page around for it.
Prioritize one key pillar of SEO: We break SEO down into three pillars — technical SEO, content, and link building outreach. Another way to prioritize actions is to choose a pillar that needs work and focus on that. For example, if you have great content but few backlinks, you might prioritize link building. Or if you are technically sound but lack content, you might prioritize content creation.
There are more ways to prioritize your high impact actions, but we've found these work well for jumpstarting your SEO and getting some wins under your belt.
4. Siloing Paid Strategy Away From SEO
Treating SEO as separate from other areas of your digital marketing is another common mistake we see. In particular, we see siloing SEO from your paid ad strategy as a missed opportunity.
For example, you can use a tool like Ahrefs or SEMrush to look at your PPC keywords and spot opportunities for targeting some of those terms through SEO content. Then, once you begin ranking for those terms, you can back out of targeting those in paid and save money.
Another tactic you can use is seeing what terms your competitors are bidding on in paid ads, and creating SEO content around those keywords.
5. Missing Select Branded and Non-Branded Keyword Opportunities
Most SaaS companies know they want to own the branded keywords that are unique to their brand and domain. For example, if they're FreshBooks, they know they want to rank for keywords like:
FreshBooks
FreshBooks blog
Contact FreshBooks
If your SaaS is not appearing for your own branded terms in organic results, then that is a huge problem! But there are other branded keywords that our prospects and clients often haven't thought of targeting. For example:
Competitor comparison keywords: These are the keywords that people search for when they want to compare one brand versus another (eg. FreshBooks vs. QuickBooks). This could be your brand versus a competitor's brand, or a competitor's brand versus another competitor's brand. Both are worth creating content for that lives on your domain.
Review site keywords: These are the keywords that review sites like Capterra and G2 typically own. For example, when people search for reviews of either you or your competitors (eg. "FreshBooks reviews" or "QuickBooks alternatives"), these are also keywords worth targeting.

In addition, while most companies we speak with know they want to rank for non-branded keywords like "Best [Core Use Case] Software" or "[Core Use Case] Tools," there are other non-branded keyword opportunities that get left out. For example:
Competitor keywords: These are the keywords your competitors are ranking for organically that you are not. They can be found with tools like Ahrefs and SEMrush using the "content gap" feature. If you're FreshBooks, you can plug in competing domains to see what terms they're ranking for that you are not.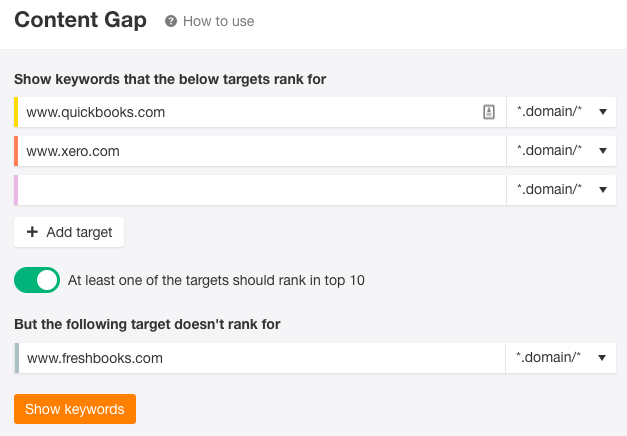 Pain point keywords: These are the keywords related to the problem that your SaaS solves (many of which will be specific keywords in the long-tail category like we described above). And they can be found by digging into review sites, talking to customer success managers and sales teams, and surveying your target audience.
If you're not creating content for all of the above, you're leaving the door open for your competitors to siphon clicks (and ultimately revenue) away from you.
Conclusion
If you've been putting in the work to improve your SEO and your progress has been stagnant or declining, these are all areas where you can look to diagnose what might be going wrong, and where you might have more opportunity to increase revenue through organic search.
We hope this list will help you take your SEO to new heights. If you'd like to learn more about how we can help you start driving results from your SEO efforts, you can schedule a Free SaaS Scale Session today.