SEO Roadmap for B2B SaaS: How to Get Early Wins
Last updated: March 23rd, 2021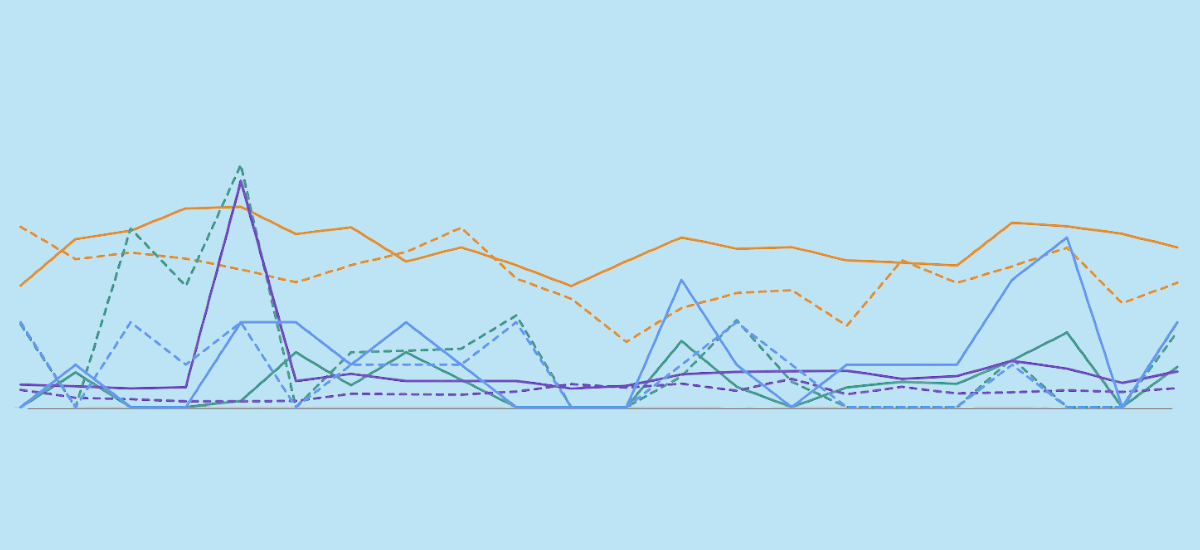 Most agencies will tell you that SEO takes time to yield any kind of results. How long you can expect to wait depends on who you talk to. Many agencies set a ballpark range of a year, sometimes even longer.
That's because what most agencies attack first is basic technical SEO. They usually run through the typical checklist of the following action items:
Run speed tests
Optimize your images
Look for redirects and check for broken links
Ensure that canonical tags are in order
Don't get us wrong. These tasks matter. But in the grand scheme of your SEO strategy, these changes are granular and work together as a collective over time. They'll make very little impact on what you can see or measure when you're first getting started with SEO.
In a previous article, we wrote about SEO Strategy for B2B SaaS companies, and explained how a good plan prioritizes actions based on effort and impact.
In this piece, we're going to dig deeper into the implementation of our process. Specifically, we'll discuss our roadmap for getting meaningful SEO wins in the first one to two quarters of our engagement.
You will learn about the 5 key action items we try to execute on the beginning of a new client engagement. In chronological order, they are:
We help B2B SaaS companies grow through SEO. If you'd like to learn more about our agency, check out our SaaS marketing case studies or schedule a Free SaaS Scale Session.
If you prefer to listen to articles like this, you can do so here:
Action Item #1: De-Indexing Blog Posts That Aren't Thematically Related to Search Intent
For companies we work with who have active blogs, we often find that they've written posts covering subjects that aren't directly related to their SaaS product and the problems it solves.
But this approach has a tendency to create clutter. Search engines can interpret this as an indicator of irrelevance.
When this happens, it can be valuable to de-index these posts along with any posts that are outside of your core topic area. Doing this can help you boost the topical authority of your website and create a focused presence that yields faster SEO results.
A post you de-index can still remain live on your website. But de-indexing means that there's no way someone can discover it unless you send them to it directly. The post will no longer be crawled by search engines or appear in search results.
De-indexing content follows this three-step process:
Step 1: Data Collection
We start with an internal crawl of the website. Doing so allows us to find, collect, and curate every blog article that a company has published. An internal crawl gives us a high-level overview of what blogs are live on their site.
If our client's website has a blog subdirectory, we filter for that in our crawl. This enables us to move much faster and more efficiently through this step of the process. We use tools such as Screaming Frog, SEMRush, or DeepCrawl, and build CSV/Excel spreadsheets where we compile this information.
Step 2: Analysis
Once we've gathered all their posts, we'll then analyze everything that we've pulled. Our analysis starts by simply skimming through each article's title. A quick glance is enough for us to identify the posts that have nothing to do with the main subject area of the company.
For posts with more ambiguous titles, we'll then analyze what keywords the post ranks for. SEMRush, Ahrefs, or even Google Search Console are all tools that can provide this level of detail.
What we decide to keep or de-index falls upon a few factors.
First, we assess how well the post we're analyzing fits the company's messaging. We de-index any post that doesn't match. For articles that seem to fit the theme of the website, we'll take a look at quality metrics such as depth, freshness, and whether they generate traffic. From here, we may decide to remove the posts completely or consolidate them into other posts for a content refresh.
Step 3: Erasing
The actual de-indexing of the content itself is often just a click of a button. Many websites that run on WordPress use Yoast for SEO.
Within that plugin, there's an option to hide pages and posts from Google indexing. But sometimes, we'll unpublish pieces outright, too.
When we delete irrelevant articles, we also consider what to do about the old permalink, too. For posts that were totally irrelevant, we'll redirect their old links either to the home page or the main blog page. Meanwhile, for pieces that have some topical relevance, we'll redirect them to existing, related posts.
Action Item #2: Create Internal Links to Features and Benefits Pages
Search engines must recognize your features and benefits pages as the end paths to a user's journey. To do so, you must ensure that they're the most authoritative pages on your SaaS website.
Anything you can do to bolster the content of those pages can provide a boost to your SEO. But one of the quickest ways to get this early win is to increase internal links to those pages. Interlinking to features and benefits pages from other relevant pages and blog posts can increase their standing with search engine algorithms.
How We Attack Internal Linking
The process of internal linking begins a lot like the process of de-indexing.
We start first by crawling the website and compiling all features & benefits pages, and blog posts. We then analyze what exists and start connecting the dots between them and other relevant content.
While analyzing blog posts, we take note of any mentions of features and benefits that happen to exist as standalone pages. From there, it's simply a matter of adding that link within the context of those existing posts in an unforced way.
It's always best to drop a link into a sentence or phrase where it makes most sense. But in some cases, there may not be a great spot to contextually add an internal link. In instances like these, we create sidebars or highlight sections that include simple calls to action, reminding readers to venture over to those feature pages.
Take this blog post written by Connect 365 for example. They're a B2B SaaS company we work with that offers client attraction and sales automation tools for B2C businesses.
We found that they had written a blog post about how to approach cold email and we noticed opportunities to add internal links to their feature pages about email outreach and automated sales follow ups.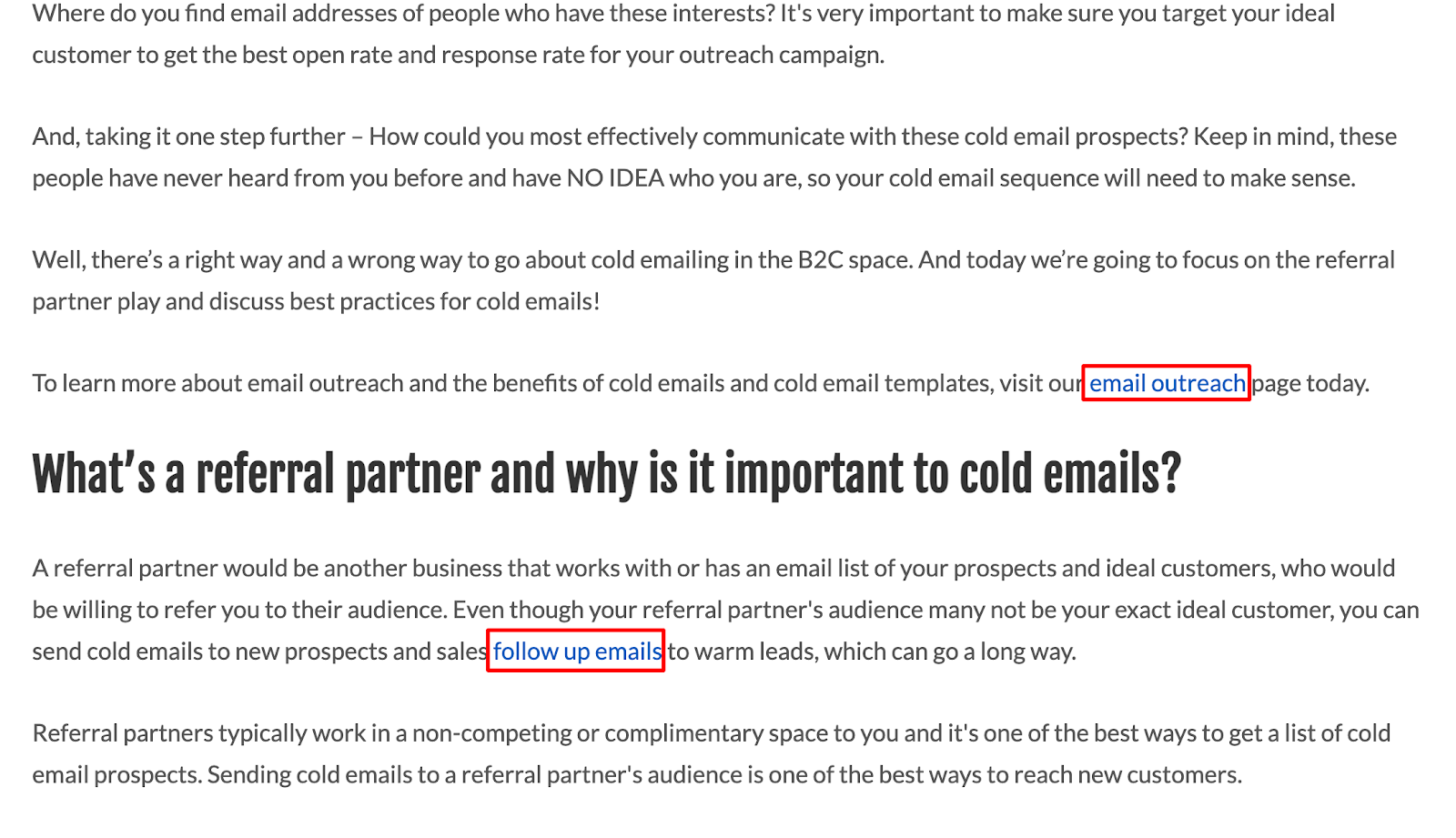 Within the first two months of implementing those changes, Connect 365 saw a measurable impact on their SEO. Their impressions on search results averaged a 500% increase over the time period, which also led to a noticeable increase in clicks.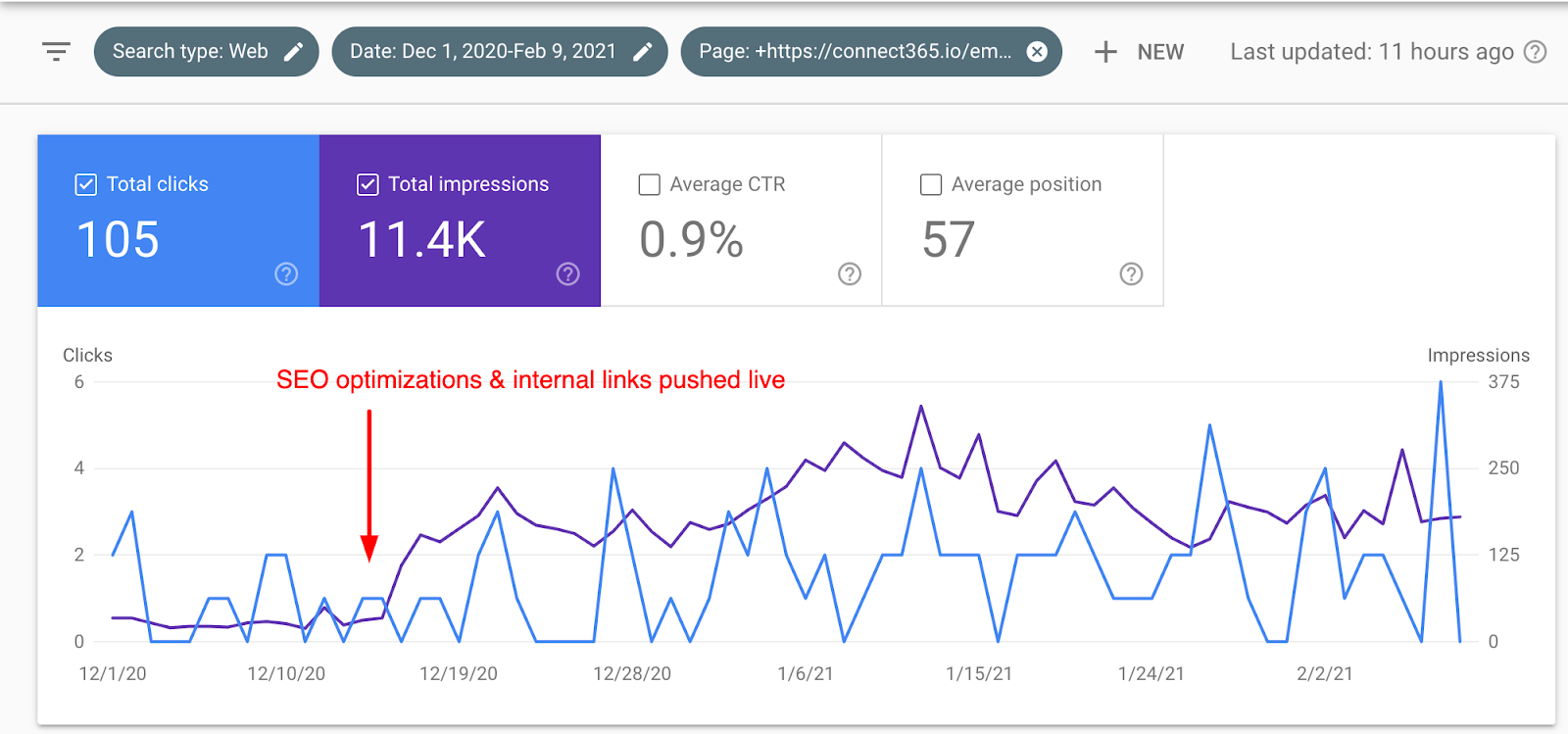 Action Item #3: Create Competitor Comparison Pages
In the SaaS space, prospects are often looking for alternatives to your product. This kind of search behavior is a good indicator of bottom-of-funnel intent. For example, review websites such as Capterra and G2 exist for the sole reason of meeting this demand.
Creating comparison content is low-hanging fruit you can grab to get a few early SEO wins. And chances are, your competitors may already be creating these pages themselves. Better you than them to win these keywords early. Doing so enables you to frame the narrative around your product instead of your competition.
But what if you're a relatively new B2B SaaS company with little brand recognition? Is this a worthwhile exercise for you?
We say yes — because there's an opportunity to insert yourself into the discussion about well-established competitors. Unless you're creating a completely new category, there are key players in your space that already exist. Odds are that they have users searching for more information about them.
Client Example: Truffle POS
Truffle POS is a point of sale system that serves both franchise and mom-and-pop restaurants.
They're a relatively new challenger in the POS industry and we helped design their website with our Authority Architecture Framework.
As part of that process, we assisted them in the creation of a comparison page that demonstrates how they stack up against two of their biggest competitors:
TouchBistro, one of the biggest POS system operators in Canada that has since expanded worldwide.
Lightspeed, another up-and-coming POS business also based in Canada.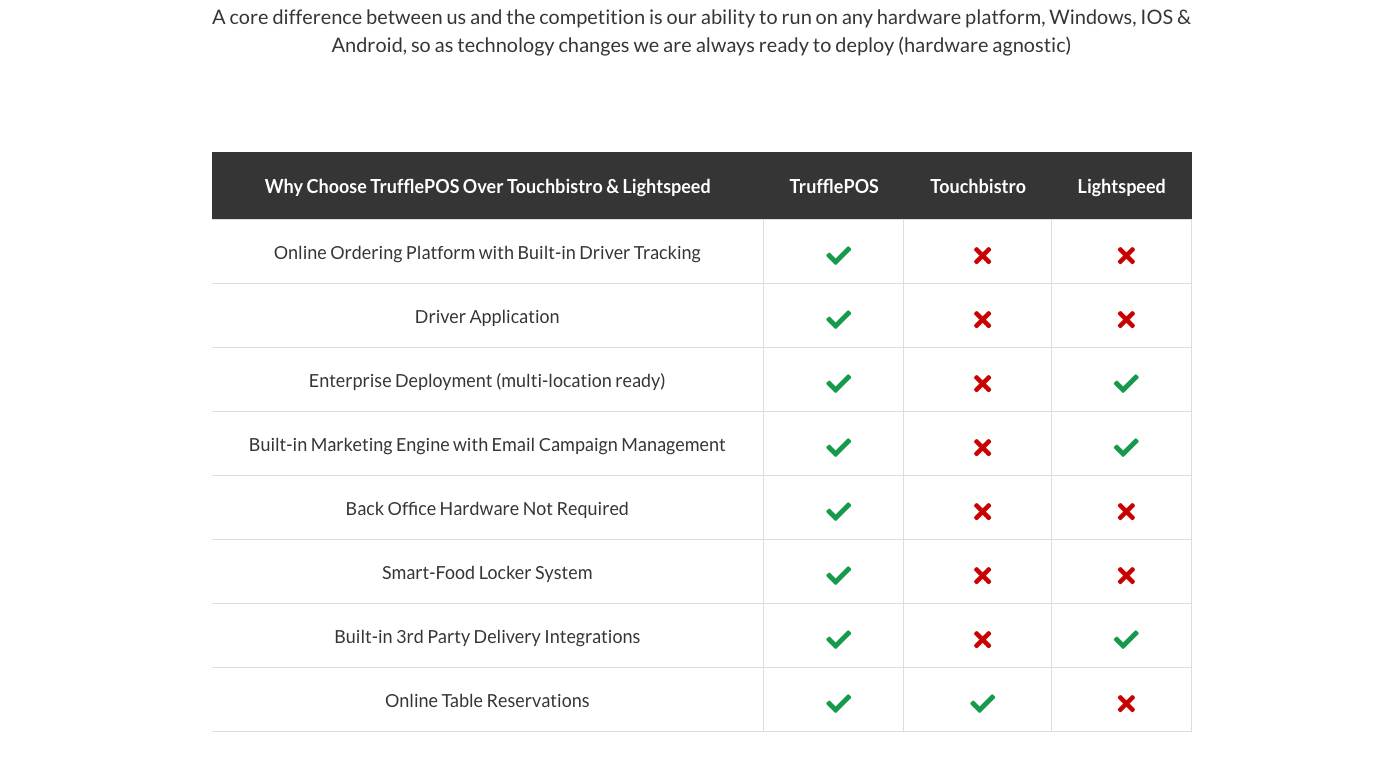 If you visit Google, you'll notice that search demand for a comparison breakdown between TouchBistro and Lightspeed already exists.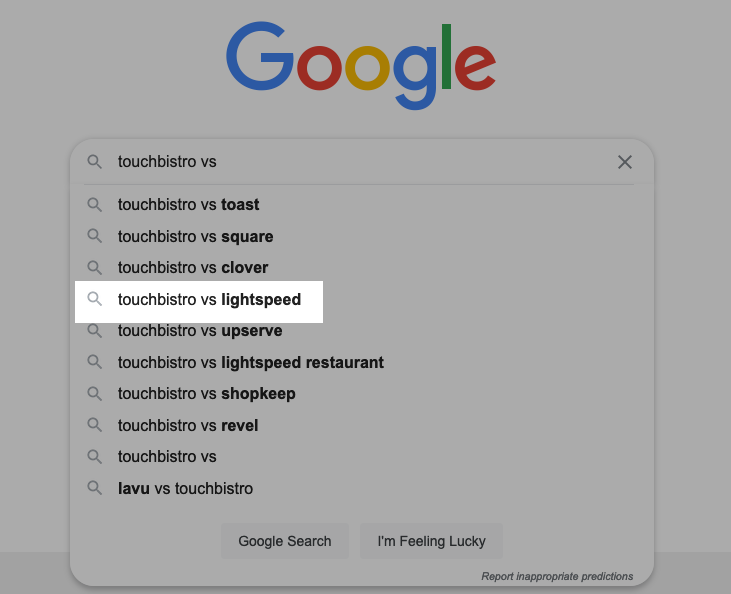 By creating this page and adding Truffle POS as a keyword modifier, we're able to insert them into the conversation users are already having about their competition. That enables them to generate awareness around their product in front of their ideal buyer personas.
Action Item #4: Add Depth to Features and Benefits Pages
As important as blog content is, your SaaS product pages matter even more. These pages need to be great because they're where most of your visitors will convert into customers. As we said earlier, these pages must be recognized by search engines as the end path of the user journey.
Vague copy and content that isn't clear about what visitors stand to gain from your SaaS product can result in low-conversion rates.
If you have fantastic blog posts but weak features and benefits pages, you need to work on improving them. One of the better ways to do this is by adding more details to your product pages.
How We Improve Features and Benefits Pages with Better Content
To add depth to your feature pages, the process starts with research. We'll focus the beginning of this process on nailing the keywords that those pages must target. Our process is the following:
Learn from sales and customer success.
Analyze your organic, paid, and CMS search data.
Use a keyword tool such as Ahrefs or SEMRush to validate the current pool of keywords.
Perform a competitive keyword analysis.
Analyze Google auto-suggest and SaaS reviews data.
Note: You can read more about these steps in depth in our article on keyword research.
Once we've determined what keywords to target, the next phase is to incorporate them into the content. This part of the process is more than dropping those keywords into headers and website copy.
We make it a point to add more relevance about the subjects those keywords are about throughout the pages. Aside from optimizing the hero section above the fold, we'll implement the following elements to increase depth:
Add relevant reviews and testimonials. To do this, we use the bullseye method. This calls for the company to ask customers questions that lead to specific reviews and testimonials, telling prospects the stories they need to hear.
Writing about features and benefits in a simple, yet focused way. We want the content we're adding to be specific to the problems and solutions that potential customers seek to solve.
Addressing any objections and questions that fit longer-tail searches. We'll incorporate the questions that "People also ask" on about the specific keywords we're targeting on Google as FAQs. More on this in the next section.
We also take a thematic and topical approach to adding depth. For example, let's look at what we did with Bravo Business Media. They help local companies create user-focused digital products such as catalogs and other presentation materials. One of the pages we beefed up on their behalf was a feature page on showroom marketing.
For this page, specifically, we rewrote their headline copy to be more clear and concise. And we made subtle yet impactful changes to their feature descriptions by incorporating the term "showroom" into their copy — which had been previously absent.
For example, one of their descriptions read: "Pay-Per-Click Advertising Management – We handle the management, budgets, reporting and more."
We changed it to: "Pay-per-click showroom advertising management– We handle your showroom's management, budgets, reporting and more."
This helps further communicate to search engines that the page's primary topic and theme is showroom marketing.
We made these updates to each of their feature descriptions: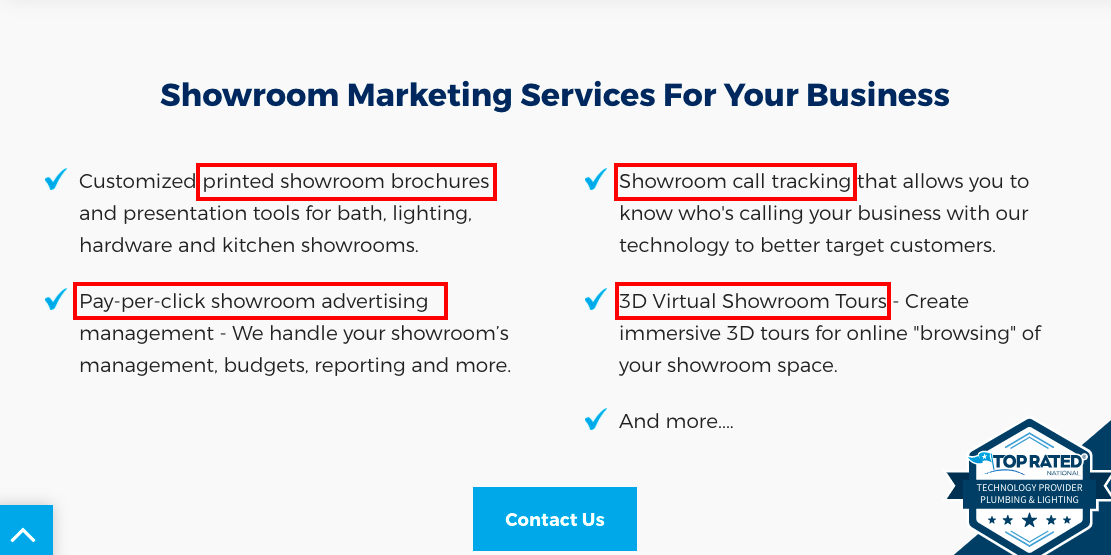 Just three weeks after we made these changes, this page enjoyed a measurable bump in search engine performance. Its impressions nearly doubled and the average SERP position increased on average by eight spots.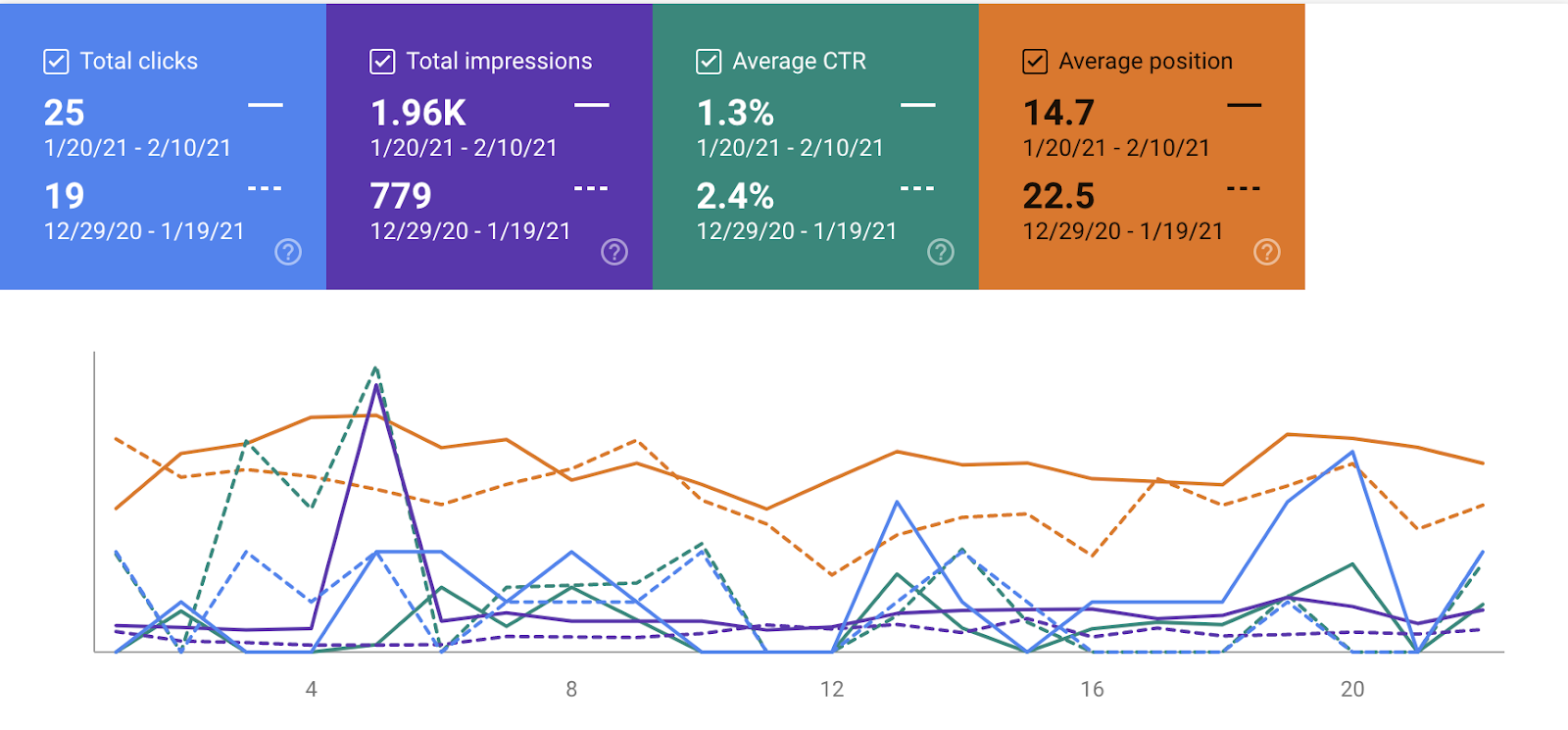 Action Item #5: Repurposing Sales Battle Cards into Blog Content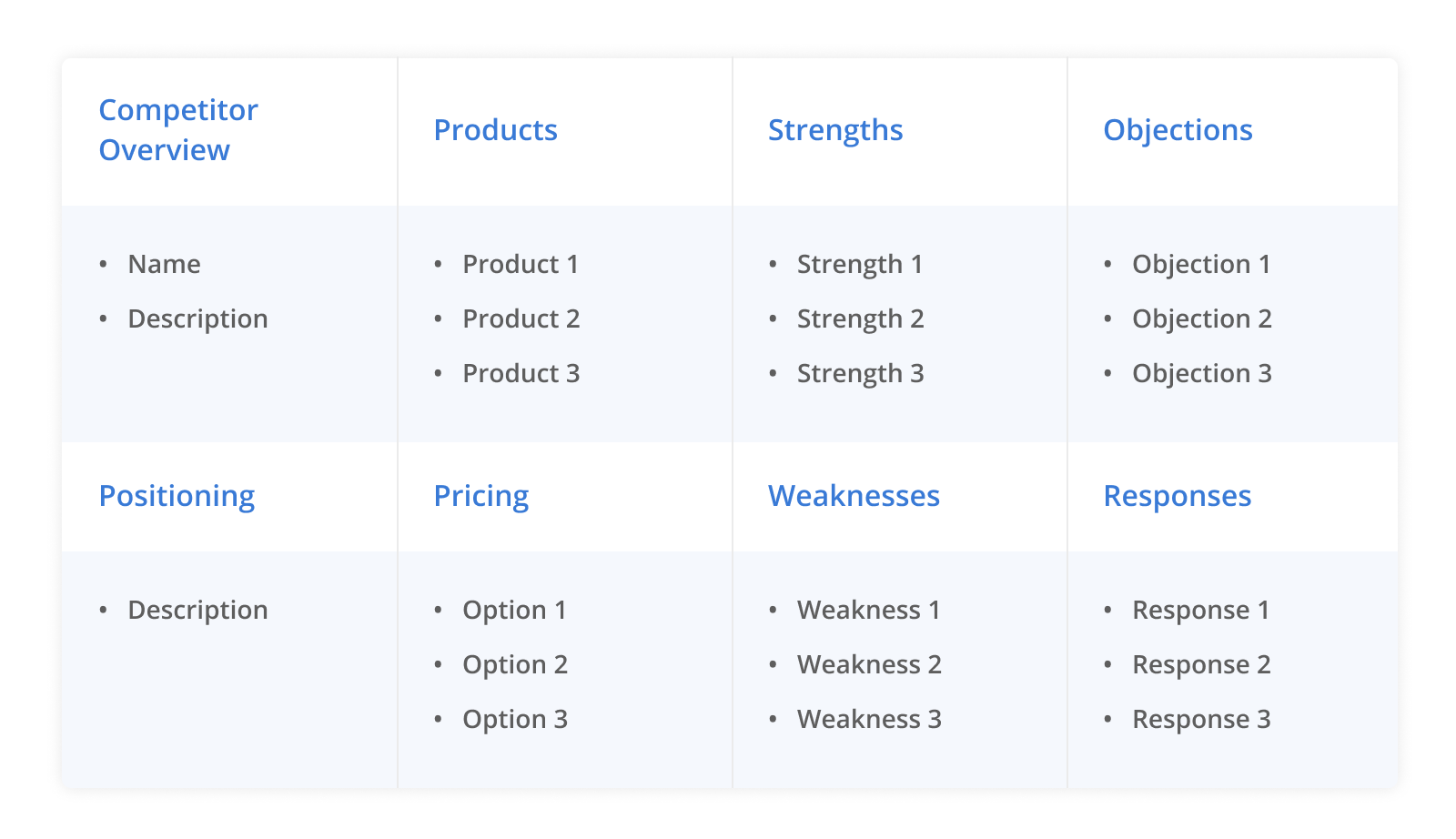 As we mentioned in the previous section, you'll often face objections from potential customers. Most of these questions end up in search results as frequently asked questions. This is especially true if you sell a product that has a long sales cycle because prospects often go through all the scenarios in their head of different objections that they might have.
When prospects enter your pipeline, they'll usually voice these questions and objections to your sales team. So rather than waiting to address them then, we believe it can be beneficial to answer them early-on.
Since you're already having these conversations, there's no harm in repurposing them into content for your website. By priming visitors about these questions and objections earlier in the process, your sales team can face less friction when the time comes to close the deal.
How We Transform Battle Cards into FAQs
First, we make sure that our client's FAQs are aligned with what has search volume on Google. We also monitor whether they're in line with what's appearing in Google's rich snippet results.
But sometimes, we may find scenarios where one or both of the above aren't the case. In situations like this, we'll use our judgment to determine if we should include them in our content. For example, we may find questions that show zero search volume. But if Google auto-suggests them in the search box, that's a good indicator that there's user interest.
Next, there's the schematic markup to consider. We'll code this in a way that indicates to search engines that the content on this page is an FAQ. Search engines should then curate those questions as FAQs in their results.
For the answers to these questions, we put the user at the center of this process. We make it a point to answer questions in a succinct and concise way. We're not writing a novel with our FAQs so it's important to keep answers short and sweet. We also aim to write answers to resolve the problems a visitor might have had before they read them.
Turning battle cards into FAQs also presents us with an opportunity to double down on the previous action items we've discussed. Battle cards are content that can add more relevance and depth to your website. They also provide an opportunity to incorporate more internal links to existing content your company already has.
Conclusion: Getting SEO Victories Faster
Implementing these action items at the start of a brand new working relationship is how we get new clients early SEO wins. But it's worth noting that long-term success isn't solely in our hands. The clients who get the most out of SEO roadmaps are those that are committed and have the capacity to execute the items we've discussed.
We can deliver recommendations about what can create the most impact. But when there's constraints around development, early wins may be few and far between. For example, when companies don't have the internal resources to create content, it might be more difficult to build competitor comparison pages.
Knowing this is why we've sequenced our SaaS SEO roadmap in this order. The first two action items are elements we can control and execute on a client's behalf. This buys them enough time to line up all the resources they might need to tackle the remaining items.
The final three items, though, call for collaboration. It's important to work together towards those goals. That requires a clear process for research, writing, and planning.
SEO is a long-term play, but it doesn't have to take you over a year to see measurable results. Our methodology is designed to demonstrate that it's possible to get wins sooner rather than later.
Tired of waiting to increase conversions through SEO? Schedule a Free SaaS Scale Session to learn how we can help you get measurable results faster.
What you should do now
Whenever you're ready…here are 4 ways we can help you grow your B2B software or technology business:
Claim your Free SaaS Scale Session. If you'd like to work with us to turn your website into your best demo and trial acquisition platform, claim your FREE SaaS Scale Session. One of our growth experts will understand your current demand generation situation, and then suggest practical digital marketing strategies to double your demo and trial traffic and conversion fast.
If you'd like to learn the exact demand strategies we use for free, go to our blog or visit our resources section, where you can download guides, calculators, and templates we use for our most successful clients.
If you'd like to work with other experts on our team or learn why we have off the charts team member satisfaction score, then see our Careers page.
If you know another marketer who'd enjoy reading this page, share it with them via email, Linkedin, Twitter, or Facebook.