Backlink Strategy: A Focused Guide for B2B SaaS Companies
Last updated: March 3rd, 2020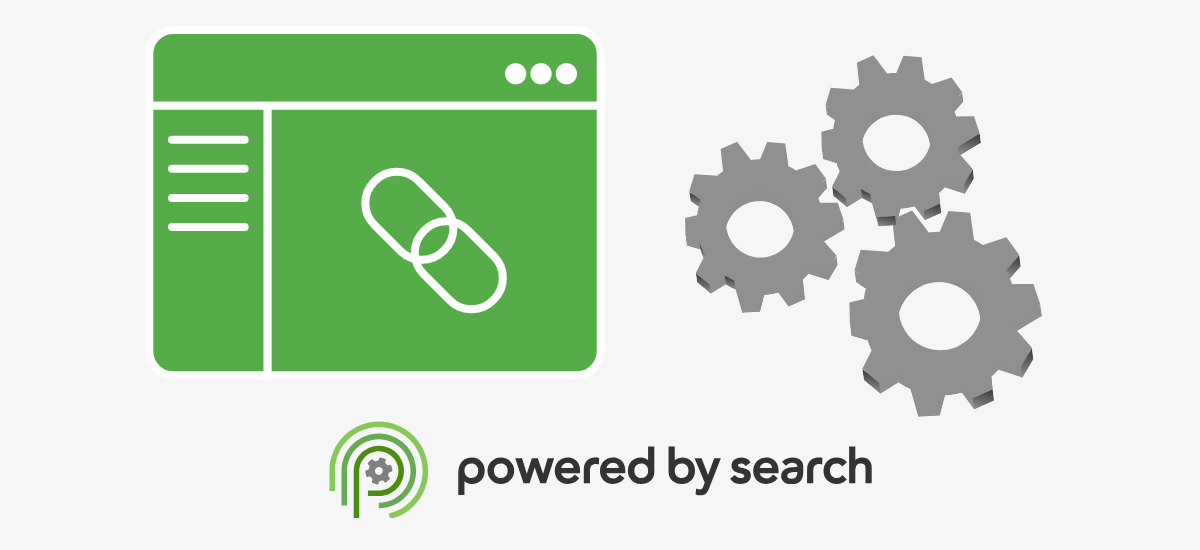 When we discuss backlink strategy with our clients, they've typically been feeling a number of the following pain points related to backlinks:
No one on their team has built backlinks before
They aren't sure how many links they need to build
They aren't sure if backlinks work or are really worth the effort
To the question of whether backlinks are worth the effort, our answer is yes (see Ahrefs links from pages with traffic study). We see link building as one of 3 essential pillars of search engine optimization (SEO), along with technical SEO, and SEO content — which we laid out in our post on SEO strategy for SaaS.
In this article, we're going to discuss the most important things SaaS companies need to understand about backlink strategy, including what not to do, and provide you with actionable strategies that you can use to build backlinks and increase the page and domain authority of your site.
Below we will cover:
Note: Link building is a part of our SEO services for B2B SaaS companies. Schedule a Free SaaS Scale Session to learn more about how we can drive leads for your business through SEO.
What Makes a Piece of Content Linkable?
The first step to attracting high quality backlinks is to have content that influential bloggers and high authority sites want to link to. The two qualities we think stand out as making content inherently linkable are uniqueness and usefulness.
Unique Content
If you want to create unique content, the types of content we have found work best are thought leadership pieces, opinion pieces, and mission or value-driven content.
Thought leadership articles provide fresh insight or perspective on your product. With opinion pieces, you present contrarian perspectives that argue against conventional wisdom in your marketplace.
The Scammers of the Blogging World — a piece by ConvertKit founder Nathan Barry that calls out "get-rich quick" schemers — is an example of this. Articles like this stir emotion inside of us, and both people who agree and disagree can be compelled to share.
And for mission or value-driven content, you explain your unique story about what led you to create your product, and how you solve your customer's problems differently than other players in your market.
For example, in Problems with Email, "Hey" by Basecamp lays out a simple list of 25 problems with email (that almost anyone could nod their head along to) that led them to creating their new email product. This piece not only makes a statement by calling out what's wrong with email, but it's relatability and relevance to just about anyone makes it inherently sharable.
The other type of content that's great for attracting inbound links is content that's useful.
Useful Content
If you want to create useful content, the types of content we have found work best are shareable (often comprehensive) content assets.
Shareable content includes your classic content marketing assets like surveys, studies, guides, or tools. With surveys and studies, by creating or organizing statistics around your topic area, you build authority and provide others in your industry a way to cite statistics in their own content.
A perfect example of this is the Ahrefs study that we linked to in the introduction. Think about it:
They're a SaaS company
They created a study about link building (which their product helps to solve)
And we (a business that's intertwined with their industry) linked to it as a source of authority
That's what useful content looks like when it's working. And they have a full suite of comprehensive guides related to their product as well: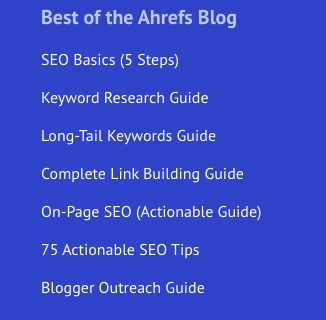 These types of resources work well because when you create something that teaches people things they want to learn, they're likely to share it with their peers who could also benefit from it (not to mention comprehensive content like this tends to do well on Google).
The bottom line: Every successful link building campaign must start with a solid foundation of linkable, quality content — and through our work with 35+ SaaS companies, unique and useful content is what we've seen work the best.
How Many Links Are Necessary?
Regarding how many links you need to build, we get this question a lot, and the answer is (as in many cases of digital marketing): it depends.
If you're trying to increase the overall authority of your website, the number of links you need is likely more substantial. But if your goal is to boost the authority of a particular web page, one or two quality links can sometimes be sufficient to move your page significantly up the Google rankings.
Here are some factors to keep in mind when you want to develop a baseline for how many links are necessary:
How many relevant, high quality links competitors have for your desired keywords
How fast they are building those links month over month (this is called link velocity)
What are some common backlinks that link to two or more competitors (it's likely that your website will need links from those same sources to catch up)
Once your baseline is established, the key is to work on one at a time, monitor the impact, and continue working on adding additional backlinks as necessary.
Is It Okay to Pay for Links?
What if you want to build links by outsourcing the task to a service? Are there white hat ways of doing this?
The answer: We don't recommend building your backlink profile by using a paid service because of the following associated risks:
Getting penalized by Google with a manual penalty
The considerable effort of having to demonstrate efforts in both identifying and removing what Google calls unnatural links
The undetermined time period and the associated loss in traffic and sales during a recovery period
If you hire the wrong service, they are likely to do you more harm than good.
However, if you're adamant about finding a service to do it for you, the key thing we'd recommend is that you ensure that they are reputable and take an editorial approach to link building, meaning they write articles that get published on relevant industry websites, linking out to your content naturally from articles.
Note: Link building is a part of our SEO services for B2B SaaS companies. Schedule a Free SaaS Scale Session to learn more about how we can drive leads for your business through SEO.
6 Strategies for Building Backlinks to Your SaaS Website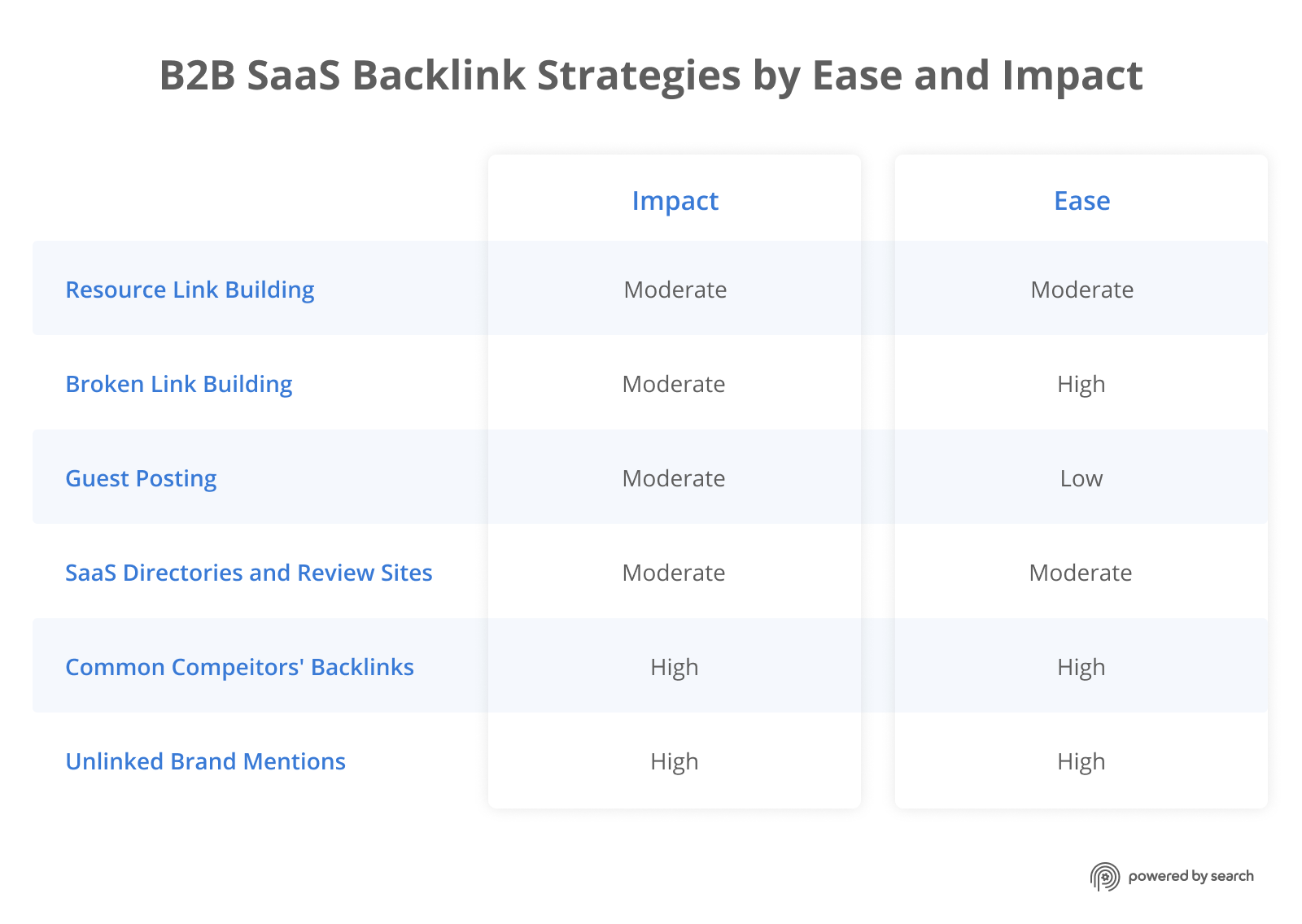 Based on our experience building links for SaaS websites, these are the strategies we've found to be the most impactful. For each strategy, we've indicated both impact and ease as being either low, moderate, or high to help you prioritize which actions make the most sense for your business.
1. Resource Link Building

This strategy requires you to produce a valuable and shareable content asset (like those discussed in the "Useful Content" section above), such as a survey, guide, or tool that can be promoted on other websites that list similarly relevant links.
Once you have this content asset and are able to successfully prospect for websites that include these lists, it is often minimal effort to contact the site owner to include your content and a backlink to your website.
Note: Any time you can acquire a backlink with exact match anchor text (meaning the linked words on a page match your main topic or target keyword), it can act as extra link juice. More on anchor text via MOZ.
2. Broken Link Building

If a website is incorrectly linking to a piece of content that no longer exists or is outdated and you have a replacement piece that is relevant and higher quality, you can reach out to the site owner to notify them of the dead link and offer your content as a solution.
Often, this can include competitor content that was moved or abandoned. This not only secures a new link for yourself — especially if it's an authoritative website — you may also see that particular piece of content move up in the search engine rankings compared to your competitors.
3. Guest Posting

Contributing to relevant and authoritative websites in your industry can also earn quality backlinks (and actively promote your brand in your voice which makes for great content).
While the impact of 'guest blogging' on any and all websites that will accept new content has become a played out strategy, there is still significant value in earning placements on the top community or editorial websites in your space.
However, it is important to produce contributor content that stands on its own as valuable to readers, not just to Google search. If you are sharing your brand's subject matter expertise then not only will you earn backlinks, but you will also strengthen your brand and potentially earn referral traffic from guest posts as well.
4. SaaS Directories and Review Sites

Listing your product on many of the numerous SaaS directories and review websites adds backlink equity and social exposure to your brand. Many of these popular websites receive large volumes of traffic as customers explore their options for products, so it can be a great place for initial discovery.
Here are a few examples:
5. Common Competitors' Backlinks

If your direct competitor has a backlink on a website that they do not own or specifically place themselves, your brand can often secure a link as well with minimal effort.
There are a couple opportunities to secure links from websites where your competitors are already mentioned.
If multiple competitors are listed but you are not, then the site owner can often add you to the list with minimal effort. For example, in the SaaS space you may find multiple competitors listed on comparison or review websites.
If a competitor's piece of content is being linked to and you have a higher quality asset to offer, you can negotiate with the site owner to replace their link with your own. This has two benefits — you earn a backlink, and you take away a backlink from a competitor.
6. Unlinked Brand Mentions

If another website mentions your brand in the form of plain text, or includes your logo or other asset without attributing back to your domain, you can often reach out to the site owner to request a backlink.
This is a minimal effort, high impact opportunity as the website is already familiar with your brand and values your service or particular content asset.
Often, unlinked brand mentions can be found on media or editorial websites that are high authority. However, not all media websites will openly provide a backlink if they do not want to specifically promote your domain, so success rates can vary.
Backlink Strategy Execution: Our 4 Step Process
With the above strategies in hand, you can use the following process to identify relevant link building opportunities, form valuable relationships with industry influencers and websites, and secure backlinks through outreach and proper follow ups.
Let's kick things off with step 1.
1. Research
The first step is the research phase where you'll learn about your marketplace and audience. You want to identify competitors with the highest authority, influencers with the largest reach, and the types of content that are earning links.
There are two ways we go about doing this (and both are worth pursuing).
The Usual Way
SERP and Backlink Analysis
Explore SERP's to find the top 20 websites ranking for the keywords you want to rank for.
Perform a backlink analysis to find overlaps of where these particular companies are getting links from (using a link building tool like Ahrefs or SEMrush).
Look for overlaps in the types of content getting linked to.
Find Influencers and Sources of Authority
This is the process of finding out which individuals your target audience is likely following — the authority figures in their industry that may have personal brand websites.
In addition, it's discovering the most relevant, high-authority pages in your industry. Learn more about how to find high authority pages where you can seek to get links.
The Underutilized Way
A mistake that a lot of link builders make is that they only look at who is being linked to today, and neglect to look into the websites that don't link to them or their competitors — which we think is an underutilized strategy.
To demonstrate how this works, let's take our client Board on Track who makes software for charter school boards. If we wanted to discover websites that aren't currently linking to them or their competitors, we'd ask questions like:
Where do charter school boards spend their money?
What do they fund?
What associations are they part of?
What conferences do they attend?
Are there other common software services that they need and use in their work?
It's a process of going out of the industry to see where your target audience might also be likely to discover you.
Note: Learn more about our work with Board on Track in our article on customer-content fit workshops.
2. Prospecting
The second step is the prospecting phase where we seek opportunities for building relationships with influential and authoritative websites in your marketplace. If you can make friends with people and websites who have a steady stream of organic traffic to high-quality content, these are typically great link building opportunities.
If you want to do guest posting, this is especially important because these engagements require a more established relationship than the other strategies.
Some ways to go about prospecting include:
Attending conferences and other live industry events
Attending digital meetups or joining engaged online communities in your industry
Creating a roundup article and asking influencers to share their knowledge with your audience (learn about roundup articles and the other top types of B2B SaaS content)
Becoming a valuable contributor to an industry LinkedIn group (with a focus on sharing value, not asking for favors)
Contributing to relevant Twitter chats
Building relationships with publishers and blogs in your niche
Introducing or brokering content relationships between two publishers or bloggers who may not know each other, where each other's content is complementary and useful to their audiences
3. Outreach (Personalized Calls/Emails, Never Templated)
This next step is when you reach out to the influencers and websites you've identified on behalf of your company. And you have to do it in a way that isn't spammy.
While sometimes you'll ask for a link (eg. with the broken link strategy), most of the time we actually recommend that you not directly ask for a website link unless it's someone you have built up a solid relationship with.
If you're doing cold outreach, what you want to do is figure out how you can add value for the recipient in a way where you can also include a link to your piece of content.
An example might be something like:
"Hey [NAME], I love the content on your site. My team is currently writing an article on 'X', and we're wondering if you'd be open to checking out our outline. Would you be open to taking a look?"
If you were to receive a positive reply, you could send them the outline for feedback. At this point, you've involved them in your process, started a relationship with them, and made them feel that their perspective is valuable. And you might end up receiving an interesting suggestion from them that improves your content.
And then, you could respond back and say something like:
"Hey [NAME], we were planning on posting this on our site, but if you'd like, we'd be happy to post this on yours."
And then see how they respond.
In this way you have framed it as more of a favor than begging for a link. This isn't perfect science and it won't work all the time, but hopefully this example gives you an idea of the finesse required in link building outreach.
4. Follow Ups
One attempt to reach someone is often not enough. Your outreach should include a follow-up sequence to ensure that opportunities are given a fair attempt.
This doesn't have to be overcomplicated. If we don't hear back on our first message, we'll just send them a note asking, "Did you see this?"
And we'll send 2-3 follow ups in total.
4 Rules of What NOT to Do When Building Backlinks
Do not engage in any black-hat tactics that may potentially get you penalized. This can include anything from spun content, link automation tools, etc. If you are unsure about a tactic, talk to your peers or seek out advice to clarify.
Do not be rude to outreach prospects, even if they are rude to you. Remember that you are representing your brand when you do outreach and that you have to conduct yourself accordingly.
Do not make promises about what you can deliver in exchange for a link without first consulting your team (eg. sharing on social media, etc.).
Don't pitch irrelevant outlets – if your content doesn't add value and fit with their site, it's a bad idea.
Make it all about you.
Conclusion
If you're going to invest resources in creating content for SEO, not building links to it would be a huge missed opportunity. Plus, link building can be a great way to make relationships!
After all, if your content is truly valuable, people can actually benefit from reading and sharing it, and they want to see it. You just have to help it come across their awareness in the right way.
To sum all of the above up, if you can…
Create awesome, valuable content
Form relationships with the right people
Do outreach in a respectful way, working your content assets in with finesse
… you can get relevant backlinks and reap the benefits of those in the search rankings.
We do link building as a part of our SEO services for B2B SaaS companies. Schedule a Free SaaS Scale Session to learn more about how we can drive leads for your business through SEO.
What you should do now
Whenever you're ready…here are 4 ways we can help you grow your B2B software or technology business:
Claim your Free SaaS Scale Session. If you'd like to work with us to turn your website into your best demo and trial acquisition platform, claim your FREE SaaS Scale Session. One of our growth experts will understand your current demand generation situation, and then suggest practical digital marketing strategies to double your demo and trial traffic and conversion fast.
If you'd like to learn the exact demand strategies we use for free, go to our blog or visit our resources section, where you can download guides, calculators, and templates we use for our most successful clients.
If you'd like to work with other experts on our team or learn why we have off the charts team member satisfaction score, then see our Careers page.
If you know another marketer who'd enjoy reading this page, share it with them via email, Linkedin, Twitter, or Facebook.