Content Refresh: The Powerful Yet Simple Solution for Improving Your Search Traffic
Last updated: October 1, 2020
When traffic and leads start to stall, most SaaS companies think that publishing more content is the solution. But that often raises more questions than answers, like:
Who should be the writer?
What should we write about?
How should we conduct our keyword research?
We remember receiving an email from someone with a top-notch, in-house content team. Planning their editorial calendar and publishing fresh content on a steady basis was never an issue. But they were never sure if their content strategy was providing their ideal customers with what they wanted and needed.
There is, though, an alternative that most SaaS content marketers don't think to consider. It's a marketing strategy that, like new content, can lead to an exponential increase in new traffic and leads, but with a fraction of the effort.
We're talking about a content refresh.
Not enough companies ever revisit the content they already have. They rarely think about making tweaks to old blog posts or pages that exist on their website. But if your company is experiencing a downward trend in organic traffic and leads, a content refresh could be the right route for you. It's low-hanging fruit that, more times than not, offers the simplest and most efficient fix.
In this article, we're going to explain the why and how behind content refreshing. We'll teach you what you stand to gain from this content marketing strategy that's often overlooked. We'll also show you how to choose the right pages to revamp. Finally (and most importantly), we'll illustrate five foundational approaches for repurposing old content, using what we call the Content Refresh Pyramid.
Want to do a content refresh for your business, but don't have the time to do it yourself? We've introduced a new microservice where we'll audit and find your highest performing pages then refresh them on your behalf. If you're interested, then schedule a free SaaS Scale Session with us today.
Why Refreshing Existing Content Is Part of a Winning SEO Strategy
Refreshing old content allows you to work smarter, not harder. It's an opportunity to generate more traffic with the content you already have. Those are two of the primary reasons we nudge SaaS companies to do a content refresh, but there are other nuanced benefits as well:
Reason #1: Content Refreshes Can Improve Your Click-Through Rates
Many times old pages can lose traffic because headlines and descriptions are outdated. Changing them to reflect the present day is one simple fix that can result in higher clickability. We'll expand on this idea even further when we illustrate the tactic of changing title tags and meta descriptions later on in this article.
Reason #2: Content Refreshes Enable You to Create Long-Form Content with Less Effort
Another one of the approaches we'll detail later in the Content Refresh Pyramid is the idea of merging old content. Combining shorter pieces into one giant-authoritative page can strengthen your defenses against your competition. When you have content that's rich in detail ranking for valuable keywords, other businesses won't bother trying to outrank you. They'll target another keyword instead.
Merging pieces together can also attract more links. Content that's in-depth usually receives more backlinks than shorter pieces. Also, your website's bounce rate can improve when you give visitors a definitive source that answers their most pressing questions.
Reason #3: Content Refreshes Help You Maintain Website Authority
When it comes to bolstering their Google rankings, most companies only think about acquiring new backlinks. They rarely consider how they can hold onto the backlinks they already have. But when your content is updated, timely, and relevant, it will be more difficult for competitors to steal or fight you for your backlinks. At the same time, you can also start a new link-building campaign for that same page and continue strengthening its authority.
Reason #4: Content Refreshes Please a Critical Google Ranking Factor
As we covered in our article on SEO strategy for SaaS, Google strives to serve content that's relevant and authoritative. It also aims to deliver information that's driven by expertise and trust. When it comes to generating the SERPs for any given keyword, Google also has a preference for new content.
One of Google's key algorithm factors is the QDF, which stands for Query Deserves Freshness. By updating an old piece of content, you can appease this factor. As a result, your old page can enjoy a boost in search engine rankings.
Reason #5: Content Refreshes Combat Keyword Cannibalization
Having different pages that rank for the same keyword might seem like a good thing. But in reality, you're actually shooting yourself in the foot when you own multiple positions of the same SERP. This is called keyword cannibalization. A content refresh can solve this problem and result in more cumulative traffic because you're no longer competing against yourself.
How to Assess and Choose the Best Content to Refresh
Not all your pages will be worth revamping. You should only repurpose ones that have the highest potential for generating more traffic and strong leads. To figure this out, you'll need to take inventory of the content you already have.
Here's how:
Step 1: Build a List of Your Oldest Pages
Find and list the dates of publication on your website's CMS. You can also look at the URL structure of pages, which may include the year you published your content. This information is also available on Google Analytics. To stay organized, create a CSV file or Excel spreadsheet of all your pages that are over a year old. Some CMS platforms (like WordPress) have this feature built-in for easy exporting.
Step 2: Analyze Data on the Pages You've Collected
This part of the process will help you determine which pages are losing their power to help your business rank and drive more conversions. Go into Google Analytics and note how traffic and conversions have changed for each of your oldest pages. Pages that show an upward or steady trend are okay to leave alone. But the pages that are experiencing a dip are likely in decay and could use a fresh coat of paint.
Try not to limit yourself to considering pages that performed well on organic search only. Consider refreshing content that generated lots of social sharing, too. Old but timeless topics that did well on social media can work again. By recycling an old piece of content, it's possible to reach new people who didn't see it the first time around.
Step 3: Sort and Organize
Before you start improving the pages you've gathered, your next step is a sorting decision. You can accomplish this by organizing your content into two distinct categories:
Relevant Content
Outdated Content
From here, it's time to start using one or more of the levels from the Content Refresh Pyramid. For the content that's still relevant, you can try one of the lower-level tactics. For the content that's outdated, you may need to apply one of the higher levels instead.
The Content Refresh Pyramid: 5 Ways You Can Make the Most Out of Your Existing Pages
In our experience, content refreshes boil down to five specific tactics. The most basic methods are at the highest level of the pyramid while the more advanced approaches are closer to the bottom.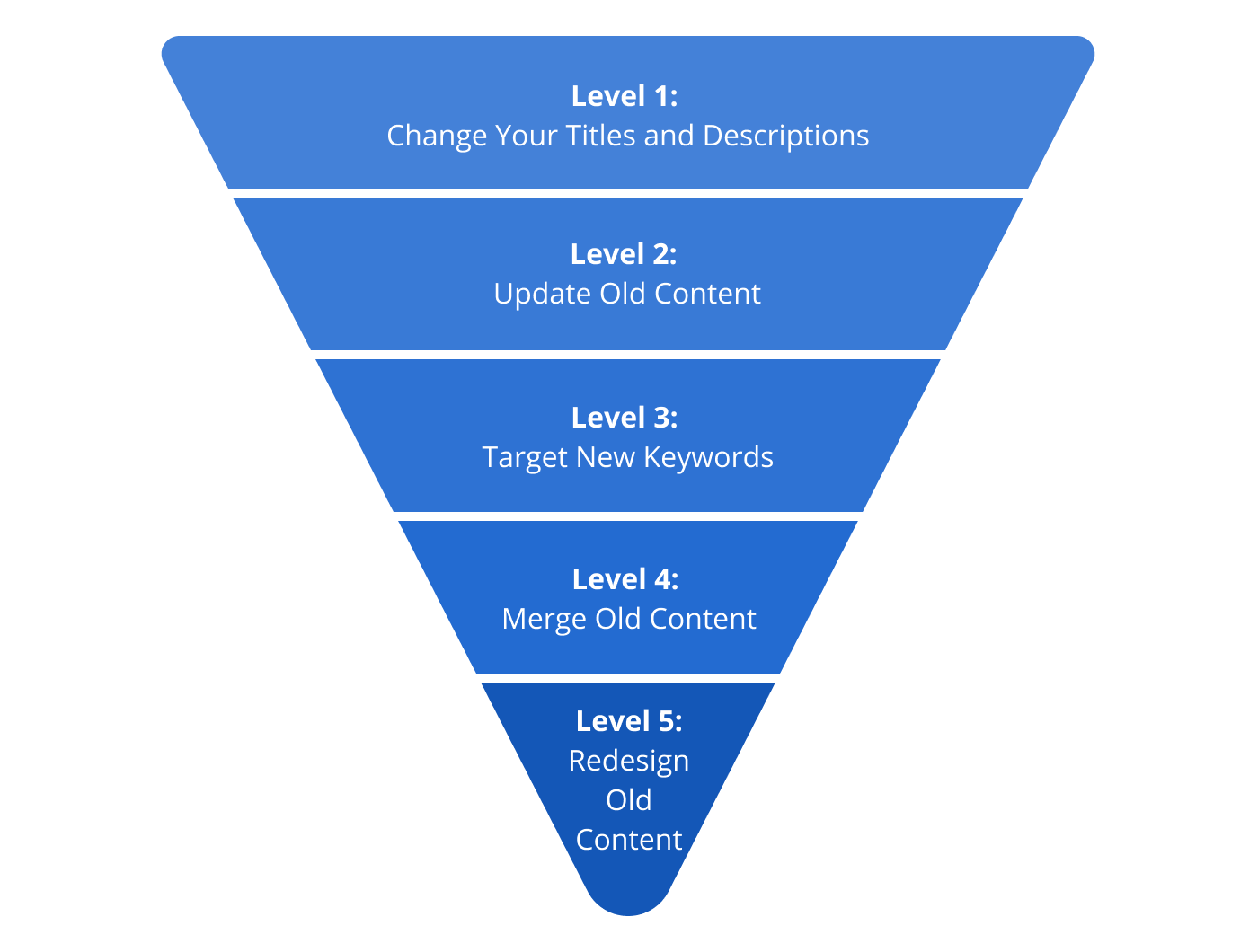 Level 1: Change Your Title Tags and Meta Descriptions
Remember that the purpose of a refresh is to generate more traffic from the same piece of content. As we mentioned earlier, one of the easiest ways to do that is by changing the titles and descriptions of your oldest pages. By updating title tags and meta descriptions of your old content, you're trying to discover two things:
First, you're analyzing if more people click through and visit your site.
Second, you're assessing whether they can improve your positions on Google SERPs.
Testing new titles and descriptions is like testing new ads. But the main difference is that there are fewer variables involved. In the case of finding winning titles and descriptions, you would only measure the following two options:
Your control copy, which is your page's existing title and description.
Your challenger copy, which is the new title or description you create.
You can only test one new challenger at a time. Doing the opposite runs the risk of confusing Google every time it crawls your page.
When more people click on your challenger copy, we've seen instances where rankings improve over time. A few suggestions for updating your title and descriptions are:
Include a mention of the current year.
Go from a generic keyword-focused title to something more compelling that uses elements of copywriting.
Show how many visitors it's had. For example, if your page has generated 50,000 or more pageviews, that social proof can be enticing for potential visitors.
Level 2: Updating the Content of an Old Page
Imagine that you published a piece several years ago on a topic that was important to your customers. The information at the core of this post is still correct. But the problem today is that most of its links are broken and its screenshots are outdated.
You can fix this with some light spring cleaning. Add new links, take new screenshots, and include references that make the piece more relevant to today. For pages that aren't decaying but are not driving conversions, you can create opt-in boxes for new lead magnets.
We recently applied this tactic to an old, but high-performing landing page for one of our clients, Field Insight. They offer software that streamlines operations for HVAC technicians, electricians, plumbers, and other service professionals.
The page we refreshed targeted the keyword "job management software", a topic their target customers often search. Though the page had potential, it lacked in the following areas:
No social proof.
Few visuals that showcased the software.
Problems with readability.
Copywriting that wasn't user-focused.
Few calls to action.
To improve readability, we used more concise verbs like empower or eliminate as opposed to complicated words such as supercharged. We also used checklists that featured bullet points with short statements about the product's features.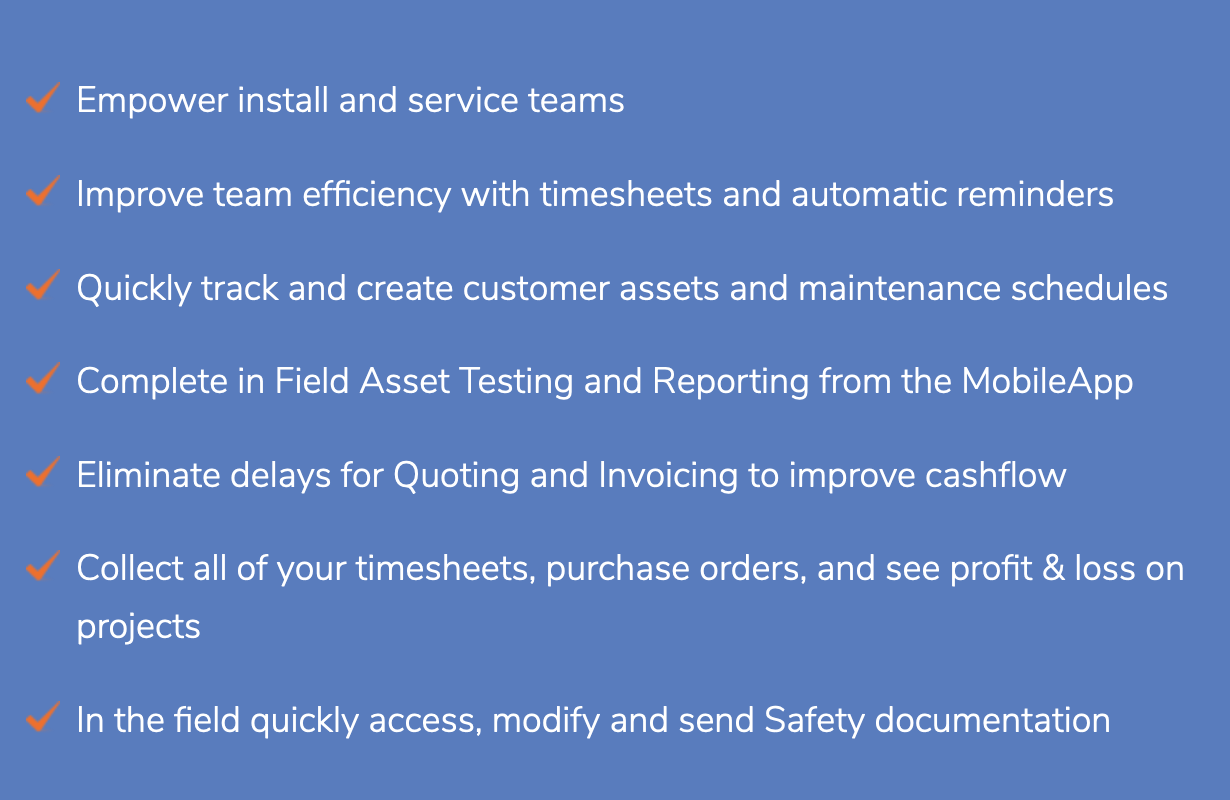 To update the copy, we wrote in a way that was more user-focused and less Field Insight-centric. We discussed the benefits that the user stood to gain from using the software and asked more questions related to their customer's pain points. We also added videos to provide visual evidence and demonstrate the value of the software.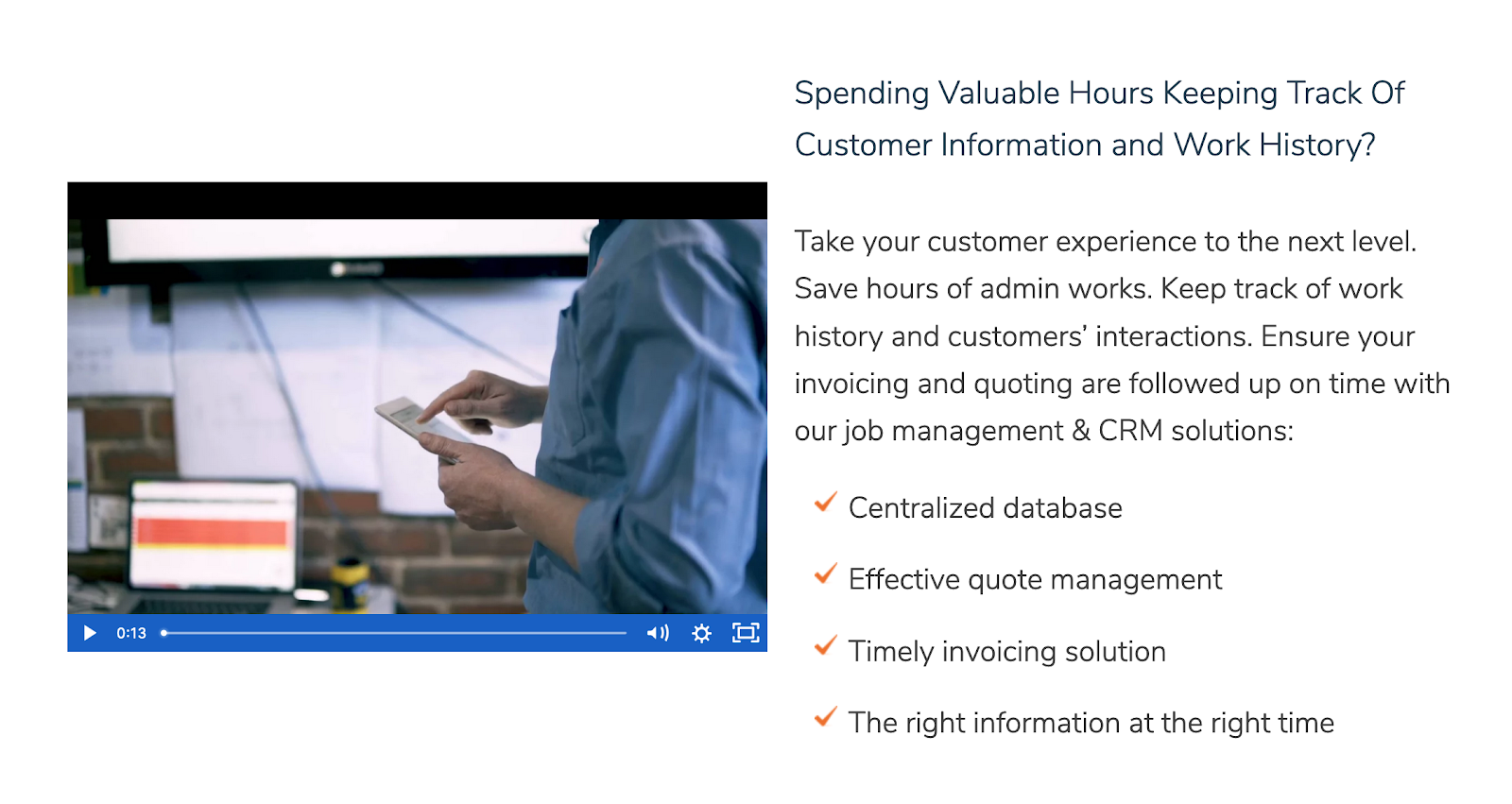 To address the lack of social proof, we incorporated logos of companies that rely on Field Insight to run their business. We also incorporated testimonials from happy customers.


Level 3: Target New Keywords
While assessing old content, you may discover that you're not ranking as well for the original keywords you targeted. But you may find other keywords your content has ranked for that demonstrate better buying intent. In this situation, you can optimize your page to address those topics.
This might sound time-consuming, but it's not. You only have to inject a little more content into an old page to reap the rewards. Adding a short paragraph that speaks to topics your page tangentially ranks for can be enough to make a difference.
This level breaks down into two steps. First, analyze your page with an SEO tool like Ahrefs, Moz, or SEM Rush. You can also do this for free using Google Search Console. Whatever you choose, the goal is to compile a list of all the incidental keywords that your piece ranks for.
Once you've identified the tangential keywords with the most upside, the next step is a content gap analysis. Use premium tools such as Clearscope, Surfer SEO, or MarketMuse to learn what details your piece is missing to rank for the keywords you've chosen. If you want a free alternative, you can visit the pages that currently rank on Google and assess them one by one.
Whatever you choose, the objective is the same. Aim to understand the subject matter of the content that ranks on the first page for your new keywords. Then, refresh your page to offer a unique perspective that differentiates you from your competition.
Level 4: Merge Old Content
It can pay to take a "better together" approach. Merging old content takes a little more work than the other three levels we've covered so far. But as we detailed earlier, having more long-form content can protect you against your competition and attract more backlinks.
To do this right, first identify two or three disparate, but related pieces of content from your website. Then, make the most authoritative page of the bunch into your mothership piece that combines information from all three. The last step is to create 301 redirects from the URLs of the pieces you didn't choose to your updated, mothership page.
For example, many SaaS companies create blog posts that cover product updates. But as time passes, these once-new posts become stale and irrelevant. Instead, they could incorporate the content from those announcements to an existing, product roadmap page.
Bear in mind that you'll likely see a dip in organic search traffic when you do this. This can be frightening at first, but it's normal. This happens because the secondary pages that redirect to your refreshed, mothership page lose rankings for their original keywords. As a result, Google needs time to adapt to the fact that your old content now exists on a different URL.
It can take a few weeks for your search traffic to bounce back. The merged piece of content you create becomes a page with a deeper wealth of information and a more logical layout to boot. As a result, its rankings will increase which should result in more traffic for you.
Level 5: Redesign Old Content
At the very bottom of the pyramid is a full content redesign. A redesign calls for transforming blog posts into their own dedicated pages. The objective here is to give these pieces a fresh coat of paint and treat them now as static landing pages instead.
Out of all the levels we've discussed so far, this is the hardest tactic to do. But the investment can pay you dividends for a very long time.
Why would you do this, especially if the old post isn't showing any signs of decay? Because your blog has its own specific and unique design that's likely geared more towards a good educational experience. By doing a redesign, you can take the juice, traffic, and keywords from that post and apply them to a more conversion-focused landing page.
One website that does this very well is Backlinko by Brian Dean. Every piece of content on his site is part of some larger guide that covers a variety of topic areas. Brian breaks down every section of each page almost like an author writing a book.
If you look at his landing pages, you'll see that they're built to stand the test of time. He also makes minor updates to them on a regular basis. For example, it's part of his playbook to include the years that he's refreshed his pages. This simple change gets picked up by Google and often leads to steady and stronger search rankings for his site.
Conclusion
Nine out of 10 times, companies associate content with what's on their blog. But remember, what you refresh can go beyond that. There are plenty of opportunities to revamp other materials on your site such as your homepage, product pages, support pages, and FAQs.
Whatever you choose, always be methodical in your approach. First, build your list of potential web pages you can refresh, then analyze their traffic and conversions. Next, sort and organize them into relevant and outdated content then apply one of the levels we detailed in the Content Refresh Pyramid.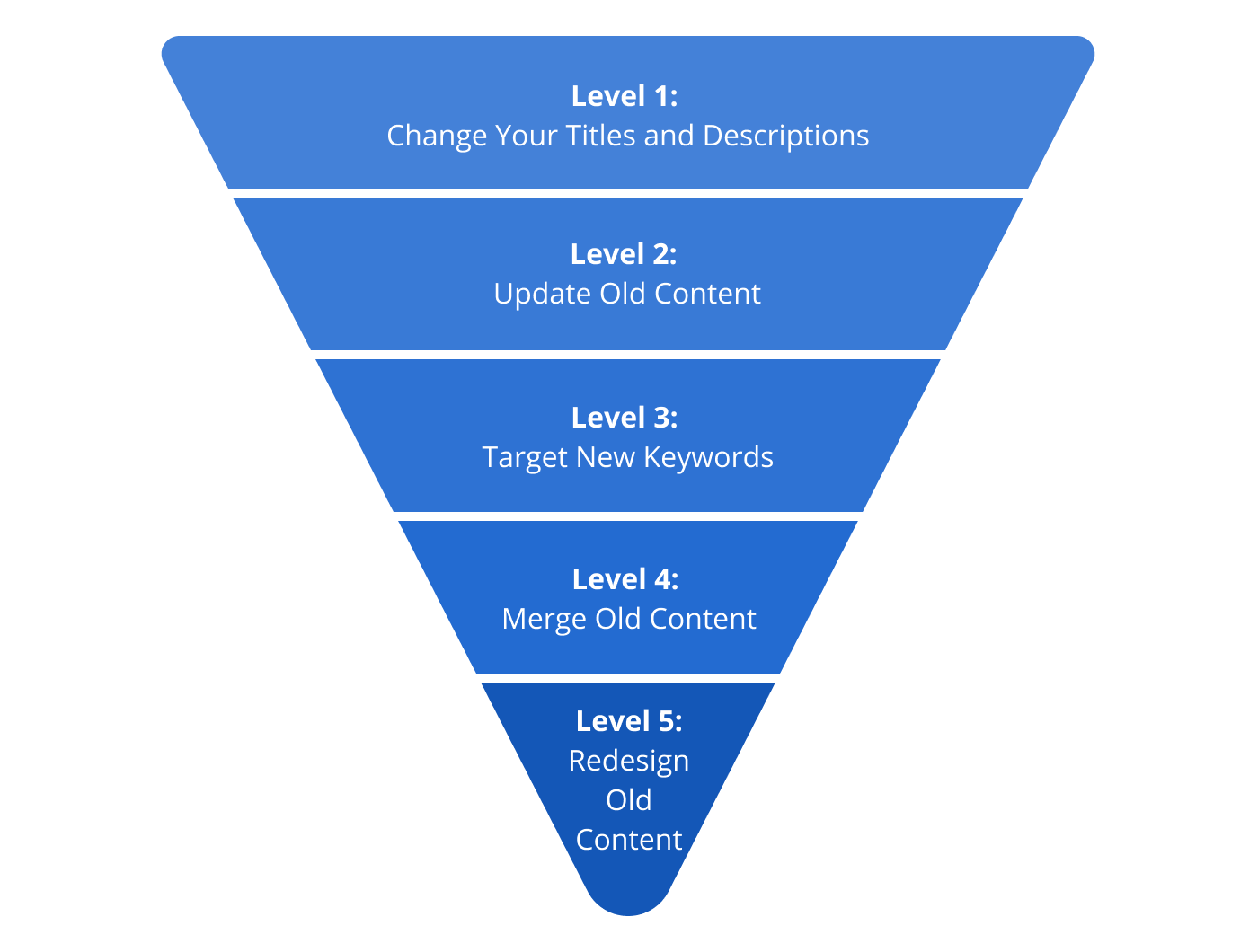 And no matter what you do, never forget the purpose of a content refresh in the first place. The goal is to work smarter, not harder for exponential results.
Want to do a content refresh for your business, but don't have the time to do it yourself? We're introducing a new microservice where we'll audit and find your highest performing pages then refresh them on your behalf. If you're interested, then schedule a free SaaS Scale Session with us today.
What you should do now
Whenever you're ready…here are 4 ways we can help you grow your B2B software or technology business:
Claim your Free SaaS Scale Session. If you'd like to work with us to turn your website into your best demo and trial acquisition platform, claim your FREE SaaS Scale Session. One of our growth experts will understand your current demand generation situation, and then suggest practical digital marketing strategies to double your demo and trial traffic and conversion fast.
If you'd like to learn the exact demand strategies we use for free, go to our blog or visit our resources section, where you can download guides, calculators, and templates we use for our most successful clients.
If you'd like to work with other experts on our team or learn why we have off the charts team member satisfaction score, then see our Careers page.
If you know another marketer who'd enjoy reading this page, share it with them via email, Linkedin, Twitter, or Facebook.