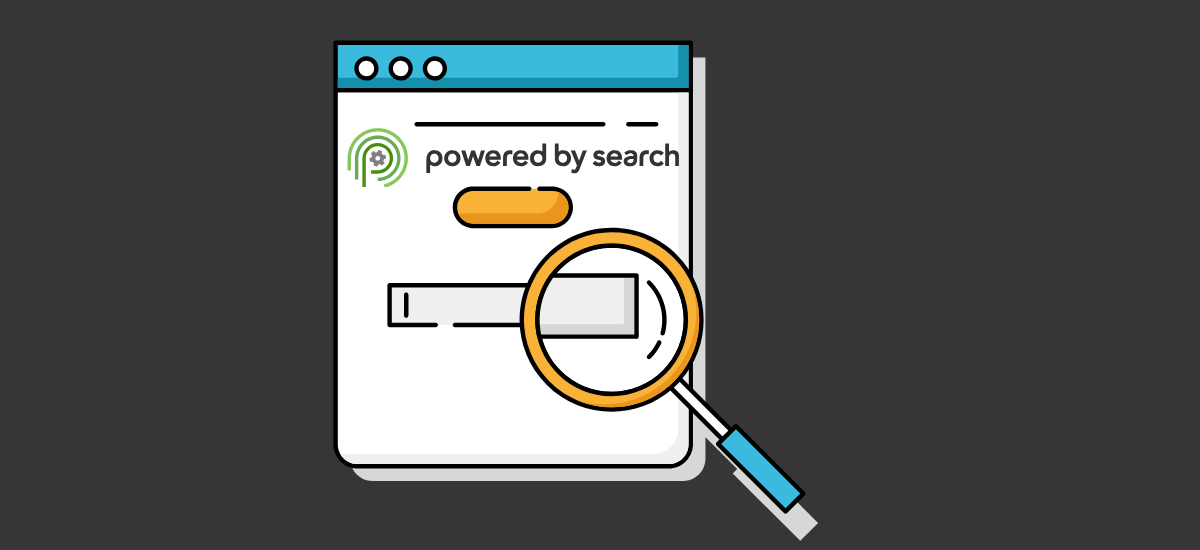 Most of the conversation in SEO is about how to get to the top, not about how to stay there. But for SaaS companies that do reach position one for their bottom of the funnel keywords, very often they'll shift their focus away from those terms to tackle other terms higher in the funnel.
The thinking is, "We have this ranking, so let's focus on these other keywords. If it drops, we'll update it and get it to move back up later."
Over time, what often happens is that competitors climb up the rankings and take over their spot. But when they try to regain their position, they find that climbing back up rankings is more challenging than protecting rankings when you're already in the lead.
We think SaaS businesses in this situation should be more strategic about holding onto their positions once they outrank their competitors. The way we approach this with clients is to track competitor metrics more closely. In doing so, we can see when their competitors are gaining traction in the rankings (or even better, anticipate it) and respond intelligently to the specific things they're doing.
In this article we cover:
The potential business impacts of losing top SEO rankings
The metrics we begin tracking when our clients reach position one
3 examples of how to respond to common scenarios you might see when your competitors are investing in SEO
If you'd like to learn more about how we help B2B SaaS companies grow through paid media and SEO, schedule a Free SaaS Scale Session.
What Impact Does Losing Top SEO Rankings Have On Your Business?
If you've slipped from position one to position two or three for important revenue-generating search terms, it can seem like something you don't need to be too concerned about.
But in fact, when you're at the top of search results, the impacts of losing even one or two spots in rankings can have a significant negative impact on revenue earned from those pages.
Consider this click-through rate (CTR) study by Advanced Web Rankings:

Even between positions one and two in Google, the difference in organic clicks on average can be nearly 50%. What seems like a small difference in rankings can actually lead to a dramatic dropoff in traffic.
For example, let's say you've been getting 15 signups per month from a position one ranking, and your average lifetime value (LTV) is $2,000. If you were to drop down to position three, statistics show you could expect to see a ~67% decrease in clicks, which could equate to a loss of about $20K per month.
SaaS companies who experience this slip often don't realize it can be the source of the problem (or a significant contributing factor) when they suddenly aren't meeting their monthly targets for trial or demo signups. Many will try to remedy this issue by churning out more content or increasing their PPC spend. But we think they should try to avoid this in the first place by protecting their position when they're in the top spot.
Competitor Metrics to Track When You Reach Position One
While competitor metrics in SEO are always important to an extent, they become even more so when you reach position one in search results (eg. for particular keywords or key pieces of content). This is because once you get to the top, you can only understand how to stay there by observing how your competition is building momentum.
So rather than focusing on the number of links gained or the number of leads from content, you should shift your focus to competitor metrics instead — paying particular attention to the rate at which their SEO results are changing.
What follows are some of the metrics we track for our clients at this stage. With Ahrefs (where we grabbed the screenshots below), you get three primary buckets of competitor data:
Backlink profile
Organic search
Paid search
For the purpose of monitoring competitor SEO efforts, we only focus on the backlink and organic search data.
Note: Most of the popular SEO research tools have features that allow you to see this data. You just plug in your competitor's domain, and voila!
Organic Search Data
In the organic search tab, you have access to a variety of metrics, but the most important are organic traffic, keywords, and positions. We like to view the one-year timeframe because it provides the right balance of information — long enough to take into account the slower pace of SEO, but short enough to help you see how things have been changing lately.
Organic Traffic and Keywords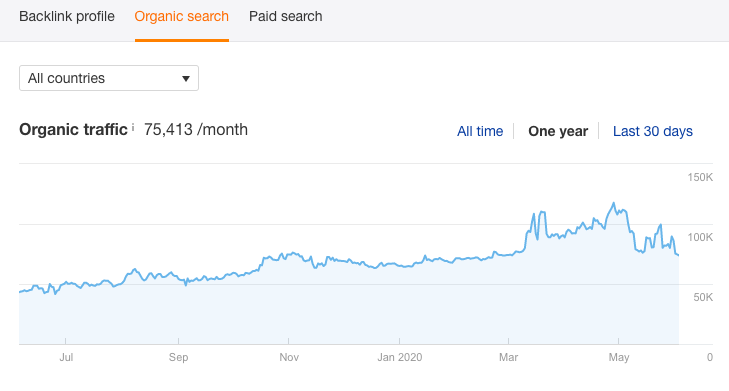 Seeing the way competitors' organic traffic is changing over time is a key indicator of their SEO momentum. The same goes for organic keywords: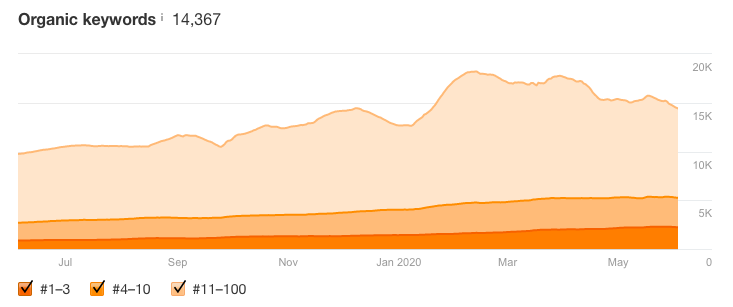 If either of these begin noticeably rising, it's a sign you should start looking to discover potential threats.
For example, you might look at your own organic keywords and pages where you hold position one rankings to see what movements they have been making there.
Organic Positions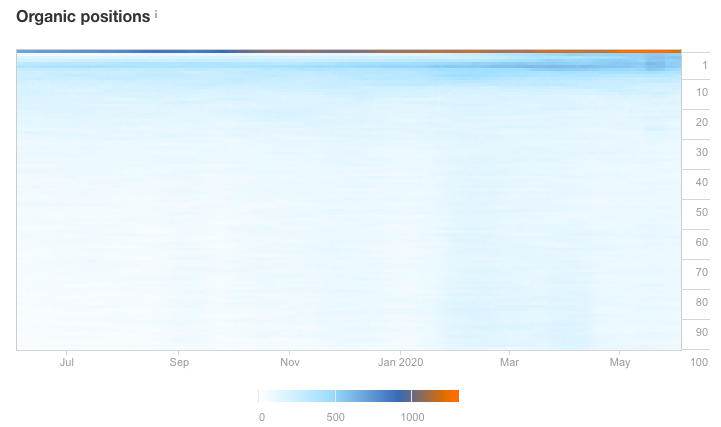 It's also useful to track their organic positions. If you see their number of position one rankings has increased by 30% between January and May, it's another clear indicator that they've been increasing their SEO efforts.
Backlink Profile
We view backlinks as one of the three core pillars of SEO (alongside content and technical SEO). And in order to monitor your competitors' SEO momentum, you need to keep an eye on their backlink profile.
New Backlinks and Referring Domains

In particular, you should monitor their new backlinks. If you see this trending upward, it's a sign they've been doing link building — and a subsequent rise in their domain authority (and eventually their rankings) could likely follow.
It's also useful to look at referring domains:
Referring Domains

If this number is moving up, it means the number of unique pages linking back to your competitor is increasing, which is also a sign that they're engaging in link building.
Any time we see one or more of these metrics increasing for our clients' competitors, it's a leading indicator that they're investing in SEO. If, on the other hand, these metrics are decreasing or remaining steady, we can feel confident that our clients will maintain their positions at that time.
In the next section, we'll discuss some examples of what you can do when your competitors are in fact making a push to overtake you in the rankings.
3 Common Scenarios and How to Respond
Once you begin tracking and measuring these percentage change metrics, you'll often find one or more competitors that appear to be improving their SEO efforts. So now let's talk about some things you can do to respond.
1. Competitor Has Doubled Content Production in Recent Months (and the Content is Decent)
Let's say you notice in Ahrefs that over the last three months, one of your competitors has increased content production by 100% compared to the three months prior. A doubling in the rate they publish content is likely a sign they're investing in SEO.
To respond, you could use your SEO tool to perform a content gap analysis, seeking to find out which keywords they are ranking for that you are not. From there, you could look at the individual pieces of content they have created for those terms to figure out which new pieces you need to create to compete (and then add those to your content calendar).
And in the cases where you have an equivalent piece of content already created, you can update those to begin ranking and competing for the corresponding keywords.
2. Rate of New Backlinks and Referring Domains Has Increased 30% Over the Last Quarter
Another common scenario that comes up is you might notice a competitor's backlinks have been increasing in recent months — a telltale sign they're doing link building that can boost their rankings.
When this is the case, there are a couple of ways you can respond. First, you can see which relevant websites are linking to them, and then do the work to get backlinks from those same domains (called common competitor overlap). This can negate some of the value those links have for your competitors in relation to you.
Second, you can find inbound links to your competitors that are broken, and find opportunities to reach out to those websites and update those links with content on your website. For example, if you make marketing analytics software and find a competitor backlink for "client reporting tool" is broken, you could reach out and ask them to replace it with a link to your page for that term.
If you didn't have a page for the particular term you found a broken link for, you could consider creating one.
Note: Learn more about link building in our article on backlink strategy.
3. Competitor Product Page is Climbing the Ranks for a High-Value Keywords
Let's say you're ranking in position one for "subscription management software" and your core product page has been there for the last six months. Popular software blogs and review sites like Capterra and G2 share the top rankings with you.
Down in position seven, one of your competitors' has a list article on their blog that has recently arrived on page one. If you were to see their blog article jump up to position four the following month, this would be an indicator that their page could be on it's way up to challenge your spot.
To respond, you could look closely at your product page and find ways to update and strengthen it. As we described in our article on SEO strategy for SaaS, modern search algorithms favor contextual relevance and comprehensiveness. So in this case, you might use your competitor's page and a tool like Clearscope to identify opportunities to further build out your page.
For example:
Additional relevant keywords you could include throughout
Specific keywords that should be used in headings that aren't in headings currently
Sections of their blog post that you've missed in your page, but could find a place for
In doing so, you'd be giving your page the best shot at maintaining its position one ranking.
Conclusion
If there is one lesson that we can impart on this topic, it's that a proactive approach to maintaining top rankings is always a stronger strategy than a reactive one.
And if you look at the data, the cost of losing a position one spot is more significant than you might think. That's why we communicate to our clients that if and when we reach position one for a given keyword, the job doesn't end there.
Yes, it's fine to shift some focus to targeting other mid and high-funnel keywords — in fact you should place more attention there once you've covered your bases in the bottom of the funnel. You just don't want to ignore your top rankings.
By tracking and measuring how your competitors' SEO metrics are changing over time, you can see when they're building momentum and respond accordingly.
If you'd like to learn more about how we help B2B SaaS companies grow through paid media and SEO, schedule a Free SaaS Scale Session.