B2B SaaS Marketing Case Studies: How We Ramped Up Demos, Rankings, and Revenue for 3 SaaS Companies
Last updated: October 13, 2020
In our article on why we chose to be a B2B SaaS marketing agency, we lay out the 3 primary reasons why we landed on SaaS as our vertical of focus. The first being that we've developed a deep understanding of the common marketing problems that SaaS businesses face.
We describe in the post that the biggest theme we see is a tendency for SaaS marketers to do "tactics without strategy." As a result, they run into a slough of problems. For example:
Lagging behind in organic search rankings
High click costs on platforms like LinkedIn and Facebook
Hitting ceilings with their Google Ads spend
The core of the problem is usually the same: their tactics aren't being coordinated to work together in a system. And they haven't structured their processes in a way that helps them make iterative improvements over time.
This is what led us to develop Predictable Growth, our SaaS marketing strategy for demo and trial based B2B businesses.
In this article, we summarize 3 case studies where we used this growth strategy to achieve substantial increases in lead generation and revenue for our clients. We recommend reading the full case studies. To do so, follow these links:
Otherwise, read on for the summaries.
If you're a B2B SaaS company wanting to breach your own growth ceilings, schedule a Free SaaS Scale Session to learn about how we can help your business grow through paid media and SEO.
Case Study #1: Growing TouchBistro's SQL's to 130 Demos per Month Through Facebook Ads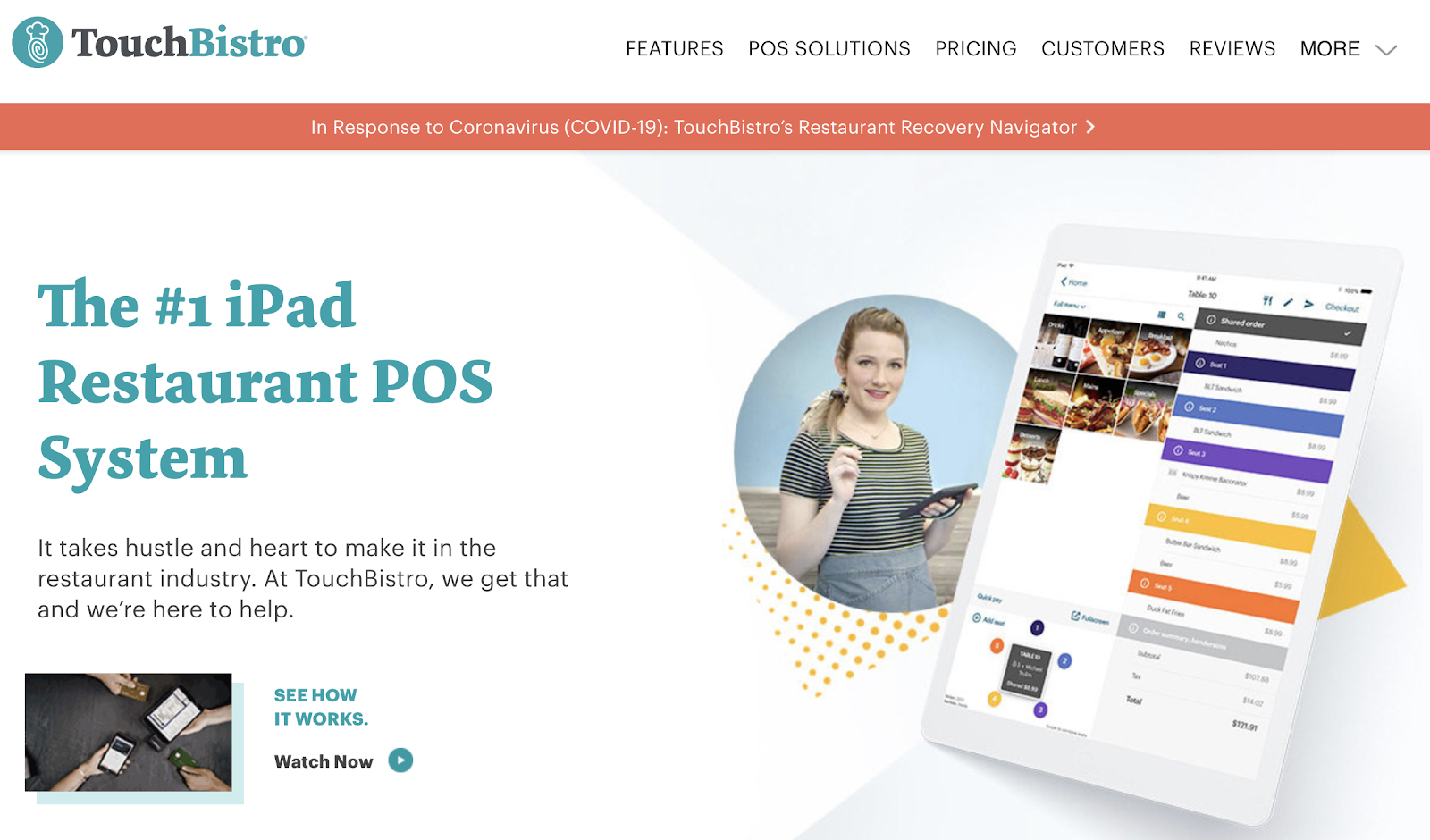 When TouchBistro came to us a few years back, their paid marketing efforts were primarily focused on bottom of the funnel Facebook Ads — the channel they had learned was the place their target audience spent most of their time online.
The problem that led them to reach out was that they'd reached a plateau in traffic and conversions through Facebook, and they were getting fewer qualified leads than they needed based on their ad spend.
In the full case study, we share the specifics of how we approached solving this including:
How we pinpointed why their traffic and conversions had been low
The shift we made to their Facebook Ads strategy that generated 135 leads in a single month
Examples of the landing page optimizations we recommended they make to their key product pages to increase engagement and conversion rates
What follows is the condensed version of the issues we discovered and how we fixed them.
How We Pinpointed Why Their Traffic and Conversions Had Been Low
In the initial stages of our Predictable Growth process, we seek to discover what hasn't been working — where the bottlenecks, errors, and gaps exist in our clients' marketing. So we began our engagement with TouchBistro by examining their Facebook Ads funnel where their PPC efforts had been focused.
In looking at the different parts of their funnel — from their targeting, to their ad copy and creative, to the landing pages they were sending people to — the key issues that we discovered were with the messaging and targeting of their ads, and the landing pages they were sending traffic to.
With their ads, we found that they'd been targeting the wrong segment of their user-base. While their ad messaging and targeting were focused strictly on restaurant owners, restaurant managers and servers were the ones with the most critical pain points that were solved by TouchBistro's product.
Therefore, they'd been targeting a much smaller pool of people whose pain points were more like the downstream pain points that TouchBistro helped solve. And both of these factors were working against them.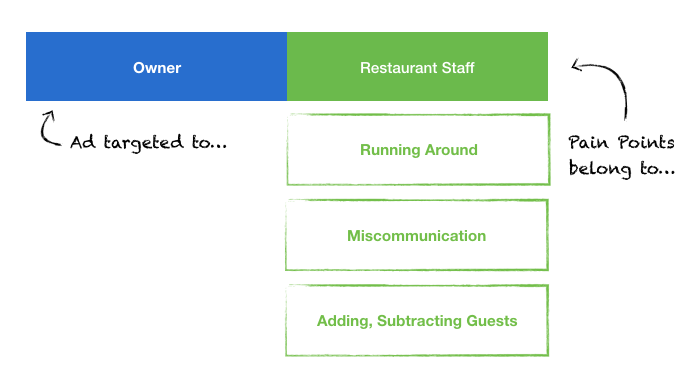 Then with their landing pages, we found 4 key issues:
Multiple conflicting calls to action (CTAs)
Absence of testimonials and other trust building social proof points
Lack of case studies or customer examples
Completely static content (text and images only)
Once we'd identified what wasn't working, we moved into the next phase of Predictable Growth: preparing ads and content that would educate and motivate potential customers.
The Shift We Made to Their Facebook Ads Strategy
To solve their messaging and targeting problem, we shifted from targeting restaurant owners to restaurant staff, and changed up the ad messaging and creative to stand out to servers.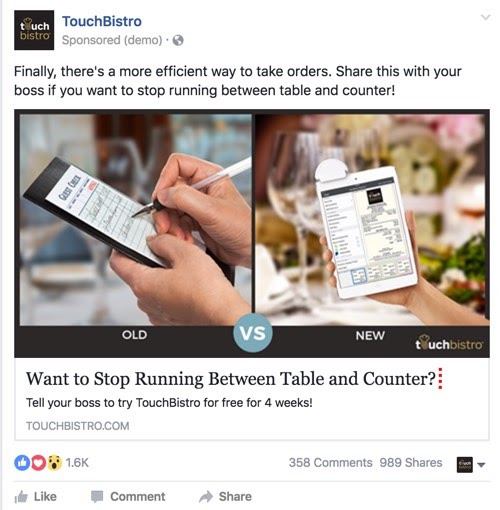 The ad prescribed a solution, reflected in an image of the TouchBistro interface displayed on an iPad. Both explicitly and implicitly, it highlighted the benefits of that solution: eliminating the stressful and exhausting back-and-forth between table and counter, increasing efficiency (more turnover = more tips), and replacing manual order-taking with a digital solution that neither taxes the memory nor requires restaurant employees to decipher one another's hurried handwriting.
Examples of the Landing Page Optimizations We Recommended
To improve their landing pages, which would be essential for improving conversions with traffic we'd drive through Facebook, we made recommendations to resolve the issues we'd discovered in the previous phase of our process.
In particular, we recommended:
Improving conversion rates by focusing on one primary CTA as opposed to two equally weighted CTA's
Implementing social proof in the form of customer testimonials to build trust with site visitors
Replacing stock images with real images of customers using their product (as a way to better visualize what it's like for prospects)
Using the explainer videos they already had to provide more engaging and educational content on their landing pages
The Outcome: Generating 135 Leads in a Single Month
By targeting the entire universe of servers, we ensured that TouchBistro's message would reach employees of restaurant owners who'd never heard of POS systems, as well as of those who might have already been considering trying one. And once live, the ad produced significant engagement, with shares, comments, and likes soaring as servers interacted with the post.

Often, they tagged their bosses, so that the TouchBistro ad (and offer) reached them directly through word of mouth, with an implicit recommendation from one or more of their staffers. In effect, their staffers became TouchBistro's influencers.
As a result, TouchBistro saw 135 leads through Facebook — a record for the company.
Read the full case study here.
Case Study #2: Growing Structure Studios' ARR 50% in 2 Years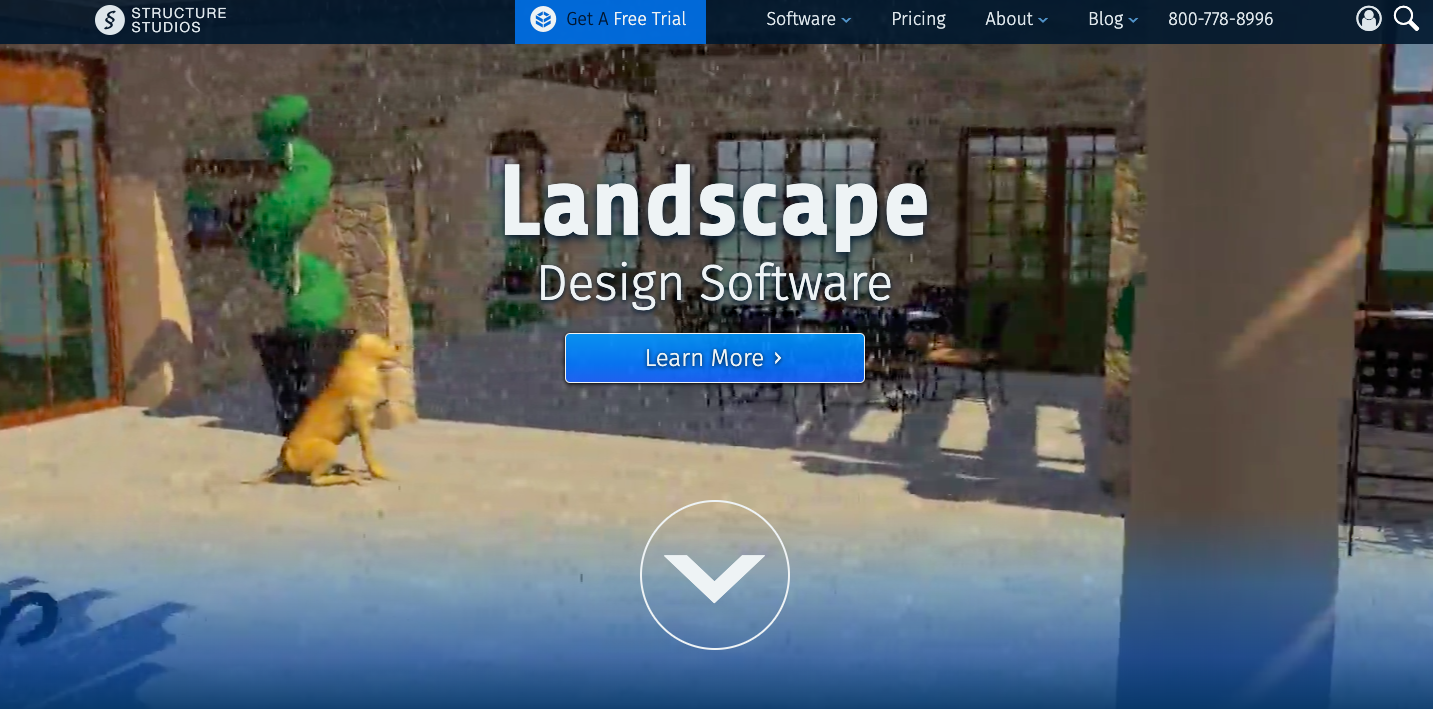 When Structure Studios first approached us, they'd been experiencing a number of issues with their paid media and SEO efforts.
Their digital marketing at the time consisted of:
An ad hoc Google Ads strategy aimed at bottom-of-funnel keywords
A couple live Facebook Ads (also with a bottom-of-funnel focus)
Partially optimized product pages that weren't gaining traction in search engine rankings
In addition, we found they did not have offers for prospects who weren't ready to buy, an attribution model beyond last click, or any way of segmenting leads by size or quality.
All this added up to a plateau in their ability to acquire new users through paid and organic channels, and also their ability to manage the quality of leads that did come through.
In the full case study, we share the specifics of how we approached solving this, including:
The specific challenges they came to us with (only some of which they were aware of)
The technical SEO and content updates we made that led to a position 1 Google ranking for their highest value keyword (they continue to sit at the top of search results)
How we revamped their paid search and social ads to reach a wider audience, implement attribution, and improve lead quality
What follows is a summary of our work with Structure Studios.
Uncovering Lead Quality Challenges
When they came to us, there were three particular challenges on their radar:
They'd been trying to rank a product page for the keyword 'landscape design software' for a year and hadn't breached page 1 — which they suspected was due to technical SEO issues.
They'd reached a ceiling with their ad performance through both search and social, and thought there was more opportunity there if they could figure out how to improve those efforts.
They knew they weren't following tracking and attribution best practices, but didn't have the time or know-how to get it sorted out.
However, deeper analysis through our Predictable Growth process uncovered lead quality challenges as well.
In looking at data from Google Analytics with data from HubSpot, we found that relatively few of Structure's free trial signups were associated with the kind of B2B companies that are their ideal customers. The other signups were either smaller, one-man-band landscaping companies, or homeowners working on ambitious backyard renovations, which is to say: unqualified visitors.
To solve this, we made a number of updates (described below) to their paid funnel to decrease the volume of these unqualified prospects, and increase the volume of high-quality leads.
Before we did that, we worked on improving the SEO results of their landscaping design product page.
The Technical SEO and Content Updates We Made
Structure's hunch that they had technical SEO issues turned out to be correct. We found that they had multiple pages on their site competing for their target keyword 'landscape design software' (referred to as "cannibalization").
To solve this, we implemented a cleaner content architecture so that their website had a definitive hub for 'landscape design software,' and also redirected similar pages to eliminate cannibalization. Then we moved on to updating their page's content.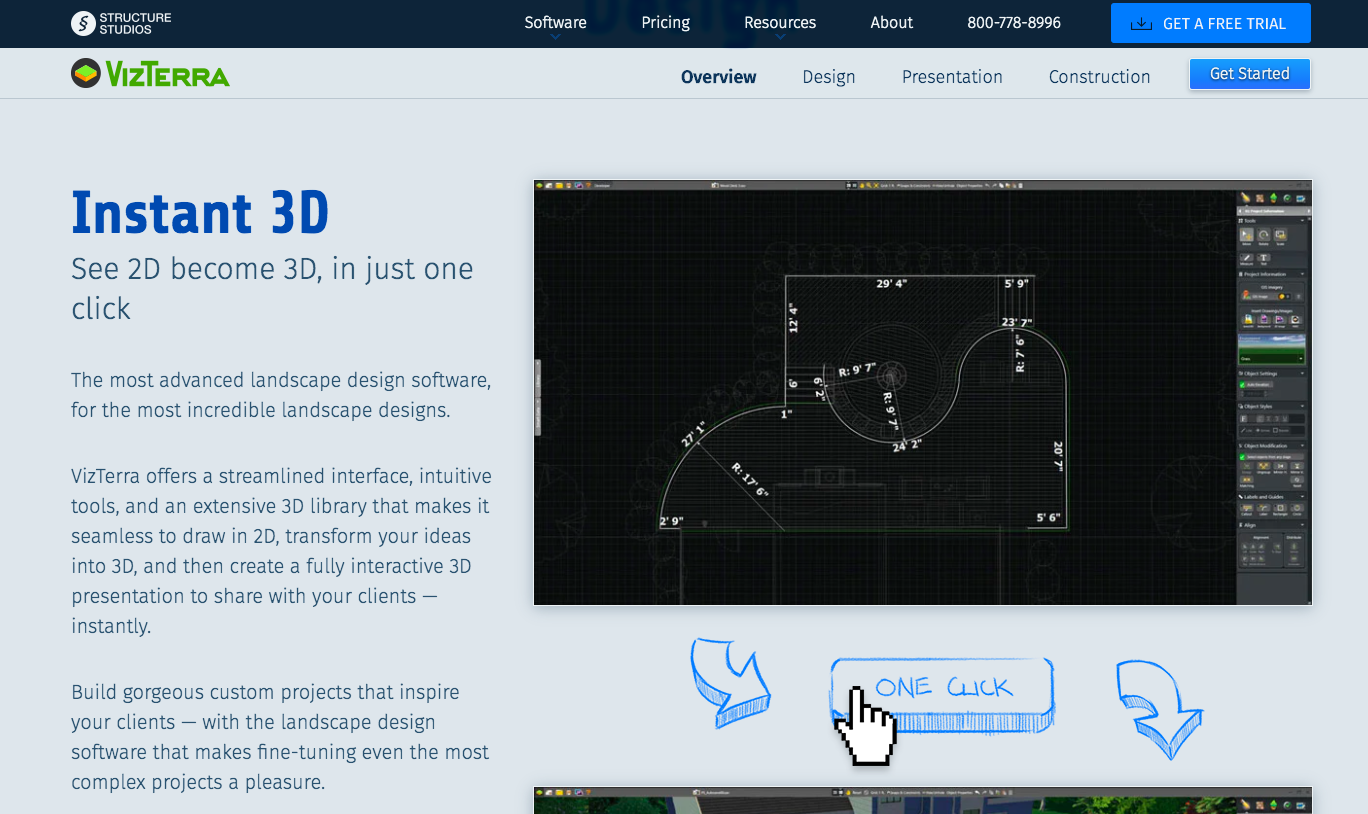 In reviewing the existing top results for their target keyword, we found that the content of their page was lacking the comprehensiveness it needed to compete. So we worked with their team to inject further detail into their product page — centered around describing their prospects' pain points and the ways in which their product helped to solve them.
These steps helped us to simultaneously make their page more comprehensive and a better match to the intent of searchers.
Once we'd finished our technical SEO and content updates, we began working to improve the results of their paid ads through Google and Facebook.
How We Revamped Their Paid Search and Social Media Ads to Reach a Wider Audience, Implement Attribution, and Improve Lead Quality
Strategic measurement is an essential part of our Predictable Growth strategy, so we started with setting up proper tracking and attribution.
We set up similar objectives in their Google and Facebook Ads, such as sorting users into useful categories (eg. lead, free trial user, purchaser) and defining negative keywords to filter out B2C customers. That way, once we began running ads, we'd have much richer information to use for making continued improvements.
From there, we moved on to their landing pages, where we added an engaging explainer video to aid in educating mid and higher funnel prospects, and also used testimonials to add trust-building elements that were previously absent.
For the messaging and creative of the ads themselves, we leveraged:
Ad copy designed to have professional landscapers self-identify with their ads (drawing in more ideal prospects while screening out unqualified ones)
Google Display Network to create product awareness with high funnel prospects
Facebook and Google Search Ads with pain point focused content that would resonate with mid and lower funnel prospects
Anyone who clicked on an ad was then remarketed to using our remarketing strategy for SaaS.
The Outcomes

By refining and expanding their paid funnel, we'd created a system to continuously draw in new high quality prospects, and deliver them the messaging and offers most appropriate to their stage in the funnel.
In addition, as their landscape design product page eventually rose to position 1 in Google search results, their organic traffic also saw a significant increase.
By implementing the Predictable Growth strategy, we were able to help grow Structure Studios' revenue by 50% over the course of two years.
Note: Their landscaping design software page is still live and ranking above the fold on page 1 of search results.
Read the full case study here.
Case Study #3: An Enhanced Content Marketing Strategy for Hurdlr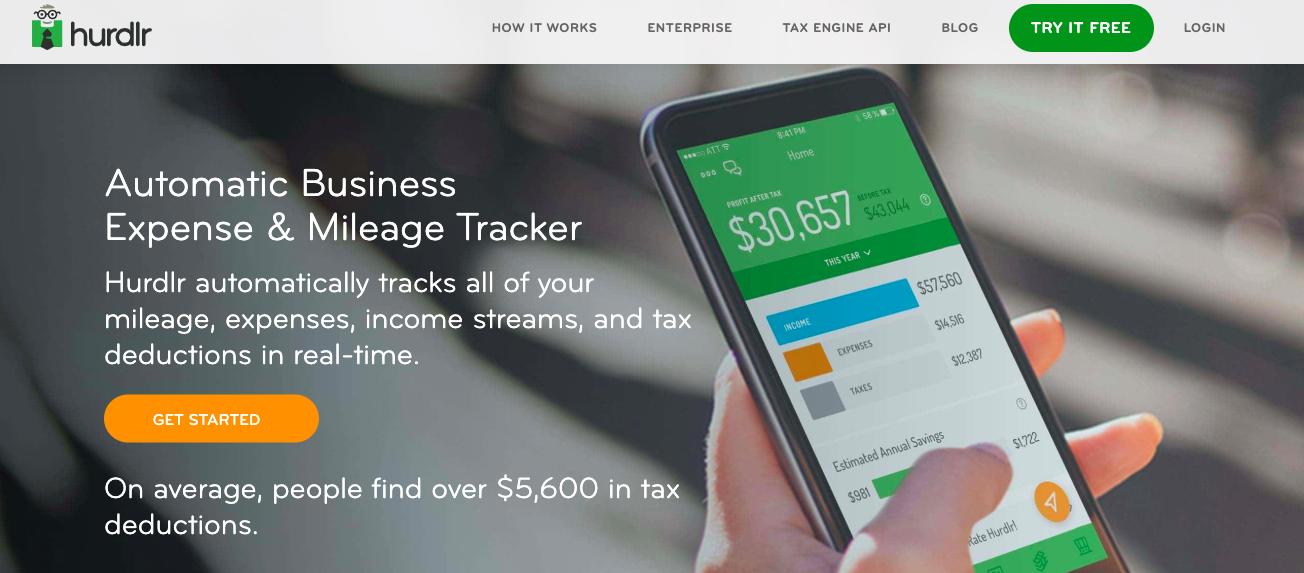 When Hurdlr approached us, their customer base consisted of thousands of users around the country — serving a wide range of mobile professionals, independent contractors, and freelancers. And like most SaaS companies, their marketing included a mix of content marketing and SEO — which is what they'd come to us for.
While their in-house team was talented in their own right, they felt that based on their performance there was opportunity for improvements through these channels. In particular:
They wanted to increase conversions through their inbound marketing efforts
They wanted to improve their rankings for some of their highest value keywords
They wanted to increase the proportion of site visitors who were closer to the purchase stage
Over the course of a year, we worked with Hurdlr and were able to make substantial gains through blogging and SEO:

We increased their first page Google rankings by 2-3X (blue line) and their position 1-3 rankings by 4X (yellow line).
In addition, we saw a 70% increase in average position for the keywords we targeted for them — with 9 of their target keywords having page 1 or page 2 rankings.

In the full case study, we cover how we got these results, including:
How the work we did with Hurdlr ties into our agency's SaaS marketing strategy
The blog pages we created to get position 1 rankings for keywords like '1099 paycheck calculator' and 'Uber tax calculator'
The product pages we created to get rankings for core business keywords like 'mileage and expense tracker'
What follows is a summary of our work with Hurdlr.
Applying Our B2B SaaS Marketing Strategy to Hurdlr
In the first step of our Predictable Growth process, we evaluate what we call "MRR accelerators." These are 7 different types of fit that we've identified beyond product-market fit, including customer-content fit, customer-channel fit, and message-market fit, among others.
Our key takeaway in this step with Hurdlr was that their content, while high-quality, was mostly on top of funnel topics that were only indirectly related to their SaaS product. So our focus with them became customer-content fit — specifically to create and improve content to attract more mid and low funnel prospects.
Through our pilot workshops with their customer support, product, and sales teams, we learned that the primary pain points of their customers were:
Time spent manually logging mileage
Staying organized and keeping things up to date
Scrambling around tax time to get things ready
Ensuring accuracy
Potentially missing out on money
Then, with everything we'd learned so far, we began our keyword research process, identifying a mix of 21 old and new keyword opportunities that they weren't ranking for. And those became our focus for content creation and updates.
Deploying Our SEO Content Strategy: Technical and Content Updates That Led to Top Rankings in the SERPs
Our approach is to always focus on quality content instead of quantity. For their blog, we wrote and updated 5 strategic posts targeting keywords that indicated the people searching had both a pain point and intent to find a solution — which Hurdlr was.
We wrote posts targeting the following mid and lower-funnel keywords (each with their own set of supporting keywords that we'd identified in our keyword research step):
Each of the posts had some level of success in climbing the rankings, but the Uber tax calculator saw particularly high click through rates (CTR), engagement, and ended up in a position 1 ranking for our target keyword: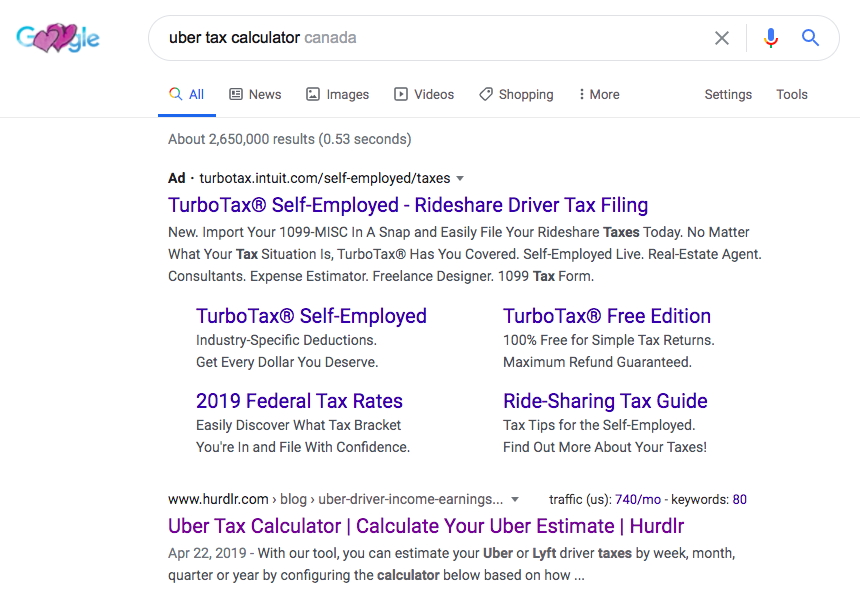 In addition to the blog posts we worked on, we also updated Hurdlr's website homepage and product pages.
We took the product page that they had originally, and broke it out into 3 separate pages that followed the same format but targeted their own set of specific keywords. That way, rather than trying to rank for many different keywords with one broad page, they could use more focused pages that would be tailored to their top keywords and thus more likely to rank.
We created pages for:
For each, we followed our SaaS website framework, and we did the same for their homepage.
All of this added up and contributed to the results we presented above, with tools like SEMrush and Ahrefs validating significant increases in organic search rankings for the keywords we were targeting.
For example, this page 1 ranking for the search phrase "Expense and mileage tracker":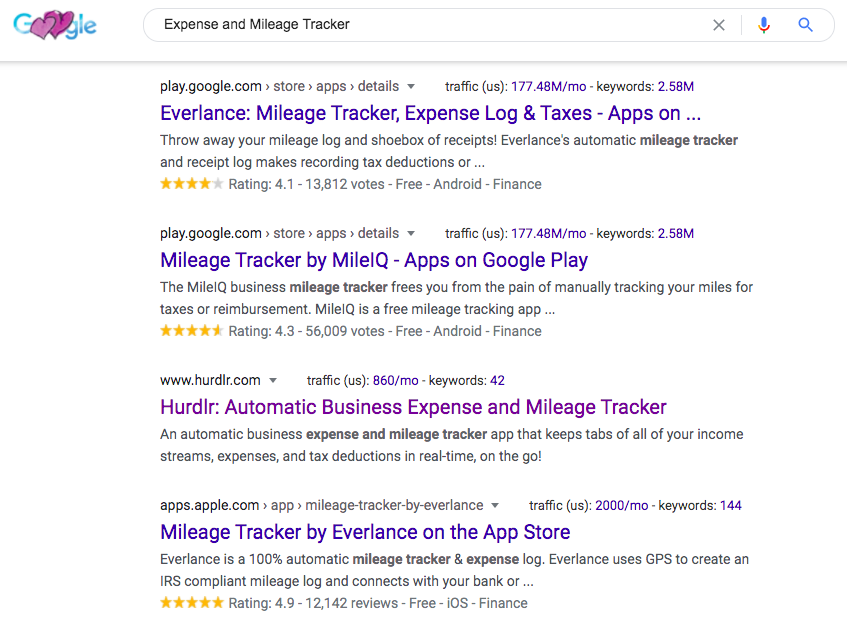 In addition, to improve their technical SEO health, we added links to their new product pages in their header and footer menus, and added in more internal links to the blog articles we mentioned above. We also used canonical tags to reduce the risk of potential duplicate content or cannibalization issues.
Read the full case study here.
Want to Learn More About Powered By Search and Our Approach to SaaS Marketing?
We continue to develop a number of resources for SaaS marketers and companies to learn and improve their marketing efforts. If you'd like to continue learning, start with exploring our page on all things SaaS marketing strategy.
There you can find articles detailing the systematic processes and tactics we've used to grow 30+ SaaS companies — from email marketing and mapping content to your funnel, to foundational principles like positioning and personas.
Or, if you're a B2B software company and you'd like to learn more about how we can help you grow through paid media and SEO, schedule a Free SaaS Scale Session.
What you should do now
Whenever you're ready…here are 4 ways we can help you grow your B2B software or technology business:
Claim your Free SaaS Scale Session. If you'd like to work with us to turn your website into your best demo and trial acquisition platform, claim your FREE SaaS Scale Session. One of our growth experts will understand your current demand generation situation, and then suggest practical digital marketing strategies to double your demo and trial traffic and conversion fast.
If you'd like to learn the exact demand strategies we use for free, go to our blog or visit our resources section, where you can download guides, calculators, and templates we use for our most successful clients.
If you'd like to work with other experts on our team or learn why we have off the charts team member satisfaction score, then see our Careers page.
If you know another marketer who'd enjoy reading this page, share it with them via email, Linkedin, Twitter, or Facebook.