Top 12 SaaS Marketing Agencies in 2023 (Plus: How to Choose the Right One)
Last updated: June 26th, 2023
Choosing a B2B SaaS marketing agency is tricky because, on the surface, they all seem similar.
So when you Google "best SaaS marketing agencies" and see a list of 20 or 30 different options, how do you distinguish a world-class agency from a mediocre one?
Unfortunately, most clients don't figure out the answer to this question until after hiring an agency and wasting thousands of dollars – not to mention all the missed sales opportunities a more effective agency could have helped you win.
To help you avoid hiring the wrong agency, here's what we'll cover:
How most clients evaluate SaaS marketing agencies (and why the method is flawed)
An alternative agency evaluation method that can help you better gauge an agency's ability to produce an ROI
A concise list of top SaaS marketing agencies and a detailed overview of how they measure up to the evaluation criteria.
The 12 best Saas marketing agencies we reviewed
While we'll go into a lot of detail below about why each of these agencies is on our list and when you might want to hire each of them, for your ease, here are the top 12 SaaS marketing agencies and consultants:
Why Traditional SaaS Marketing Agency Evaluation Methods Are Flawed
Most traditional agency evaluation advice includes:
Analyzing case studies
Years of experience
Pricing
However, we've found that most clients using these criteria as the main decision framework have a history of receiving disappointing results and switching agencies frequently.
Below, we'll discuss the flaws with each of these evaluation principles, and then provide a more effective evaluation criterion.
1. Analyzing case studies
Most agencies (even mediocre providers) can show you a handful of great case studies, but that doesn't mean they can predictably duplicate those results for your company.
Why?
Clients with great products/services can grow organically without marketing. So the agency itself might not have caused the company's growth.
Secondly, the law of averages says that some marketing campaigns are bound to be lucky and go well. Even if the agency shows you five successful campaigns, they might have run 50 campaigns to get those five winners.
So case studies don't always accurately reflect the agency's average results – only their best results.
2. Years of experience
Most people think that marketing agencies with more experience produce better results.
While you certainly don't want to hire an agency with no experience, there's rarely a direct correlation between ROI and the number of years an agency has been in business.
This is true for a few reasons.
First, many mediocre agencies stay in business because they're excellent at lead generation. So even if dissatisfied clients churn, they can always generate more leads and stay in business.
Additionally, marketing is constantly evolving, and agencies need to adjust their strategies accordingly to continue delivering a strong ROI.
If one of the key selling points the agency pitches is its years of marketing experience, it could be a red flag that they use dated marketing practices.
3. Pricing
Many clients mistakenly judge the cost of hiring an agency based on price rather than ROI.
Choosing a cheaper agency that produces mediocre results is often more expensive than hiring a premium agency that produces better results.
This is especially true as many phantom costs are involved with hiring a low-performing agency, like time and resources devoted to onboarding.
You can use the three criteria above to narrow the list of agencies you talk to, though we recommend against using it to make your final decision.
A More Effective SaaS Marketing Evaluation Criterion
From watching the broader SaaS marketing agency industry and our own experience partnering with over 100 B2B SaaS companies, we've found some common themes among the most successful client/agency relationships.
Specifically, client/agency relationships that have mutual trust, last the longest, and are highly productive in terms of results and growth tend to:
Implement proven processes – The agency has implemented a similar process with steady success across other similar SaaS companies at similar growth stages.
Specialize in a specific type of client – The agency only works with a particular type of company (i.e., B2B enterprise SaaS) at a specific growth stage (i.e., $10-100M ARR).
Prioritize internal team strength and health – As an agency is a service-based business, the people are one of the most significant that impact ROI. So agencies prioritizing hiring and retaining outstanding talent tend to deliver better results.
As you can see, these three criteria are much more specific, making them more effective at distinguishing outstanding agencies from mediocre ones. We'll discuss them in more detail below.
1. Do they have a proven process for marketing SaaS companies like yours?
We discussed that most marketing agencies can show prospects a handful of successful case studies, but that doesn't mean they can consistently produce those results.
Processes eliminate many variables that cause inconsistent results, so agencies with proven processes tend to deliver better results.
During the evaluation process, ask them to transparently lay out their process and walk you through how they executed it in each case study. If they don't have a proven process or say they offer different custom-tailored solutions for each company, that's a red flag.
Sure, you want to make sure that they can adjust to the nuances of your business, but if they're starting from scratch every time, they'll have to test a lot more variables (channels, messages, etc.), which costs you money and increases the timeline to see an ROI.
2. Do they specialize in B2B SaaS?
If an agency works with SaaS companies, e-commerce companies, and service businesses, they probably apply a "one-size-fits-all" marketing approach to all their clients.
A one-size-fits-all agency might drive some results, but it probably won't drive the best results as the process isn't designed for the nuances of your customer's journey, and the employees in the agency probably don't specialize in SaaS marketing.
So to make the most of your marketing investment, we recommend you hire expert consultants as you grow (we'll introduce you to some below) and only hire an agency when you have the budget to work with a B2B SaaS specialist.
3. How healthy and happy is their internal team, and how is it structured?
Service-based businesses are notoriously tricky to hire because your ROI depends largely on the people executing the process.
So how do you evaluate an agency's internal team health?
First, you can look at employee churn and tenure on LinkedIn.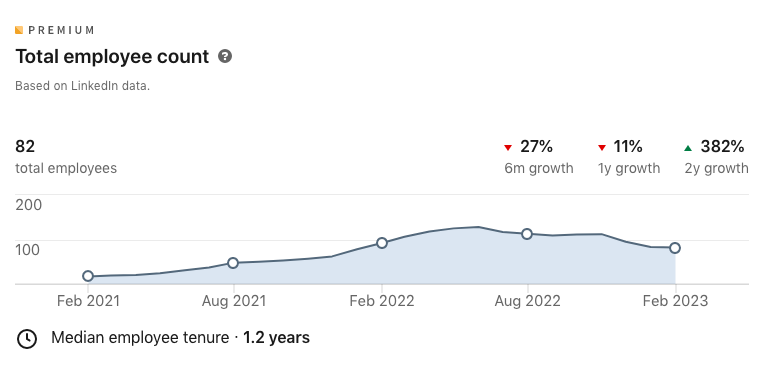 If the talent working on your account constantly changes, you'll inevitably lose some time, money, and ground on competitors as they learn the nuances of your business.
High churn also indicates that employees are dissatisfied. Unfortunately, unmotivated and unhappy people don't perform at their best.
To further investigate employee happiness, look at the company's Glassdoor reviews.
In addition to employee satisfaction, evaluate the experience level of the employees working on your account.
While this may seem tricky, a simple method to gauge employee skill level is to see how frequently an agency's junior staff are promoted to VP and director-level roles (you can do this by looking at the employees' LinkedIn profiles).
A high pace of juniors moving into leadership roles in a speedy manner indicates that you'll be dealing with inexperienced leaders if you hire the company.
Most people consider only these 4 SaaS marketing agencies if they're between $10M-100M annually recurring revenue
If you Google "best SaaS marketing agencies," you'll get an unsorted, under-critical list of agencies that the post's author doesn't really want you to consider and their own agency at the top of the list in the hopes that you choose them
And while we have also put our own agency at the top of the list, we've explained the reasons for and also given in-depth views on why you might want to choose a different agency too.
If you'd like to know how we think about competitor comparison pages, check out this guide
In reality, only four agencies are designed to handle demand generation for a B2B SaaS product of $10-100M. Of those four, two can serve $100M+ ARR businesses (Powered by Search and Directive Consulting).
So we'll introduce you to these agencies and provide an overview of their marketing approach.
If you're still at an early growth stage, the rest of this list provides an overview of several highly specialized SaaS individuals that can help you reach the next growth stage.
1. Powered By Search
We are the SaaS marketing agency that clients like Varonis, Basecamp, and Collibra trust to power their growth. Typically we aren't the first marketing agency our clients have worked with, but they come to us because they want to solve one of the following problems:
"We can't scale paid media profitably. Our CPA is rising. No agency has been able to fix this."
"People are watching the webinar, but they don't convert afterward."
"We're generating leads but they aren't turning into revenue when they get to sales."
"Our product is great. But no one knows who we are. We feel like the best-kept secret in town."
While it's easy for marketing agencies to say they can solve these problems, we've built a proven system that consistently solves these problems for our B2B SaaS clients.
We call it the Predictable Growth Model. Here's how it works:
How The Predictable Growth Model helps B2B SaaS companies become unstoppable
We believe you'll have an unstoppable SaaS business if you can accomplish these three things:
Increase in QPC (quality of pipeline certainty) – You're consistently generating a steady quantity of high quality leads.
Decrease in CAC (customer acquisition costs) – You can acquire customers for less money.
Increase in LTV (lifetime value) – Your ideal customers invest more with you and stay longer.
So the Predictable Growth Model is based on these guiding principles and consists of three key elements; attract, engage, and convert.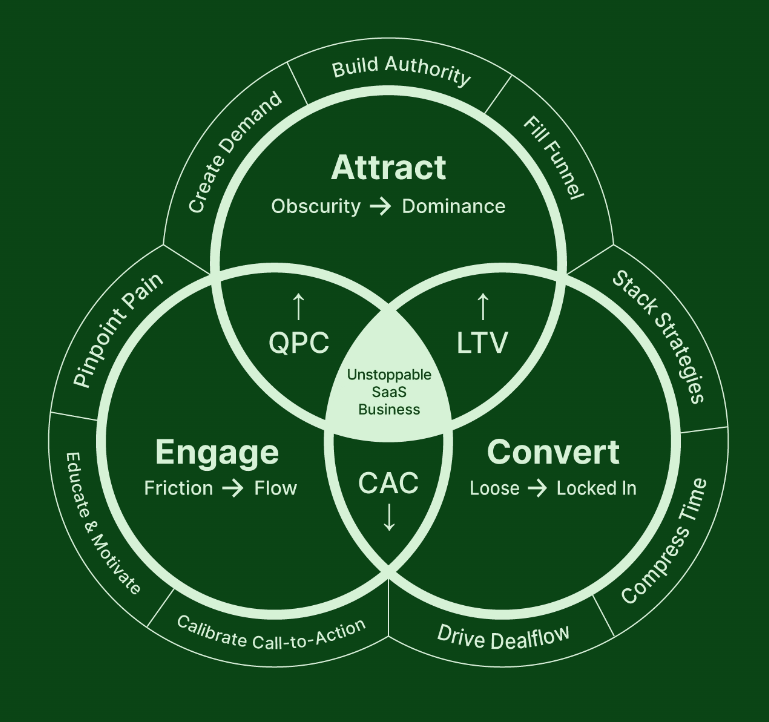 You can read our predictable growth model methodology overview to learn about the intricate details of this strategy, though here's a brief overview of the three key points.
Attract – Go from obscurity to dominance
Attraction is about making sure that you are getting the right people onto your website, with the right messages, and de-anonymizing them.
A key failure of many SaaS marketing systems is filling their pipelines with the wrong people. The downstream effects of getting poor fit traffic onto your website are broad and significant.
Your website is usually the first opportunity for a visitor to decide whether your product is right for them or not. If you get the wrong people onto your website, then you're going to experience low conversion rates, and if you're sending that traffic with an 'expensive' channel like LinkedIn Ads, then your campaign costs will soar.
On the other hand, by attracting the right people to your website and getting them into your funnel, you increase quality pipeline certainty (QPC) and because they're the right fit prospects and you're clear on your transformational promise to them, you will see increase lifetime value (LTV)
Engage – Eliminate friction in your conversion machine
Engagement is about leveraging the hard work done in attracting right-fit traffic, and combining it with educational content and calibrated calls-to-action to turn website visitors into prospects.
The primary goal of engagement is to increase quality pipeline certainty (QPC), which, as you'll see in the next section on conversion, also helps reduce the customer acquisition cost (CAC) by improving conversion from anonymous visitor to ready to talk to sales.
To improve your QPC, we focus on pinpointing customer pain points, educating and motivating prospects, and calibrating calls to action. By doing so, more visitors will understand that your product is tailored to address their specific needs in ways that other products cannot.
Additionally, they will gain a clear understanding of the appropriate actions to take based on their stage in the buyer readiness journey.
Convert – Go from loose engagement to locked-in prospects
Conversion is about making sure that the customers you're acquiring to stick around and pay you for long enough to make economic sense for your company.
Even with the best acquisition system in the world, if your customers churn at too high a rate then you're throwing good money after bad. Businesses that are able to retain customers for a long period of time can usually afford to invest significantly more in their marketing because they know that they'll get that investment back in subsequent years.
If you can decrease the cost of acquisition (CAC) while simultaneously increasing the lifetime value of customers (LTV) you are well on your way to building a great SaaS business.
You can learn more about how we connect marketing channels to work together in our demand gen flywheel post.
How Powered By Search is Different
Plenty of marketing agencies execute aspects of this model (attract, engage, convert), but Powered By Search is the only agency that takes a holistic approach to marketing by fully addressing each of the attract, engage, and convert stages.
We've found that if you only execute one or two of these three stages, you might see some results, but you won't be able to predictable decrease CAC and increase QPC and LTV.
To see how we've implemented this model across a variety of different companies, check out some of these case studies:
Do They Specialize?
We work exclusively with B2B SaaS companies that sell to enterprise customers.
Unlike most SaaS marketing agencies, we've developed a proven process optimized to navigate the complexities of longer customer journeys and are familiar with the nuanced challenges you're currently facing.
How is Internal Team Health?
We prioritize exclusively hiring experts. So instead of hiring a robust client management team, we pay top dollar for the talent that's actually executing your marketing strategy.
You can check out our LinkedIn profile to see our employees' impressive backgrounds for yourself.
We also realize that the experts we've hired could find another job tomorrow, so we prioritize their well-being and cultivate a workplace they enjoy.
This strategy has worked out well – looking at our Glassdoor reviews, you'll see the average team member stays with us for two years.
This means you won't have to build new relationships with new account managers every few months or worry about losing ground on competitors as new team members learn about your business.
To see if Powered By Search is the best agency for your needs, book a call with us today.
Directive Consulting offers demand generation services, though they take a slightly different approach.
At Powered By Search, we track and optimize your channels to support the entire customer journey. In contrast, Directive's approach focuses on the small percentage of people who are in market and incentivizes them with gift card offers. This increases volume but may impact quality.
They claim to specialize in customer generation rather than demand generation.
Here's a graphic that shows how they define the difference between demand generation and customer generation: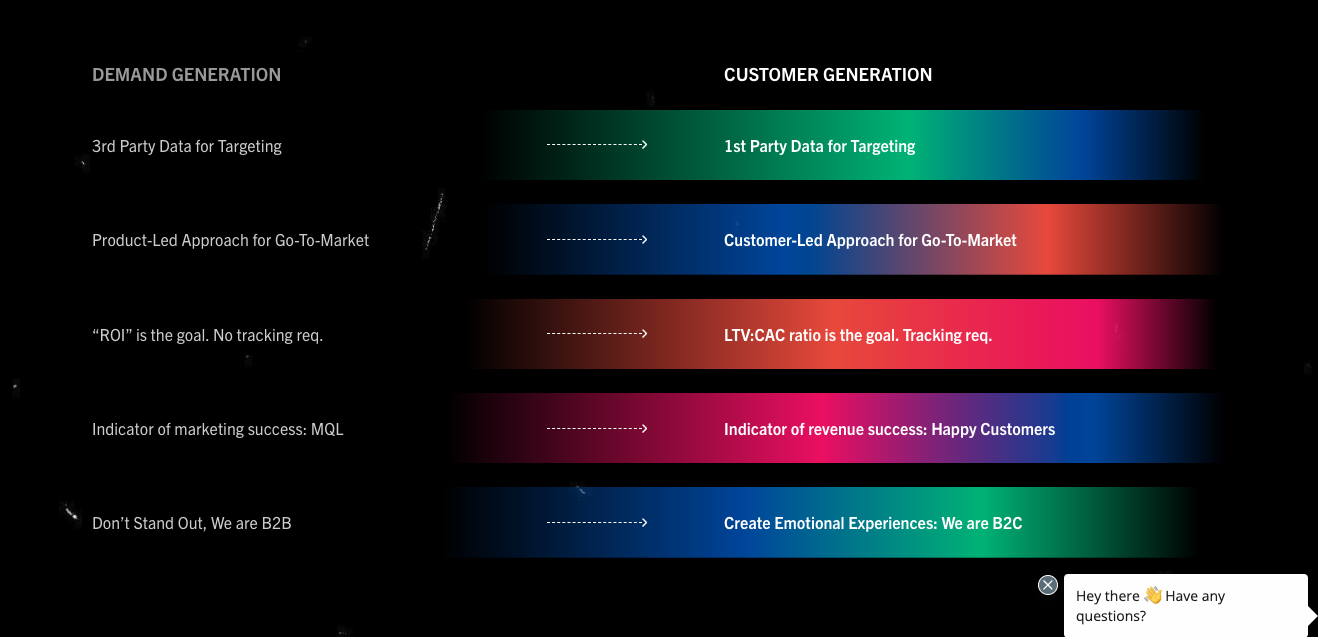 From a tactical perspective, their primary strategy is "splitting the customer acquisition cost."
They might run LinkedIn ads and offer a gift card to your potential customers to get on a call with you. If it typically costs $200 in LinkedIn ads to have a conversation with a customer, this strategy lets you pay just $100 in LinkedIn ads, and then you give the customer a $100 gift card.
We don't take this approach because this process only addresses the very end of the buyer journey – when the prospect is product aware.
However, before the customer becomes product aware, normally they go through the problem aware and solution aware stages.
If your sales cycle is 12-24 months, the research process is probably even longer, so you probably won't see a great ROI on your paid media if you just jump in front of them with a LinkedIn ad when they're finally product aware and ready to purchase.
That said, Directive doesn't discourage from using various random acts of marketing at the awareness stage. However, these marketing campaigns function in silos rather than a cohesive ecosystem, increasing your overall marketing costs.
Do They Specialize?
Historically, Directive specialized in serving B2B SaaS companies, but they recently signaled their intention to stop specializing and move towards broader "tech marketing."
How is Internal Team Health?
Here's an overview of their Glassdoor reviews: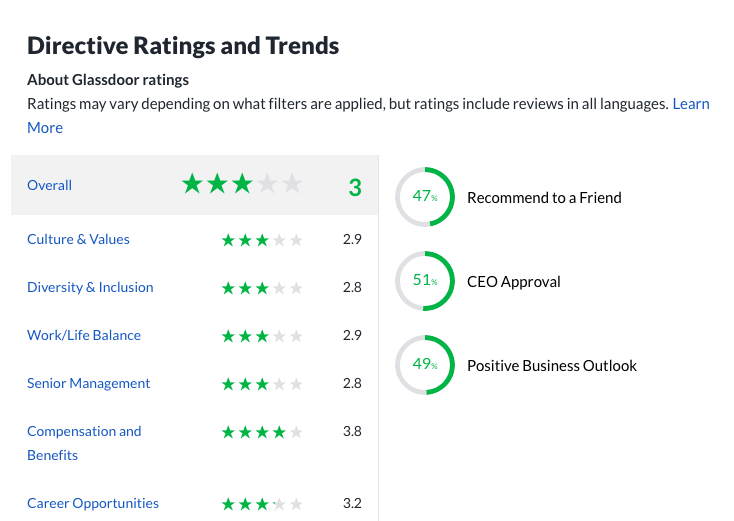 If you look at their median employee tenure on LinkedIn, you'll see that it's about one year (as of Spring 2023), meaning you'll probably work with different team members each year.
Overall, they have some great marketing talent. For example, Tim Davidson, their Sr Director of Marketing, is an extremely talented marketer.
On the other hand, if you review the profiles of their team, you'll notice that they promote interns and junior staff to director roles fairly quickly.
They also have a large client management team, meaning a large chunk of your contract revenue goes towards those people's salaries rather than the talent working on your account.
Refine Labs offers demand generation advisory and execution. They've shifted towards a community-driven growth model, introducing resources like the Vault and a process called Revenue R&D. However, it's unclear how this benefits their clients in practice.
Refine Labs focuses on "demand creation" rather than demand generation, believing that most sales occur through conversations on platforms like LinkedIn and Slack ("dark social"). As these conversations are challenging to track, Refine Labs doesn't use tracking tools like Google Analytics or Salesforce. Instead, they rely on self-reported attribution as their single source of truth, an approach we find flawed in our own article on the topic.
This methodology may present organizational and financial challenges when demonstrating ROI to your board and CFO. At Powered By Search, we believe that customer touchpoints mentioned in surveys are often just a part of the journey and could be subject to inaccuracies.
Additionally, top-of-the-funnel efforts, like podcasts, are awareness mediums, not lead acquisition channels. Attributing an entire conversion to a single medium, such as a podcast, is inaccurate.
As for their tactical approach to demand creation, Refine Labs lacks written documentation of their strategy. According to clients who previously worked with them, they typically recommend random acts of marketing, like starting a podcast or writing content. However, these strategies lack cohesion and optimization, taking an extended period to deliver ROI for your business.
Do They Specialize?
Refine Labs specializes in serving B2B companies, but not specifically B2B SaaS.
How is Internal Team Health?
They recently laid off about 40% of their staff, and the median employee tenure is just over a year.

Looking through their LinkedIn profile, you'll notice they have a robust client management staff which puts middle management in between you and the people working on your marketing.
They have a 4.3 star rating on Glassdoor.
Klient Boost has a solid system for general companies but doesn't have a process optimized specifically for B2B SaaS companies.
This means the process they use with your company is the same process they use for an ecommerce company.
Klient Boost also packages its services by marketing channel. So you can purchase PPC, SEO, CRO, or email marketing services, but they don't have a codified methodology for connecting them together to create a demand generation engine for B2B SaaS.
Do They Specialize?
No, they do not specialize in B2B SaaS. They serve ecommerce, tech and SaaS companies.. This may cause a challenge in ramping up periods depending on the complexity of your business.
How is Internal Team Health?
Overall, their internal team seems happy with a 4.6 star rating on Glassdoor and a medium employee tenure of 1.8 years, according to LinkedIn.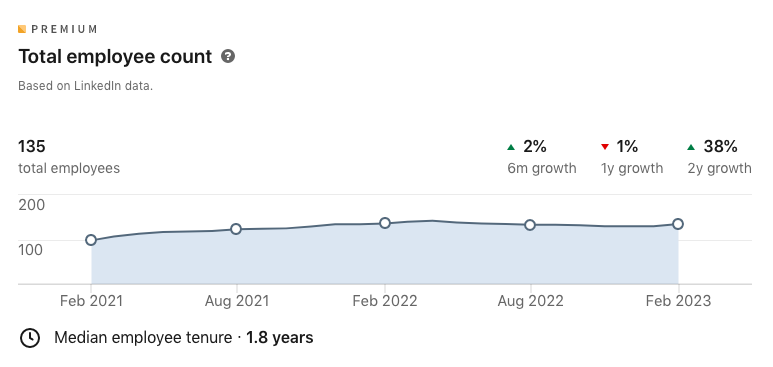 Another point worth noting is that 45% of their team is part of the sales or business development departments. So only about 55% of their team is actually working on your account.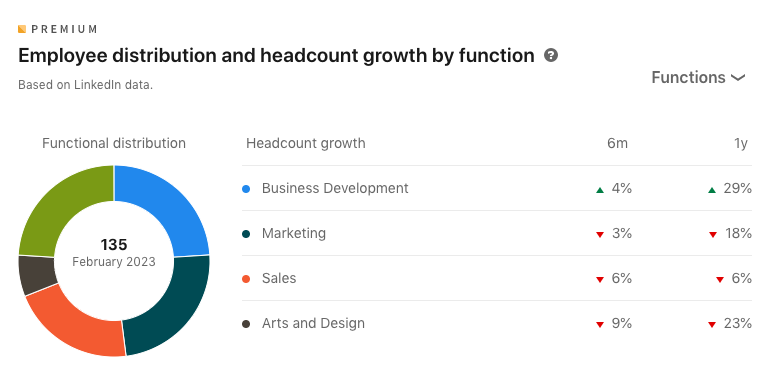 If you're not ready to hire a full-service agency, consider some of the consultants below. These individuals are experts in their respective niches and can help you grow to a point where you can hire a full-service agency.
If you need a specialist agency or consultant, here's who we'd recommend
Adrienne is excellent at helping you figure out who your ideal customer is, why they buy, and the key pain points they feel.
During the engagement, she'll conduct 20-minute interviews with your customers and then analyze the data to identify new growth opportunities.
You can see case studies of her happy clients and learn more about her services.
Jason runs a SaaS product and growth marketing agency for early-stage SaaS companies. So if you're still in the ideation phase and want some help with market research, brand positioning, pricing, or go-to-market strategy, Jason can help you.
He begins his process by interviewing your team to learn more about your business and then he conducts some preliminary market research to learn more about potential customer pain points.
Using that data, he creates a handful of different campaigns, tests them, and then uses those results to give you a comprehensive growth strategy.
You can read about how he has successfully used this strategy in these case studies.
42 Agency specializes in revenue operations, demand generation, and account-based marketing (ABM). Their approach includes optimizing marketing and sales processes, implementing essential tech, and building attribution and reporting. They design a holistic, multi-channel marketing strategy, connecting campaigns to create a seamless buyer journey. In ABM, they collaborate with sales and marketing to identify and target key accounts across multiple channels, helping you close deals with ideal customers.
You can see case studies of how they've helped clients achieve success using this strategy.
Brendan excels in helping SaaS companies with $10 million in ARR grow towards $100 million in ARR through content and SEO. His approach begins with product and content-led SEO, using product data to drive SEO initiatives. Then, he creates revenue-focused content to support sales, success, and support teams. Subsequently, Brendan generates demand by building extensive brand awareness through content. Lastly, he emphasizes digital PR by focusing on creating linkable assets rather than engaging in spammy outreach tactics.
You can see his client case studies here.
JH is an expert at building SEO foundations for startups. So you'll get a content strategy and SEO plan to support your go-to-market strategy.
He typically offers 4-6 month contracts and helps you build a personalized SEO plan before sending you to a larger agency.
If you need more help with execution, he can also provide help with competitive analysis, monitoring and reporting, contract content team recruiting, and SEO assessment.
10. Demand Maven – Asia Orangio Matos
Asia helps growing SaaS companies and startups generate their next $1M ARR.
She does this through six-week engagements where the team analyzes your customers, industry, competitors, and product. Then, they develop a growth strategy and give your team the tools necessary to implement it.
To see this process in action, you can read their case studies here.
11. Forget the Funnel – Claire Suellentrop and Georgiana Laudi
The team at Forget The Funnel specializes in customer-led growth for B2B SaaS companies.
This means that they focus on discovering who your best customers are, the pain points that make them buy, and how you can adjust your marketing and messaging to attract more of them.
The first four weeks of the engagement focus on interviewing customers and gathering data and then the last week is spent developing a growth strategy for you to execute.
They've worked with brands like SparkToro, Boundless, and Anomalo.
Animalz is a content marketing agency specializing primarily in thought leadership content for SaaS companies.
So if your team leaders have interesting or contrarian opinions and want to create content to showcase them, Animalz can help you.
You can read through some of their content marketing case studies to see some of the thought leadership content they've produced for other companies.
Selecting The Best SaaS Marketing Agency
If you've historically struggled to find high-quality agency partners, it might be because the criteria you use to evaluate agencies is missing some critical pieces.
So instead, use the following criteria to evaluate each agency:
Do they have a proven process that consistently produces the results you want?
Do they specialize in serving B2B SaaS companies with buying cycles similar to ours?
Is their internal team happy?
Looking to work with a SaaS marketing agency? We have a team of SEO and PPC experts that would be happy to talk with you. Get a free marketing plan to start a conversation.
What you should do now
Whenever you're ready…here are 4 ways we can help you grow your B2B software or technology business:
Claim your Free SaaS Scale Session. If you'd like to work with us to turn your website into your best demo and trial acquisition platform, claim your FREE SaaS Scale Session. One of our growth experts will understand your current demand generation situation, and then suggest practical digital marketing strategies to double your demo and trial traffic and conversion fast.
If you'd like to learn the exact demand strategies we use for free, go to our blog or visit our resources section, where you can download guides, calculators, and templates we use for our most successful clients.
If you'd like to work with other experts on our team or learn why we have off the charts team member satisfaction score, then see our Careers page.
If you know another marketer who'd enjoy reading this page, share it with them via email, Linkedin, Twitter, or Facebook.