How to Build a B2B SaaS Demand Generation Flywheel
Last updated: November 8th, 2023
Table of Contents
Most B2B SaaS companies want to create a demand generation flywheel.
Those that have one bring in a steady stream of marketing qualified leads. Meanwhile, those that don't often hit a plateau with customer growth.
Building the momentum to get that flywheel spinning is the hardest part. This is usually because:
They feel overwhelmed about what they should do. There are so many tactics that it's difficult to choose which to prioritize and act on.
They lack a cohesive strategy to connect their digital marketing activities to work together in a system.
Their SaaS marketing team is consumed with day to day operations and doesn't have the bandwidth to step back and identify the key roadblocks to overcome.
These are a few reasons why we created the Predictable Growth Methodology to help B2B SaaS companies become unstoppable.
We use an eight step strategy that begins with evaluating MRR accelerators, customer pain points and current blockers and then we design a flywheel for growth that connects various marketing channels to work together to efficiently move prospects through the buyer journey.
You can learn more about how we build B2B SaaS marketing strategies here, though in this article, we'll teach you the steps to create your own flywheel.
Specifically, we'll cover:
How to clarify your positioning with a unique tool we created for B2B SaaS businesses.
The ideal way to structure your website map using our Authority Architecture Framework.
The elements that blog posts need to signal relevance to Google's ranking algorithms.
Why technical search engine optimization, content marketing, and outreach comprise our 3 pillars of focus for SEO strategy.
An explanation of customer-channel fit and why it matters for PPC advertising.
The value of creating bottom-of-funnel content first.
The qualities of good and bad lead magnets.
How to develop email lifecycle campaigns to nurture prospects.
Creating an accurate, and actionable marketing forecast to confidently hit your goals.
After reading this article, you should have a deeper understanding of what to prioritize in your process to generate more demand for your SaaS business.
Want help creating your own demand gen flywheel? Get your Free Marketing Plan here and learn more about how we can help.
Positioning Your B2B SaaS Company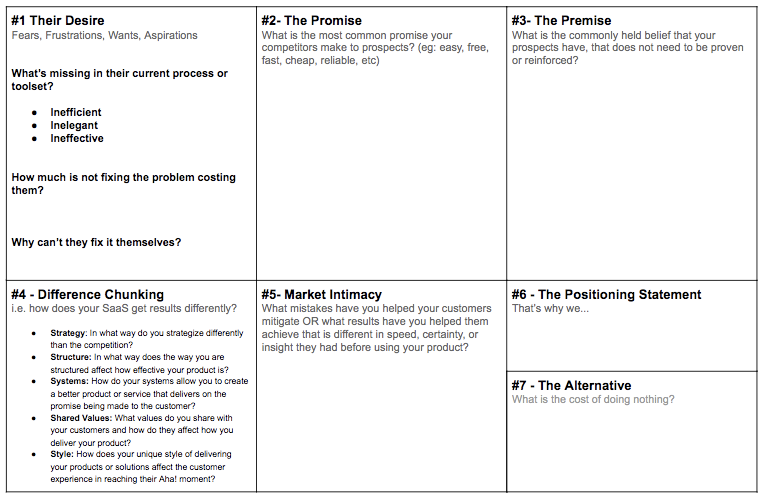 If you're noticing that most customers coming in for demos or trials aren't a great fit for your product, there's usually a positioning issue.
Often, SaaS companies have vague positioning statements designed to resonate with all potential customers – and ultimately resonate with none of them.
Many companies and their marketers tend to mistake taglines, slogans, or value propositions as positioning. But they aren't. Those things come from or are informed by positioning.
Instead, your positioning statement should speak to only your ideal customer profiles and actually repel customers who aren't a great fit. Tailoring your positioning to one customer persona will help reduce churn and customer support resources while improving reviews and referrals from right-fit customers.
Positioning can be a difficult concept to grasp. It's often abstract, making it a challenge for many B2B SaaS businesses to define. But, SaaS positioning simply boils down to answering four simple questions:
Who do you help?
How do you differ from your competition?
What problems do you solve?
How does your product work?
Your answers should be brief and precise. If you find yourself and other company stakeholders answering them too broadly, that's an indicator of unclear positioning.
Also, don't rely on simply describing your solution. Instead, put your customers at the center of positioning first. Utilize your buyer personas to think hard about the issues and challenges they have that led them to discover you in the first place.
Aside from answering the questions above, we created a tool to help SaaS companies find clarity in their positioning. We call it the SaaS Positioning Canvas and it breaks down into the following steps:
Step 1: Your customers' desires. What are their fears, frustrations, wants and aspirations? What is the cost of not solving this problem? Understand the obstacles that prevent them from fixing it themselves.
Step 2: The promise. Examine your top 5 competitors and gauge what guarantees they make to your prospects.
Step 3: The premise. Humans are naturally skeptical, which means they'll likely see your SaaS products first through the lens of doubt. Instead of resisting, address this head on.
Step 4: Difference chunking. Explain how your company gets results for customers in its own unique way. Answer questions centered around strategy, structure, systems, shared values, and style.
Step 5: Market intimacy. List the common mistakes that customers make before using your product. Demonstrate the results you help your customers get relative to increased speed, certainty, and insight.
Step 6: The positioning statement. What's your reason for existence? Complete the statement: "That's why we…"
Step 7: The alternative. Detail the outcomes that happen as a result of inaction or not choosing your product.
Nail your positioning first before tackling anything else. By completing the canvas, step-by-step, you'll have a document detailing what defines your company.
Note: To use this tool, make a copy of the SaaS Positioning Canvas and paste it into your own document to begin filling it out. No need to ask for edit access. (For the canvas to paste properly, go to File > Page Setup > Landscape and adjust the margins from 1" to 0.5" across the board.)
Structuring Your Website for SaaS Demand Generation Success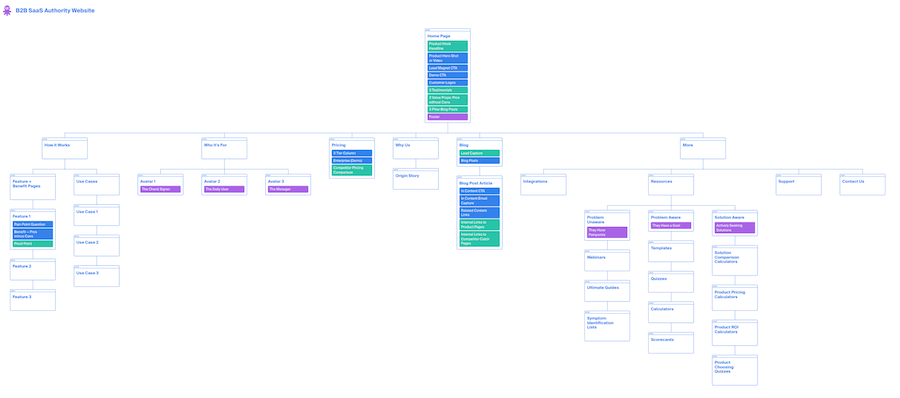 Many SaaS companies design their websites by committee. They first ask product, engineering, customer success, and sales teams about their needs. Then, they compile random pieces of inspiration from other SaaS websites onto a mood board.
This often results in a website with an identity crisis. Visually, it comes across almost identical to the other SaaS websites. There's no clear map for prospects to follow on their path to becoming a customer.
Seeing this happen far too often, we decided to create a wireframe that visualized our website strategy. The result was our Authority Architecture Framework. It's a practical site map that details the necessary pages your website should include.
Using this framework can help you build a website that fosters a connection with your visitors. It comprises of focusing your attention and refining your website in the following areas:
Homepage
Product and feature pages
"Who It's for" pages
Pricing page
About page
Blog page
Resource pages (support, quizzes, contact us)
We'll cover the three areas of your website that you should address first: your homepage, products and features pages, and your blog.
Homepages
Every company understands that their homepage has to include a headline. But they often miss the mark when it comes to writing a headline that's compelling.
Unclear homepages often have high bounce rates as prospects who don't immediately understand that you have a custom solution for their specific pain point have little incentive to explore deeper into your website.
A simple test to see if the messaging on your homepage is clear is to ask – if we swapped out our logo for a competitors' logo, would our customers still know that it's really our brand?
So how do you create a great headline?
The best headlines speak to a specific audience and don't make plain, declarative statements. They often ask a question instead.
If you decide to make your headline a statement, it's best to do so by presenting it in a pros-without-cons format. That means declare a benefit and pair it with one of the pain points your product solves, both phrased in positive terms.
Use your subheadline to communicate your value proposition. Your value proposition answers the question: "Why should I choose you over your competition?".
To achieve this, we use a tactic that we call "the screenwriting technique".
The screenwriting technique is a method of conveying that "aha moment" your SaaS product delivers once a customer starts using it. Think of the screenwriting technique as a way to demonstrate how they might feel before and after becoming your customer.
Product and Feature Pages
Look at your product and feature pages right now – are they explaining the bells and whistles of your product or explaining how it solves specific customer problems?
The reality is that nobody really cares how cool your product is. They just want to know that it will quickly and reliably solve their problem.
Of course, your product probably has multiple features that solve multiple different pain points which you'll have to explain. In addition, you'll have people at different stages in the buyer journey visiting your product and feature pages, and their next action step will differ depending on their current knowledge level (e.g., product aware might sign up for a demo whereas solution aware might want to read some case studies).
So how you structure these product and feature pages will impact your conversion rates.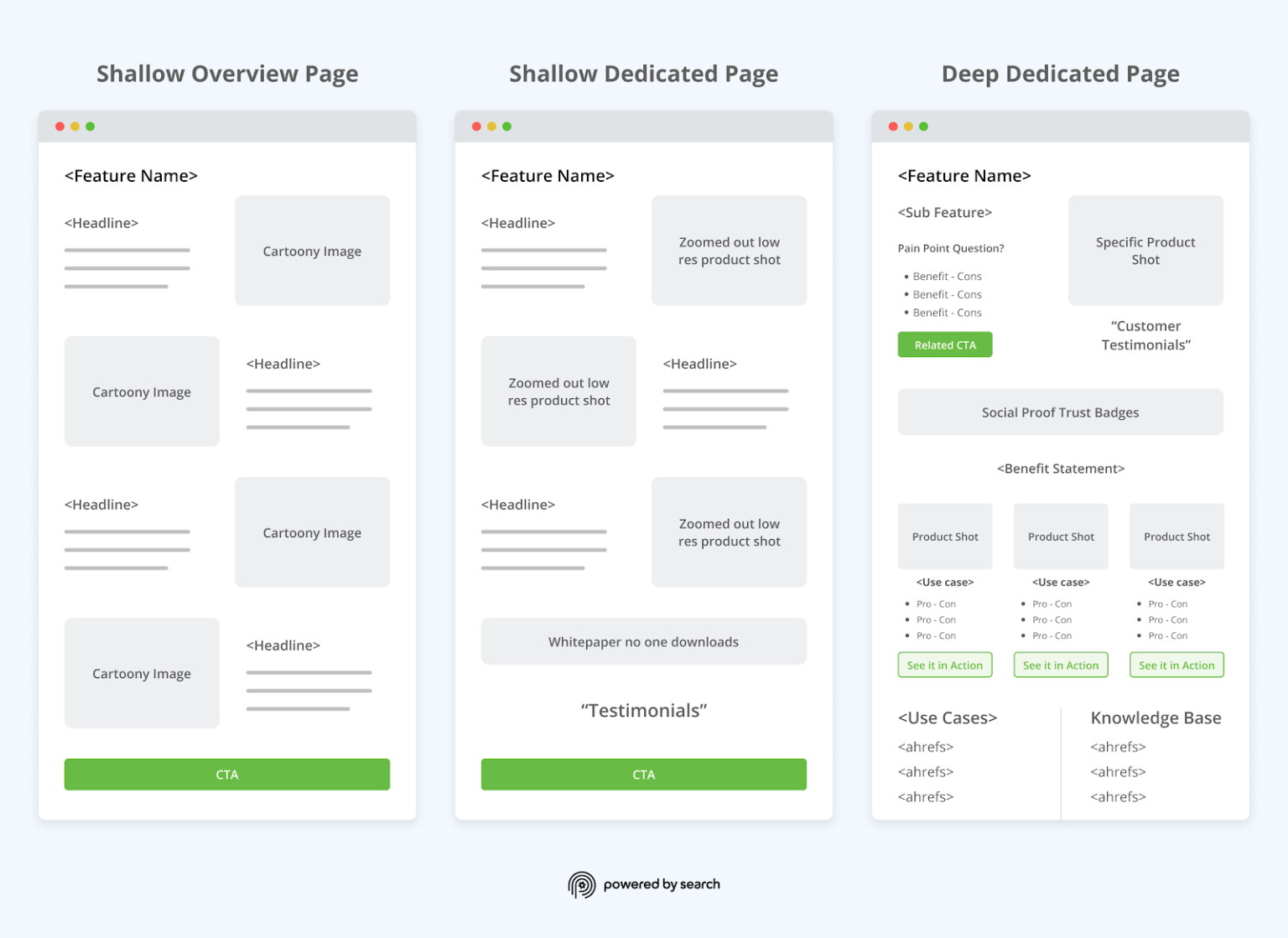 Companies that don't pay enough attention to structure, imagery, and copy often have trouble converting visitors through their product and feature pages.
By overlooking these three elements, their product pages tend to suffer from higher bounce rates and often fail to rank in organic search.
To optimize these pages for higher conversions, we break them down into five sections, tackling each one-by-one.
1. The Above the Fold Experience
Before a visitor begins scrolling, a good product page needs to address four questions.
Does the product match what the visitors are searching for?
Can it do what they need and solve their problems?
Would purchasing this product be a worthwhile investment?
And finally, what should they do next?
2. The Trust Badge Banner
A prospect needs reassurance that your product is something they can trust. Including logos of other businesses that also use your SaaS product signals legitimacy to your page visitors. Feature a strategic mix of your most impressive and best fit customers.
3. Detailed Feature Expansion
Use this section to provide more depth and context to the features you've listed above the fold. Present features in the order they're used. Then, leverage the pros-without-cons format we discussed above.
4. The Second Call to Action
Including another call to action serves two purposes. First, it gives a visual break between your product features and benefits. Second, it demonstrates what a prospect would get by opting into your offer.
5. Testimonials
Add another element of social proof. Including testimonials of your best fit customers increases confidence with visitors that your product can provide real help.
Blog Pages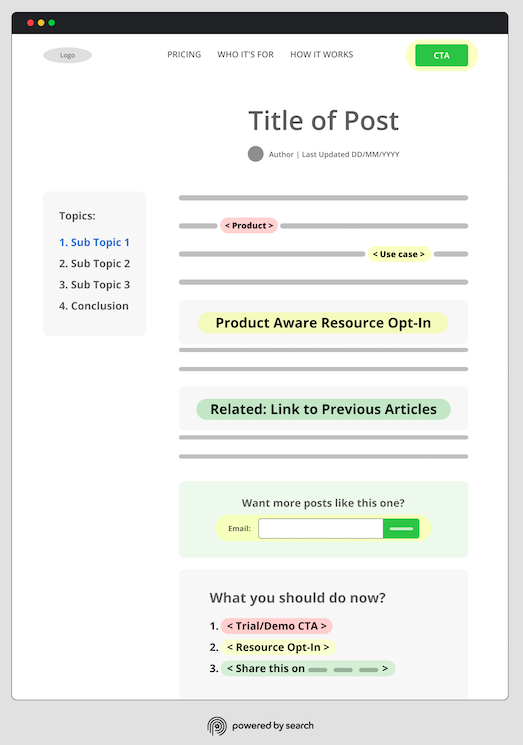 Most B2B SaaS companies invest plenty of effort into web design and conversion rate optimization for their homepage and product pages. But very few dedicate that same amount of attention to their blog.
Blog pages and posts can often become the most visited parts of your company's site and failing to optimize them for conversion is a missed opportunity.
Traffic is often the main KPI used to measure the effectiveness of blog content, but then companies find that their revenue and lead volume doesn't correlate with traffic metrics.
One common reason for this discrepancy in lead volume and traffic metrics is because the blog post architecture isn't optimized to move the buyer through the customer journey. So after a person reads a blog post, they'll simply leave your website if there isn't a logical next step for them to take.
Of course, it could also be due to poor customer content fit (which we discuss in detail in our B2B SaaS content strategy process), but assuming you're producing the right type of content, simply adding the right calls to action in the right places within your blog can significantly improve its effectiveness.
With that in mind, we created a framework for blog pages and posts that helps solve this problem. Turn to the Authority Blog Post Architecture for B2B SaaS for inspiration when creating wireframes for your website.
The framework breaks down into five parts:
1. Header Menu
Many companies make the mistake of including hundreds of options in their dropdown menus for visitors to choose from. We think less is more. Include only the links that are likely to matter most for visitors. Think of your header as an elevator pitch for your value proposition.
2. Blog Post Date
Refreshing existing posts is a commonly practiced SEO tactic. But many companies don't include an annotation of when they've last updated specific blogs. We tell SaaS companies to include when posts are published and when they're updated because that signals to search engines you're providing the latest information or take.
3. Sidebar Menu
Declutter your sidebars. Remove various messaging, CTAs, social proofs, and links. Use your sidebar to display a table of contents that visitors can use to jump ahead to certain topics within your articles.
4. Blog Content
Include more calls to actions that you want readers to take within the actual content of an article. Contextualizing them in a post is much more effective because they catch your readers' eyes while they skim through your posts.
5. Footer Menu
Between the conclusion of your article and your footer, insert a section that tells readers what to do next. This section should include final calls to action that readers could take now that they're finished reading your post. We recommend including CTAs that correspond to bottom-of-funnel, middle-of-funnel, and top-of-funnel intent.
Note: If your CTAs aren't converting very well, audit them to make sure you're only asking the reader to take the next step in the buyer journey. A common mistake we often see is that SaaS companies automatically include a CTA to schedule a demo in their blog posts.
Yet if the blog post is only addressing a problem aware audience, those readers aren't ready to schedule a demo. So make sure your CTA only asks them to the next logical step in the buyer journey.
Executing SEO for SaaS Demand Generation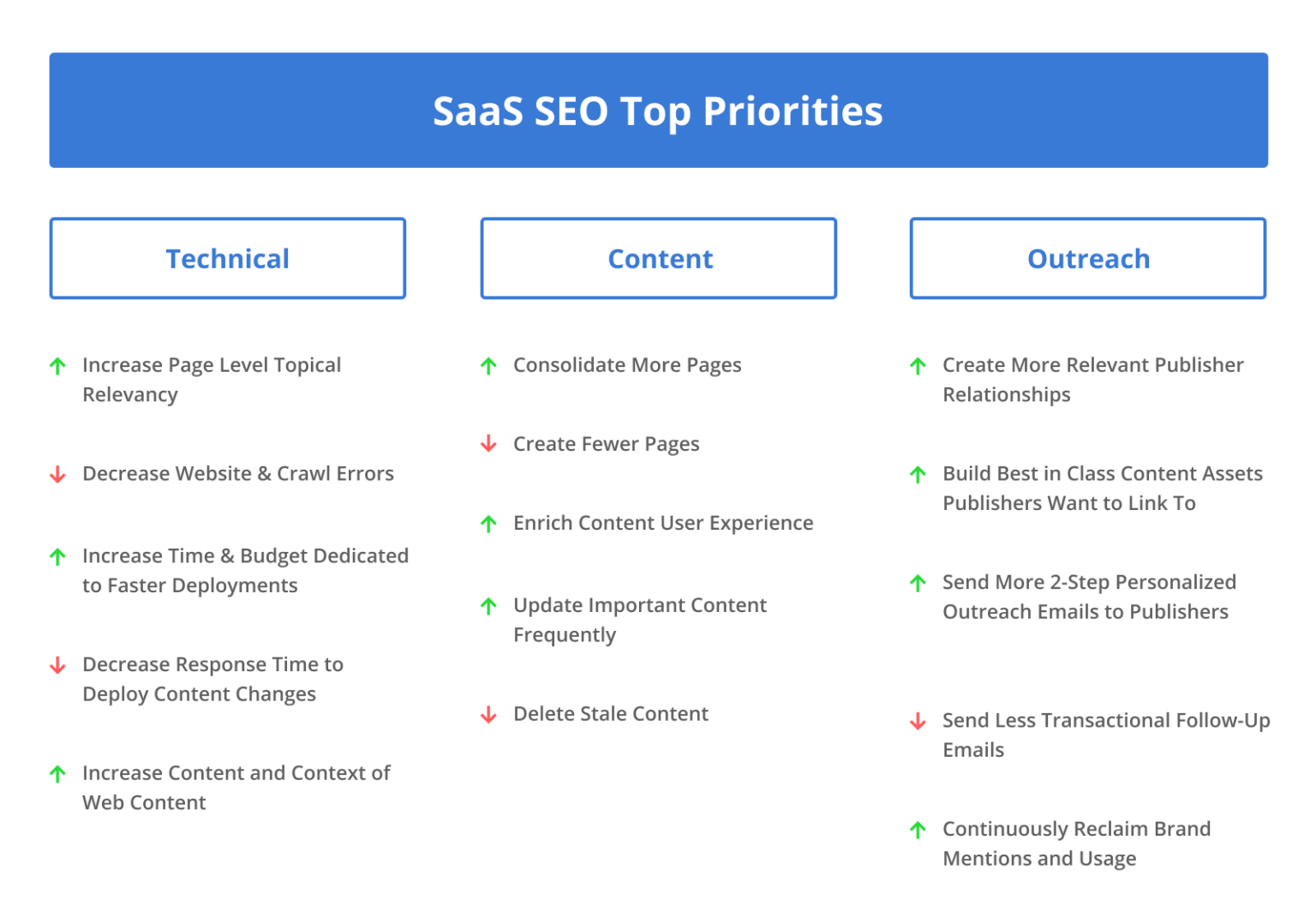 We believe that the best way to attack SEO is through a framework-driven, methodical approach. That's why we break it down into three pillars of focus:
Technical SEO
Content Marketing
SEO Outreach
Let's walk through the five priorities that matter for each pillar.
Technical SEO
If your website isn't ranking at all for some key terms, or if you clearly have better content than the top ranking posts yet search engines are still ranking your website much lower, there's likely a technical SEO issue.
We have a more comprehensive resource on our approach to technical SEO for B2B SaaS, but most issues come down to improving a few key elements.
The first element to tackle here is increasing page level topical relevance. Search engines don't care about the word count of your article or how many times you mention your target keyword. What matters most is that your page is relevant to the topic that user is searching for.
Next, it's necessary to decrease website and crawl errors. These can add up when you don't fix them and makes your content less discoverable by search engines. Limit or get rid of as many of them as possible.
Third, increase time and budget dedicated to faster deployment. Consider how you can break up bigger tasks related to technical SEO so that you can start taking actions faster. If there are cost-related issues, consider finding more support to complete jobs that need finishing.
Fourth is decreasing response time to deploy content changes. Recommendations and ideas are a dime a dozen. They only work if they're implemented. Make sure changes happen sooner rather than later.
And finally, increasing content and context of web content. Related to increasing topical relevance, search engines favor contextually relevant content.
Content Marketing
Technical SEO lays the groundwork for showing up in search results, but if you don't have any content that answers search queries, technical SEO will be irrelevant.
That's why we focus the majority of our SEO resources on content marketing.
Yet unlike many SaaS marketers, our approach to content marketing isn't just about increasing the volume of content.
In fact, solely increasing content volume is often the root cause of poor SEO performance.
One way search engines evaluate the authority of your website is by analyzing the average engagement of your content. If you have a lot of content published, yet the average piece of content only earns a handful of monthly visits, search engines assume that most of your content is unhelpful to users.
As a result, those pieces actually drag down the authority of your website and hinder the top performing content.
Therefore, our first priority is to consolidate as many existing pages as possible. Combine as many pages and posts that cover similar topics to make each piece of content stronger.
We also remove stale and irrelevant content by redirecting it to other relevant pages. This also helps keep the website lean and improves the average engagement of our blog posts.
Next, update existing content. You probably have a handful of blog posts that are already ranking low on the first page or somewhere on the second page.
So instead of creating brand new content (which may or may not perform well), you'll see much better returns by simply updating existing content that Google is already ranking. It's also worth noting that you probably already have content for your highest value keywords, and any additional content you create would target lower value keywords.
You'll probably actually see a bigger lift in leads by boosting an existing piece of content a few spots in the SERPs than ranking a brand new piece of content first for a lower value target keyword.
Third, always consider how you can enrich the user's content experience. It should be easy for visitors to navigate through your website. Industry tests suggest that user experience can impact how Google ranks the authority of your website.
Note: For more on content marketing strategy, read this article.
SEO Outreach
Google wants to show searchers content from experts, and a major way it determines whether or not you're an expert is by analyzing how many other authoritative websites link to yours.
So earning links is an important ranking factor.
Yet most link building strategies, like cold emailing thousands of website owners and asking for a link, are unsuccessful and reflect poorly on your brand.
Instead, make a point to build genuine relationships with industry experts and relevant publishers. Connect with influencers who will recommend your brand to their audiences. For example, go on podcasts, contribute to industry publications that your target audience reads, and speak at events.
You may have to do some outreach to land a collaboration, so we always send 2-step personalized outreach emails. When reaching out to influencers, send messages that consider the receiver. How will your request help them and how can you ensure accepting requires virtually no effort on their part?
If they don't respond to your first email, send a personalized follow-up that clearly sums up exactly what kind of benefit they'll receive by collaborating with you.
After doing a few collaborations, you'll find that people will organically begin linking to your brand over time as they reference conversations and quotes from these content collaborations.
Speaking of content, the next best way to earn links is to create your own content worth linking to. Strive to create assets that are so remarkable that people can't help but talk about or link back to them. If you wouldn't share your content, then chances are someone else wouldn't share it either.
Lastly, make an effort to reclaim brand mentions and usages. Anywhere on the web where people mention your brand but don't link back to you is an opportunity for a new backlink. Use a tool like Ahrefs to create alerts whenever mentions of your brand occur.
Note: For more on building backlinks, read this article.
Driving PPC Traffic That's the Right Fit for Your Business
Paid media costs are rising, and many SaaS marketers are feeling the strain as their general metrics are inefficient. They're usually either paying too much for their leads or simply not getting enough leads for their budget.
Either way, it's not sustainable and competitors are growing while they continue to tread water.
It's easy to blame changing market conditions and lament that marketing is becoming more challenging, but we've found that there are often a lot of untapped opportunities that marketers can leverage to improve PPC performance.
Specifically, we've found that the root cause of most underperforming PPC strategies is usually that they haven't found customer-channel fit.
This means that you're either advertising on the wrong channel, or advertising on the right channel in the wrong way.
Of course, figuring out the right channel for each stage of the buyer journey and implementing the right positioning and messaging is tricky.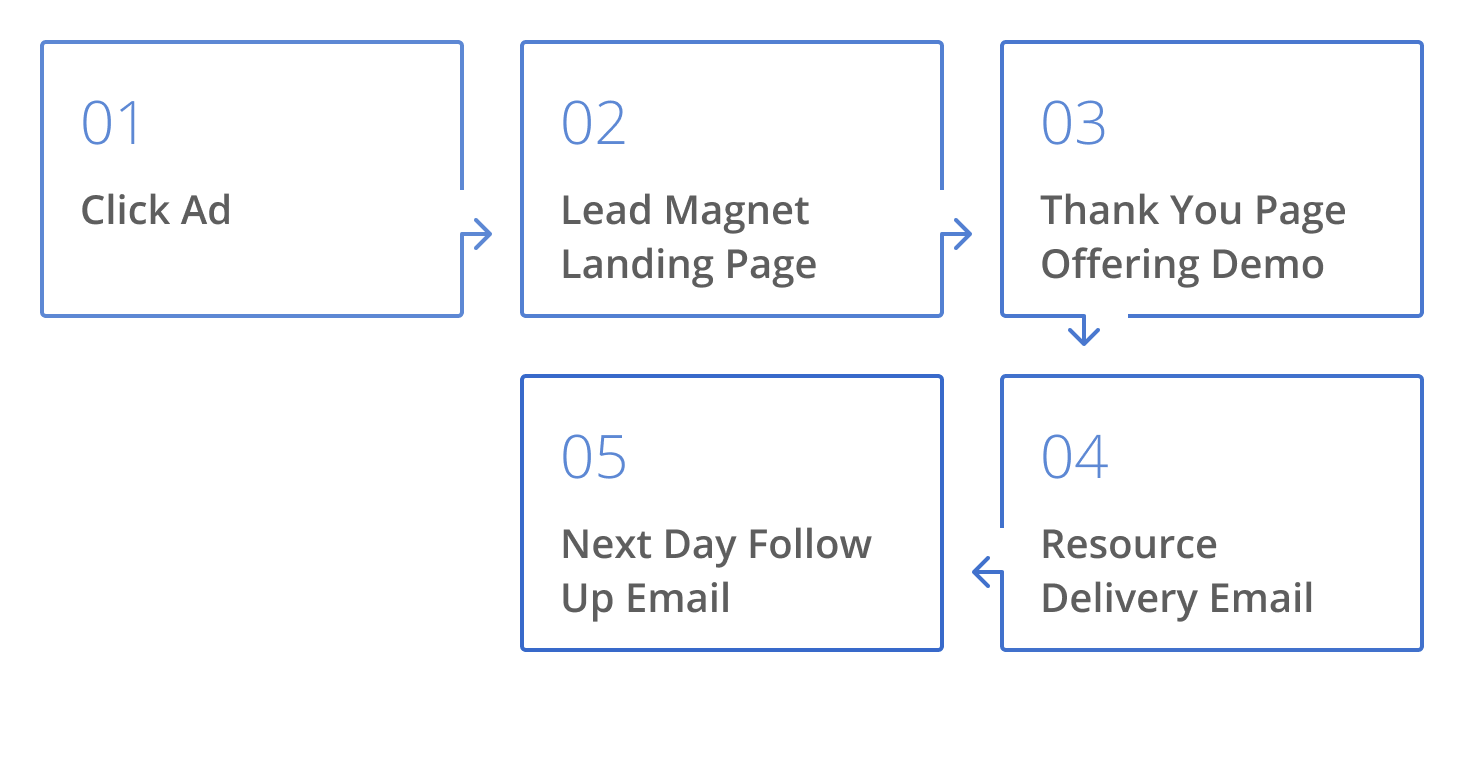 Effective PPC strategy starts with finding customer-channel fit. This means that your creative matches a user's behavior and intent on the platform your ads are running. We often see companies make the following mistakes when it comes to finding customer-channel fit:
They're not testing enough.
They don't have a workflow that maps out every step from a channel through conversion.
They don't have remarketing set up from the getgo and fail to use a pixel delay.
They rarely revamp their ad creative.
The three outbound PPC channels we find most effective for B2B SaaS companies are LinkedIn, Facebook (Meta Ads), and Google Ads.
In the next section, we highlight the key rules of thumb for getting the most out of each channel.
LinkedIn Ads
Plan to allocate more budget for LinkedIn ads to be successful. Running ads on LinkedIn are generally more expensive than Facebook (Meta Ads) and Google Ads. You'll generate fewer yet higher quality leads.
It's also a great channel for account based marketing as you can upload a list of companies you want to target and then run ads specifically to individuals working at those companies.
Though for any other campaigns, you don't need to get granular with your targeting on LinkedIn. Specificity isn't a must. Instead, provide LinkedIn with broad job titles of your ideal prospects.
Then, make your ad creative so that it's in line with a LinkedIn user's behavior. Remember that most people who use LinkedIn are there to browse content and network with other professionals. They're not in a purchasing state of mind, so consider this when deciding what your offer will be. Lead magnet downloads are often more effective than offering trial or demo signups.
Facebook (Meta Ads)
If you're unhappy with your Facebook (Meta Ads) conversions, it's often simply because you have the wrong goal.
While Facebook is excellent for capturing awareness and keeping your brand top of mind as users move through the buyer journey, don't expect to drive direct conversions – LinkedIn is a better channel to accomplish that goal.
So rather than using Facebook to acquire customers directly, use it as a tool to retarget users and keep them engaged. This will help you decrease acquisition costs on higher intent channels, like LinkedIn, when people are ready to make a purchase.
Facebook is a channel where you want your targeting to be specific. Consider setting up your ad targeting to fall in line with these these three main options:
Retarget users whom you've already collected pixel data from.
Build lookalike audiences based on existing customer and prospect data. For example, you can create a 1% LAL audience based on customers who have the highest LTV.
Take an account-based marketing approach and narrow your targeting to an exact list of people who represent great fits for your business.
Note that we didn't include creating custom audiences based on relevant interests and behaviors. Many B2B SaaS companies who go this route find they reach only a small percentage of the right-fit customers. This strategy is more effective for eCommerce companies or businesses that know their ideal customers spend a lot of time on Facebook.
Google Ads & Bing Ads
Google Ads (and similarly Bing Ads) target high purchase intent visitors and are therefore highly competitive. This means they'll likely be prohibitively expensive if you haven't dialed in customer-channel fit and accurately positioned your campaigns with the right messaging at the right stage in the customer journey.
There are five tactics that B2B SaaS companies can implement in their next Google Ads marketing campaign:
Targeting In-Market and Custom Intent Segments: These segments enable you to direct Google to show ads to anyone looking for terms that suggest strong purchasing intent within a recent two-week time frame.
Brand Consideration Intent: Target brand keywords that show consideration like brand name + reviews or brand name + discount.
Brand vs. Competitor Intent: Create comparison landing pages that showcase the difference between you and multiple competitors. Then, drive traffic to them targeting comparison-intent keywords.
Google Display Network with Managed Placements: 90% of all internet users see an ad served by Google Display Network. Using managed placements enables you to handpick the specific websites your creatives appear.
Using target account lists: Just like Facebook, use existing customer or pipeline data to bolster your ads. The difference here is that you'd pair your data with keyword targeting to reach a more precise group of potential customers.
Designing Landing Pages That Convert
Once you've got your customer-channel fit in order, then you can start tackling landing pages. Most companies tend to do this in the context of top, middle, and bottom of their B2B marketing funnels. But we think it's better to design landing pages based on whether customers are:
Problem unaware: Prospects don't yet realize that they have an issue that needs solving.
Problem aware: They know they have a problem and they're actively seeking a solution.
Solution aware: Prospects know that options exist for fixing their problems and they want to figure out which solutions are best for them.
With that in mind, B2B SaaS companies can create two different kinds of landing page flows. The first one is for problem-unaware and problem-aware users.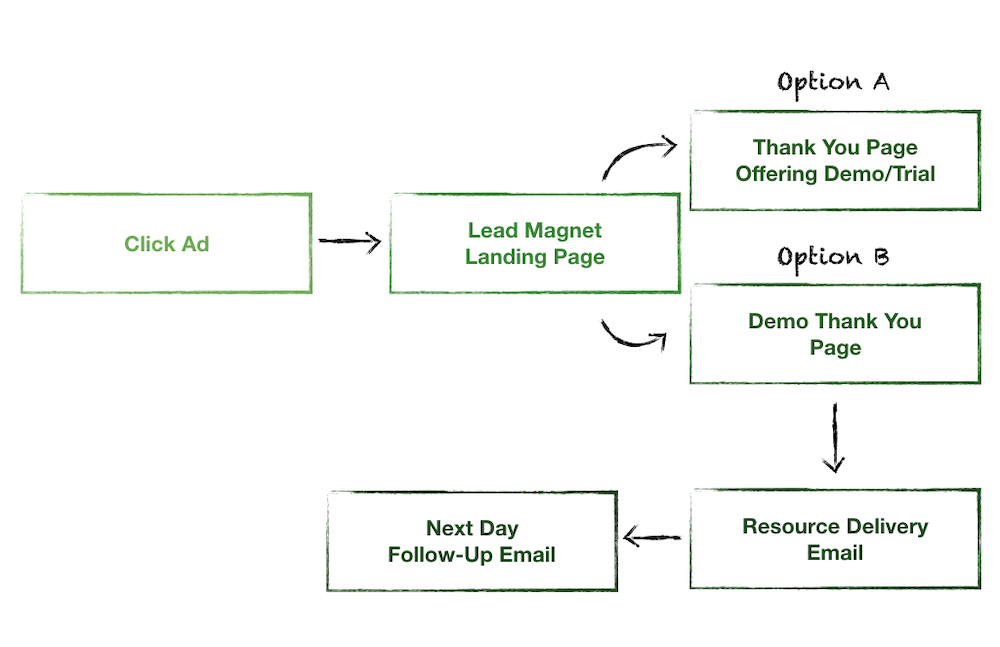 The second is for solution-aware prospects.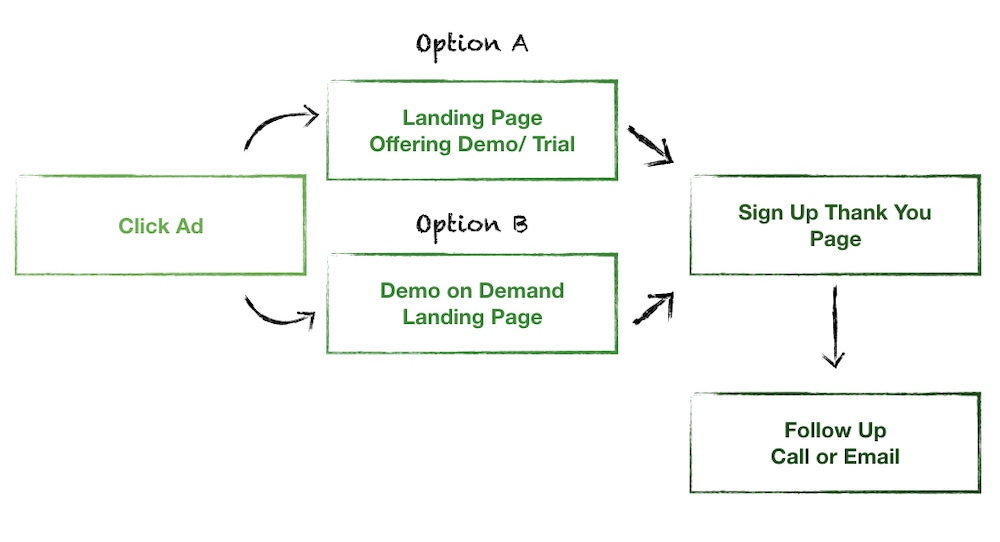 What About Remarketing and Optimization?
For remarketing, the biggest mistake most B2B SaaS companies make is taking a one-size-fits-all-approach. They don't often consider that their prospects engage with their brand in very different ways. That usually means they need to see different kinds of messages before they convert.
To address this, we recommend a strategy we call the Boomerang Method. It's two-step approach that goes as follows:
Step 1: Segment your audience based on the actions and pages they browsed on your website.
Step 2: Amplify your ads through omnichannel remarketing. This means serving your ads across multiple channels to people who've already engaged with your brand.
When it comes to PPC optimization, we see many companies make the mistake of making changes to their campaigns far too soon. They'll wait only a day, week, or even a few hours before they start tinkering with their campaigns. Instead, they need to wait longer, at minimum a month, to establish a baseline for measuring performance.
You can set benchmarks for your PPC ads by using the following calculations.
First, calculate your total ad budget. That formula is:

Total Ad Budget =Target # of Closed Deals per Month x Target CAC
Next, calculate the total number of clicks you need to reach your acquisition goal. Use the formula:

Clicks Needed = Goals per Month Needed ÷ Visitor to Goal Conversion Rate
Once you've sorted those two metrics out, determine a target cost per click based on average customer lifetime value and the number of closed deals that you'd like to achieve per month. That formula is:

Target CPC = Total Ad Budget ÷ Target Clicks per Month

Educating and Motivating Prospects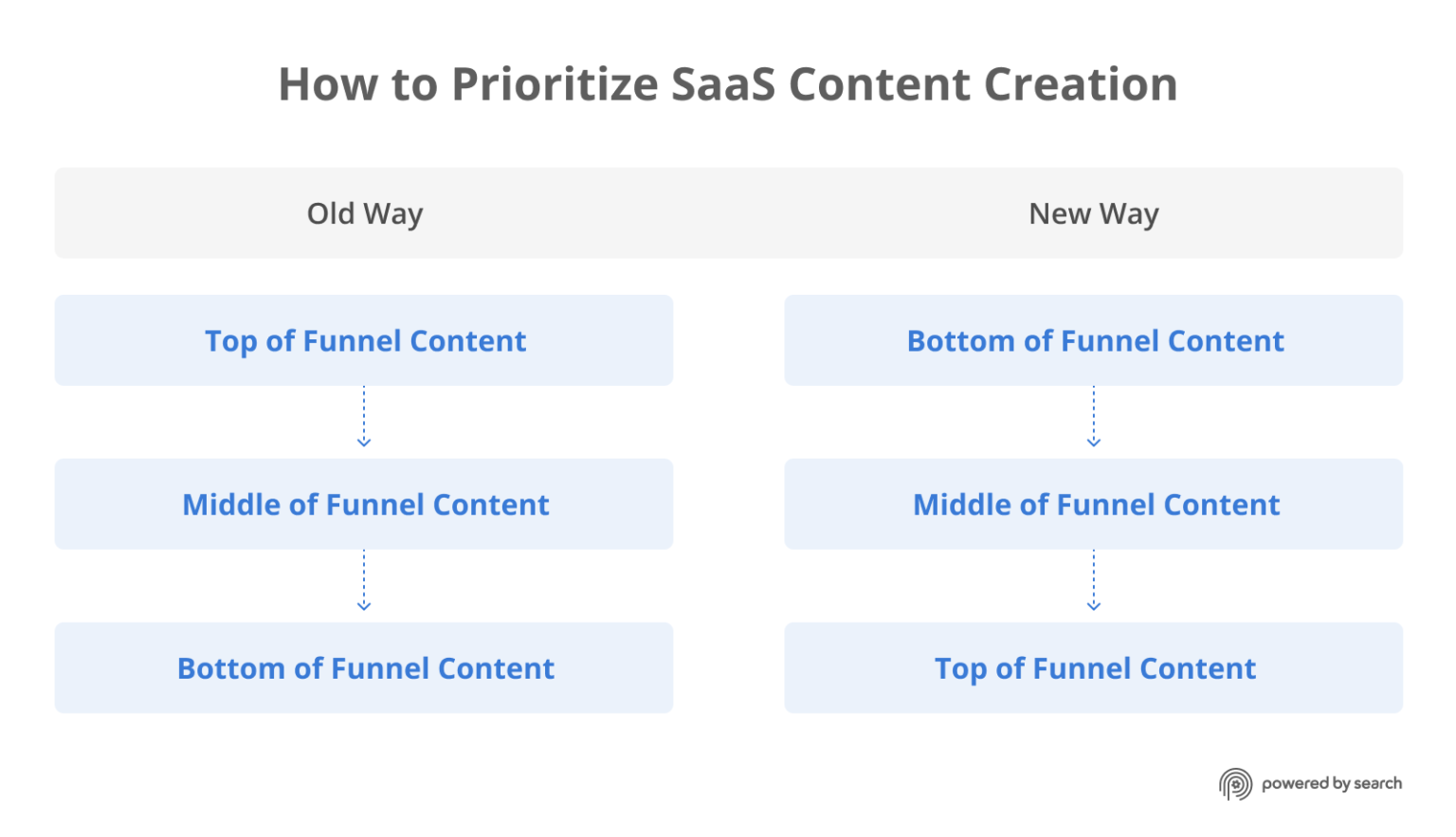 The final phase of SaaS demand generation boils down to your approach to content strategy. It's important to consider where in the buyer's journey your prospects are and match that with content most relevant for them. Otherwise, you can waste time creating a piece of content that's unlikely to convert into actual revenue.
Most companies tend to prioritize creating their content in this order:
Top-of-funnel topics → Middle-of-funnel topics → Bottom-of-funnel topics
We think it's more effective to do the opposite:
Bottom-of-funnel topics → Middle-of-funnel topics → Top-of-funnel topics
Attack bottom-of-funnel topics first. Doing so enables you to serve prospects who are already searching for a solution to the problem you solve.
Bottom of the funnel content attracts audiences that are actively looking to purchase a product like yours to solve their problem. This means they're much more likely to convert than a prospect that is just learning about their pain point.
The buyer awareness matrix is a diagram we created to illustrate the types of content that fit each level of a prospect's problem/solution awareness level.
We use it to prioritize the type of content we create. So we begin by targeting content in the product aware stage (comparison pages, case studies, use case pages, etc.) as they are most likely to convert. Then we move up the funnel to solution aware content (calculators, buying guides, etc.) and then problem aware and finally unaware.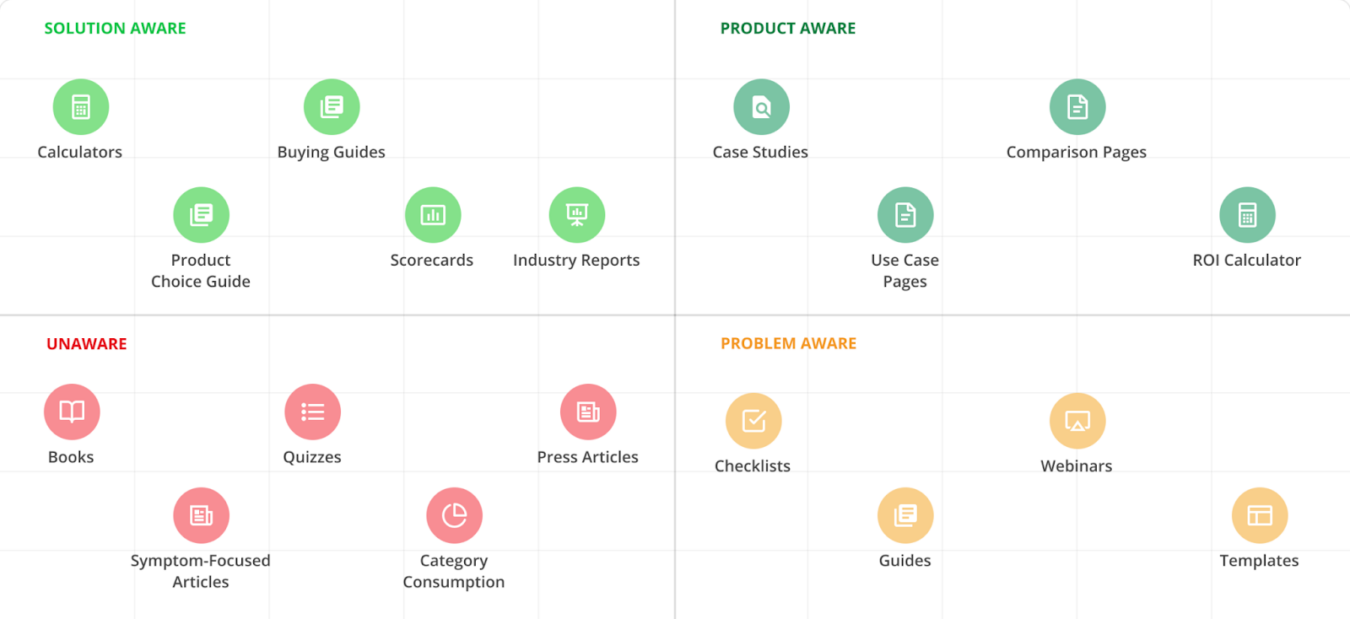 Below we'll discuss the different types of content at each stage of the buyer awareness journey in more detail.
Bottom-of-Funnel Content
Bottom-of-funnel topics may show little to no search volume, but have much higher conversion rates. Examples of good BOFU content include:
Comparison pages demonstrating how your software stacks up against your competitors.
Alternative to pages inserting themselves into the conversation of other options your competitors' customers might consider.
Product pages describing the category of the product you deliver or the solution that your target prospect might search for.
Use cases covering specific actions your ideal customers take while using your product.
Case studies demonstrating the results you've helped other customers achieve. Prospects who read case studies are at a point where they have genuine interest in your offer, but need assurance before they buy.
Middle-of-Funnel Content
Middle-of-funnel content, on the other hand, has medium search volume and medium conversion rates. The most common kinds of MOFU content are:
Interactive tools giving prospects a preview of what you offer without requiring a full commitment to a trial or demo. Some examples are questionnaires or calculators.
Marketing intelligence pieces establishing the business case for your SaaS product. They provide prospects with the information they need to get decision-makers to sign off on purchasing your product.
Product tour pages similar to proxies for demos and best for companies that offer more than one product.
Top-of-Funnel Content
Finally, top-of-funnel content focuses on keywords with the highest search volume, but lowest buying intent. These pages and blog posts often land the lowest number conversions. Examples include:
Expanded list posts and expert roundups, which are great for prospects first learning about the problem you solve.
Ultimate guides about certain topics that connect to the core use cases of your product.
'How to' narrative content that explains how to do something in the context of your product's features.
Opinion and thought leadership pieces that grab the attention of your target audience by expressing a contrarian perspective. One side of readers will share these pieces because they agree with you, while the other will engage with them because they disagree.
Creating Effective Content Upgrades for Lead Generation
Many companies struggle to create quality content upgrades that their visitors actually want. Weak lead magnet offerings include:
Newsletters, which are often too general and not interesting enough.
Webinar recordings, which many people perceive to be either boring or too long.
White papers, which often come across dry and not useful.
Effective lead magnets have four qualities. They're simple, actionable, goal oriented, and easy to consume. For example, a list of common mistakes your users make before they buy your product can help your prospects understand what they're doing wrong and what needs to be fixed.
Essentially, a lead magnet is just a low tech form that shows how your SaaS solves a particular pain point and a problem. So it could be an Excel sheet or calculator that solves some pain point your audience faces.
Often, it's a precursor to a more powerful feature that your product offers.
Nurturing with Lifecycle Emails
Once you have the prospect's email, you have to engage them to continue moving them further through the customer journey. Otherwise, they'll disengage and likely leave for a competitors' product.
The most effective method we've found to engage prospects is to send lifecycle emails.
For example, here's what a lifecycle email sequence looks like for a trial-led B2B SaaS:
Email 1: Personal Welcome Email From Your Founder
Email 2: Proactive Support Email
Email 3, 4, & 5: New Lead Sequence
Email 6A: Unconverted Trial Email
Email 6B: (Converted Customer): Converted Trial Email
This form of nurturing is highly effective as it's personal (it goes directly to their inbox) and all of these prospects have already raised their hand and shown interest in your product. You can also segment your list to send them appropriate content depending on the lead magnet they selected.
As an added bonus, it's relatively low tech and costs next to nothing (just the email marketing software and the copywriter to write the initial sequence).
However, your existing prospects aren't your only opportunity for increasing revenue.
As we discuss in our B2B SaaS re-acceleration strategies, you can also nurture existing customers by showing them how to use the product more effectively so that you can increase their LTV. You can also send them occasional upsells to further increase their LTV.
Lost prospects and even churned customers are also great outreach opportunities.
Many of them churn simply because they didn't need the product at that time or their budgets were cut. If you reach out to them at the right time, they may come back and sign up for your product again.
Forecasting & Reporting
Once you have a strategy in place, it can be tricky figuring out how to set realistic goals, and determine the quantity of resources you'll need to execute your strategy.
Specifically, you'll have to answer questions like:
What goals you plan to accomplish
The timeline
The budget required
Channels you'll leverage based on current pipeline metrics
To answer these questions, we build out detailed marketing forecasts.
Specifically, we model out several different scenarios (do nothing, conservative, realistic, optimistic) that show where you'll land depending on the strategic decisions you make.
You can use our B2B SaaS marketing funnel forecasting template to model out various scenarios for your own company.
This data also gives you the data you need to accurately estimate what you can achieve with the allotted time and resources and therefore win the budget you need from stakeholders if there isn't any reliable data to show that the strategy you've established can produce the predicted results.
Take The Next Step To Build A Demand Generation Flywheel
Building a demand generation flywheel for your SaaS business isn't easy — but it's necessary if your company is struggling to continuously generate qualified leads. Once it starts spinning, the system can be leveraged over the long term for continuous results.
Remember to always place the customer at the core of your flywheel-building process. Think about how you can address their problems through the blog posts you write, pages you create, and lead magnets they can download.
Use all the tools we've covered in this article to not only communicate the value of your SaaS product, but to also foster a connection with prospects. When you do, you can convince them to know, like, and trust your company as a solution to their struggles.
Looking for some help creating demand generation programs for your B2B SaaS company? Get your Free Marketing Plan today to learn more.
What you should do now
Whenever you're ready…here are 4 ways we can help you grow your B2B software or technology business:
Claim your Free Marketing Plan. If you'd like to work with us to turn your website into your best demo and trial acquisition platform, claim your FREE Marketing Plan. One of our growth experts will understand your current demand generation situation, and then suggest practical digital marketing strategies to hit your pipeline targets with certainty and predictability.
If you'd like to learn the exact demand strategies we use for free, go to our blog or visit our resources section, where you can download guides, calculators, and templates we use for our most successful clients.
If you'd like to work with other experts on our team or learn why we have off the charts team member satisfaction score, then see our Careers page.
If you know another marketer who'd enjoy reading this page, share it with them via email, Linkedin, Twitter, or Facebook.