SaaS Linkedin Ads: Why Your Campaigns Aren't Working and What to Do About It
Last updated: July 19th, 2023
In our work with B2B SaaS clients, we find that about 50% of the time LinkedIn Ads are the most effective channel for driving leads, demos, and trials. And yet many companies come to us who either haven't tried it because it's too expensive, or have tried it in a limited capacity and seen subpar results.
The reason LinkedIn Ads works so well for B2B SaaS companies is that you're not guessing who's on the other end seeing your ads. The ability to see the industries, companies, and job titles of your audience is a huge advantage in the B2B space. At times you might be paying triple the price, but you're also likely to be much more confident that the right person is seeing your ad.
We've identified three areas where B2B SaaS companies go wrong with SaaS LinkedIn ads:
Budgeting: They don't give LinkedIn ads enough of a budget to be successful.
Targeting: They set up targeting that's too specific (e.g. targeting a single job title).
Content: They deliver content that doesn't fit the mindset of their target customers when they're using LinkedIn.
In this article, we'll elaborate on these three areas and show you how you can avoid making these mistakes by following the step-by-step process we use at PBS to run LinkedIn ad campaigns that get results.
Driving leads with paid media like SaaS LinkedIn ads is one of the primary services we offer to B2B SaaS companies. Schedule a free SaaS scale session to learn more about how we can help grow your business.

Where We See B2B Tech Companies Go Wrong With SaaS LinkedIn Ads
When we ask SaaS companies why they aren't using LinkedIn ads we hear a few different answers:
"The costs of advertising on LinkedIn are too high to make it worth it."
This is a common misconception that we see companies make from a lack of testing. If you're in the B2B space and you don't at least test LinkedIn ads, you can't know for sure that you're using the optimal channel to drive leads. You might be missing out on a significant opportunity if LinkedIn is actually a good fit, but you simply don't know because you've made the assumption that it won't generate a return.
And then there are those who have tried it without success who say things like:
"We tried it for a while but we were only seeing a fraction of the leads compared to other platforms."

"We liked the idea of being able to target our ads to specific job titles, but when we tried it we didn't see the results we were looking for."
In our experience, even companies who have tried and failed with LinkedIn ads can get results by dialing in their budgeting, targeting, and content.
1. Budgeting
LinkedIn requires more budget than other platforms to be successful. If you give it the same budget as your BOTF Google ads campaigns, you aren't likely to see the equivalent amount of leads—but don't assume that this means LinkedIn won't work for you.
When you look at the "bigger picture" of things, you may be getting fewer leads, but they're generally better quality leads. Your cost per acquisition at the end of the day can be the same, if not better. This is why evaluating lead quality (not just quantity) is an important factor with LinkedIn advertising.
2. Targeting
The common mistake we see with targeting is that companies get too specific. For example, if you decide you want to target landscape designers, you might tell LinkedIn to only show your ad to people with that job title.
But what about "landscape architects"? Or "landscaping consultants"? There are so many cases where there is a wide variety of potential job titles that could fall into the category of your target customer.
To cast a wide net, you should give LinkedIn a broad title to work with. This causes LinkedIn to show your ads to a range of job titles or levels of job seniority in a given space.
You want to give LinkedIn a direction and a guardrail and see what results come in. Then you can see the job titles, industries, and company names of the LinkedIn users who are actually clicking and converting, and use that data to refine your targeting as you move forward.
3. Content
We often see companies take an overly direct approach with their ad content by making a hard sell for a product trial or demo. The piece of content in your ad needs to match the mindset of your target customers when they're using LinkedIn, who are mostly in a browsing or networking mindset (not a purchasing mindset).
B2B marketers who get this wrong fall into the trap of thinking that because this is a professional social media network and people are on there for a business-related purpose, they can get "straight to business" by offering a trial or demo of their SaaS up front.
If your SaaS requires a relatively small investment and you offer a free trial with no credit card, this approach of going straight for the offer can work. But in many cases, especially when your goal is demos and your SaaS requires significant investment from a customer, we find that a softer trust-building approach works better.
We see success in generating leads by offering useful lead magnets that address the specific pain points of your customers (more on this below).
What follows is our step-by-step process for testing LinkedIn ads, including the types of content we find work best for B2B SaaS, and our recommendations to get your targeting right.
Our Step-by-Step Approach to B2B SaaS Linkedin Ads
Before we begin running ads for a client on LinkedIn, we work with the company to gain a comprehensive understanding of their ideal customer. We use that information to create a campaign that prospects are much more likely to respond to.
Our process involves interviewing people in sales, customer success, and marketing—at various levels within the organization. In doing so, we uncover the biggest pain points their prospective customers experience and how it's related to the problem their SaaS solves.
We then use these pain points to create the initial content, messaging, and lead magnets: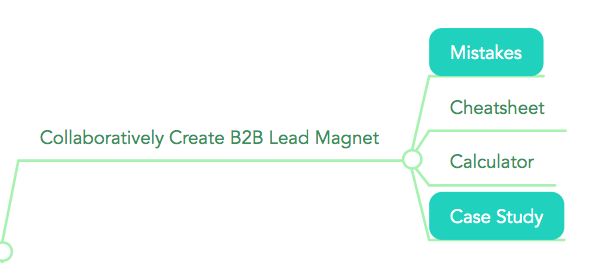 This process to uncover the customer pain points and use them to inform the ad content and lead magnet may sound simple, but relatively few companies take this approach (which is why their LinkedIn ads are less likely to work).
1. Create Content and Messaging That Offers Value and Messaging That Meets the Target Customer Where They're At (on LinkedIn)
Remember how we pointed out that people on LinkedIn are in a browsing and networking mindset?
This is why we don't typically use LinkedIn Ads to try to sell prospects on a demo or trial before they've gotten to know our client's brand. Instead, we'll offer them valuable, pain-point-related content, usually in the form of a PDF download that they can opt-in to receive by email.
The goal of the content is to provide something that is actually useful to the prospect in their day-to-day life.
The content types that we find work best include:
Common [Industry] Mistakes Lists
Cheat sheets
Calculators
Case studies
Guides
Note that these types of content are useful, because they address customer problems, and can be consumed easily.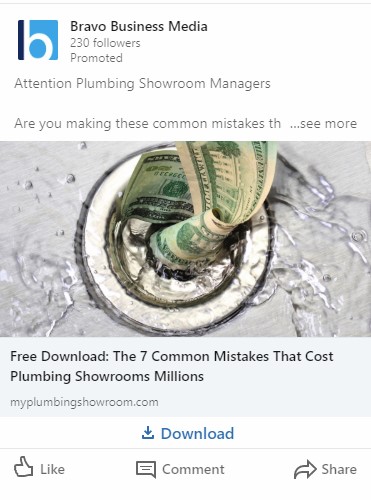 The consumed easily part is important and should be considered in your ad messaging. For example, we've seen how simply changing the title of a pre-existing resource from "e-book" to "guide" or "cheat sheet" can significantly increase conversion rates for your lead magnet. Given limited time, people are simply more likely to engage with shorter forms of content.
2. Design and Develop a Landing Page Funnel

Leads from LinkedIn will typically go through an opt-in flow of multiple steps, and there are a few considerations we recommend in how to structure it.
Consideration #1: Using a Lead Ad Form vs. a Separate Landing Page
The first consideration in designing your landing page funnel is whether to use a lead ad form or to direct prospects to a separate landing page.
Lead Ad Forms tend to be less expensive because the user remains on LinkedIn to submit the form, and then receives your content by email or through a link to your site where the resource is hosted.
A separate landing page is usually more expensive but tends to result in more qualified leads (requiring more effort on behalf of the prospect to fill out the form).
We will often split-test both options to test them against each other and see which is working better. Here is an example of each funnel type:
Option A: Lead Ad Form Funnel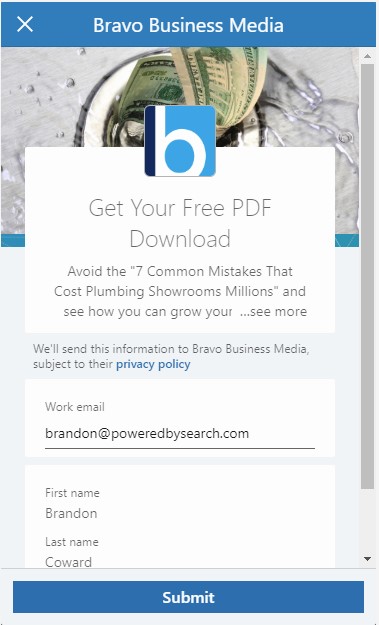 If you choose to go with a lead ad form, the flow will look like:
Fill Form on LinkedIn > Click Submit > Open Email or Download Page > Click to Download Resource > Thank You Page
Option B: Separate Landing Page Funnel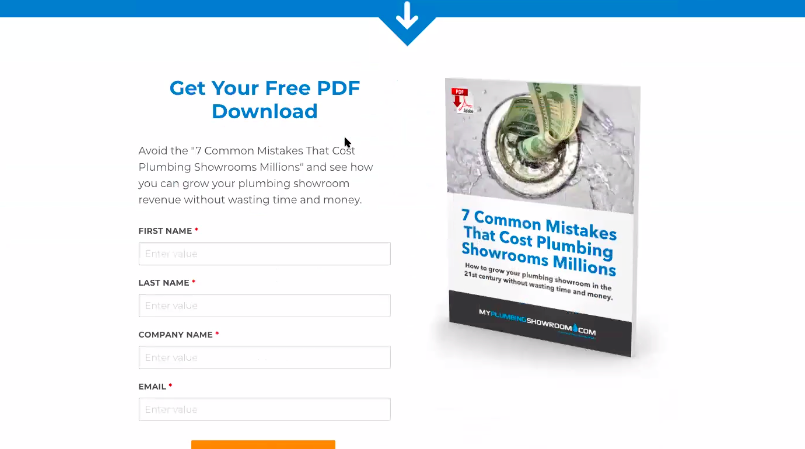 If you choose to go with a separate landing page, the flow will look like:
Click Ad > Fill Form on Landing Page > Click Submit > Open Email > Click to Download Resource > Thank You Page
Consideration #2: Thank You Page Format
The second consideration in designing your funnel is your "thank you" page's format. The approach to this varies depending on whether you want to offer a demo or a free trial.
If we're going the trial route, we'll probably include an offer for the trial on the thank you page.
If it's demos we're after, there are two options that we typically test:
Option A: Thank You Page Offering to Schedule a Demo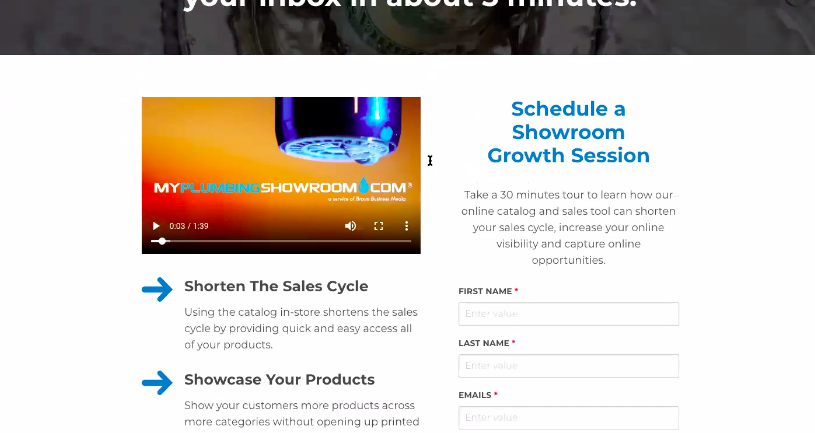 The first option is to set up a thank you page that offers visitors to sign up for a demo. We'll reiterate the pain points that were touched on in the resource they downloaded and explain how the software they can schedule a demo for will address their pain points. If there is a video that explains the SaaS, we'll often include that along with some copy.
Option B: Pre-Recorded Demo on the Thank You Page
The second option is to show a pre-recorded demo video on the thank you page, which lowers the barrier to entry for the prospect to learn more about your software. We typically use this approach when we've been seeing low conversion rates for demo signups, and we've seen this method work to generate more leads.
Once we've worked out the landing page funnel, we'll prepare the follow-up email automation.
3. Set Up Follow Up Email Automation

Not everyone who clicks on a LinkedIn ad and opts in will immediately convert to a demo or trial. So, once a lead has opted in through a LinkedIn ad, we nurture them further through email. We typically set up the first automated email to be delivered either an hour after the resource delivery email they opted in for, or we send it the following day.
We are trying to automate a natural sales process in order to meet the leads at each stage of the pipeline. So, we still aren't making a hard sell.
Typically, this initial email will be sent "from" a company sales rep and it won't make a direct offer. Rather, the message will ask a question about their business to open up a channel of communication and get the prospect to begin sharing with you like you would in any sales conversation.
Think: How many stores do you manage? How many salespeople do you have in your showroom? What types of businesses do you work with?
The prospects who respond become your leads.
Once we have our content, landing page funnel, and email automation set up, we're ready to begin preparing the targeting for the campaign on LinkedIn.
4. Upload Current Customer Data
Uploading current customer data is the first step to setting up targeting for the campaign. The data we upload are just the emails of our client's current customers. Doing this serves two functions:
You can exclude these individuals from seeing your ads, because you don't want to show your ads to people who are already your customers.
To create your initial target audience, called a lookalike audience (the LinkedIn equivalent to a lookalike audience on Facebook), which allows you to show your ads to new prospects who share relevant common traits with your current customers. We find that lookalike audiences typically outperform everything else, so we'll use this to run the initial campaign.
Then, our next move is to upload (or create) a target account list.
5. Upload Target Account List (Or Make Our Own)

If our client has a list of prospective companies they want to target (a target account list), this is the next audience that we'll create and run a campaign for.
The reality is that not all companies, especially smaller SaaS companies, are going to have a huge target account list because it requires you to either pay for a software or pay for a data provider to give you a list of emails.
The workaround is to make your own with the data you collected from your initial lookalike audience campaign. For example, if you go into the demographics in Linkedin, it will tell you the company names of all the users that are seeing your ads. You can create your own target account list based on that.
6. Monitoring LinkedIn Ad Performance and Remarketing
When we're running initial rounds of LinkedIn ads for a client, we're testing it holistically against ads on Google and Facebook as a method to identify which channel works best in the context of their business.
We'll track lead quality and customer acquisition cost for each of the platforms to help us make decisions about where we should continue to invest.
To determine what is working we look at a few things:
Is the CPA within the target? (eg. "We need downloads/demos at $75/demo to stay profitable").
Based on all the targeting we're running, which campaigns are the top performers? (Prioritize the budget here).
If the results are not this cut and dry, we'll review audience data to confirm the targeting is spot on (e.g. Are these users in the right industry? Are these the right job titles?).
Typically we're doing omnichannel remarketing to nudge engaged audience members down the funnel, but we'll save our explanation of this process for another day.
B2B SaaS LinkedIn Ad Placement Best Practices
In terms of ad placement, we typically stick to in-feed sponsored content with a single image or video paired with copy.
We will also use sponsored inmail (ads that show up in your messages), but primarily only for retargeting accounts we've already engaged with. We won't use it with a general audience or as a first touch point. You should always be conscious of the fact that ads that show up in people's messages are more intrusive and need to be used appropriately.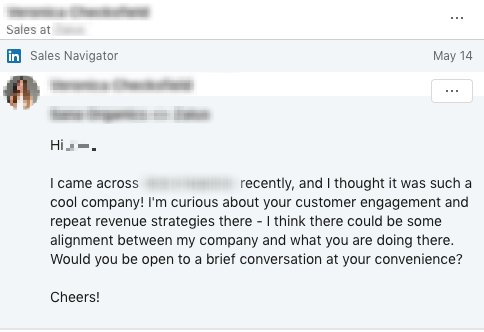 What not to send with your first Inmail!
We might use sponsored inmail to reach out to people who have already downloaded a lead magnet and are familiar with our company. And it will usually be a softer engagement like an event invite or an additional resource.
We don't do text ads that show up on the right on the desktop version of LinkedIn because people are great at ignoring the right sidebar ads.
Conclusion
LinkedIn is the primary channel driver for about half of our B2B SaaS clients. If you're in the B2B SaaS space and you haven't tested out ads there, you may be missing out on a significant opportunity to reach the right audience and drive leads.
If you have tried LinkedIn ads without the results you were looking for, we hope that the above process can act as a guide for you to give it another shot.
Driving leads with paid media like LinkedIn ads is one of the primary services we offer to B2B SaaS companies. Schedule a free SaaS scale session to learn more about how we can grow your business.
What you should do now
Whenever you're ready…here are 4 ways we can help you grow your B2B software or technology business:
Claim your Free SaaS Scale Session. If you'd like to work with us to turn your website into your best demo and trial acquisition platform, claim your FREE SaaS Scale Session. One of our growth experts will understand your current demand generation situation, and then suggest practical digital marketing strategies to double your demo and trial traffic and conversion fast.
If you'd like to learn the exact demand strategies we use for free, go to our blog or visit our resources section, where you can download guides, calculators, and templates we use for our most successful clients.
If you'd like to work with other experts on our team or learn why we have off the charts team member satisfaction score, then see our Careers page.
If you know another marketer who'd enjoy reading this page, share it with them via email, Linkedin, Twitter, or Facebook.