How to Increase Conversions in B2B SaaS Trials: 6 Must-Have Customer Lifecycle Emails
Last updated: January 23rd, 2020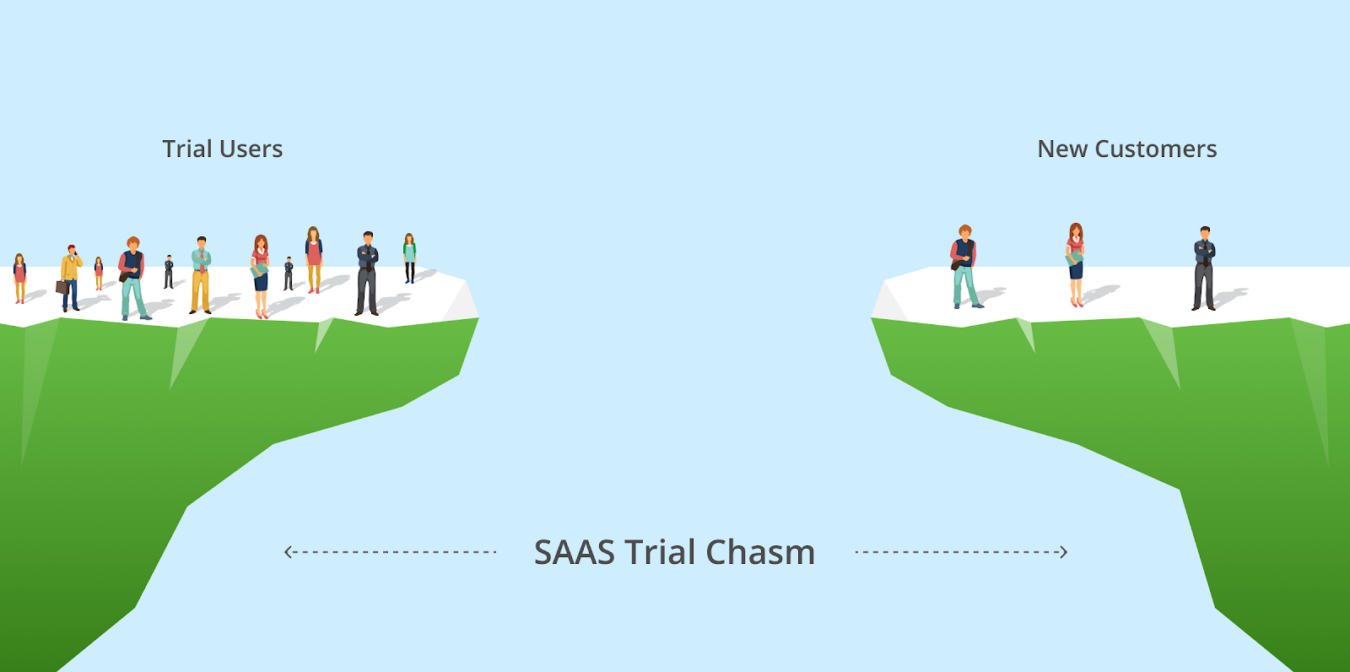 You may be familiar with the concept of "crossing the chasm", which describes the challenge of transitioning from only having "early adopters" as customers, to gaining traction with the "early majority".
We've noticed another "chasm" in B2B SaaS: the chasm that exists between people who sign up for a trial and people who become new customers after completing their trial.
If you're a SaaS business, it's up to you to make it as easy as possible for trial users to cross this chasm and make their first purchase.
But often we'll speak with SaaS companies who will say they experience lower than ideal conversion rates during trial periods. And there are two reasons we think this is the case:
Their customer success teams make phone calls to trial users who end up perceiving them as too salesy.
Their email automation sequences are thrown together in haste as more of an afterthought than a set of strategic messages.
In this article, we're going to cover the email marketing side of setting up a great trial experience for new users to increase conversions. Below you'll learn about the exact customer lifecycle email campaigns that we set up for the B2B SaaS companies we work with. The 6 email sequence includes:
For each, we discuss elements of timing, content, the overall objective, and other considerations.
If you'd like to learn more about how we help B2B SaaS businesses delight trial users and win more customers, schedule a Free SaaS Scale Session today.
4 Guidelines for Trial-Stage Lifecycle Email Marketing
Before we get to our email series, let's briefly cover some guidelines we recommend following if you want your messages during the trial phase to help users cross the SaaS trial chasm.
Craft your messages carefully: Setting up a great post-trial-signup experience should receive just as much thought and attention as the other areas of your marketing (customer acquisition, post-purchase customer experience, etc.). You don't want to let these key marketing automation emails be an afterthought. Everything should be carefully thought out — this includes your subject lines, your "From" email address, your messages, and even the CTA's.
Send your messages from a real person's email address: One of the worst things you can do during a trial is to send a welcome series of transactional emails from a generic email address (eg. sales@yourcompany.com). By sending your messages to new subscribers from an actual person's email address (eg. a founder, a customer success manager, etc.), you add an element of personalization and give trial users the feeling they have your support during onboarding.
Use a trigger-based approach when possible: When sending messages during a trial period, the better you can align your message delivery with key points in the customer journey, the more effective your lifecycle campaigns will be. Setting up behavioral triggers helps you send the right messages at the right times (more on this below).
Be proactive, not reactive: There is a tendency for SaaS companies to use a win-back strategy that only triggers emails to be sent when something bad is about to happen (eg. user hasn't logged in, etc.). We have found that a better lifecycle marketing strategy sends messages proactively rather than reactively, as you'll see in the sequence below.
With these guidelines in mind, we'll cover the 6-email sequence below.
6 Customer Lifecycle Emails to Increase Conversions for B2B SaaS Trials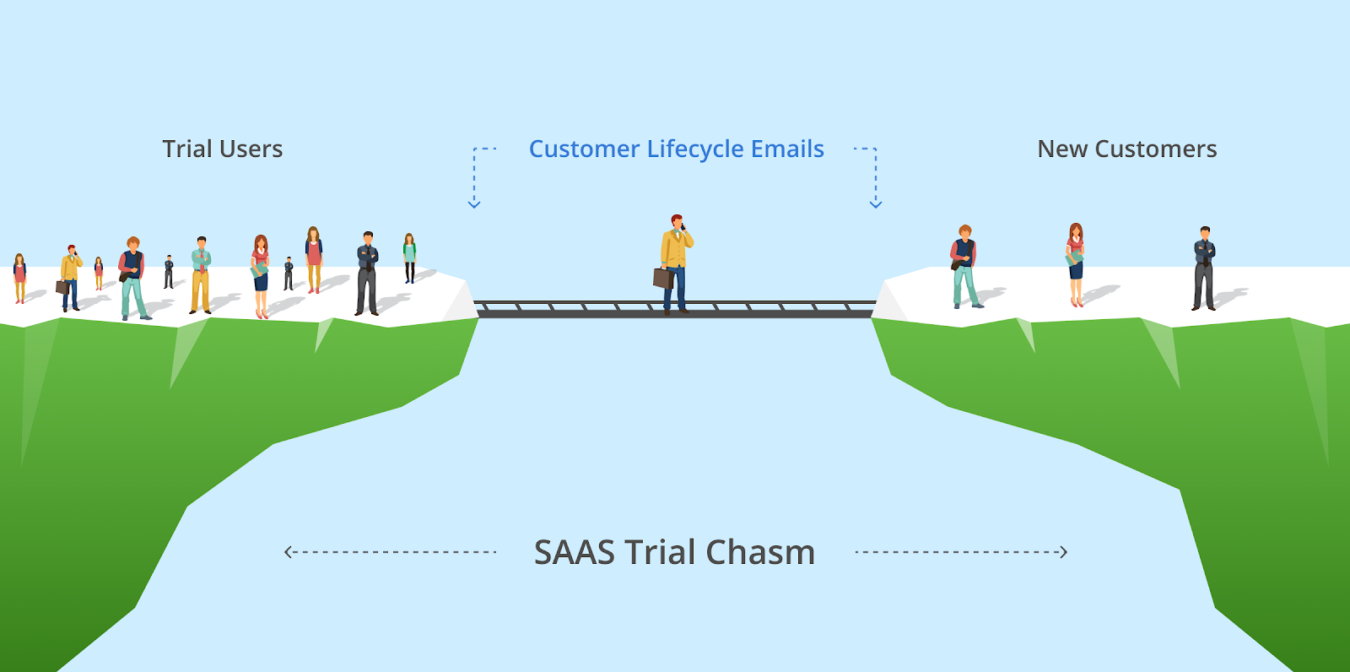 Before we get into the sequence, there are 4 qualities we've seen make these types of emails consistently more effective:
S – They're Short
A – They're Actionable
G – They're Goal-Oriented Actionable
E – They're Easy to read because they are delivered in plain HTML text format (so they look more like they're coming from a friend than a company).
So let's kick things off with the first email.
Email 1: Personal Welcome Email From Your Founder
We view this initial personalized email as a chance to create a connection with trial users and treat them like the VIP's that they are. The objective is to guide them to take the immediate first action that gets them on the path towards reaching the Ah-ha! moment.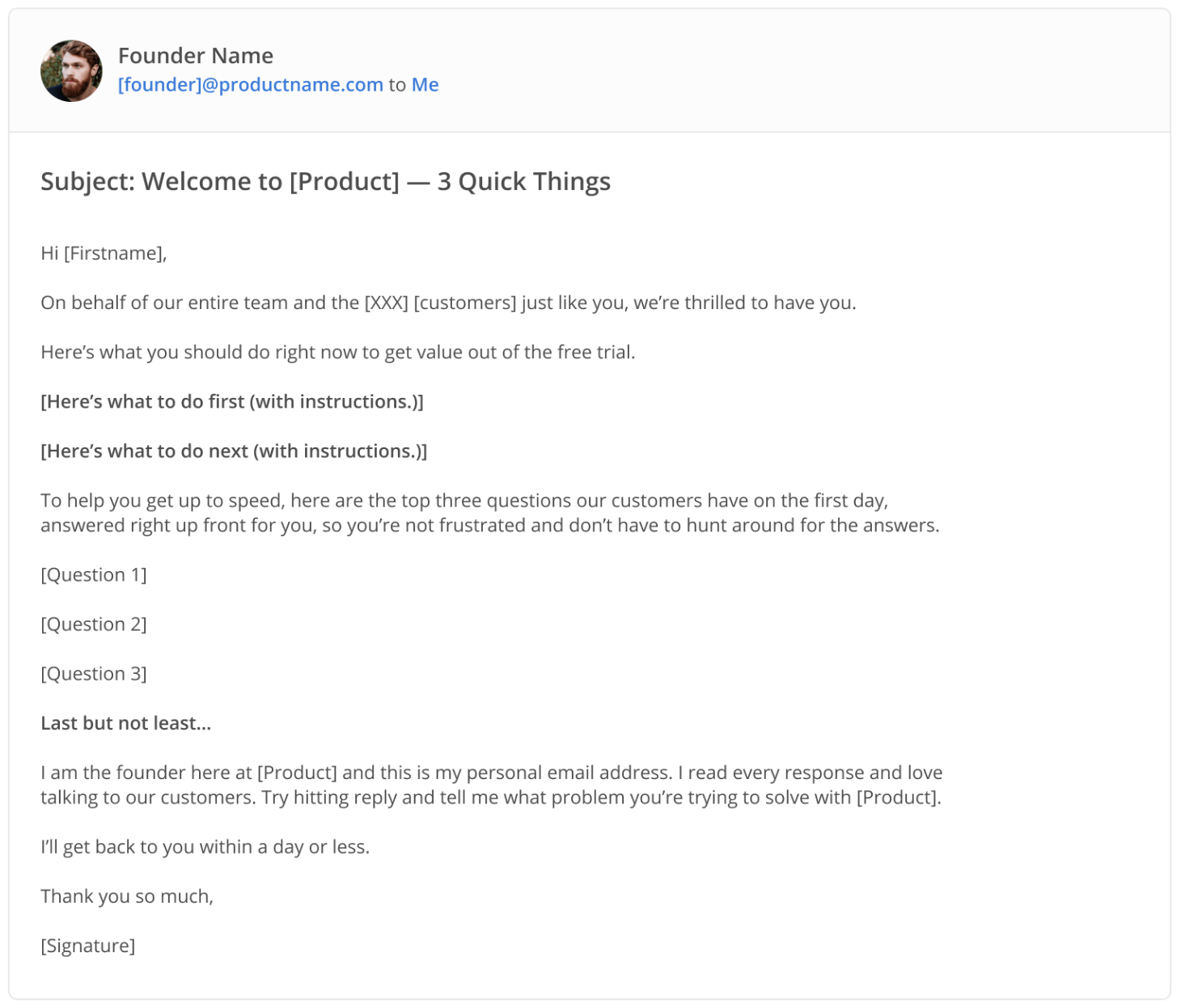 Subject: Welcome to [Product] — 3 Quick Things Hi [Firstname],

On behalf of our entire team and the [XXX] [customers] just like you, we're thrilled to have you.

Here's what you should do right now to get value out of the free trial.

[Here's what to do first (with instructions.)]

[Here's what to do next (with instructions.)]

To help you get up to speed, here are the top three questions our customers have on the first day, answered right up front for you, so you're not frustrated and don't have to hunt around for the answers.

[Question 1]

[Question 2]

[Question 3]

Last but not least…

I am the founder here at [Product] and this is my personal email address. I read every response and love talking to our customers. Try hitting reply and tell me what problem you're trying to solve with [Product].

I'll get back to you within a day or less.

Thank you so much,

[Signature]
Here is what we recommend including:
A short, genuine welcome note that establishes you're a real person they can reply to (the fact it's an automated email and they likely know this is fine).
Whenever possible, a reference to the marketing channel through which this trial user signed up (a tip from Patrick Mckenzie of Stripe).
Answers to the 3 most common questions from trial users at this beginning stage.
Your answers to the 3 most common questions will usually be links to helpful content. By providing this information upfront, you're proactively guiding them through getting started with your SaaS, and you're also creating some trust with them by showing you understand their current needs.
In closing, we recommend mentioning that users can reply to your email and you'll personally write back to them.
Email 2: Proactive Support Email
This email takes a simple approach to say, "Hey, how are things going so far? Have you had a chance to [insert important action here] yet?"
Like the welcome email, this is sent from a person (not a mailbox). It might be from the founder or VP of Product in the early days, or from a customer success manager in larger SaaS companies.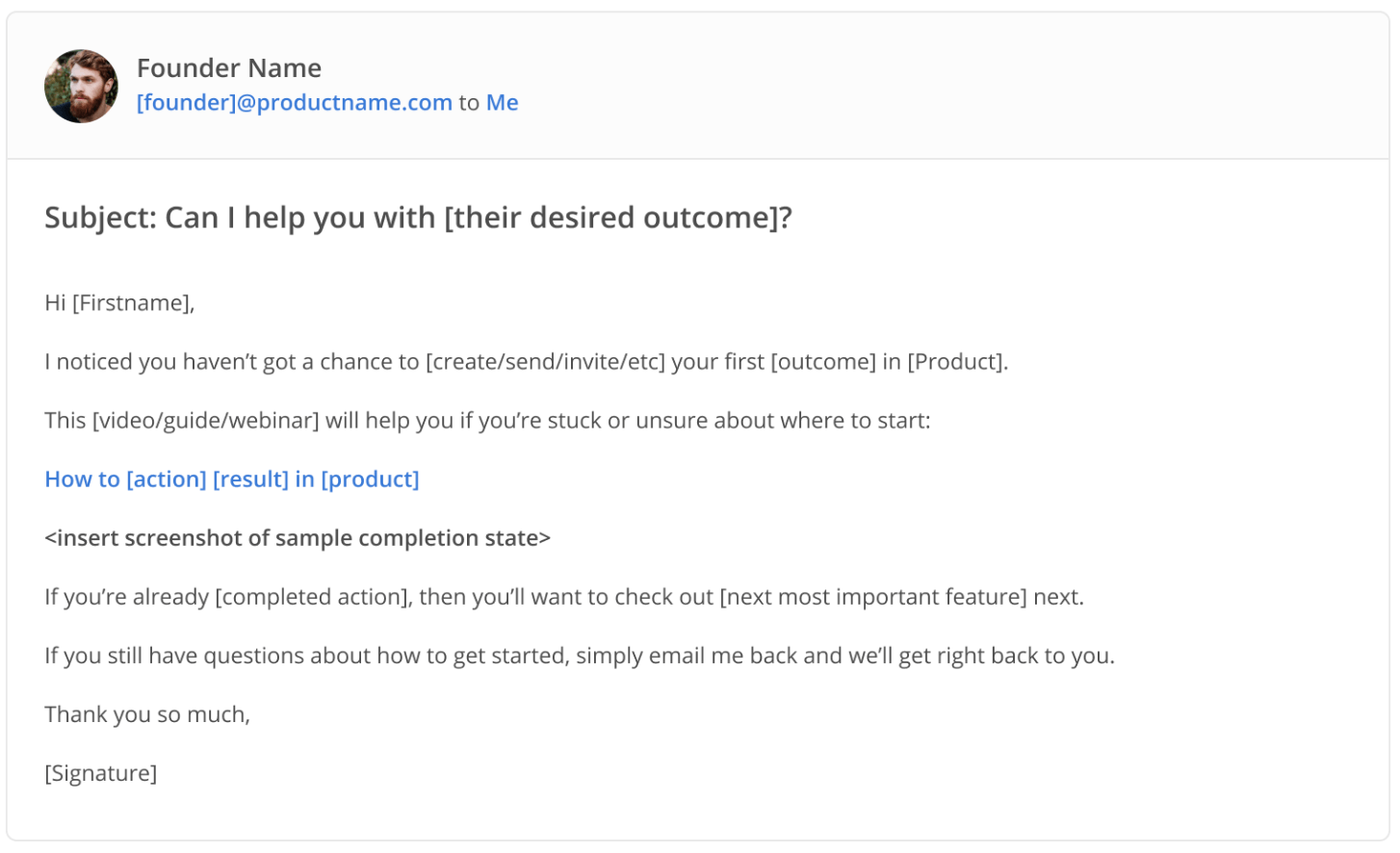 Subject: Can I help you with [their desired outcome]?
Hi [Firstname],
I noticed you haven't got a chance to [create/send/invite/etc] your first [outcome] in [Product].
This [guide/webinar/video] will help you if you're stuck or unsure about where to start:
How to [action] [result] in [product]
<insert screenshot of sample completion state>
If you're already [completed action], then you'll want to check out [next most important feature] next.
If you still have questions about how to get started, simply email me back and we'll get right back to you.
Thank you so much,
[Signature]
There are 2 ways to approach the timing of this email:
Take your best, commonsense guess for how long it typically takes a trial user to complete the most basic outcome (eg. sign up, take first small action to set up or use service) — typically between 1 and 24 hours after signing up.
Set up systems to trigger emails at specific behavioral points.
To set up trigger emails, you can use a service like Customer.io or Vero to define parameters for when an email will be sent based on specific actions taken by a user. If your SaaS is a CRM, for example, you might have the email triggered to send when a trial user has:
Signed up
Logged in
Uploaded their first 10 contacts
The objective of this email is to open up conversations with trial users and make it easy for them to respond. This can provide you with a consistent flow of feedback on how trial users are feeling, and help you understand how to make your product and onboarding experience better.
Emails 3, 4, & 5: New Lead Sequence
The "New Lead Sequence" is a series of 3 marketing education emails spaced out over the middle two quartiles of your trial period, each providing relevant content on one of the 3 big problems that your SaaS solves. They should be related to the core transformation you provide for your customers and are best executed with a story-driven format (as opposed to being technical and dry).
For example, if you're an invoicing software like Freshbooks, the first email might tell a story from the founder of the dreaded manual invoicing they wasted countless hours on before deciding to create a software to solve their own problem. And then you'd point the reader to a blog post explainer (or even describe it with screenshots right in the email) on how to easily set up automation of their invoicing with Freshbooks.
This sequence works to continually support users throughout their trial period, and to show them how to solve their biggest problems with your SaaS — nudging them closer and closer to the Ah-ha! moment.
Email 6: Unconverted Trial Email
When a trial user doesn't convert, our approach is to immediately send them an email to check-in, see how their trial went, and share a special offer to extend their trial period.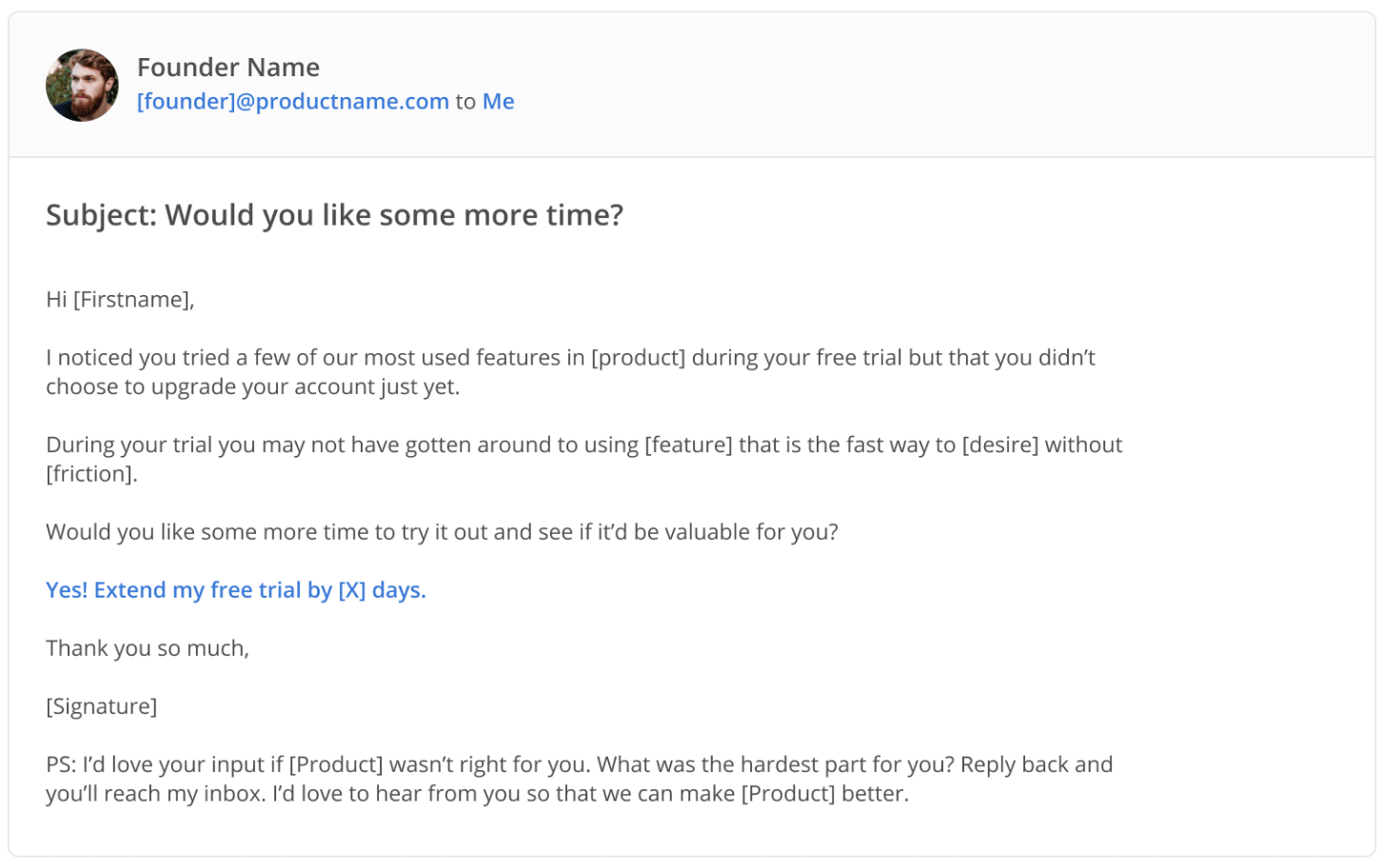 Subject: Would you like some more time?Hi [Firstname],

I noticed you tried a few of our most used features in [product] during your free trial but that you didn't choose to upgrade your account just yet.

During your trial you may not have gotten around to using [feature] that is the fast way to [desire] without [friction].

Would you like some more time to try it out and see if it'd be valuable for you?

Yes! Extend my free trial by [X] days.

Thank you so much,

[Signature]

PS: I'd love your input if [Product] wasn't right for you. What was the hardest part for you? Reply back and you'll reach my inbox. I'd love to hear from you so that we can make [Product] better.
We'll say something like: "Hey, we'd love to hear how your trial went. Were there any points of friction for you in getting started with the service? If you'd like, we'd be happy to offer you an extension of your trial. We understand life is busy and the time you have to acclimate to using a new product is limited. If you'd like an extension, just hit reply to let us know and we'll set you up!"
The reason we offer a trial extension in these cases is that prospects cost you a lot of money to acquire. The costs of extending their trial are low in comparison.
In deciding how long to extend their trial for, it's useful to consider how long it takes new users to reach their Ah-ha! moment. A good rule of thumb is just to double it.
We've found that with little cost to you, trial extensions can delight new users and improve conversion rates.
Email 6: Converted Trial Email
When trial users convert into customers, you can take this opportunity to congratulate users and reinforce the belief that they made a good decision and are in good hands.
You can also look for ways to quantify what they've accomplished or benefited from so far. If we take Freshbooks as an example again, you might include: "You sent 11 invoices, billed $10,000, and saved 4 hours of time!"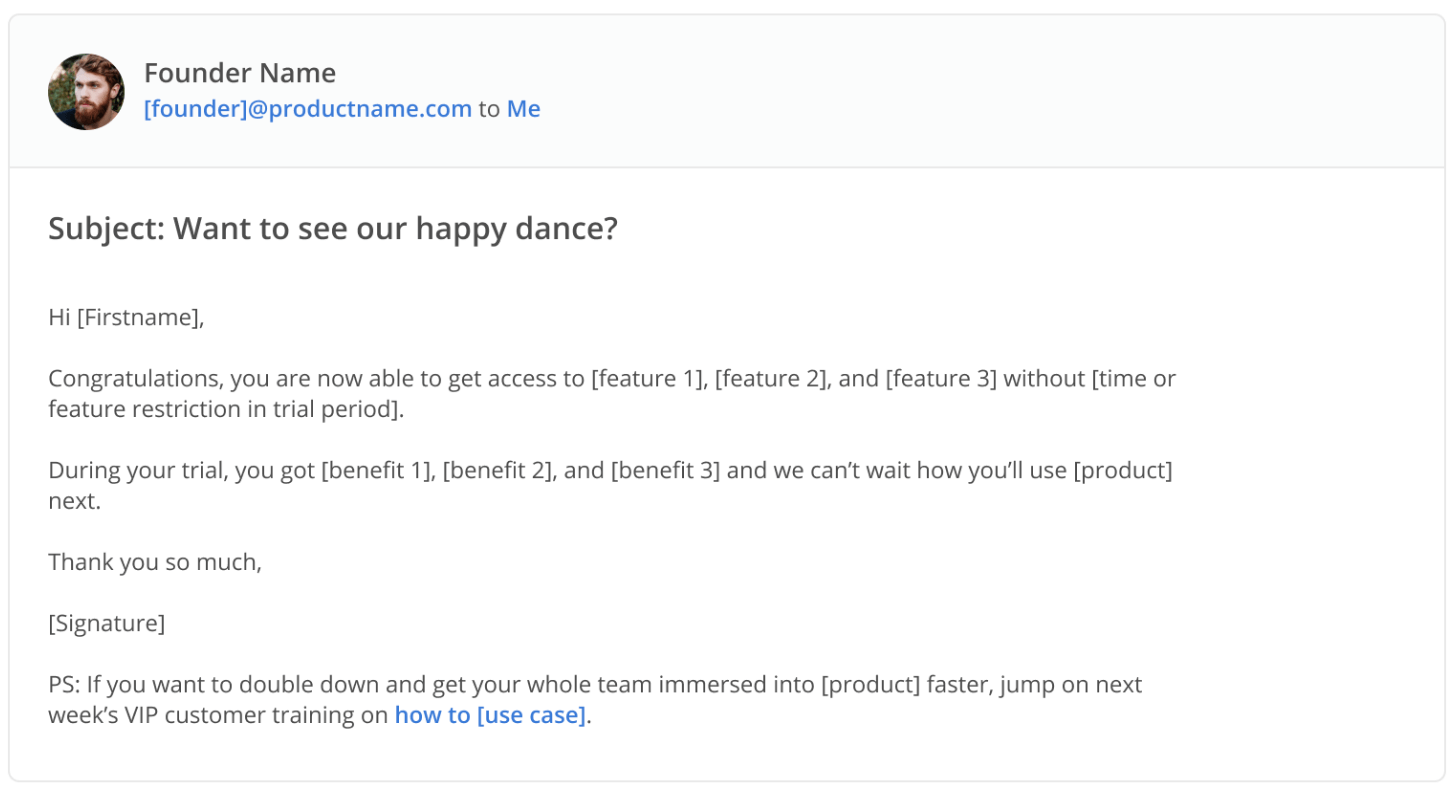 Subject: Want to see our happy dance?
Hi [Firstname],
Congratulations, you are now able to get access to [feature 1], [feature 2], and [feature 3] without [time or feature restriction in trial period].
During your trial, you got [benefit 1], [benefit 2], and [benefit 3] and we can't wait how you'll use [product] next.
Thank you so much,
[Signature]
PS: If you want to double down and get your whole team immersed into [product] faster, jump on next week's VIP customer training on how to [use case].
In addition, you might consider offering one more resource to learn more about a feature they haven't explored yet.
Or even better (this is something we've seen Basecamp do), you could invite them to a new user webinar to ask questions and learn about the more advanced features of your product.
In short:
Congratulate them on their decision.
Quantify what they've accomplished through your product.
Invite them to explore an additional resource.
Conclusion
The function of these customer lifecycle emails is to help you to approach your trial engagements with more finesse, so you can narrow the chasm that exists between trial users and new customers.
We hope you'll use these emails as a guide to improve your own onboarding sequence, and we'd love to hear how it works for you if you do!
If you'd like to learn more about how we help B2B SaaS businesses delight trial users and win more customers, schedule a Free SaaS Scale Session today.
What you should do now
Whenever you're ready…here are 4 ways we can help you grow your B2B software or technology business:
Claim your Free SaaS Scale Session. If you'd like to work with us to turn your website into your best demo and trial acquisition platform, claim your FREE SaaS Scale Session. One of our growth experts will understand your current demand generation situation, and then suggest practical digital marketing strategies to double your demo and trial traffic and conversion fast.
If you'd like to learn the exact demand strategies we use for free, go to our blog or visit our resources section, where you can download guides, calculators, and templates we use for our most successful clients.
If you'd like to work with other experts on our team or learn why we have off the charts team member satisfaction score, then see our Careers page.
If you know another marketer who'd enjoy reading this page, share it with them via email, Linkedin, Twitter, or Facebook.