When it comes to landing pages and marketing funnels, ClickFunnels is a household name. They've been in business since 2014, providing customers with drag-and-drop tools for building funnels that convert. Zero coding skills required.
In 2019, we connected with their chief technology officer, who wanted to improve their SEO. With the help of another agency, they were creating a lot of new content at the time. But their CTO thought they were missing the boat when it came ranking for relevant keywords.
Most companies tend to approach their content marketing strategy this way. They often believe that a steady stream of content creation is essential to success.
But by doing this, they overlook the promise that exists in the content they already have. They miss out on the opportunity of a content refresh: a tactic that improves SEO rankings minus the effort it takes to write something new. With a content refresh, there's also no need to do outreach to bloggers or influencers to increase brand awareness for your company.
In this content marketing strategy case study, we're going to share how we helped ClickFunnels refresh existing blog posts. In particular, we'll detail how they achieved a 9X increase in organic traffic for one piece of content targeting a problem-aware (bottom of funnel) segment of their audience. Some of what you'll learn includes:
The three critical factors we pay attention to when analyzing competitors for content refresh ideas.
How we prioritize what content to refresh with what we call "striking distance keywords".
How we examine other pages ranking on the search engine results for good content refresh inspiration.
Let's start with how we helped ClickFunnels implement a more effective approach to content ideation.
Do you want to refresh your existing content but don't have the resources to do so yourself? We're introducing a new microservice where we'll audit, find your highest performing pages, and then refresh them for you. If you're interested in this kind of content marketing campaign, schedule a free SaaS Scale Session with us today.
Mining for Content to Refresh
Before working with us, ClickFunnels wasn't revamping any of their existing content. They focused most marketing efforts on creating new content instead. When it came to generating ideas, they relied mostly on their collective intuition about what they believed their customers cared about.
When we started working with ClickFunnels, we helped them rethink how they brainstormed ideas — both for new blog content and content refreshes. Instead of relying solely on their intuition, we showed them how to generate ideas using competitor research and their existing data.
Analyzing the Competition
To help ClickFunnels discover content they could refresh, we looked at their competitors. We looked at three factors in particular:
Traffic
Visibility
Sentiment on Social Media
With traffic, we paid attention mostly to the search intent of the posts their competitors created. Doing so would help us understand the traffic's level of buying awareness. We did this to determine if the audience they targeted was either problem unaware, problem aware, or solution aware (Note: This is how we phrase and think about high, mid, or low funnel prospects).
For visibility, we looked at this metric to estimate the percentage of organic clicks their competitors generated for a given keyword. For example, ranking #1 for a specific keyword means a website likely captures 35% of that SERP's clicks according to Ahrefs.
Finally, for sentiment on social media, we'd observe how people reacted and engaged with those posts. Social shares don't necessarily impact SEO, but they are a good indicator of a topic's popularity.
Analyzing Existing Website Data
Once we noted what ClickFunnels' competitors did, we then visited their existing archive of content. We checked if ClickFunnels had already written about topics their competitors had covered themselves. If they did, we'd assess what ClickFunnels needed to do to make those articles better so they could improve their rankings.
When identifying content refresh opportunities, we often prioritize pieces that have good traffic but low engagement. That means lots of people coming in to read, but few becoming sales or qualified leads. Refreshing these posts with a more compelling CTA opt-in offer is often enough to increase their conversion rates.
After tackling those pieces, we then focus on refreshing articles that are low in traffic but topically relevant to a company's ideal potential customers. In the case of ClickFunnels, these were existing posts where they could feature and showcase their drag-and-drop, funnel building tools.
Improving the rankings of these posts doesn't take much effort. That's because they rank for what we call striking distance keywords. These are posts with traction, usually ranking at the bottom or outside of the first page for the keywords they're targeting. Adding a little more depth or improving their on-page optimization is often enough to bump up their place in the SERP.
In the time that we worked with ClickFunnels, the one article that performed best was this piece they had previously published about sales funnels. In the next section, we'll discuss what we did to optimize that article and how that bumped its rankings to the first pages of several valuable keywords.
Content Refresh in Action
Before working with us, the types of content ClickFunnels ranked for and were blogging about captured a problem-unaware audience. This sales funnel piece, on the other hand, reached people who knew they had a problem that ClickFunnels could solve. As content marketers, we wanted to improve the SERP rankings for this article because we knew it could help lead generation, bringing visitors who were more likely to sign up for a trial or demo.
ClickFunnels originally published this blog post about sales funnels in the fall of 2018. We advised them to revamp it even though it was already an exhaustive post. For context, the original version was an estimated 45-minute read and broken up into 12 different chapters.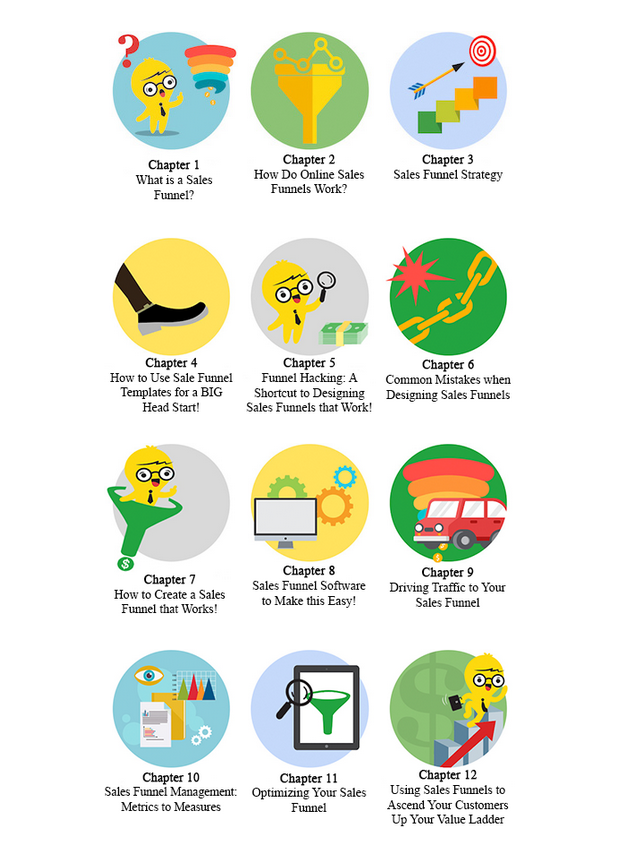 Comprehensiveness is often a key indicator of high-quality content in Google's ranking algorithm. Because of that, the existing depth of their old post was valuable. ClickFunnels kept much of the old content in their updated version, but created new graphics or rewrote much of what was said before.
Here's a a screenshot from the old version of the article that discusses the idea of AIDA:
And here's the updated version featuring a brand new infographic:
Researching to Refresh
ClickFunnels handled the heavy lifting of rewriting the post. They already had an in-house content marketing team and worked with talented contract writers that they found themselves. Our main responsibility was to research what those writers could add to make this old piece better.
Before they started writing, we helped ClickFunnels dial in who it was they were trying to reach with this article. We profiled their target audience using what we call our Four Forces exercise.
The premise behind it is this: you don't have to shout to attract your buyer persona. Instead, all you need to do is whisper the right words in their ear. Using our Four Forces framework enabled ClickFunnels to identify the fears, frustrations and wants of their avatars.
This piece was relevant to two kinds of avatars in particular:
eCommerce Shop Owners
B2B Companies
The Four Forces helped ClickFunnels discover some of the following pain points:
Not marketing my business effectively online
Limited time to invest in building complex marketing stacks
Searched high and low for business tools to help me grow
Current website not working effectively
Expensive to hire web developers to fix my current website
Marketing on a budget making it difficult to scale my sales
Lack of online marketing skills/knowledge
Low lead volume filling my sales pipeline
Low quality leads filling my sales pipeline (low close rate)
Rising cost of running a startup / small business
ClickFunnels noted these pain points and had their writer address some of them in the updated piece. For example, take a look at this section defining what a sales funnel is. Notice how it speaks directly to ClickFunnels' two target personas while tackling the pain point of lacking digital marketing skills and knowledge.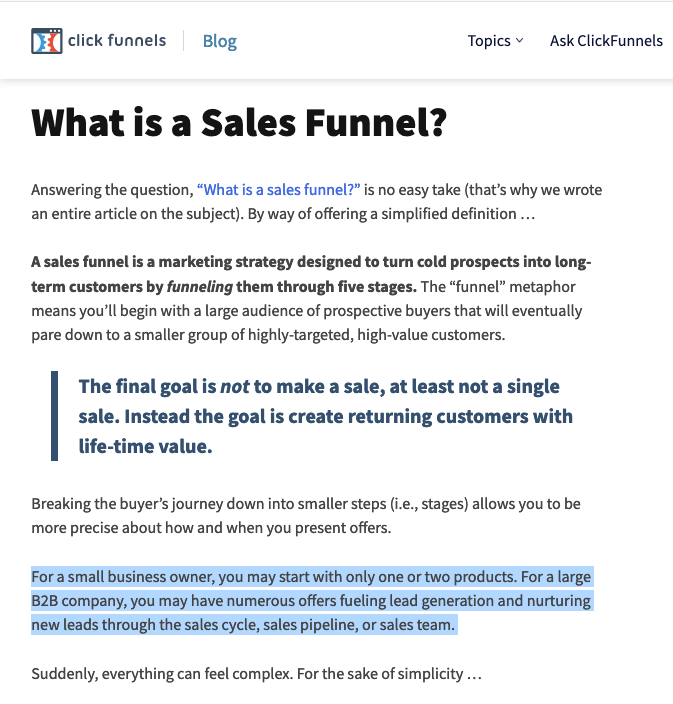 We also figured out what questions their target audience asked about sales funnels. To compile a list, we'd look at Q&A websites such as Quora, Yahoo Answers, or Sales Team. Here's a screenshot of one of them: how can I create a sales funnel?

And here's how ClickFunnels decided to tackle that question in the updated article.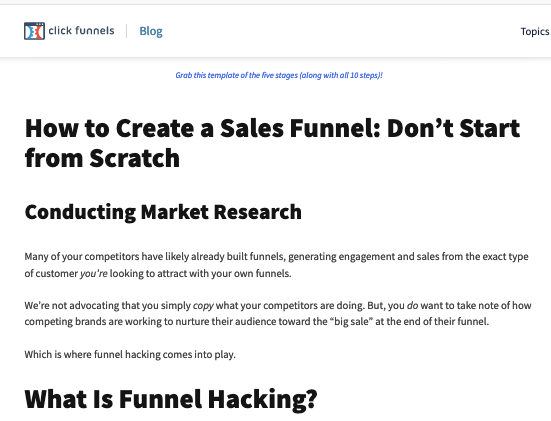 Next, we analyzed the SERPs of the keywords ClickFunnels wanted to rank for. We looked at what other pages ranking for those keywords said. Doing so enabled us to find angles that ClickFunnels could tackle to differentiate the piece from the competition.
For this sales funnel piece, we broke down common themes covered by the top 10 results. Our SEO team ranked themes from high to low occurrences in those competitor's content. The fewer occurrences there were of a given subject, the more opportunity there was for ClickFunnels to capitalize by offering an alternative take.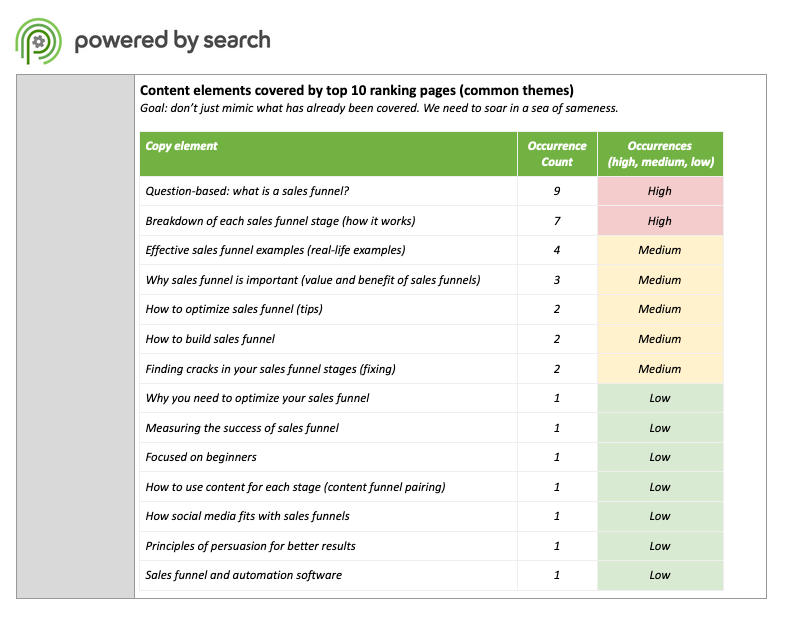 For example, we thought it would be helpful for the refreshed post to explain how social media fits with sales funnels. Few of the already-ranking sites included any discussion of this in their posts. ClickFunnels decided to incorporate this information into their piece by showing how to use social media to collect social proof for a squeeze page.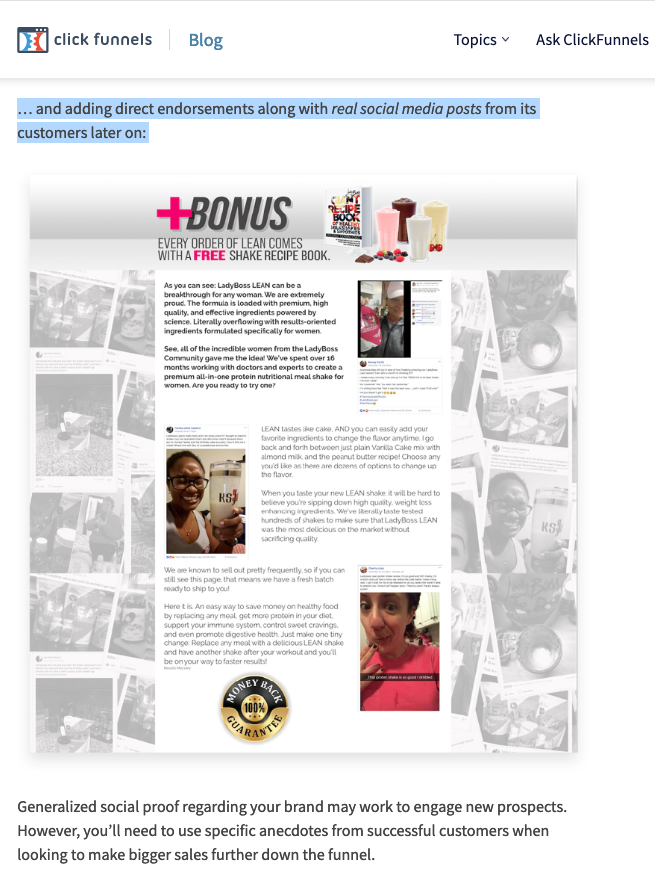 The Results of the Content Refresh
As you see in some of the examples we included above, the ClickFunnels content team was able to incorporate quite a few of our recommendations. Doing so paid off for them in a short amount of time.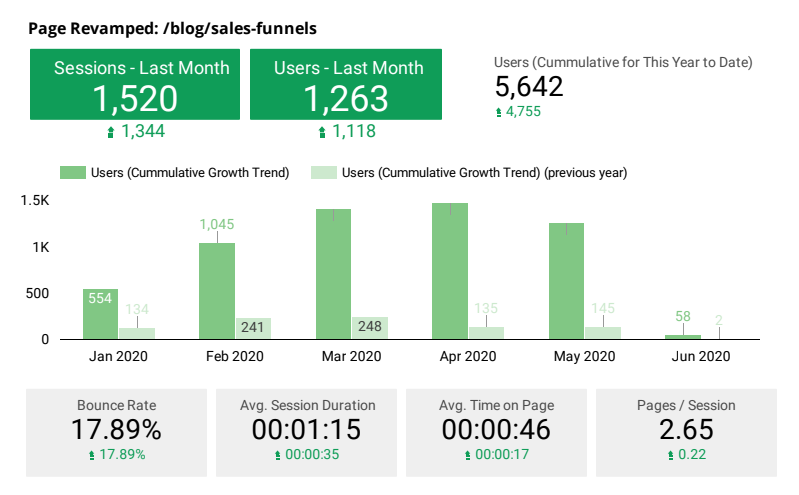 Compared to how it performed the year prior, the revamped sales funnels piece improved in search traffic. In May 2020, it generated 1,520 sessions, an 863% increase from the year before. That same month, 1,263 users were responsible for those sessions, which was an 871% increase from May 2019.
The year-over-year performance improved due to this cornerstone piece ranking for twice as many keywords as it did before. The post now ranks for about 123 different keywords to date. Specifically, you can find it on the first page for the following primary keywords that we recommended ClickFunnels target:
Types of sales funnels
Sales funnel structure
What are sales funnels?
All consumption metrics were positive year-over-year, too. Our takeaway from this was that visitors felt satisfied after reading the piece. Its bounce rate improved by 17% and the average session per duration increased slightly, too.
This is the kind of impact that a simple refresh can have on existing content. If this is something you'd like your SaaS company to do but don't have time for, we can help. We've introduced a new microservice where we'll audit and find your highest performing pages and refresh them for you. To figure out your next marketing plan, schedule a free SaaS Scale Session with us today.