Paid Media Case Study: How We Grew TouchBistro's SQL's to over 135 Demos per Month through Facebook Ads
Last updated: August 2nd, 2019
When they came to us a few years back, TouchBistro, which is based in Toronto, had an elegant, dynamic product that was already in use in restaurants around the world. 
Providing tableside ordering prevented the need for waitstaff to ferry tickets between kitchens, dining rooms, and bars — accelerating order delivery and turnover. And users were overwhelmingly happy with TouchBistro's service. 
At the time, their paid media efforts were primarily focused on bottom of the funnel Facebook Ads — the channel they had learned was the place that their target audience spent the most time online. The problem was that they'd reached a plateau in traffic and conversions through Facebook, and they were getting fewer qualified leads than they needed based on their ad spend.
In a fiercely competitive space, there were competing services at their heels threatening to gain momentum and market share. So TouchBistro came to us to expand and improve their paid media efforts. 
In this article, we share the specifics of how we approached this. Below we walk through:
How we pinpointed

why

their traffic and conversions had been low

The shift we made to their Facebook Ads strategy that generated 135 leads in a single month

Examples of the landing page optimizations we recommended they make to their key product pages to increase engagement and conversions with the visitors we would drive through Facebook
The work we did with TouchBistro was all developed and executed using our B2B SaaS marketing framework, Predictable Growth. It's the methodology that allows us to go through the entire process of pinpointing what isn't working for our clients, to planning the steps for improving their results, to executing the work and actually getting those results. 
So before we get into the specifics of our findings and actions with TouchBistro, let's discuss how Predictable Growth is different from the approach of most SaaS companies.
If you're a B2B SaaS company and you've been experiencing problems similar to TouchBistro, schedule a Free SaaS Scale Session to learn more about how we can help your business grow through paid media and SEO. 
The Predictable Growth Methodology vs. How Most SaaS Companies Approach Marketing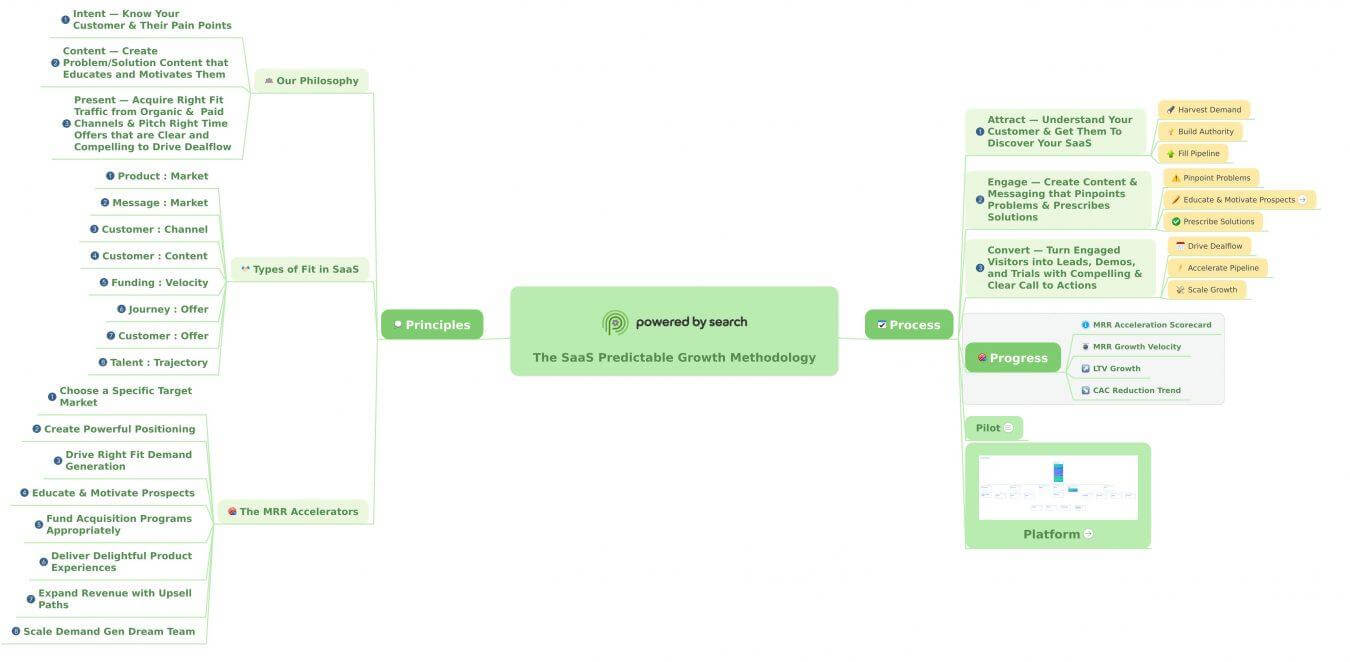 Predictable Growth is a marketing strategy made specifically for demo and trial based B2B SaaS businesses to increase their recurring revenue. 
We've taken our experiences marketing SaaS companies since 2009 and developed this strategy to solve the most common problem we've seen in the market: the tendency of SaaS companies to jump into running ads and producing content without mapping out their tactical efforts in the context of a bigger picture (essentially ignoring higher level strategy all together). 
The symptoms of this problem are ones many SaaS companies are familiar with. For example:
When qualified leads from their Facebook Ads are minor in comparison to the unqualified ones

When the conversion rates of their landing pages are nowhere near where they want them

When they reach a

scaling ceiling with their Google Ads
Predictable Growth documents the exact process we use with our clients to solve these problems, increase the volume of qualified prospects that enter their funnels, and eventually convert.
We've written about it at length here, but it can be summarized as:
Step 1:

Evaluating Your MRR Accelerators

(So You Know Exactly What to Optimize for Growth)

Step 2:

Understanding Your Customer's Intent and Pain Points

Step 3:

Pinpointing Why Your Visitors Aren't Converting

Step 4:

Educating and Motivating Ideal Prospects

Step 5:

Driving Right Fit Traffic through Paid and Organic Channels

Step 6:

Creating a Proof of Concept Pilot Project

Step 7:

Measuring Results, Generating Insights and Compounding Results

Step 8:

Creating Your MRR Acceleration Roadmap (Assigning What Will Happen When, and Who Will Be Responsible for Results)
This is the methodology we used to get results for TouchBistro, described below. Throughout the examples that follow, we'll share the specific insights we discovered and actions we took, which all relate back to the elements of this overarching strategy.
The Initial Stage of Our Engagement — Pinpointing Why Traffic and Conversions Were Low
The early steps in implementing Predictable Growth involve setting goals, understanding your customers intent and pain points, and most importantly, pinpointing what's not currently working so we can course correct.
Since TouchBistro already had ads running, the natural place for us to begin our engagement was to examine their current Facebook Ads funnel — from their targeting, to their ad copy and creative, to the landing pages they were sending people to.
This would help us understand where there were opportunities to tweak, optimize, and improve. And the insight that ended up having the highest impact came early on from looking at their targeting and messaging.
A Key Learning from the Targeting and Messaging of TouchBistro's Original Facebook Ads
Strictly speaking, there was nothing egregiously wrong with TouchBistro's existing Facebook ad. It was designed to draw in their ideal customers — restaurant owners — by having them immediately self-identify with the ad copy: "Do you own a restaurant?". 
It furnished social proof, indicating that TouchBistro was the number one POS app in 33 countries. The copy advertised that the app would reduce owners' costs, and it featured a great offer: a 30-day free trial.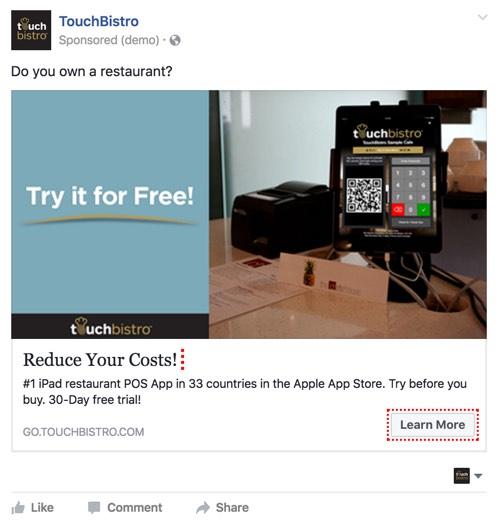 By necessity, their ideal customers were restaurant owners; they would be the ones evaluating TouchBistro and deciding whether or not to pay for their service. 
But the ad had gone wrong, we realized, in targeting restaurant owners directly. Our thesis: they were targeting the wrong persona. 
In our article on SaaS buyer personas, we laid out how we think about personas in the context of Predictable Growth: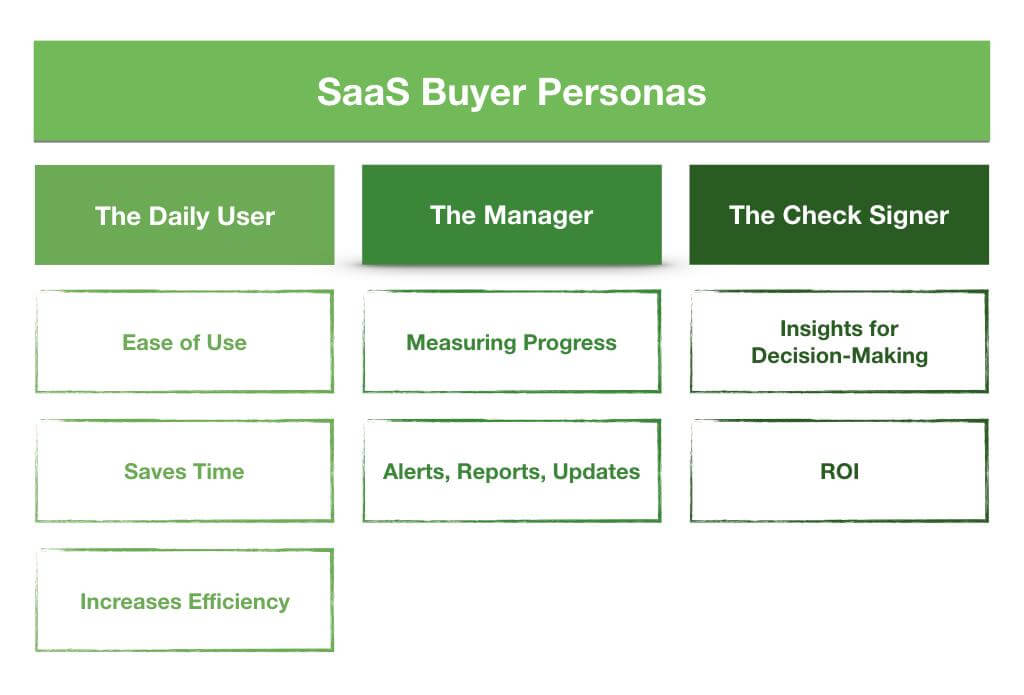 The Daily User

generally wants a product that's easy to use, saves them time, and helps them be more efficient.

The Manager

has standards they need to maintain in their areas of responsibility. They typically want things like alerts, reports, and updates to measure progress.

The Check Signer

is mainly concerned with gaining insights that help with decision-making, and seeing that their ROI makes the cost of your product worth it.
In thinking about this for TouchBistro, we realized that unless they were tiny mom-and-pop operators, owners ("Check Signers") were unlikely to be the people getting the most day-to-day use out of TouchBistro. Servers, hosts, and managers ("Daily Users") would mostly be the ones interacting with the service — many of them constantly, throughout their shift, as they took orders and reservations, rearranged tables, and the like. 
They were actually the ones that stood to benefit most viscerally from TouchBistro's solutions to the pain points that tend to arise in the moment-to-moment running of a restaurant: rushing back-and-forth to and from the kitchen; miscommunications between waitstaff, bartenders, and chefs; parties adding and subtracting guests to and from their reservations, etc.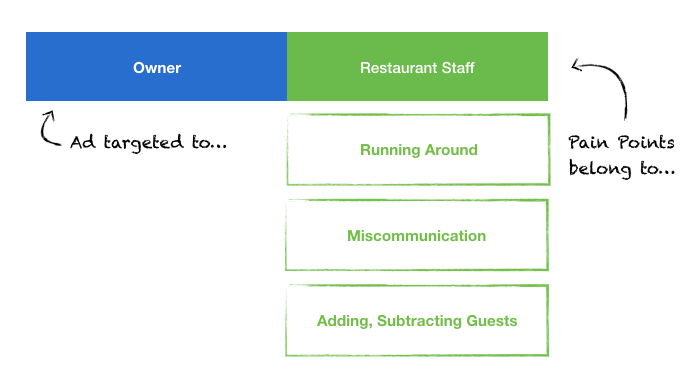 TouchBistro's mistake was trying to appeal to the check signer without considering the intermediary pain points preventing them from moving from where they were to where they wanted to be. 
Restaurant owners want to increase revenue and decrease costs; maybe they even want to go on to open a whole family of eateries. But if they're constantly spending money training new staff because their employee retention rate is poor, if morale is low and tensions are high because the restaurant's choreography for taking and delivering orders is badly designed, if turnover is slow and the managers can't keep the inventory straight, those larger goals are going to remain out of reach. 
Not to mention, there is a much larger audience to reach when targeting servers versus owners.
So switching their Facebook targeting and messaging to focus on servers would end up being key to generating increased traffic. But there were also issues with their landing pages that, if unresolved, would limit their ability to actually convert visitors who clicked on their ads.
The Problems We Found With Their Existing Landing Pages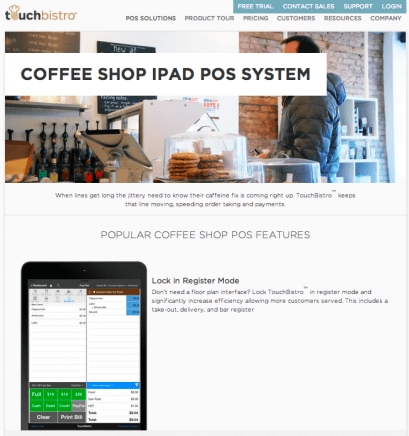 There were four key issues we saw with their landing pages that we felt were likely to be the cause of low conversion rates with visitors who clicked on their ads:
1. Call-to-Action (CTA's)
Their landing page design had two equally weighted CTA's, both at the bottom of the page, with no CTA's above the fold. From our perspective, this was working against them in two ways. 
Firstly, while placing the CTA buttons at the bottom of the page may have been helping them to reduce the number of unqualified leads signing up for trials, they were risking losing out on qualified leads by not making the CTA clear from the moment visitors would land on the page.

Secondly, by having two equally weighted CTA's, they were going against the landing page best practice of directing focus to one primary CTA — and forcing interested prospects to make one more decision before taking the next step (ie. should I sign up for a trial or contact sales?). 
It may seem insignificant, but one more decision for prospects to make can often be the difference between them opting in and bouncing. 
2. Social Proof and Trust Factors
TouchBistro's landing pages had no social proof (ie. testimonials) or other trust factors listed on the page. And with trust being an essential element in influencing conversions, this was going to be an important gap to fill.
3. Case Study and Customer Example Integration
A lack of case studies or customer examples was another essential proof point missing from their landing pages. Without them, they were missing opportunities to personalize their content by addressing real-life use cases and customer examples to further entice prospective customers to convert.
4. Explainer Videos
Their landing pages were static, meaning that they only included text and images. However, there were a number of customer videos found on their homepage that showcased TouchBistro's service. And to not include those on their other key landing pages was also a missed opportunity to compel prospects to opt in.
Execution: Optimizing Landing Pages for Conversions and Driving Right Fit Traffic Through Facebook Ads
All the Facebook Ad traffic in the world was only going to drive adequate conversions if TouchBistro's landing pages were updated to follow best practices and take full advantage of the opportunities to convert paid visitors. 
So before diving in to revamp their Facebook Ads, we delivered them a set of specific recommendations to update their landing pages based on the issues we discussed above.
The Landing Page Optimizations We Recommended
This pertains to step 4 of the Predictable Growth process, where we focus on creating and optimizing the content that we'll drive traffic to in step 5. In it, we have mapped out the landing page best practices that we've seen work best with our clients.
The following are the exact recommendations we made:
1. Improving CTA's
Ideally, there should be a primary CTA that the page can guide visitors to. The 2 key actions we suggested they take were:
Implement a button for the primary CTA (the 30 day free trial) above-the-fold. For example, just above the first H2 heading.

For the CTA's at the bottom, emphasize the 'free trial' button and slightly downgrade the 'contact sales' button. For example, by adding it as a text link rather than a button.

We also noted that these recommendations should be implemented with testing in mind to prove how effective any changes may be.
2. Implementing Social Proof
If available, we suggested adding brief testimonials from current or past customers as quotes on the page. And to do so such that the testimonial corresponded with the particular customer segment that page was built for. For example, their Coffee Shop page should have a testimonial from a coffee shop customer, and so on for their other respective pages. 
The proof points could be implemented as breaks between the features sections, or within the white space on the pages, as long as they were mindful to not crowd the page. 
Other trust factors, such as review stars, badges, awards, or media mentions would have also been strong influencers when visitors were deciding to take action on the page. So we suggested that if TouchBistro could showcase any of these, and implement them closely with the CTAs, it would help instill confidence in visitors thinking about clicking. One opportunity in particular that we recommended was to consider drawing more attention to their payment and hardware partners.
Here's an example of social proof on their landing pages today: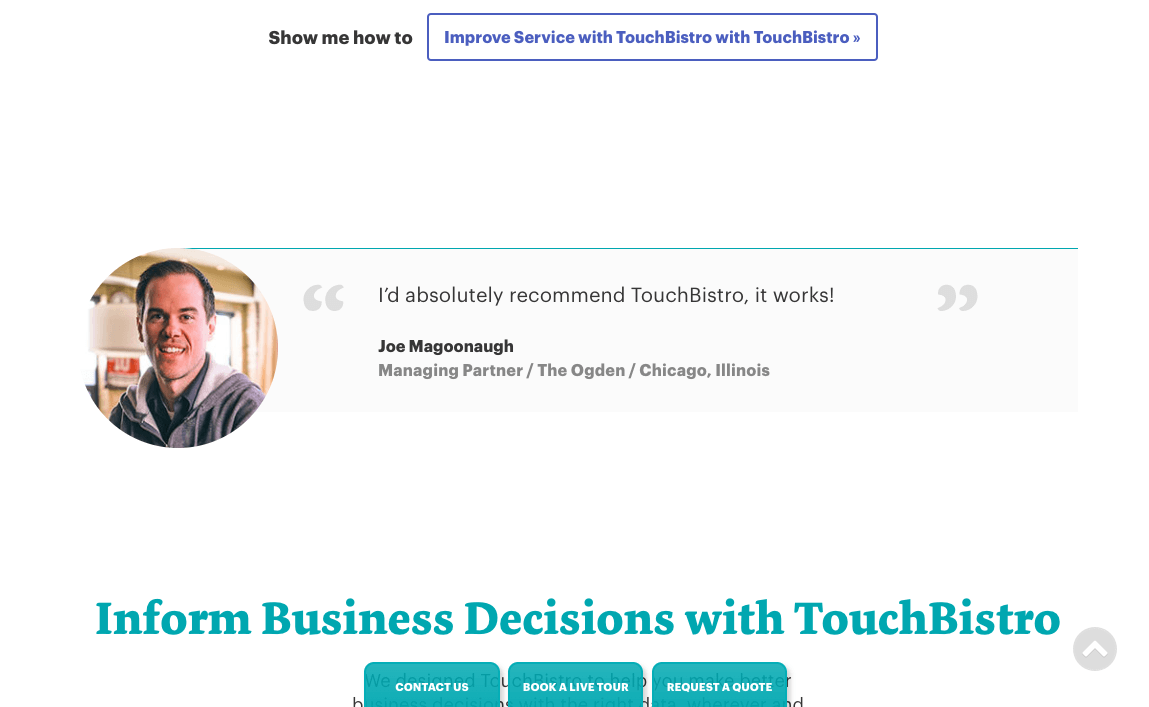 3. Implementing Customer Examples
We suggested they consider replacing the sample images they'd been using with real examples of customer POS systems to better visualize what prospects could expect when using the service. 
In addition, we explained that by linking their testimonials to case studies (either located elsewhere on their site or opened in a lightbox window), they could use them to help prove how effective and well-received TouchBistro's service is with real customers. 
4. Leveraging Pre-Existing Customer Videos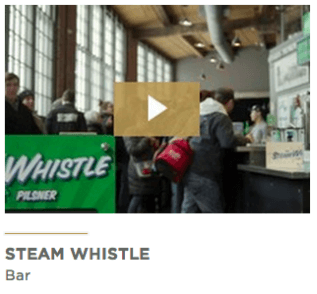 Often the difficulty with explainer videos is getting them produced, but TouchBistro already had these assets (found on their homepage at the time), so we recommended that they also implement them into their landing pages. We've found that video content can help with increasing conversions. Plus, for visitors who never made it to their home page, they'd actually have a chance to view them.
Once we'd laid the foundation for better conversion performance on the landing pages we'd drive traffic to, we moved to step 5 of Predictable Growth — driving right fit traffic — and began working on their Facebook Ads.
Revamping TouchBistro's Facebook Strategy to Reach the Right Audience
Much like TouchBistro's old Facebook ad, we created the new one to have their target audience self-identify with its message, this time by mirroring their pain points (for servers instead of owners). 
Both the copy and the imagery focused on severs' moment-to-moment workplace pain points: running between customers and kitchen, and the cumbersome process of taking orders with pen and paper.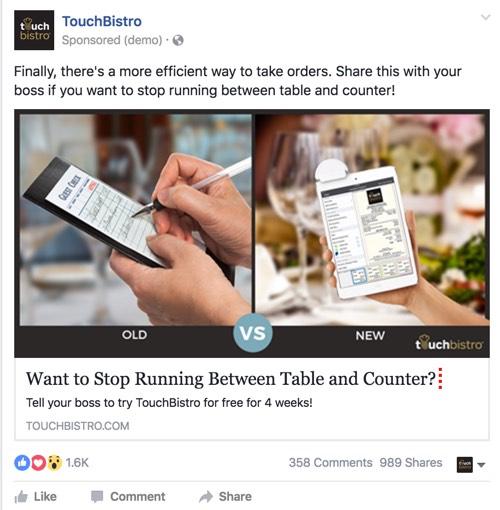 The ad prescribed a solution, reflected in an image of the TouchBistro interface displayed on an iPad. Both explicitly and implicitly, it highlighted the benefits of that solution: eliminating the stressful and exhausting back-and-forth between table and counter, increasing efficiency (more turnover = more tips), and replacing manual order-taking with a digital solution that neither taxes the memory nor requires restaurant employees to decipher one another's hurried handwriting.
In addition, we used a tactic of highlighting the opportunity cost of inaction — of failing to opt for the SaaS solution on offer. We did so subtly, by implying the increased volume of tables that a server would forgo by passing up the opportunity to advocate for using TouchBistro at their place of work.
Finally, the ad featured an updated CTA — a direction to servers to share TouchBistro's four-week free trial offer with their boss. The CTA was somewhat unusual for the SaaS space, where a more typical approach would involve a direct offer of some kind of lead magnet. But the ad's target audience didn't actually have buying power. 
So we focused it on convincing them of TouchBistro's benefits, and turning them into advocates — a kind of highly specialized marketing channel made up entirely of influencers with close proximity to TouchBistro's ultimate customers (the people who would sign the checks).
Results of Applying Predictable Growth: A New Army of Advocates 
By targeting the entire universe of servers, we ensured that our client's message would reach employees of restaurant owners who'd never heard of POS systems, as well as of those who might have already been considering trying one. And once live, the ad produced a veritable wildfire of engagement, with shares, comments, and likes soaring as servers interacted with the post. 

Often, they tagged their bosses, so that the TouchBistro ad (and offer) reached them directly, with an implicit recommendation from one or more of their staffers. As a result, in the month of April 2016, TouchBistro saw 135 leads through Facebook — a record for the company.
And all of this was made possible by applying Predictable Growth — using it as a guide to refine their funnel, reach more of the right audience, and optimize for higher conversions.
Want to Learn How We Can Help Grow Your B2B SaaS Business through Paid Media and SEO? 
Here are some resources to learn more or get in touch:
What you should do now
Whenever you're ready…here are 4 ways we can help you grow your B2B software or technology business:
Claim your Free SaaS Scale Session. If you'd like to work with us to turn your website into your best demo and trial acquisition platform, claim your FREE SaaS Scale Session. One of our growth experts will understand your current demand generation situation, and then suggest practical digital marketing strategies to double your demo and trial traffic and conversion fast.
If you'd like to learn the exact demand strategies we use for free, go to our blog or visit our resources section, where you can download guides, calculators, and templates we use for our most successful clients.
If you'd like to work with other experts on our team or learn why we have off the charts team member satisfaction score, then see our Careers page.
If you know another marketer who'd enjoy reading this page, share it with them via email, Linkedin, Twitter, or Facebook.