How to Improve Search Performance without Any New Content (or Expensive SEO Tools)
Last updated: August 4th, 2021
When B2B SaaS companies want to improve their results from SEO, they tend to think more content is the answer.
They ask, "What new pages or blog posts can we create?"
Now, there's nothing wrong with creating new content. It's a core part of any great SaaS SEO strategy.
But creating new content (i.e. new pages and blog posts) is resource intensive. It usually takes a lot of time to get published. And it takes even longer to begin seeing traction and results.
The question B2B SaaS companies should ask instead is: "How can we optimize and amplify the content we already have?"
This approach has several distinct advantages.
First, optimizing current content is less resource intensive (and faster) than creating net new content.
Second, by optimizing what you have now, you create a tight, clean foundation on your site to build off of (rather than building on a mess of irrelevant content that will harm SEO performance over the long term).
In this article, we share examples of how you can approach this for your own site.
And the beauty of these optimizations is that they don't require expensive SEO tools to execute. You can do these simply with Google's free tools (eg. Search Operators, Search Console, Analytics, etc.), your content management system, or a free SEO plugin like Yoast on your WordPress blog.
To demonstrate how it works, we've analyzed Torii — a SaaS management software for IT and finance teams. Our findings, and the actions we'd recommend they take immediately, break down into 4 categories:
We help B2B SaaS companies grow through paid media and SEO. If you'd like to learn more about how we can help you break through your growth ceilings, reach out to schedule a Free SaaS Scale Session. Or, check out our SaaS marketing case studies to see how we've helped other B2B SaaS companies.
If you prefer to listen to this article, you can check it out on our podcast, SaaS Marketing Bites or listen here: 
1. Utilizing "noindex" tags to deindex irrelevant content
With most content management systems (eg. WordPress, Contentful, etc.), "indexed" is the default setting for all published content — meaning your content will appear in search results.
An SEO best practice is to only index pages that are relevant to your visitor in their buyer's journey (ie. discovering, buying, using, finding help).
But over time, it's super common for companies to compile a lot of miscellaneous content on their site. And when they don't use noindex tags to tell search engines which pages aren't relevant to prospects, there are a number of critical SEO implications:
The overall share of pages relevant to conversion becomes a small fraction of what shows up in search engine results pages (SERPs). That results in fewer chances for prospects to reach the pages you want them to visit through organic search.
Many pages have what search engines deem to be "duplicate content," which can harm organic search performance across your entire site.
Some of the bad content might cannibalize the content you want your client to view, by appearing for searches that are not the ideal response to their intent.
So to improve organic search performance for our clients, this is one of the first steps we take (explained in our SaaS SEO roadmap). It's fast, impactful, and easy to implement. And again, it doesn't require new content or expensive SEO tools.
In our quick analysis of Torii's site, we found common mistakes that are made by most B2B SaaS businesses. For example, we discovered that two of their top indexed pages are their terms and privacy pages: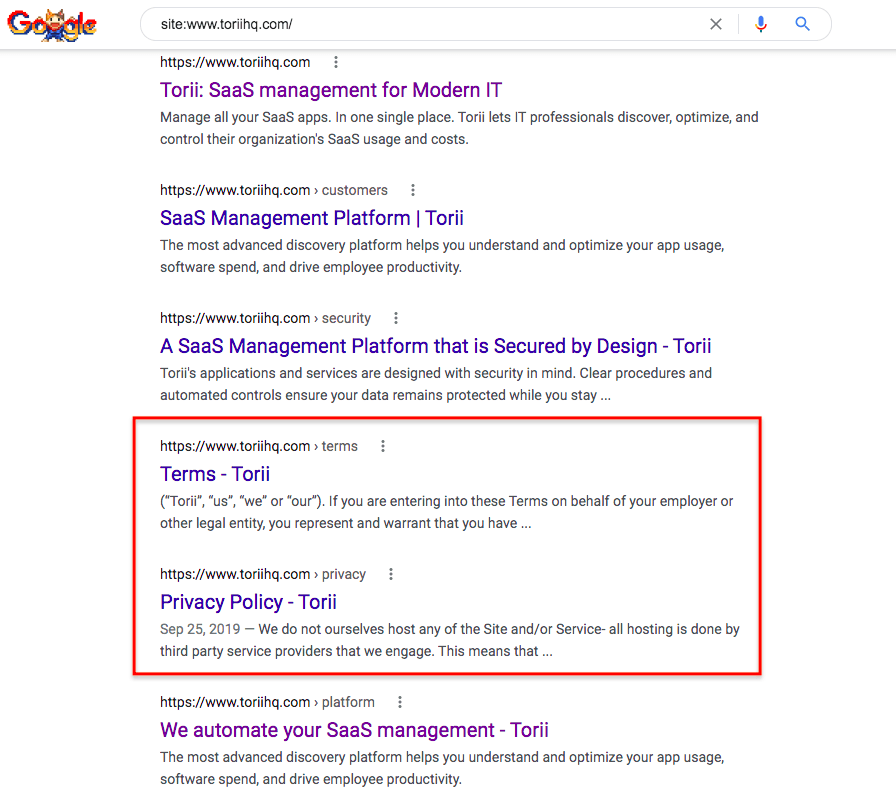 While these are necessary pages, they serve little purpose in educating or motivating prospects to buy. By indexing them, they compete with and hurt the performance of pages that do.
Because they publish regularly, Torii's blog also has a lot of room for deindexing irrelevant content. We see this happen for many B2B SaaS businesses that post on a consistent basis.
They have tons of blog pages that don't need to be indexed. For example:
If Torii were to look in Google Search Console and Analytics, they'd probably find that only 10-15% of their indexed blog posts generate any organic traffic at all. And even fewer generate actual leads.
A much stronger approach, and what we'd implement if they were our client, would be to apply noindex tags to all irrelevant pages, or even remove them completely if they had no traffic. This would solely focus Google's attention on their pages that generate traffic and conversions.
2. Applying "nofollow" tags to unnecessary links
When search engines crawl (i.e. analyze) a web page, they look at the links that are present. Then, based on that and the users those links are created for, they'll designate the crawled page with either more or less "topical relevance".
The more topical relevance that search engines determine your indexed pages have, the better your SEO performance will be.
One of the key ways to improve topical relevance is to apply "nofollow" tags to links that go to pages which aren't essential to a prospect's buying journey.
But most B2B SaaS companies don't do this.
We'll often look at our clients' websites when we first start working together, and we'll find they've assigned very few (if any) nofollow tags. This is also what we found in our quick analysis of Torii.
Using the SEO Pro extension for Chrome, a free tool by Marketing Syrup, we found that most pages we analyzed didn't have nofollow tags to links such as:
Social links
Login page links
Privacy page links
Terms page links
Careers page links
Again, it's not that these links are irrelevant to all users — or that they don't belong on their site. The point is that if their goal with organic search is to generate leads, they should focus the attention of search engines on links that are most relevant to prospects.
When they do, search engines will assign more topical relevance to their page, and their content will rank higher. If they don't, search engines will assign less topical relevance, and their SEO performance will be limited as a result.
3. Decreasing their use of subdomains to leverage their main domain's backlinks and authority
Another common mistake we see B2B SaaS companies make is the use of many different subdomains.
When we looked at Torii's site, here are some examples of various subdomains they use:
External blog (blog.toriihq.com)
Internal blog (life.toriihq.com)
IT blog (it.toriihq.com)
Various resources and landing pages (info.toriihq.com)
PPC landing pages (get.toriihq.com)
It might seem like a clean way to organize a website, but creating too many subdomains means that the main domain doesn't benefit from any of the backlinks received by their subdomain pages and vice-versa.
So any time other websites link to their blog, for example, their main domain (toriihq.com) doesn't benefit from that additional backlink. As a result, their main domain receives far fewer backlinks, and their domain authority suffers — which hurts their ability to rank in the SERPs.
There may be certain cases where it makes sense to use a subdomain (such as for their knowledge base). But if Torii were our client, we'd recommend that instead they use subfolders inside their main domain to build their domain authority through backlinks.
So, instead of blog.toriihq.com, they should use: toriihq.com/blog.
Instead of life.toriihq.com, they should move this blog to a blog category and use: toriihq.com/blog/life.
4. Optimizing their main product page
In looking at Torii's main product page, they appear to target the keyword "SaaS management platform":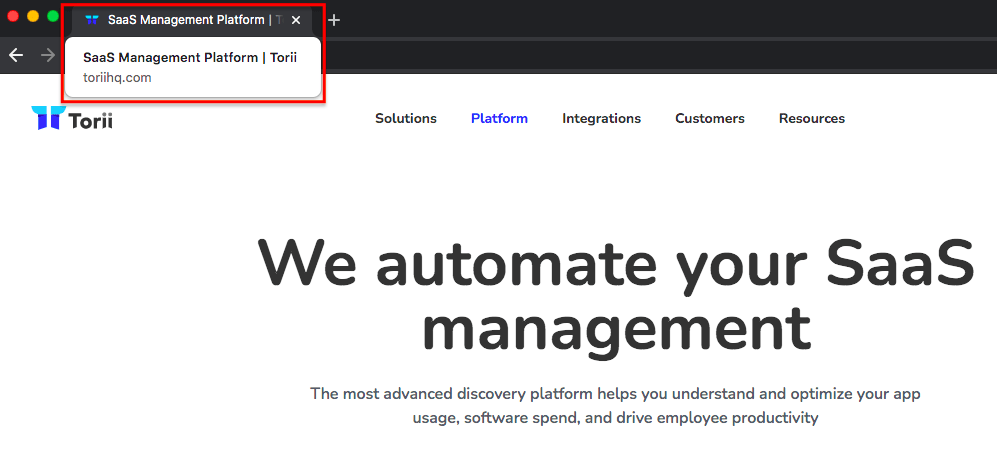 Given their product, and that their home page targets the variation "SaaS management software," this is a great target keyword.
However, when we searched for this query in Google, Torii does not show up on the first several pages of results. So it's very unlikely they receive any organic traffic to it.
Without much effort, there are some small tweaks that Torii could make to improve their page's performance, and increase its rankings in the SERPs.
1. Include the target keyword in their H1 headline
The headings and subheadings of a page are two of the most important areas of text to include your target keyword. But currently Torii doesn't include their entire keyword "SaaS management platform" in their headline (pictured above).
We'd recommend they tweak the copy to include the full keyword. This is a basic SEO best practice.
2. Add 1 to 2 sentence descriptions to product features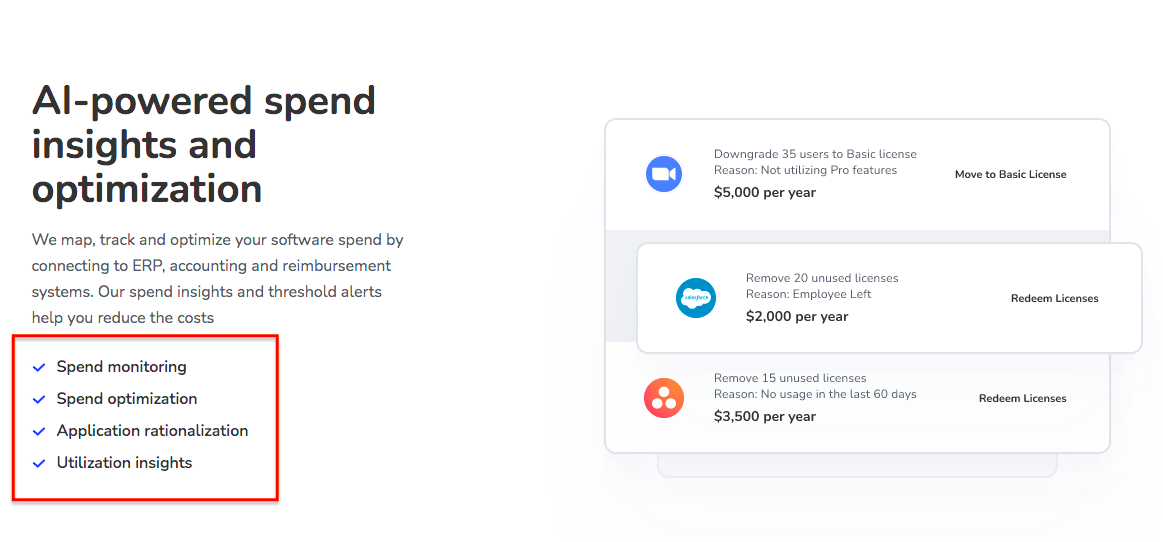 Comprehensiveness is one of the key criteria search engines use to evaluate the quality and relevance of a page. One opportunity for Torii to increase comprehensiveness is to add 1 to 2 sentence descriptions of their features throughout the page.
Ideally, these should follow a simple formula:
State the pain point that feature solves.
State the way that feature solves it in its simplest form.
Here's an example of how we've done this for a client in the job management software space: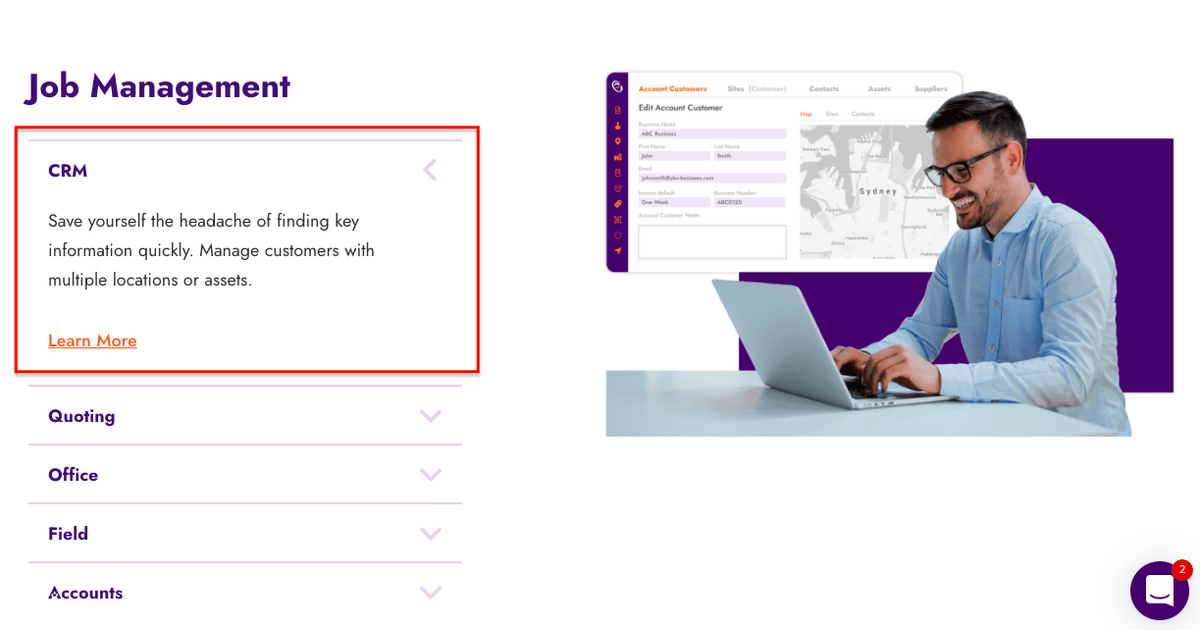 The description for their CRM feature reads: "Save yourself the headache of finding key information quickly. Manage customers with multiple locations or assets."
It doesn't have to be complicated. It just needs to hit on the basic pain point and solution.
Ideally, you should incorporate relevant keywords into these descriptions to further improve SEO performance.
Note: Check out our post on SaaS keyword research to learn more about how to choose keywords.
3. Add internal links to relevant pages
In the same way that there are advantages to applying nofollow tags to links that decrease topical relevance, there are advantages to placing links in the content of your page that increase topical relevance.
The easiest way to do this is to link to relevant product and feature pages, use case pages, persona pages, or blog pages.
Throughout Torii's main product page, they don't link to relevant content. For example, they have a whole section dedicated to integrations, but they don't link to their dedicated integrations page: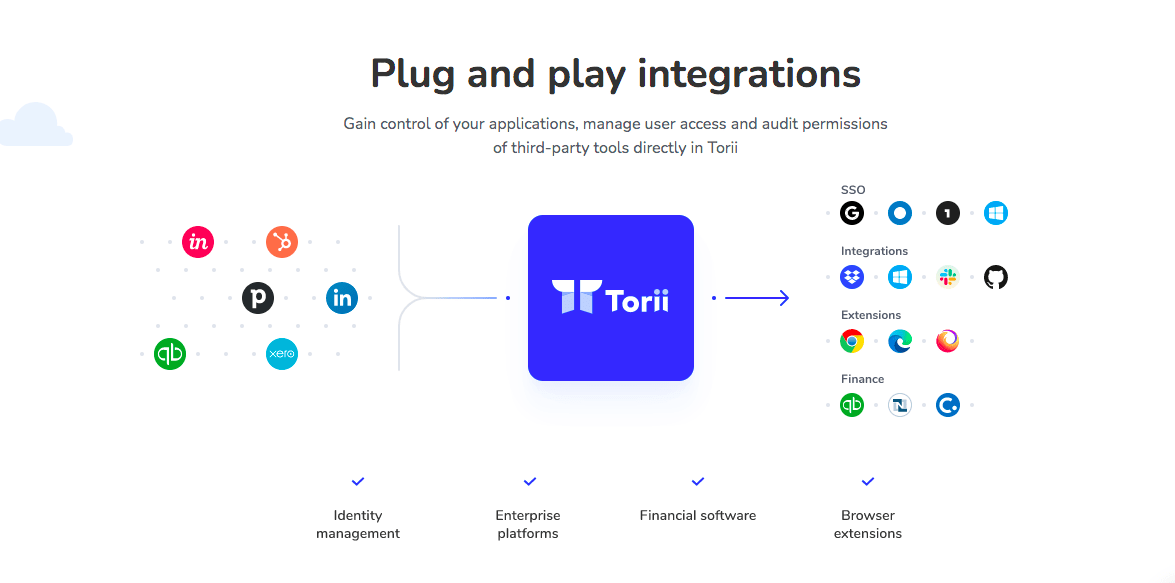 In their feature description sections, they don't link to in-depth feature pages that further explain how they work.
In Torii's case, they haven't built these yet.
Note: Per our SaaS website framework, this would be a worthwhile effort to make once they've tackled all of the optimizations that don't require creating net new content.
But they also do not take the opportunity to link out to previously published blog content. As a result, they miss the opportunity to increase the relevance of their page. And they also miss the opportunity to guide prospects deeper into their site, which increases the chances of conversion, and signals quality to search engines (which in turn helps rankings).
4. Add an FAQ section
A final easy opportunity to increase the comprehensiveness of the page, incorporate more relevant keywords, and satisfy search intent for their target keyword is to add an FAQ section towards the bottom of their page.
To figure out which questions to address, they can look at the "People also ask" questions in Google for their target keyword: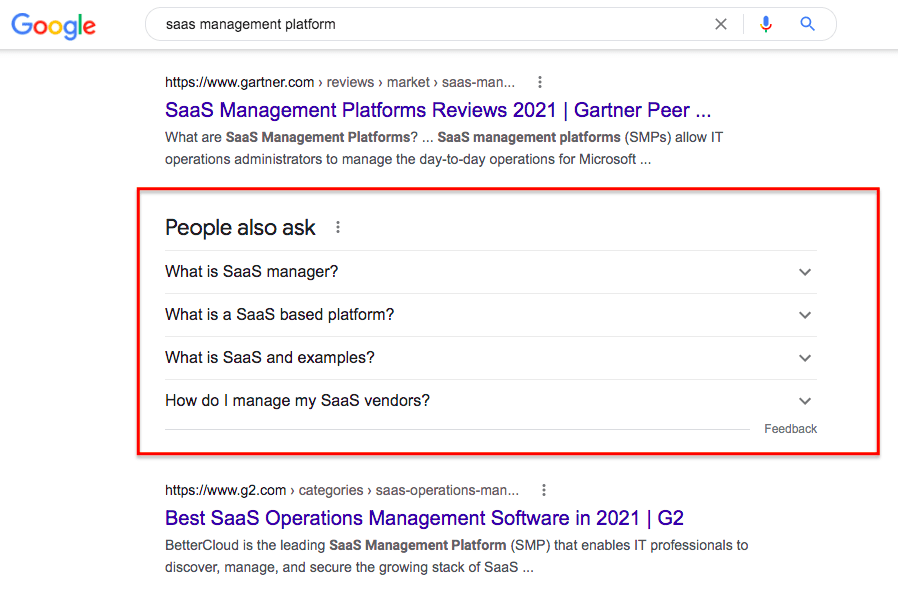 They can also look at the topics covered in the top ranking results, or pull from their company's own understanding of frequently asked questions from prospects and customers.
From our quick analysis, we'd recommend including questions such as:
What is SaaS operations management?
What does a SaaS management platform do?
What is SaaS spend management?
For each question, they can add a short description of the answer (1 or 2 paragraphs). And they can also link out to content which explains the topic in more detail.
By using a simple accordion format and the proper structured schema, they can obtain all of the SEO benefits of having the content on the page, while not taking too much attention away from their CTA's. It's a win-win asset for the page, and it doesn't take long to create.
Are you making the most of your existing content?
The examples discussed in this post are just some of the ways that Torii and other B2B SaaS companies can make their content work better for them — before jumping to create new pages and blog posts. And without the need for expensive SEO tools.
The list of these potential optimizations goes on. You can also work to improve your technical SEO performance or select pages and posts to perform a content refresh.
But what we hope for you to take away from this post is the 80/20 mindset of prioritizing your SEO activities based on effort and impact.
That's how you can get quick, affordable wins before tackling the more resource intensive process of creating net new content.
If you're looking to improve your B2B SaaS business's results through SEO, and you want to understand how you should prioritize your efforts based on impact and effort, reach out to our team to schedule a Free SaaS Scale Session.
What you should do now
Whenever you're ready…here are 4 ways we can help you grow your B2B software or technology business:
Claim your Free SaaS Scale Session. If you'd like to work with us to turn your website into your best demo and trial acquisition platform, claim your FREE SaaS Scale Session. One of our growth experts will understand your current demand generation situation, and then suggest practical digital marketing strategies to double your demo and trial traffic and conversion fast.
If you'd like to learn the exact demand strategies we use for free, go to our blog or visit our resources section, where you can download guides, calculators, and templates we use for our most successful clients.
If you'd like to work with other experts on our team or learn why we have off the charts team member satisfaction score, then see our Careers page.
If you know another marketer who'd enjoy reading this page, share it with them via email, Linkedin, Twitter, or Facebook.