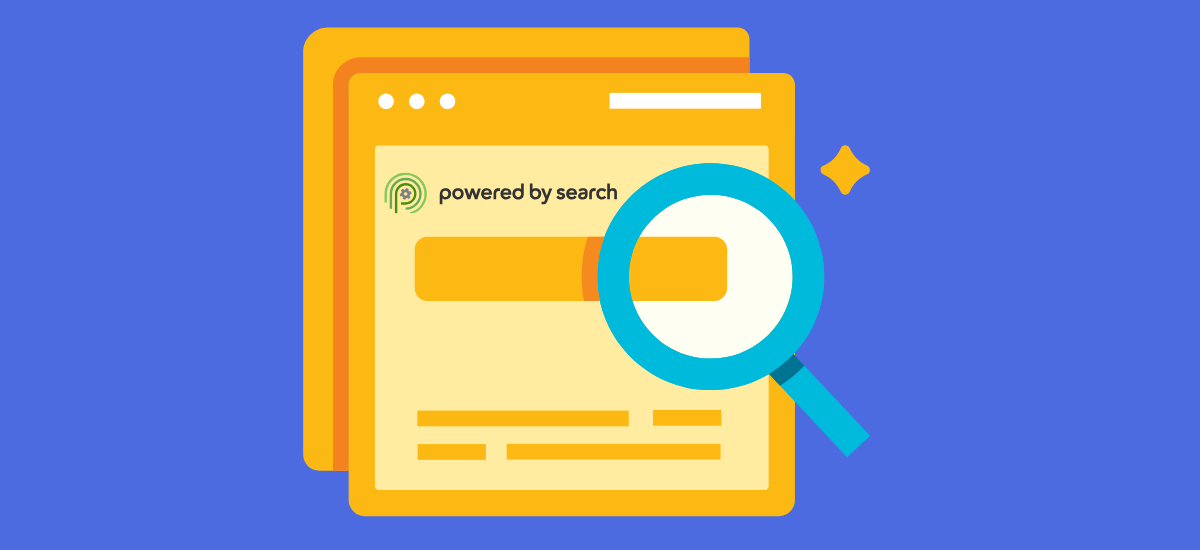 In this article, we provide an analysis of the paid search strategies of two best-in-class SaaS companies. We discuss what each company did well throughout their funnel, where we found mistakes and missed opportunities, and what we'd do differently if they were our client (including mocked up examples of how we'd update their landing page copy).
Here are the companies whose funnels we looked at:
Lightspeed, which makes iPad point of sale solutions
Kira Systems, which makes AI-driven contract analysis software
For each company, we looked specifically at keyword strategy, ad copy, and landing pages of paid search campaigns that have run in the last quarter. And one of our key takeaways was that even top SaaS companies have areas where there is room for improvement throughout their paid search funnels.
In our keyword analysis, we looked to see if they were capitalizing on the following types of high intent keywords:
Brand keywords: Search terms that include their brand name. Example: Lightspeed software
Competitor keywords: Search terms that include competitor brand names. Example: Freshbooks (if you're QuickBooks)
Software keywords (seed keywords): Search terms with their software category or type. Example: Social media management software
Seed keywords + use case: Software category terms paired with different situations the product can be used for. Example: Screen recording software for sales
Seed keywords + who its for: Software category terms paired with industry, job type, etc. Example: Point of sale software for restaurants
Seed, brand, or competitor keywords + purchase decision: Software category, brand or competitor terms paired with terms that indicate someone is in the buying phase (reviews, pricing, demo, trials, vs, etc.). Example: Domo reviews
In our ad copy and landing page analysis, we looked mostly at:
Headlines: Are they more than just a declarative statement? Do they convey the "how" or the "why" of what their software does or what makes them different?
Calls to action (CTA's): Are they clear and focused? Do they match the intent of the target audience?
Message continuity: Does messaging flow from their ad through to their landing page?
If you're a B2B SaaS company looking to see how other companies are setting up their paid search funnels, or you want to gain insight into how you can improve your own, read on to see what we found.
We help B2B SaaS companies grow their MRR through paid media and SEO. If you'd like to learn more about our services, schedule a free SaaS scale session to speak with someone on our team.
Paid Search Funnel #1: Lightspeed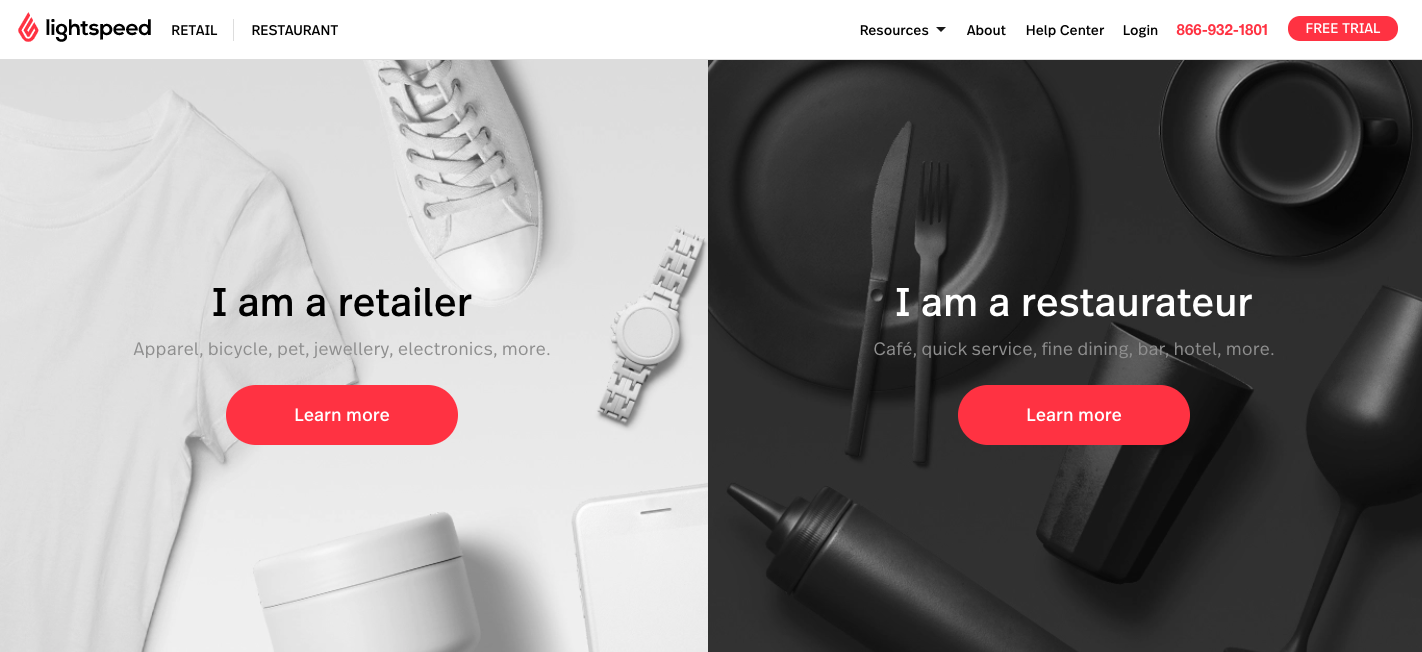 Lightspeed's primary offering is an iPad point of sale (POS) solution for small to medium sized businesses (specifically restaurants and retailers) that helps them process and manage customer orders. In addition to their POS, they also offer features such as loyalty and customer relationship management (CRM), merchant services (payments), and an eCommerce platform.
Keyword Strategy
Our overall impression of Lightspeed's keyword strategy was that it's very strong — they covered all of the high intent keyword types that we'd bid on if they were our client. Let's look at what they did well first.
Note: For the sake of simplicity, we only looked at keywords for Google Ads (not Bing or Yahoo!).
What They Did Well
Use of Brand Keywords
You'd be surprised how many companies don't bid on their own brand name terms. They think, "Why should we bid on our own brand name when we're going to show up in the organic search results anyway?"
But we disagree with this thinking because it leaves the door open for your competitors to show up in the ads up top and siphon attention and clicks away from you. And as we discussed in our article on Google Ads for SaaS, search engines typically charge lower costs per click (CPC) when you're bidding on your own name which makes it an efficient use of ad spend.
Lightspeed was capitalizing on this. Their pay-per-click (PPC) keywords included many variations of search terms with their brand name such as:
"Lightspeed.com"
"Lightspeed POS system"
"Lightspeed retail"
Use of Competitor Keywords
Among Lightspeed's top competitors are Revel Systems, QuickBooks POS, Clover, and Square. And Lightspeed is leveraging the ability to target keywords with their competitors' brand names.
They were targeting terms like:
"QuickBooks POS software"
"Square POS"
"Revel point of sale"
This was helping them get in front of people searching for competing solutions, indicating they're in the market for what Lightspeed offers.
Note: When targeting competitive keywords, the best practice is to include negative keywords for modifiers such as login, support, ticket, or other terms that indicate someone is already an active customer.
Use of Software + Use Case and Software + Who It's For Keywords
In addition to bidding on their own software category keywords like "iPad POS system" and "POS systems for iPad," they were also targeting tons of keywords that use modifiers for specific use cases and who it's for.
For example:
"iPad POS system for retail store" (who it's for)
"Point of sale inventory management" (use case)
"Restaurant POS solutions" (who it's for)
Use of Purchase Decision Keywords
We found they were also targeting keywords with modifiers like "reviews" and "pricing" which indicate searchers are weighing options to buy. For example, they were bidding on terms like:
"Point-of-sale software reviews"
"iPad POS system reviews"
"Revel systems POS pricing"
"Lightspeed retail pricing"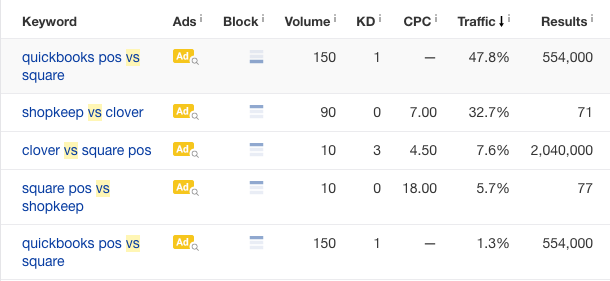 In addition, they were bidding on keywords where people are seeking to compare their competitors:
"QuickBooks POS vs Square"
"Clover vs Square POS"
Their strategy to get in front of people comparing their competitors is a really smart way of reaching a high intent audience (and perhaps one who isn't yet familiar with Lightspeed).
Now you can see what we meant when we said their keyword strategy was strong. There was just one additional keyword-type that they weren't bidding on that we think would be worth targeting.
What We'd Do Differently
Certain industries have review sites that play a dominant role in both paid and organic search results. For the SaaS industry, it's popular sites like G2 and Capterra.
The one thing we didn't find in Lightspeed's PPC keywords was any terms including these sites where people go to compare POS products. While the search volume for these terms may be quite low (known as "long-tail keywords"), anyone going to a review site is indicating buying intent.
So if Lightspeed were our client, we'd also bid on keywords that include these sites like:
"Retail point of sale Capterra"
"G2 point of sale reviews"
If you can catch people before they make it to a review site, or get on their radar right as they click to check out service options and reviews, you can increase your authority and attention in the eyes of a high-value audience.
Paid Search Ads and Landing Pages
While Lightspeed had good messaging continuity from keywords to ad copy to landing pages, their ad copy and landing pages were where we found some potential areas for improvement.
What They Did Well
Use of Ad Copy and Landing Pages Focused on Competitor Comparison
Here's an example of one of their ads for the competitor keyword "Square POS":

It was concise and the messaging was a good fit with the keyword. Their landing page included a comparison chart that compared Lightspeed's features to Square and several other competitors.
Use of Ad Copy and Landing Pages Focused on Integrations
Here's an example of one of their ads for the keyword "QuickBooks POS system":

In addition to QuickBooks being a competitor, people who are already using QuickBooks as their accounting software can also integrate and use Lightspeed as their POS. This ad clearly communicated to the person searching that the two services work together. On their landing page, they used the QuickBooks logo above the fold which worked to maintain messaging consistency:

Some Use of Dedicated Landing Pages
Here's an example of their landing page for the competitor comparison keyword "Shopkeep vs Clover":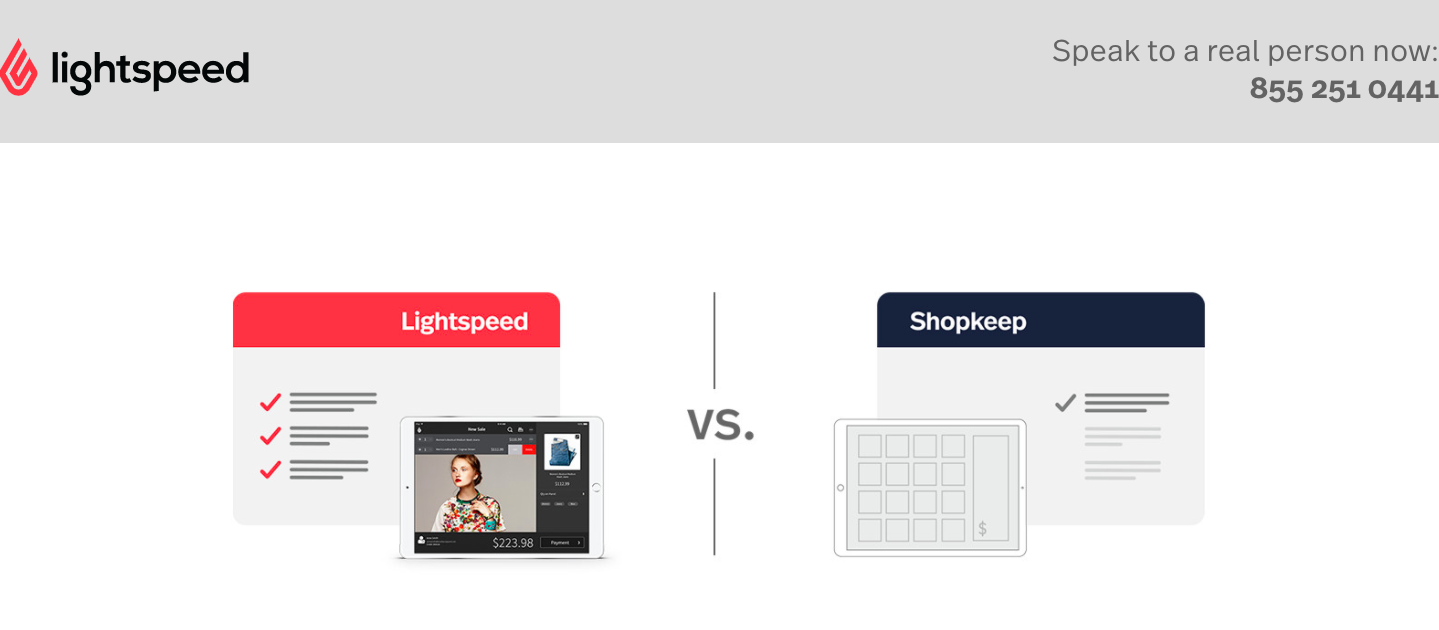 They did a number of things right with this page:
They made it a dedicated landing page without normal site navigation menus
They maintained consistent messaging from ad copy through to the landing page
They took ownership of the narrative for the competitor comparison
Despite all of these things done well, we still found areas where they could improve their ads and landing pages.
What Mistakes They Made
Some Ad Headlines Were Unclear
Here's an example of their ad for the seed keyword "retail POS system":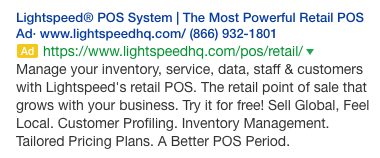 By stating it's "The Most Powerful Retail POS," it's not really clear what that means and it doesn't specifically communicate anything about what makes it powerful.
Most of Their Landing Pages Were Not Dedicated Landing Pages
The majority of their ads directed traffic to landing pages that include their entire website navigation. As we discussed in our article on SaaS landing pages, providing people with too many options increases distraction and decreases the likelihood that people will take the specific action you want them to take.
Take this page for example:

Giving users twelve different options to click on (not including links in the dropdown menu) was the standard across most of their landing pages. We would guess this has had a significant negative effect on their conversion rates.
Most Landing Page Headlines Were Generic Statements
In our experience, using problem-oriented messaging and phrasing landing page headlines as questions as opposed to statements is a more effective way of grabbing the attention of site visitors and getting them to take action.
Here are some examples of Lightspeed's landing page headlines we saw:
"The quick-service ePOS that keeps up with your business"
"The cloud-based iPad POS for you"
"The leading restaurant POS system that delivers"
None of them speak to a clear pain point. And all of them are fairly generic declarative statements that we think could be made more compelling.
What We'd Would Do Differently
If Lightspeed were our client we'd turn a high proportion of their landing pages into dedicated landing pages (removing the distraction of the main navigation) to increase conversion rates.
We'd also spend a lot of time reworking their landing page headline and subheadline copy to use problem-oriented messaging that we think would be more compelling to site visitors.
Here's an example of what we mocked up for a page focused on restaurants:
By looking at their product and testimonials, we found that the main challenge their product solves for restaurants is the ability to process orders faster and speed up communication between the front and back of house.
Instead of "The quick-service ePOS that keeps up with your business" — which states the benefit without prompting the reader to respond — we rephrased the headline as a question to get readers for whom the answer is 'yes' to keep engaging with the page.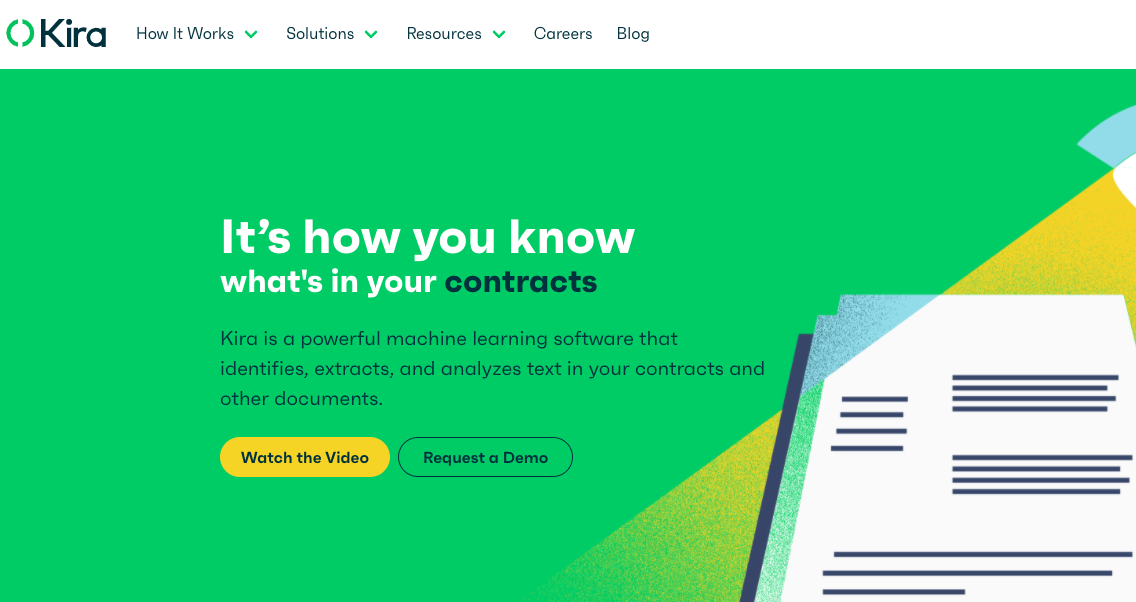 Kira Systems' primary product is a contract analysis tool for law firms, corporations, and legal service providers. Their primary features help users with tasks related to due diligence, lease abstraction, compliance, deal points, and finance.
Keyword Strategy
For their keyword strategy, they seemed to be bidding on a lot of top of the funnel keywords that are somewhat related to their business, but that lacked any purchase intent. The thinking was that some portion of people searching for those related terms could potentially be a good fit for their product. And it was probably a result of trying to overcome low search volume for terms related to their core service.
What They Did Well
Use of Software "Seed" Keywords
Kira was bidding on a number of their software type keywords such as:
"Compliance software"
"Due diligence software"
"Seals software"
People searching directly for this very specific type of software are likely to be researching options to purchase, making these high intent keywords valuable and smart to bid on.
Use of Keywords with "Who" Modifier
They were also bidding on a few keywords that included who it's for:
"Software for lawyers"
"Software for law students"
"Software for small law firms"
We liked their strategy to bid on these "who" modifiers that correspond to their different customer segments.
However, we didn't see variations of these keywords with the software type included like: "Compliance software for lawyers." Without a modifier for the software type, their ads would only match the intent of the search term when a person happened to be looking for compliance software. That was one misstep we found.
What follows are some of the other mistakes we discovered.
What Mistakes They Made
Missing Competitor Keywords
Kira was bidding on the brand name of their competitor Seal Software, but this was the only competitor keyword they were targeting. A quick Google search revealed some other direct competitors whose core products are AI contract analysis tools:
Kira wasn't bidding on any of these competitor brand terms, and we think this was a missed opportunity for them to capture the attention of people searching for those services. Especially since their software is niche and search volume is low to begin with, bidding on more competitor terms would be an effective way to reach more of the right audience.
Bidding on Ineffective Top of Funnel Keywords
Kira had a number of ads targeting the search term "what is a lease abstract."

There's nothing wrong with bidding on some higher funnel terms to create brand awareness with people earlier on in the sales cycle. But if their target audiences are lawyers, law students, and other legal professionals — people who do contract analysis — it seems unlikely that these people would ever search for that. They already know what a lease abstract is.
With the exception of their resources page, the conversion-oriented landing pages they send people to were a complete mismatch with the search intent.
What We'd Do Differently
Overall, we think Kira would have had more success focusing on specific keywords that are directly related to what they do and bidding on variations of competitor keywords.
Increase Use of Seed Keywords with Use Case and "Who" Modifiers
We'd want to expand on the keywords that summarize their software category and include either use cases or who it's for. For example:
"Due diligence software for law firms"
"Compliance software for lawyers"
"Contract analysis tool for consultants"
Increase Use of Competitor Keywords
We'd want to bid on the brand names of the competitors mentioned above, and we'd also want to bid on variations of those keywords that use purchase intent modifiers. For example:
"Legal Robot pricing"
"Legal Sifter reviews"
"Seal Software trial"
Anyone searching for these terms would be in the market for a solution that Kira offers — and that would be a key opportunity to get their brand in front of that audience.
Paid Search Ads and Landing Pages
Overall their PPC ads and landing pages weren't as clear as they could be. Their headlines need work.
What They Did Well
Use of Clear Ad Messaging for Brand Keywords
Kira was doing a great job with their ads targeted at brand keywords like "Kira Systems," "Kira Software," and "Kira Law." Some of their headlines include:
"AI Driven Contract Analysis"
"Automated Contract Analysis"
"Contract Analysis Platform"
Each of these descriptions provide instant clarity on what Kira does for anyone searching to learn about their product.
Use of Clear Ad Messaging for Seed Keywords
Here's an example of their ad for the keyword "software due diligence":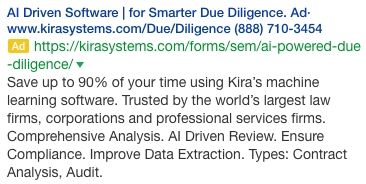 The headline and ad copy they used here match the intent of the search query while also communicating what they do ("AI Driven Software") and what people stand to benefit from using their product ("Save up to 90% of their time").
Use of Dedicated Landing Pages with the Right Fundamental Elements
Many of their landing pages covered the bases of what we typically like to see:
Headlines phrased as questions
Product screenshots
Descriptions of what their software does
Social proof badges and testimonials
Header navigation removed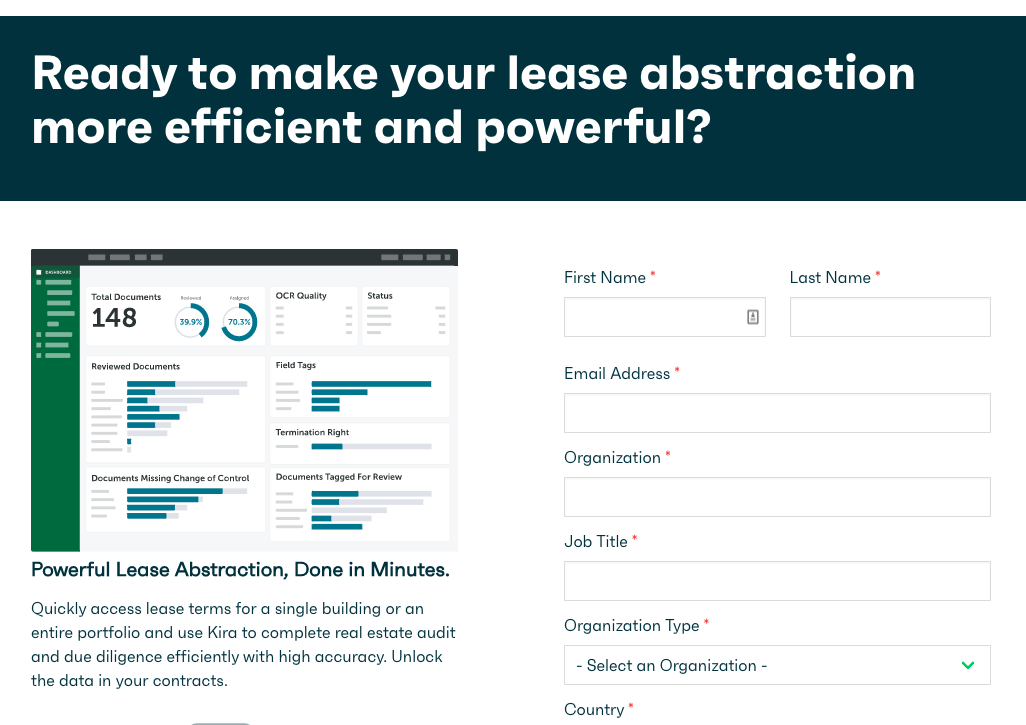 For bottom of the funnel audiences, we've found that a format like this can work well for B2B companies focused on lead generation. However, there are a number of things we'd do differently.
What Mistakes They Made
Problems with Their Lead Form
There were two things we noticed about their lead form:
It doesn't have a headline specifically on the form
It requires users to fill out eight fields in order to request a demo
Not using a headline was a missed opportunity to make a call to action for people to fill out their form. And by using eight different fields, they were increasing the time and effort it would take for interested prospects to sign up — which was likely decreasing their conversion rate.
Landing Pages Conveying Too Little Information About Their Product
A single product screenshot on their landing pages wasn't giving visitors enough information about their product. And the short descriptions underneath their subheadings also failed to provide people with a clear picture of how their product actually works.
What We'd Do Differently
Use of Problem-Oriented Landing Page Headlines
Here are three of the most-used headlines we saw:
"Cut Due Diligence Review Time by up to 60% with AI"
"Ready to make your lease abstraction more efficient and powerful?"
"Ready to Supercharge Your Contract Analysis?"
We liked how two of them were phrased as questions, but our approach to landing page headlines is to focus on pain points. So instead we'd test out headlines like:
"Lease Abstraction Taking Up Too Much of Your Time?"
"Tired of Doing Manual Contract Analysis?"
And then we'd convey the benefits in subheadlines and body text throughout the rest of the page.
Replace Product Screenshot with a Product Video
On a page that is that minimal, using a product video instead of a screenshot would be a more effective way of communicating what their product does and how it works in the same amount of space. This is a strategy we use with our B2B clients and we've seen videos generally do a much better job of compelling prospects to sign up for a demo.
Update Body Copy to a Bulleted Format
Not only did the text under their subheadings fail to communicate much information about their product, it didn't use formatting to highlight their product's benefits. We would turn that section into three clear bullets that convey the biggest benefits of using their software.
Use of Testimonials Instead of Social Badges
We were happy to see they used social proof in the form of badges (customer logos), however, we prefer to use customer testimonials over badges when possible. If Kira had them, we would replace the badges with 2-3 authentic testimonials instead.
Improve Their Lead Form to Increase Conversions
Lastly, we'd narrow down the fields of their lead form to just "First name," "Last name," and "Email" to remove friction and effort required for prospects to sign up. And we'd add a headline above the form saying something like "Schedule a Walkthrough" or "See Kira in Action."
Are Your Paid Search Funnels as Tight as They Could Be?
The answer to this question for 90% of B2B businesses doing paid search marketing is no.
Paid search funnels are a complex system and depending on their vertical, price point, or other factors, what works for some SaaS companies may not for others. However, even SaaS companies with great brands and digital marketing programs can find ways to optimize their PPC campaigns further.
As you've seen in this article, things like keeping headlines pain-point focused, bidding on competitor keywords, and avoiding generic phrases like "powerful" (that don't communicate anything about what makes you different) are all common ways to improve your funnel.
If you take a close look at your keyword strategy, ad copy, and landing pages, you can identify opportunities for increasing conversions and revenue.
If you'd like to learn more about how we help B2B SaaS companies grow their MRR through paid media and SEO, schedule a free SaaS scale session to speak with someone on our team.