Are your mobile ads intrusive? If so, it's time to change that. Google's new mobile Interstitials Penalty takes effect today and will impact how advertisers position their mobile ads.
"Starting today, pages where content is not easily accessible to a user on the transition from the mobile search results may not rank as high," announced Google in their blog.  
"As we said, this new signal is just one of hundreds of signals that are used in ranking and the intent of the search query is still a very strong signal, so a page may still rank highly if it has great, relevant content."
So what do you need to add to your to-do list today?
How to Avoid Google's Interstitials Penalty
What You Can't Do
Basically, you want to avoid ads that pop-up and take up the entire screen, leaving the original screen inaccessible or unseen to the user.
Here's how Google illustrated it: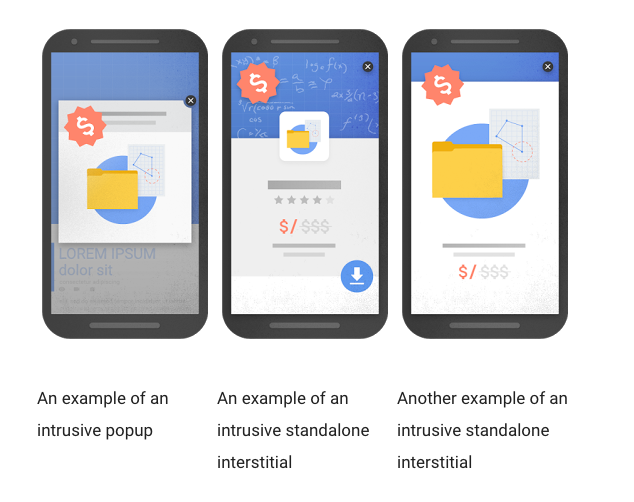 Key takeaways:
Your pop up can't cover up the page's main content. This can't happen when your visitor goes to one of your pages from the search results, or while they are looking through your page.

Your ad can't be a standalone interstitial that visitors have to click away to be able to access the main content.

You also can't use a layout where the above-the-fold portion of the page looks a lot like a standalone interstitial, but the original content has been inlined underneath the fold.
What You Can Still Do
There are a few pop-ups that if "Used responsibly" Google will not penalize. They include:
Legal obligations, like cookie usage for age verification or disclaimers

Login dialogs for unindexable content that is behind a paywall.

Banners that "use a reasonable amount of screen space and are easily dismissible."
Here's how Google illustrated it.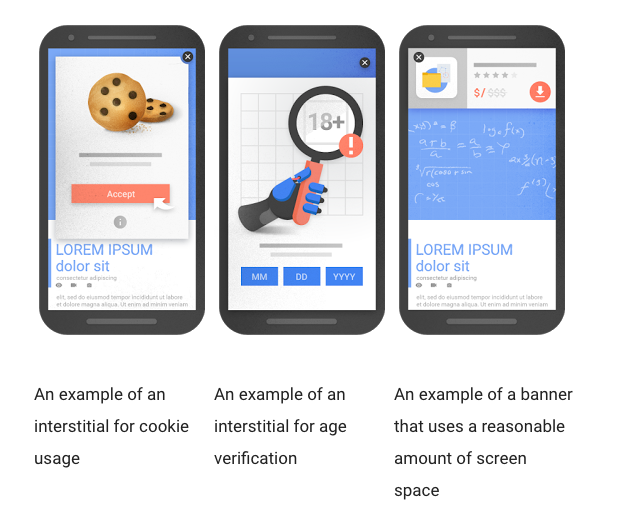 How Can This Help My Business TODAY?
As with any Google announcement, this is good news for businesses that are conscientious enough to stay on top of current trends. This also favors businesses that design their site with the user in mind, instead of constantly bombarding their visitors with ads.
"It will be interesting to see how many websites get hit by this penalty. As a business owner, the biggest lesson, and the best thing you can start doing now, is to approach everything you do with your website with a 'think like Google' mindset" said Colan Nielsen, Agency Operations Manager at Powered By Search.
"Ask yourself, 'is this going to provide value to the user who is visiting my website? Or is it going to cause friction and little value?' If it's not providing value to the user first and foremost, don't do it."
Want to Know How to Use This to Your Advanage?
Does this mean you need to completely re-think your mobile site? Do you want to make sure everything you're doing is in line with what Google wants?
We are one of the most respected agencies in Canada, and recently made PROFIT Magazine's list of Canada's Fastest-Growing Companies.
To learn more, click here to download our SEO playbook.