As with everything in life there is a hard way and an easy way to harness feedback on your online and real world presence.  For the sake of this article we will focus on tackling the online beast, since that's what I spend my working hours on.
Before we start I recommend that you answer this question:
What information do you want to know?
It seems simple, but it is important to narrow this down before you start digging up data. If you don't know what you want to know, how will you know when you've found it?!
Usually, as marketers and managers we want certain types of information:
1. Target market information. Who they are, where they're from, what their online habits are, how often they visit you, etc.  (I am assuming you have already invested some time and energy in this, so this won't be my focus).
2. How you can improve? Or in other words what is working and what is not?
The second question is what I will discuss below. Whether you want feedback on a landing page, email blast, blog post, or social media share here is a rough guide on facing this monstrous task and coming back a hero.
Step 1: Do everything you can behind the scenes to gather information without disrupting your user. If you haven't done so already, set up a web analytics tool on your website, such as Google Analytics, which is available for free. Plain and simple it allows you to infer a ton of knowledge about your visitors.  Analytics tools collect a variety of data about your visitors, such as how they get to your website, what pages they view, and how much time they spend there. A useful feature in Google Analytics is the Visitors Flow, which gives you a graphical view of the path that visitors take through your website.
There are tons of ways to put this data to use, so get creative. If users enter your main landing page, but don't perform the actions that you desire (maybe they immediately navigate to another page, or worse, leave your site), put on the detective hat and hunker down on the case. Keep track of those visitors when possible. Perhaps they visit the landing page, service page, or about us page several times before becoming a customer.
If you want a more advanced approach try doing some online reputation management and use one of the many tools online to track mentions of your company/product/subject on social media, forums, and other places on the big, scary World Wide Web.
Step 2: Provide a place on your website for feedback! You want to understand their thinking, so make it easy for your visitors to reach you. You can hear from people who are pleased, displeased, or just have an idea they think is worth sharing.  Acknowledge this feedback, whether it is through an automated email thank you or an email sent by a member of your company.  Opening the door for critique means you may get some nasty emails, but it gives you the opportunity to correct your mistakes.  All in all I'd rather have someone say something rude about me to my (virtual) face than blog and tweet about me behind my back.
Remember, a feedback form is not just to help your customer let off steam or sing your praise. Catalogue this information. If you have a help section or a live chat manager store the information from these interactions too. Heck, if you want to be thorough save the tweets, blog comments, and other social media messages that could be categorized as critiques. It takes a little bit of time to set a system that works for you and your team, but it is also a ton of data that you didn't have to chase down. They may be a great resource for blog content, when you redesign your webpage, or in modifying your approach to customer care.
Step 3: Simple, Easy, Worthwhile Surveys.  This is where the question I asked (What information do you want to know?) is needed. Write all questions with your MOST important goals in mind.  Use surveys sparingly. In the best case scenario you can gather the information you need from your audience in 3 questions or less. If you can't manage that, please aim for 10 or under.You can leave an additional comments space at the bottom, and if your survey takers think you have missed something important or want to tell you something, they will!  If you have a longer survey you may need to offer an incentive to get a better response rate.
Send your survey electronically using something similar to a SurveyMonkey account.  Use email addresses collected from feedback forms, white paper downloads, etc., Twitter, and Facebook to contact the people who are invested in what you are asking.  Email tracking can help you gauge which of your customers are most insterested in your company's offerings and will point to the individuals more likely to provide feedback.  If someone subscribing to your blog has never opened a single email about posts on "x" or "y", they will probably ignore your questionnaire about "x" and "y" as well. Be smart: an Enterprise clients probably isn't overly concerned about how our blogging is meeting their needs and one of our blog followers has nothing to say about the quality of the SEO services we provide. Want answers? Ask the right people! Opt-in emails (when site visitors sign up to newsletters on the website, or they click the 'send me future emails' checkboxes) are a nice way to identify people that will be more receptive to your emails. Sending unsolicited emails will often result in users flagging your messages as spam (especially if you abuse this,  and people tend to ignore them anyways).
If tweeting to your audience will get you a similar quality answer then consider that first.
Try to avoid:
a. Excessively using Likert scale type questions: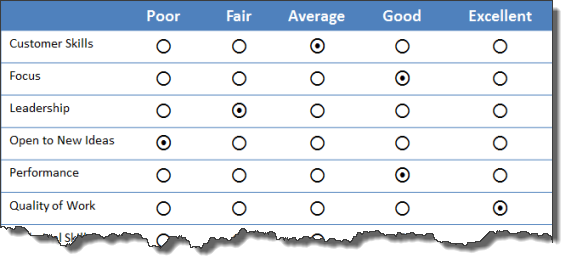 b. Asking repetitive questions. Did I just repeat myself? Yes/ No   Did you like when I repeated myself? Yes/No   How would your reading experience change if I had not repeated myself? Better/Worse   Would you want to read another post where I repeated myself? Yes/ No
c. Leading questions. Why? Because they don't give you reliable feedback and are a waste of your time and, more importantly, your customers' time.
Step 4: Ask them outright – on social media, personal online outreach, or here is a crazy idea on face-to-face or on the phone. A format that has always worked for me is: Keep, Lose, Improve.  At the end of a meeting or when working with a client that you have an established rapport with, ask these three simple questions: What should I keep doing? What do I need to lose, and never do again? What should I improve?
You want someone who is going to be honest with you and cares enough to answer.  Try it in a low risk situation and, if it works for you, keep it! I ask for feedback in this style from my supervisor on a monthly basis.
So what do we take away from this:
1) Get feedback without interrupting your customer/user as much as possible. The best ways are through online tools and by playing the detective role!
2) Know what information you are looking for.
3) Lay a welcome mat down and open the door for feedback on your webpage.
4) Organize all the data you collect. It may take time, but it will save you tears.
5) Write strong, short, sweet surveys.
Images by: Data Revelations , UMSL Daily.
If you are looking for help with your marketing efforts, contact us for a FREE 25 minute marketing assessment!