10x your marketing career growth - learn how to convert customers faster so you can ask for that raise
Learn the exact process we've used to generate millions of dollars of revenue for our B2B SaaS clients
Find out how to apply it to your own work with hands on assignments based on real client examples
Self-paced course with active asynchronous evaluation from Powered by Search's marketing experts
Sign Up for Instant Access
For a one-time introductory price of $499, you'll get direct access to Powered by Search's proven B2B SaaS marketing growth playbooks.
These principles and strategies have generated millions of dollars of pipeline for clients like:
Your career growth is stalled because your work isn't predictably generating revenue
At Powered by Search, we've helped hundreds of B2B SaaS marketers predictably grow their results. In this course, we'll show you the most impactful takeaways of our internal playbooks that have made this possible.
We got this client in the logistics industry an additional 10 high ACV SQLs a month from SEO/content within a few months:

We're frustrated by the flood of wafer-thin B2B SaaS marketing advice out there that focuses on vanity metrics, shallow copy, and activities without outcomes.
To reach the next level of career growth and results, you need to focus on targeting, messaging, copy, and content that aligns to your customers' pain points to drive higher quality and volume of trial and demo conversions that turn into recurring revenue.
In this course, we're going to take the 80/20 approach to actions and insights that other B2B SaaS marketing courses completely miss so that you can accelerate your next level of growth, hit your targets, and stand out in the industry.
Whether you're in Demand Generation, an SEO specialist, a PPC manager or a Content Marketer, this course is for you.
Pain point messaging works for every digital marketing channel; it impacts your entire marketing methodology.
If you're:
Feeling like your career growth is stalling because you can't show the impact of your marketing efforts on revenue
Tired of reading the same B2B SaaS blog posts, following the same 'best practices' and doing it the way it has always been done but not getting the real outcomes you want
Jaded about investing in yet another B2B SaaS marketing course and telling yourself 'I think I already know this stuff'
This is the course you've been waiting for.
We're only accepting applications from marketers who are dedicated to improving their career.
Sign Up for Instant Access
If you're willing to invest the time and effort necessary to drastically change your career trajectory, sign up now for $499.
Want some more wins that we've achieved using this methodology?
How about this one from the SEO team at Powered by Search? We 2x'ed demos within 9 months.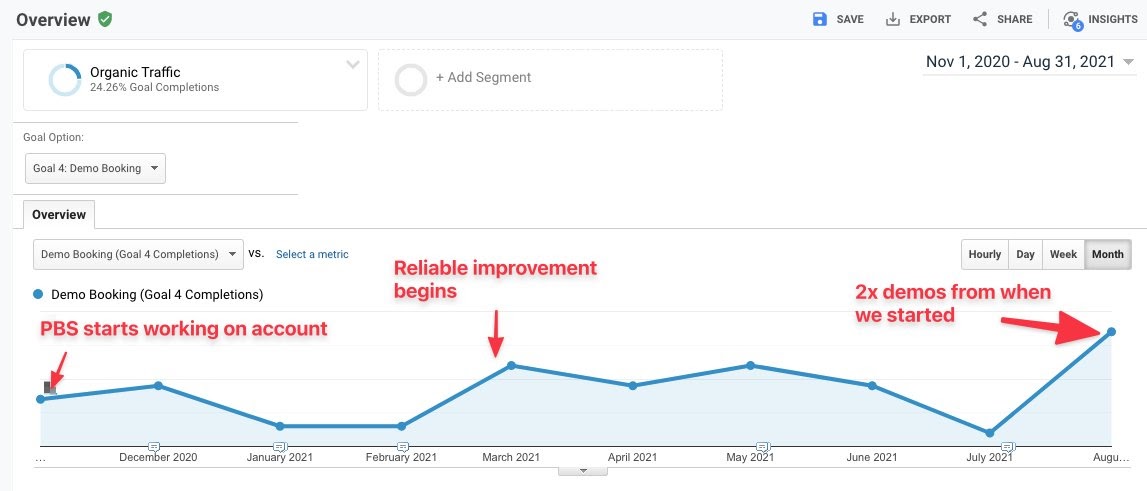 How? Targeting customer pain points and baking that into our SEO strategy.
The exact same strategy we're going to teach you in this course.
Here's a bunch more recent client wins applying this same methodology to PPC and/or SEO:
53% more leads with a 59% reduction in CPA
Bing conversions up 73%
Google conversions up 32%
MQLs +107% MoM
6.01% overall organic traffic growth
8.63% new users organic traffic growth
6.2% growth in keywords appearing in search
8.9% increase in total clicks from Google
10.25% increase in CTR from organic
48.85% growth in organic visits from SEO
36.36% in demo bookings from SEO
+38% increase in demo bookings QoQ from SEO
+9.9% in demo conversion to close rate (better fit prospects) from SEO
Doubled sales accepted leads from PPC in 1 month
Demo bookings from PPC up 68% in two months
+10 SQLs a month from SEO/content within 5 months
PPC conversions up 12% and cost down 24%
119% of SQL target hit in a quarter
What would your career look like if you could show off results like this to your boss?
It would look like this: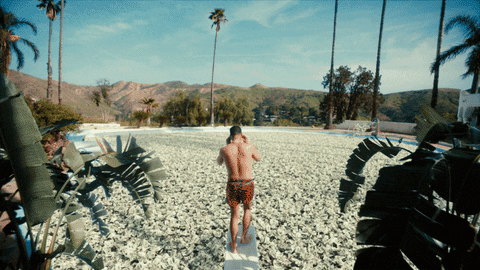 "OK. I'm sold on the vision. What's in the actual course?"
Friend. I'm glad you asked. Here's what we'll cover in order:
1. Why Pain Point Messaging Is At the Core of Successful B2B SaaS Marketing Strategies
1.2 Why Most B2B SaaS Messaging Fails to Get Results
1.3 How Pain Point Messaging Impacts the B2B SaaS Buyer Journey
1.4 The Cost of Getting It Wrong
1.5 What You Should Do Now
2. How to Source Pain Point Ideas & Insights
2.2 How to Shift Your Thinking to Pain Point Messaging
2.3 How to Define Emotional Triggers with the '4 Forces' Model
2.4 How to Identify Your Best Customers
2.5 How to Extract Pain Points from Sales Assets
2.6 Extract Capterra & G2 Reviews to Level Up Your External Research
2.7 What You Should Do Now
3. What Pain Point Messaging Means for SEO & Content Marketing
3.2 SEO Keyword Research Strategy – Pain Point Search Intent
3.3: Engaging Right-Fit SEO Traffic On B2B SaaS Product/Feature Pages
3.4 Driving SEO Leads with Intent-Based Content Marketing Strategy
3.5 What You Should Do Now
4. What Pain Point Messaging Means for Paid Search & Paid Social Advertising
4.2 Pain Point Messaging for Paid Social Advertising
4.3 Pain Point Messaging for Paid Search Advertising
4.4 Guiding PPC Traffic to Conversion on Dedicated Landing Pages
4.5 What You Should Do Now
5. It's Time to Take Action!
5.2 Submit Your Assignment
In This Course You Will Learn
Why pain point messaging is at the core of all successful B2B SaaS marketing strategy so that you can spot why most B2B SaaS messaging fails to convert, and how to shift your thinking to customer pain points for more effective results.
How to find pain point ideas & insights so you can dive into all the marketing resources and assets at your disposal to uncover what problems your customers really want to solve when buying your software.
How to apply pain point messaging in your marketing channels so you can take immediate action and leverage pain point messaging on your website content, your advertising campaigns, and your entire marketing funnel.
How it works
This course is different to others, it's self paced but thoroughly practical.
Read
Read the course materials and learn how to implement pain point messaging.
Create
Take real client cases and complete assignments in your own time.
Review
Submit your assignments and get async video feedback from the team at Powered by Search.
Iterate
Take the feedback, apply it to your work and use it to improve your next assignment.
Change your SaaS marketing career forever
Learn the exact process we've used to generate millions of dollars of revenue for our B2B SaaS clients
Find out how to apply it to your own work with hands on assignments based on real client examples
Self-paced course with active async evaluation
Sign Up Today!
This is the course you've been waiting for.