21 Tools To Help Distribute Your Content
Last updated: January 31st, 2014
When it comes to content marketing, distributing said content is a pretty obvious part of the equation. It's not enough to just create (and curate) stellar content, you've got to get it out there! Because there's nothing sadder than a lovely blog post sitting all by its lonesome with no one to read it. Ok – I may be exaggerating on that a bit. But it's still a downer.
Luckily, there are a ton of great tools out there to help make sure your content gets in front of the right people, and lots of them. Here's a list of 21 great, good and just plain nifty content distribution tools worth looking into. Some are free, some are paid, but all of them have been tried, tested and proven to work – in fact, the marketing team at Uberflip uses many of these, such as HubSpot, HootSuite and Outbrain on a regular, if not daily, basis. So let's get to it.
Most people have heard of HootSuite already, and with good reason – it's one of the most comprehensive social distribution platforms out there. You can manage and publish to all of the major social networks, including Twitter, Facebook, LinkedIn, Google+ and even Foursquare, from your dashboard. They've also got a ton of integrations to choose from in their App Directory, from other social networks like YouTube and Tumblr, to marketing and sales integrations such as MailChimp and Salesforce.
Price: Free, Pro and Enterprise
HubSpot describes itself as an all-in-one inbound marketing software, and boy is it ever. It does a ton of stuff, from email marketing to analytics reporting, but the feature that's most relevant to this list is their Social Inbox. The Social Inbox lets you manage, monitor, schedule and publish to your Twitter, Facebook, LinkedIn, Google+ and more networks, much like HootSuite. What's special about HubSpot's Social Inbox is that it weaves your social communities in with the data brought in via email marketing campaigns, landing pages and other features you're using within the marketing automation software. More details can be found here.
Price: Basic, Pro and Enterprise
AddThis is an easy way to install those sharing and follow buttons you see all over the place, but their focus is actually keeping people on your site and reducing bounce rates. They allow people to share your content and follow your social networks without leaving the page they're on. We're big fans of AddThis at Uberflip – so much so, that we've integrated them into our content Hubs, so that each piece of content in a user's Hub can be shared and engaged with via Twitter, Facebook, LinkedIn and Google+, without the reader being kicked off to another site. There are a ton of other ways you can use AddThis, such as implementing sharing buttons in newsletters, so it's definitely worth checking out.
Price: Free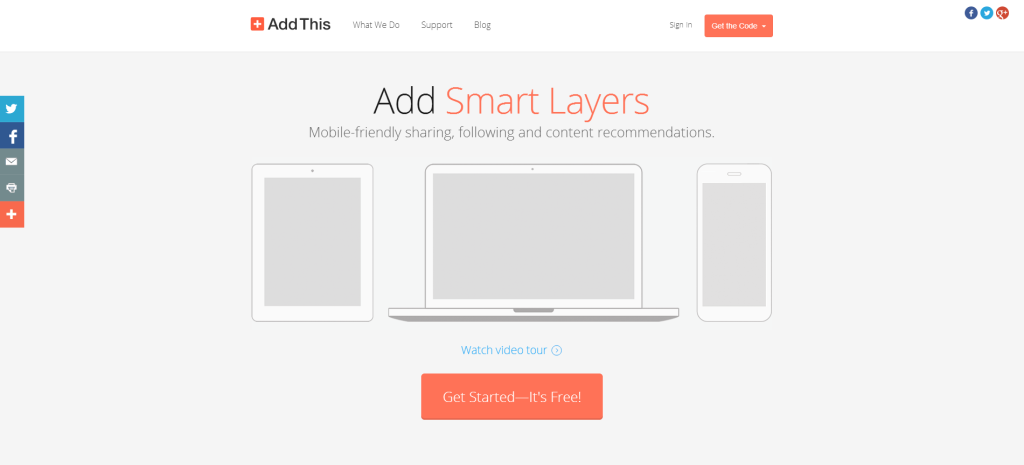 Buffer allows you to "set it and forget it" when it comes to scheduling social media posts. Queue up several Twitter, Facebook, LinkedIn and Google+ posts by either setting a scheduled time or "buffering" them, which will automatically spread your posts out throughout the day. One of the best parts of this tool is how simple and efficient it is – there's barely any learning curve to using it, and it's incredible easy to fit into your current workflow. Bonus: Twitter images attached using Buffer show up as inline pictures in your Twitter feed, which have been proven to boost engagement.
Price: Free and Buffer for Business (Small, Medium, Large plans)
Tweriod is a timing tool for your tweets (say that three times fast). A lot of attention has been paid to which times are best to tweet but there's really no blanket answer. By accessing your Twitter account, Tweriod assesses your tweets and your followers' tweets and generates a report tailored to your own Twitter presence and community. It's a neat little tool that's simple to work with and gives you information you can really use.
Price: Free
Appinions is an influence marketing platform that allows brands to connect with, monitor and manage their relationships with industry influencers. As it's an enterprise solution, it's pretty in-depth – you can see the "who" and "why" behind changes in the influencer landscape, how key influencers are performing, monitor your own relationship with them and a lot more. This fits in with more of a long-tail distribution strategy as you build and manage relationships with key players in your industry, but offers a ton of insight that you'd be hard-pressed to find on your own.
Price: Contact a representative
Outbrain is two-pronged – you can use it either to offer recommendations to your audience on your own site or for third-party content, or you can use it distribute your own content on other sites. The latter is what we at Uberflip use it for. You can either provide an RSS feed of your content or the URL of a specific piece, and Outbrain presents it as a sponsored or related post alongside content on other sites. They have a large network that includes high-profile publishers such as Mashable and NYTimes.com, so your content reaches a pretty impressive audience.
Price: Pay-per-click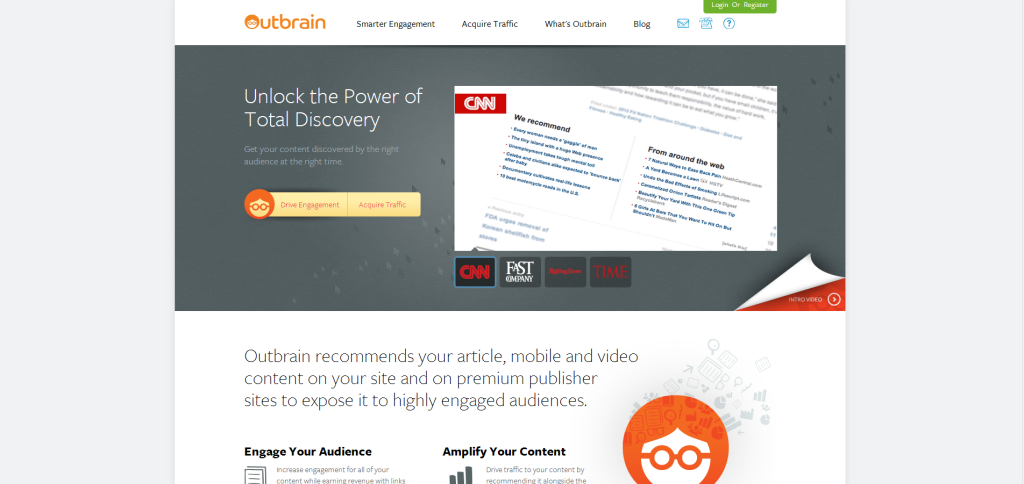 Content Blvd
Content Blvd connects brands with publishers who will post their content. After creating a profile on their site, you submit an article and then share it with publishers in their Content Marketplace. When a publisher wants to use your content, you'll be notified of their offer and can either accept or reject it. This simplifies the blogger/publisher outreach process (and makes it way less annoying than cold-emailing publishers you hope will like your stuff!).
Price: Free to sign up, Paid for advertisers
Click to Tweet makes it quick and easy for readers to share your content, or pieces of content, to their Twitter followers by – you guessed it – clicking to tweet. You create your own pre-written tweets and Click to Tweet provides a link that, when clicked, will open that tweet inside a user's Twitter account. It's an easy way to eliminate the barrier of typing out a tweet in order for your readers to share it, and since you're working with a link, you can use it however you want. For example, we at Uberflip use Click to Tweet in our infographic blog posts to encourage readers to share specific facts that contain a link back to that post (and by including our own Twitter handle in the tweet, we can see who's sharing our content by who's mentioning us).
Price: Free
Zemanta is a text editor plugin that suggests photos and publicly available content as you're writing to help with the creation process, which is cool enough on its own. It works as a distribution tool however, in that publishers can pay to have their content suggested to bloggers who are using Zemanta for inspiration. In this way, Zemanta is both a content creation and link building tool, where a company that makes dog food can pay to have their links show up as suggested content to someone who's writing about the "Top 10 Dog Foods To Feed Rover".
Price: Pay-per-impression
SlideShare is another one you've likely already heard of, although it's not commonly put under the "promotional" umbrella. The popular presentation tool allows you to upload slide decks into easily digestible and shareable presentations that can be hosted on SlideShare.com or embedded into blog posts and websites. Presentations can be shared through a number of channels – the obvious ones like email, Twitter and Facebook, as well as Google+, Scoop.it and even Reddit. Uploading presentations is easy and makes for more engaging content, but it's the extensive sharing features that make SlideShare an awesome distribution tool.
Price: Free and Pro
Storify, as the name implies, lets you create stories out of conversations happening on social media. What this means is that you can compile, say, a series of tweets or Tumblr posts and turn them into an interactive slide deck or blog post that can be hosted and shared from your brand's Storify profile or embedded into an external page. It's a really cool way of displaying what you and your followers are talking about on social media and turning it into a different, shareable piece of content. Check out People Magazine's story about the Grammy's this past weekend for an example.
Price: Free and VIP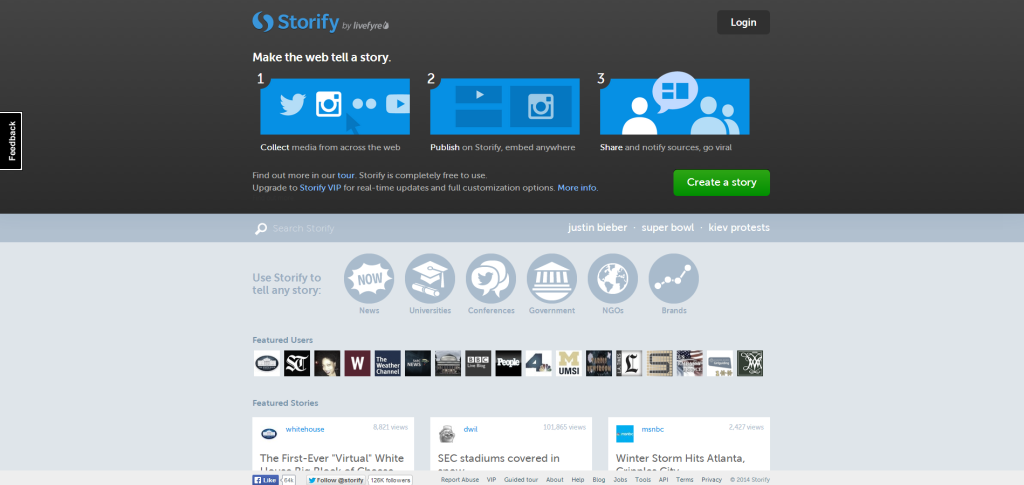 SimpleReach is a distribution tool in that it helps you share strategically. They provide real-time social data that lets marketers and publishers see which content is driving the most traffic and identify trending content so you can jump in. It also archives historical data so you can track which articles and authors drive the most traffic and shares. This is especially useful when it comes to paid campaigns – knowing which content has the most organic ROI makes it easy to choose which content you put your money behind.
Price: Free, Business and VIP
ARC leans toward a more PR-style of distribution with a focus on multimedia. Describing itself as the "first all-in-one content engagement platform that lets you easily, quickly and widely distribute your multimedia content", ARC automatically distributes your content across social networks, video sites and thousands of media outlets via PR Newswire's content distribution network. They place a lot of emphasis on distributing video content, so for brands who use video as a key part of their marketing strategy, ARC could be just the right fit.
Price: Contact a company representative
On the user side, StumbleUpon helps you discover new and interesting things on the Internet by presenting you with content and having you give it a "thumbs up" or "thumbs down" – as they understand what you like and don't like, they'll tailor your results to suit your interests. If you're a publisher or brand, you can pay to have your content "randomly" show up to your target audience (and hopefully they won't give you a "thumbs down").
Price: Cost-per-click
PaperShare is a content marketing service that lets you upload a piece of content and share across a variety of social networks simultaneously. It offers real-time analytics that let you see who, when and for how long readers are engaging with your content and even comes with a social login that lets you interact directly with viewers.
Price: Contact a company representative
OneLoad is kind of a hybrid of ARC and PaperShare in that it's focused on video content (only video content) and allows for automatic sharing across social and video networks after uploading. Powered by TubeMogul, a media buying platform for video advertising, it uses their analytics tools to track your video once it's out in the wild. Their free version doesn't come with cross-site analytics, but it does come with extra features like Destinations (customized video distribution venues).
Price: Free, Business, Business Pro and Enterprise
There's a good chance you've already heard of Contently as well, since they just raised a big ol' bucket of money to the tune of 9 million dollars. They're hailed as the marketplace of journalists, connecting brands with freelance writers to help them pump up their content marketing – but they also offer a range of tools for content creation, management and distribution. Each journalist has  their own portfolio page where they can display and promote their content, complete with sharing features and publisher categories. Having access to a large pool of writing talent in which each freelancer is nurtured in their work is great for brands – your content will be promoted along with the writer's portfolio.
Price: Subscription + Freelancer fee

SharedCount provides social URL analytics for quick insight into which pieces of content are being shared (and which ones aren't) on an individual basis. Simply plug in a URL and get a lightning-quick report on how many times it's been liked, commented on and shared on Facebook, tweeted about, Pinned, shared on LinkedIn, and even "stumbled upon" on StumbleUpon. While this isn't a distribution tool per se, it's a handy little tool that will give you quick insight into which channels and content are strongest, helping in your overall distribution strategy. There are several pricing points, but the free version is really all you need.
Price: Free, Plus, Business and Dedicated
PitchEngine adds style to the traditional pitch by turning sales flyers, press releases and the like into engaging content pieces. Their platform guides you through the necessary content fields and allows you to include images and embed videos, turning what would have been a stagnant text piece into a multimedia experience. Features like responsive boilerplates, location stamps, tagging for SEO and the ability to schedule your pitch to be published ahead of time are the icing on top.
Price: Free, Basic, Pro, Enterprise
GaggleAMP works to leverage your team's individual social networks without them having to post anything themselves. Instead of having your marketing team bug the rest of the team to share company content, they can schedule social media posts to be filtered out to different Gaggle networks. Members of these networks have the option of either customizing these posts before publishing to their own networks or having them go through automatically. Gaggle networks can even extend to business partners, brand advocates, customers, and so on, increasing the number of eyes on your social shares tenfold with barely any extra work for the people involved.
Price: New to Social Media, Post Occasionally, Post Regularly
Questions?
What are your distribution tools of choice? Are we missing any (free or paid) that should be added to this list? Let us know!

What you should do now
Whenever you're ready…here are 4 ways we can help you grow your B2B software or technology business:
Claim your Free Marketing Plan. If you'd like to work with us to turn your website into your best demo and trial acquisition platform, claim your FREE Marketing Plan. One of our growth experts will understand your current demand generation situation, and then suggest practical digital marketing strategies to hit your pipeline targets with certainty and predictability.
If you'd like to learn the exact demand strategies we use for free, go to our blog or visit our resources section, where you can download guides, calculators, and templates we use for our most successful clients.
If you'd like to work with other experts on our team or learn why we have off the charts team member satisfaction score, then see our Careers page.
If you know another marketer who'd enjoy reading this page, share it with them via email, Linkedin, Twitter, or Facebook.