8 Reasons Why You Should Bid On Your Brand Name
Last updated: August 13th, 2014
Having been working in pay per click marketing for over 5 years now, if I have to put together a list of top 10 most frequently asked PPC questions, there is one question that will always be in the top 5. The question is "Why should I bid on my brand name when I am ready ranking No.1 organically for my brand?" Well, it may make sense to say no to that question, the real answer is actually counter-intuitive. Here are 8 reasons why many savvy PPC marketers and businesses are having big success by doing just that.
1. Send Visitors to a Different Landing Page
In most cases, when someone searches your brand name on Google or other search engines, they will be sent to your homepage because the first result they see will most likely be your homepage. But, let's say if you have a promotional campaign running, and you want to send those visitors to a different page. Well, that is pretty hard to achieve organically. The good news is, with paid search ads, you have full control on where you want to send your visitors, and you can change that whenever needed. Isn't that amazing? So that means, you can send those visitors who are searching "Your brand name vs competitor's name" to a well designed feature comparison page. It is pretty safe to assume that you will end up with more sales and leads by doing that.
2. Change Your Message Whenever Needed
For your organic SERP listings, chances are you have to optimize your title, description, and other meta tags in order to achieve higher ranking and better CTR. So you are stuck with balancing optimal SEO efforts and CTR optimization. With paid search ads, you have the ability to fully control the messaging in your ad, and the best part is you can change your message whenever needed.
3. Provider Users with More Information
Google Adwords allows you to compliment your ads with many customizable and powerful ad extensions, such as your business phone number, business address, additional links to other pages on your site (known as sitelink), user's reviews, product images, and much more! For more information on ad extensions, you may check out Google's official guide on how to enhance your ad with extensions.
Here are a few ad extension examples: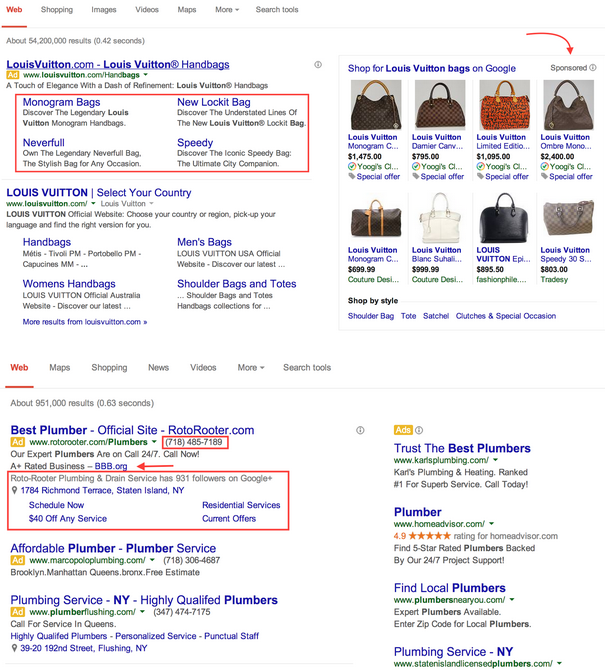 4. Dominate Your Brand Search Result Page
Bidding on your brand name allows you to show more listings on your brand search result page. That means more listings, more information (remember you can control them), and much more real estate on your brand SERP. So you can dominate your brand SERP with the presence of paid search ads! You may not think that is a big deal, but think how high those review and news websites can rank, and you may also have competitors bidding on your brand name. By achieving your brand SERP domination, you can avoid the risk of having those negative reviews or news, or even worse – your competitor's ads shown above your brand listings.
Here are some examples showing how big brands are dominating their brand SERP: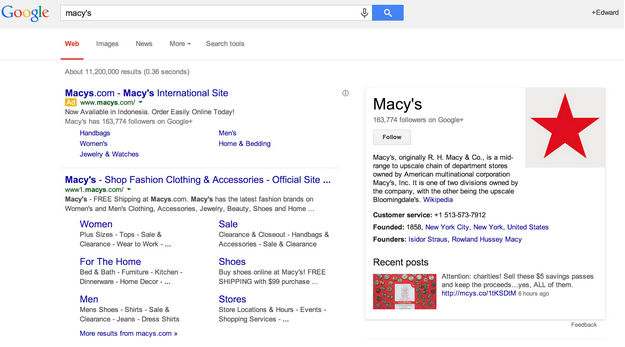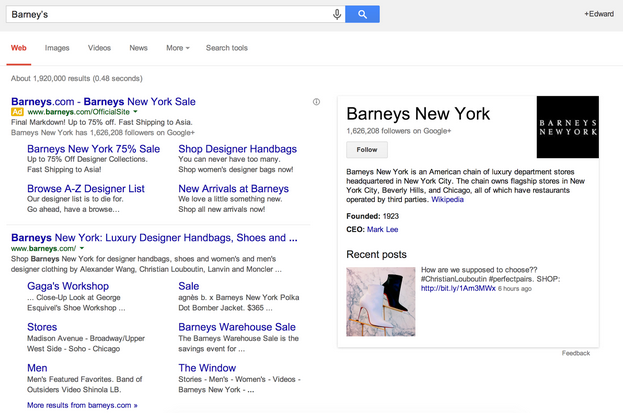 5. Increase CTR and Receive Incremental Traffic
Google conducted a study called "Search Ads Pause Studies" back in 2011, the results showed that, on average, the incremental ad clicks percentage is 89%. This means that a full 89% of the traffic generated by search ads is not replaced by organic clicks when ads are paused. To put it simply, running paid search ads increases the CTR for your listings (including organic listings), and give you as much as 89% incremental clicks.
6. Make It Hard For Your Competitors
Sometimes, you may have competitors bid on your brand name with the effort to steal your traffic and customers. If you don't bid on your own brand name, your competitor's paid ads will be shown above your organic listings. This could potentially decrease the CTR for your listings, which means less traffic. By bidding on your brand name, you can not only own your brand SERP by showing on top of the search result, and also make the clicks more expensive for your competitors as they will have to bid higher to outrank you.
7. Increase Your Account Overall Quality Score
Because branded searches are highly relevant to your brand, they usually get super high CTR and quality scores. This help lift the account-wide average number for your campaigns, and save you more money as Google rewards advertisers with high quality scores by lowering their cost per click (CPC), helping improve ROI for your account.
8. Bidding On Your Brand Name is Cheap
Generally speaking, branded terms are usually very cheap due to low competition. And as mentioned above, Google rewards advertisers with high quality scores by lowering their cost per click. So bidding on your brand name is actually pretty affordable. You don't have to spend a ton of money to dominate your brand SERP.
Wrapping Up
Bidding on your brand name gives you a lot more control and more flexibility on your brand SERP. And more importantly, it is cheap! So it is certainly a no brainer for most businesses to fully take advantage of paid search ads and drive maximum ROI for their online marketing efforts.
Have you already implemented a PPC strategy for your brand name? If the answer is yes, share your story and experience with us by leaving a comment below. And if you are still pondering the idea of running a branded campaign for your account, contact us and talk to our PPC specialists today! Get your Free 25 minute Assessment with us TODAY.
What you should do now
Whenever you're ready…here are 4 ways we can help you grow your B2B software or technology business:
Claim your Free Marketing Plan. If you'd like to work with us to turn your website into your best demo and trial acquisition platform, claim your FREE Marketing Plan. One of our growth experts will understand your current demand generation situation, and then suggest practical digital marketing strategies to hit your pipeline targets with certainty and predictability.
If you'd like to learn the exact demand strategies we use for free, go to our blog or visit our resources section, where you can download guides, calculators, and templates we use for our most successful clients.
If you'd like to work with other experts on our team or learn why we have off the charts team member satisfaction score, then see our Careers page.
If you know another marketer who'd enjoy reading this page, share it with them via email, Linkedin, Twitter, or Facebook.