The ability to understand user behavior in a specific sector is a good marketing skill you'll want to enhance this year. It can help you identify what type of content resonates with your target audience and can amplify the reach of the brand you're representing (as more users are being compelled to share and link to the content you're developing).
In this post, I'd like to share some key methods to get bloggers to link to your site/content and even help promote your brand to their followers.
1. Targeted promotion of linkable content
The "content is king but the distribution is queen" notion had been widely used by many writers and influencers to emphasize the importance of the word "marketing" in content marketing. Indeed, content promotion should not be neglected by content marketers. As a matter of fact, the time and energy used in content creation should be doubled for content promotion to maximize its potential to earn targeted traffic and generate new leads/sales.
Targeted content promotion refers to getting the content in front of targeted audience groups (market sub-groups) either through paid advertising or non-salesly outreach.
To easily find audience groups to whom your content should be presented, you can use content marketing tools like Talkwalker Alerts and Buzzsumo.
For Talkwalker Alerts, you need to take note of keywords that are relevant to your business/content and add those phrases in the tool to automatically send you email updates every time there are related posts being published on the web (use the "how often" option to change the of email update intervals).
If, for example, you're working in a real estate niche you can use the following queries to receive a variety of email updates:
"real estate" news – can be used as references for future blog articles or pitch journalists from those news sites for possible partnerships and brand exposure
"real estate" blogs – subscribe to newly found blogs that can potentially provide useful insights about the real estate community
"home improvement" – expand your searches by adding vertical-related keywords
With Buzzsumo, you can look for industry influencers and analyze the groups to which they belong, as well as determine their followers to expand your target group lists.
Follow these steps:
Type in your keyword in the search bar (e.g. real estate)

Select one URL and the click the "View Sharers" button to see influencers who shared that page.

Prospect more influencers by clicking "View Links Shared" then go to "Analyze Links" tab. This will provide you a pie graph of domains/brands your influencer is following to.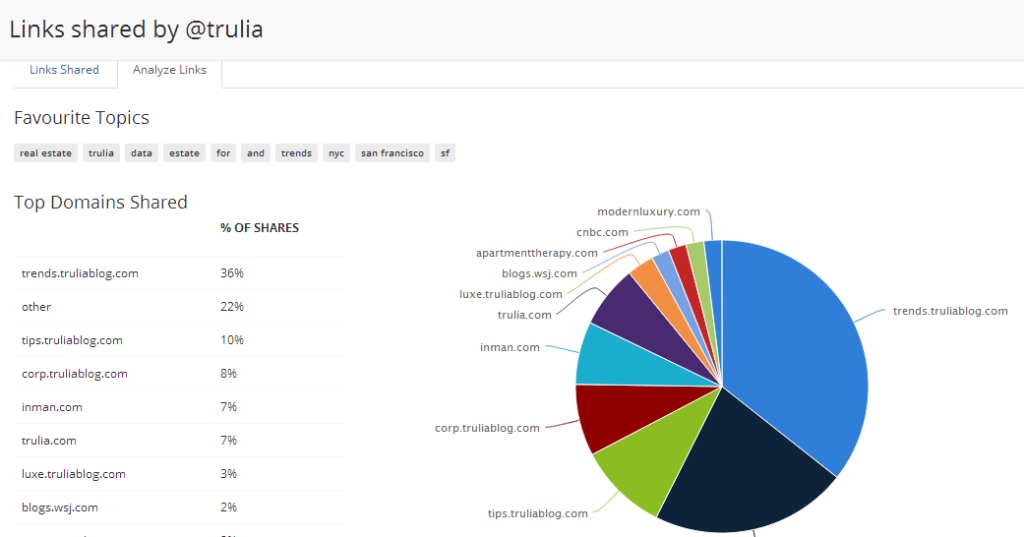 You can also use Ahrefs or Cognitive SEO to track the domains that are often linked to by influencers in your niche.
For a more detailed guide about leveraging your outreach efforts, you can check out this post on how to promote your content.
2. Optimize your content for search
One method to optimize content for search is to use appropriate metadata on the page. This will help ensure that your content makes the best first impression possible, ranks better in the SERPs, and acquires decent links and shares over time.
One example is the use of of rel-author, which does not only verify the authorship of the article but can also add credibility to it and increase its click through rate (CTR). This can improve its search rankings for target keywords and help the page passively attract links from industry bloggers who are looking for resources to refer to in their next articles. If your content matches the target keyword and provides the most comprehensive information about the topic, this content can be one of your linkable evergreen assets.
Adding snippets to your older posts is also worth your time and effort since it can help these pages earn higher ranking without the need to create new content for your blog.
3. Product reviews
Writing product reviews should not only aim to passively earn money but also provide value to the readers/visitors through imparting knowledge on the use of industry tools/products to make their followers' lives better.
Here are some tips to make sure you're providing value with your product reviews:
Find only products/tools that you really know about. You can purchase the product to test things to get assured that you're presenting the most comprehensive review about that product. Telling your own experience to people is better than just repurposing others' opinions.
Text-based tutorials are viewed 85% more often than video tutorials based on a study conducted by University of Pittsburgh Health Sciences Library. While there's no absolute experiment in any industry, this finding suggests that testing is still an effective method to see which variables (in this case, type of content) work better in the niche.
Reach out to the product support manager and tell him that you wrote a detailed review about their product. They might share it on their social media profiles and give you a link if his company has a blog.
I wrote one tool review in the past and get a link from this page  simply by reaching out to the creator. Indeed, link reciprocation works!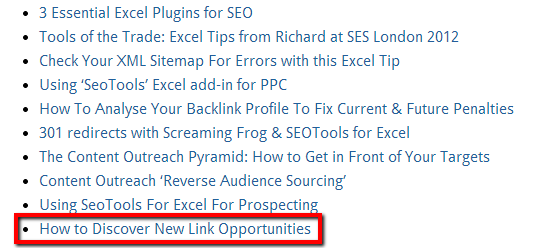 If you want to get updated with the latest link building methods, you might want to check out this list of link building resources.
Conclusion
In getting bloggers to link to you, always be reminded that you must first provide value to them either you share their content on social profiles, link to one of their posts and share their brand to your readers in your email lists. The likelihood of earning more links for your site is higher if you give more time in establishing relationships with influencers and bloggers who are interested to your business.
Get your Free 25 minute Marketing Assessment with us TODAY.