B2B SaaS Content Marketing Strategy: Mapping Pain Points to Product Features
Last updated: July 24th, 2023
The typical "best practice" approach to developing an content marketing strategy and editorial calendar for a B2B SaaS website looks something like this:
The marketing team brainstorms various topics of interest to the target audience.
They find the highest volume/lowest difficulty keywords related to that topic.
They schedule blog posts for each of those keywords throughout the month.
Afterward, the marketing team tends to notice that while some of the posts might gain traction and perform well, many fall flat.
In addition, while some blog posts might drive traffic, that traffic doesn't always result in direct conversions.
The unpredictability of these results makes it difficult to set a budget, justify the investment, and earn buy-in from leadership.
This is often because the topics you're writing about don't actually connect to the pain points that your product solves.
In this post, we'll explain in more detail why this approach causes unpredictable (and often underwhelming) results and provide an alternative content strategy approach that is much more effective at delivering predictable, revenue-driven results.
Why The Traditional B2B SaaS Content Strategy Approach Is Broken
Targeting topically relevant high-volume and low-difficulty keywords can be a great way to drive more traffic, but you'll find that the traffic doesn't always drive demos or trials.
This is because getting the right buyer persona to your website isn't enough to drive a conversion alone.
Instead, that person must have the pain point your solution solves, and then the blog post must show them how they can solve that pain point specifically by using your solution's features.
For example, let's say you sell sales call recording software and write a blog post on "how to structure a sales team."
Sure, you might attract the right audience to your blog post (sales managers) and drive plenty of traffic, but they probably won't convert because your sales call recording software doesn't solve the pain point of structuring a sales team.
So instead of just targeting keywords that are topically relevant, the key to driving conversions is to target keywords that are product pain point relevant.
Below we'll introduce you to the strategy we use to execute this process.
The Solution to Driving Conversions: Mapping Feature Solutions to Customer Pain Points
To solve this problem, we construct editorial calendars by mapping out the pain points each feature in your product solves and then match a topic with high purchase intent to that pain point.
This tends to convert well because the person coming to your website has the pain point your feature solves and then the content shows how the solution can solve that problem.
For example, let's continue with the scenario that you're selling sales call recording software.
In this case "how to structure a sales team" is a poor keyword because it's not a problem your sales call recording solves.
However, an excellent topic would be "how to coach your sales team" because sales call recording software is an excellent tool that does help solve this problem.
A common objection we receive from clients is that they don't want their content to come across as too "salesy."
However, if your product truly does efficiently solve their pain point better than any other solutions available, you'd be doing prospects a disservice by discussing a method to solve their problem that's less effective/efficient than your solution.
For example, if a prospect walks into Home Depot and wants a solution to put a new table together, that prospect would probably really appreciate it if the salesperson directed them to some of their nails available for purchase and then instructed them how to use those nails to put the table together.
In theory, the salesperson could instruct that prospect how to use duct tape and super glue they already have at home to assemble the table for free. However, most prospects would be exasperated by this idea and would prefer it if the salesperson just guided them to the best nails to buy and how to use them as it's a better/faster solution.
So from a high-level overview, we make a list of features ordered by highest value and then map the biggest pain points each of those features solves.
From there, we match those pain points to keywords and create content for them.
This process ensures that each topic we target has pain point/product fit, which also means that it's likely to drive conversions.
Below, we'll show you the step-by-step process we use to achieve this.
Step 1: Identify Customer Pain Points and How The Product's Features Solves Them
A critical mistake we see many content teams make is assuming they know the specific customer pain points each feature solves.
However, if those assumptions are incorrect, the entire content strategy will likely fail, because there won't be an incentive for customers to convert if they don't feel the pain points the content discusses.
So we start client engagements by asking if the client's product team is able to provide the product requirement documents to understand how each feature works.
Once we understand how the feature works, we ask for real customer stories that show what customers are doing before using the feature, the pain points involved with that method, and then how they use the feature to solve that problem.
This allows us to create a storytelling arc within the content that resonates with real customer pain points and then demonstrates how the product solves that problem.
Step 2: Use a Scorecard to Evaluate Potential in Existing Content
Many marketers building an editorial calendar immediately look for new keywords to target and focus on creating new content.
However, improving existing content (assuming it's targeting high conversion potential keywords) often produces a better ROI than creating new content for a few reasons.
First, improving a piece of content that already has some traction in search engines usually yields better results than writing a brand new blog post that needs to be indexed for the first time ever to gain initial traction.
For example, improving a piece of content from the seventh position in search results to the first or second position often produces a much better ROI than getting a brand new piece of content to rank fourth or fifth.
Backlinko proved this in a study of over four million Google Search results: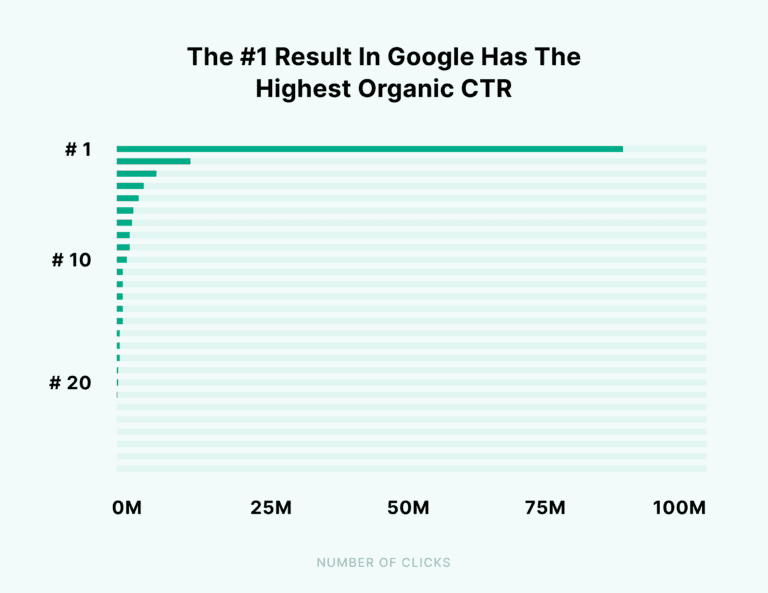 Additionally, it's usually less resource intensive to update an existing piece of content than produce an entirely new piece of content. This means you'll save money and likely be able to publish it faster, which decreases time to value.
Finally, irrelevant content actually decreases your website's topical authority, so identifying those pieces of content and redirecting or killing them requires very little effort and can help the overall rankings of your other content increase significantly.
To update content, we use the following scorecard:
Feature pain point relevancy: Is the piece addressing a specific pain point that the product solves? If so, it moves onto the next step of the scorecard. If it's irrelevant to pain points our product solves, we'll kill it to prevent bloat on the website as excess irrelevant content can drag down the overall site's topical authority.
Content quality: Once we know that the keyword is relevant to customer pain points, we look at the writing quality and identify if we can incrementally improve it, consolidate it with another similar topic (if it's potentially cannibalizing another post) or kill it (if the writing is beyond repair and requires a complete overhaul).
Conversion optimization opportunities: We also look for opportunities to more efficiently direct visitors to the 'next step' in their journey to signing up for a trial/demo. We'll discuss exactly how we update pieces in more detail below, but for now we're just looking to see what basic opportunities exist to improve the content.
For example, here is a portion of the scorecard we used when reviewing the content for a project management SaaS:

Step 3: Build an Editorial Calendar That Focuses On Low Hanging Fruit
Once we've determined that a piece of existing content targets a topic that has product/pain point fit, the next step is matching a keyword to that topic.
We discuss our keyword research process in more detail in our blog post on the subject, but the premise of our keyword research strategy is finding the highest volume/lowest difficulty keyword that matches the topic discussed in the post.
From there, we build out the editorial calendar by prioritizing the blog posts that have the highest conversion boost potential and require the least amount of time and resources to update.
To update posts, here are a few questions we ask to make the content better:
Does the keyword match a customer pain point that a specific feature solves and is the post well-optimized for that keyword from an SEO standpoint?
Does the content clearly demonstrate how the searcher can solve their pain point with our specific feature?
Does the piece clearly guide the reader to the right next step in their conversion journey, such as adding a link to a feature page or trial sign-up?
As you can see, we update posts to both improve its SEO performance and resonate with the customer's pain points more effectively to drive more conversions.
Step 4: Identify Gaps in Existing Content and Create New Content
There are usually plenty of opportunities to significantly improve the ROI of your existing content, but there are also usually some pain points your features solve that currently don't have any supporting content.
Even though we prioritize updating existing posts, we want to make sure that supporting content exists for all of the key pain points that drive prospects to search for your product and convert.
Once we identify gaps in your existing content and have tackled all of that low-hanging fruit, we prioritize new content by identifying the pain points that drive the largest percentage of high-value customer sign-ups.
Again, we use customer research to identify which pain points drive the most sign-ups and then produce new content accordingly.
For example, if we're working with a call recording software, customer success might reveal that the top three pain points that push their highest paying customers to sign up are:
Struggling to train junior sales reps
Struggling with angry customers (negative sentiment)
Struggling with improving sales scripts
If there isn't any supporting content for these three pain points, we'll prioritize creating new content for these pain points over even updating existing content simply because these pain points have such high conversion potential.
How to Start Driving More Conversions From Your Content
Increasing conversions from content usually isn't a matter of endlessly creating more content hoping to increase your odds of winning.
The key to increasing conversions is really identifying the pain points each feature in your product solves and then simply showing the customer how they can solve that pain point using your product's feature.
This makes purchasing the product a no-brainer and shifts the dynamic from begging prospects to buy to simply educating them how they can solve the pain point and make their life easier.
To learn more about how to implement this content strategy for your own B2B SaaS, get your free marketing plan with our team today.
What you should do now
Whenever you're ready…here are 4 ways we can help you grow your B2B software or technology business:
Claim your Free SaaS Scale Session. If you'd like to work with us to turn your website into your best demo and trial acquisition platform, claim your FREE SaaS Scale Session. One of our growth experts will understand your current demand generation situation, and then suggest practical digital marketing strategies to double your demo and trial traffic and conversion fast.
If you'd like to learn the exact demand strategies we use for free, go to our blog or visit our resources section, where you can download guides, calculators, and templates we use for our most successful clients.
If you'd like to work with other experts on our team or learn why we have off the charts team member satisfaction score, then see our Careers page.
If you know another marketer who'd enjoy reading this page, share it with them via email, Linkedin, Twitter, or Facebook.