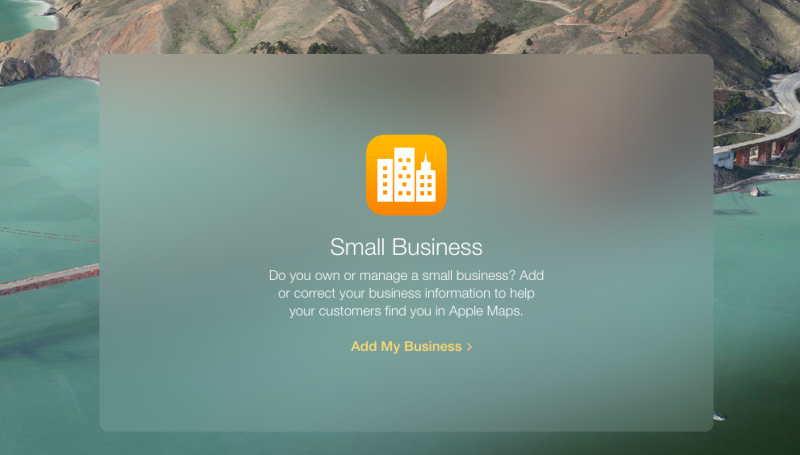 This past Tuesday Greg Sterling got the skinny from Apple, announcing that they have released Maps Connect, a self-serve local listing portal. Local businesses now have another opportunity to be found through listings with this service. Anyone who uses an iPhone, iPad or Mac desktop has access to Apple Maps, so getting listed and appearing to potentially millions of searchers is something you should be doing.
So what do you need to know? Well your business needs to start appearing on these maps, that's for sure! Apple has made the process really easy for small businesses to get in and manage their existing listings or to create a new one with the Maps Connect website.
To get started, there are a few things you'll need to know.
1. You must have an Apple ID to use Maps Connect. If you don't, they allow you to create one right there on the website.
2. You need to verify your business. Apple will send out an automated call to your business number with the verification code so you can continue. If the number they have listed for you is old or incorrect, you may need to troubleshoot this issue.
3. If you want to sign up for the indoor feature (you can map the interior of your business!) you'll need to meet a few criteria, one of which is having an excess of 1 million visitors per year!
4. Updates can take around a week to be processed. If there are any flags for verification that are outstanding, it may delay this a bit further. Apple will email you once your edits are live.
5. Apple is only accepting businesses with a confirmed physical location. Temporary locations, home-based businesses or businesses without a physical address won't make it through. Having a P.O. Box doesn't count either!
6. Any photos of your business are pulled from Yelp, so if you want to change what shows up, update your Yelp photo!
7. Maps Connect is currently only available to businesses in the U.S., so the rest of us will have to wait our turn to start getting listed.
It's been 2 years since the launch of Apple Maps, and it was received by very critical reviews. Tim Cook's apology and promise to continue improving the service is starting to show with this great new addition for local businesses. We can only hope they continue the trend and show us even more awesome updates to Apple Maps.
If you are looking for immediate help to improve your own local seo, be sure to contact us for a FREE 25 minute marketing assessment!