Google Changed Its Property Sets. Here's What You Need to Know
Last updated: December 14th, 2016
You know having a website isn't enough anymore. You most likely have at least one website, a mobile website, and perhaps even an app. These digital properties offer customers a way to find you easily and quickly online. Having more than one website can be tricky to track, though. To see the visibility statistics for each property, you would have to generate separate reports.
At least, that was the case until May 2016. That's when Google introduced property sets. Property sets allow you to combine multiple sites (including mobile sites and apps) into a single group from your Google Search Console. You'll be able to monitor overall clicks and impressions within a single report.
On December 12th, Google announced that it would expand the functionality of property sets. Read on to learn what this announcement means for your business.
Changes to Property Sets
Google's changes to property sets make the Search Console far more useful. Now, you can add any verified property to the Search Console's property sets. Furthermore, you can view more data about that property.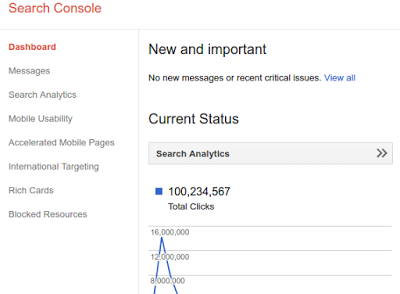 A verified property refers to a property that's owned by a specific user, and that user's ownership has been proven. Unless you've verified that you own a digital property, you can't view its statistics in the Search Console.
After the changes Google has made to property sets, you can see far more useful information than before. This data includes a mobile usability report, an option to review your AMP implementation, a chance to double check rich cards or perform a hreflang/internationalization markup.
Why Are These Changes Important?
Why does it matter that Google expanded the amount of information you can see when you view property sets in the Search Console?
The data now available is crucial to business website visibility. For example, the mobile usability report identifies pages on your site that pose usability problems for people visiting that property on mobile devices. Given the rising number of mobile device users who access websites on smartphones and tablets, you can't afford for your site not to work – you'll lose out on customers.
Along the same lines, reviewing your AMP (accelerated mobile pages) implementation is critical. Accelerated mobile pages are lightweight web pages that load quickly on mobile devices. The AMP report tells you which of your AMPs have been successfully indexed and which haven't. With that knowledge, you can fix the problems to ensure your mobile site attracts visitors.
Google's rich cards make mobile website experiences more engaging. They display content in a visually attractive manner on mobile devices, increasing the likelihood that users will visit those sites. The rich card report shows any errors in rich card-structured data and gives you tips about where you can supply more information so you can get the most out of the rich card platform.
If you run a business that serves a non-English speaking population, the hreflang/internationalization markup is something you need to know about. It allows Google to serve content translated in the correct language based on the user's region or location in its search results. You can use hreflang markup through URL-level targeting or site-wide targeting.
Work With a Company That Knows How to Leverage This Data
Thanks to the changes Google made to its property sets, businesses can now gain greater insight into how many visitors their websites reach. How will you make your website more engaging with this data?
We are one of the most respected agencies in Canada, and recently made PROFIT Magazine's list of Canada's Fastest-Growing Companies.
To learn more, click here to download our SEO playbook.
What you should do now
Whenever you're ready…here are 4 ways we can help you grow your B2B software or technology business:
Claim your Free Marketing Plan. If you'd like to work with us to turn your website into your best demo and trial acquisition platform, claim your FREE Marketing Plan. One of our growth experts will understand your current demand generation situation, and then suggest practical digital marketing strategies to hit your pipeline targets with certainty and predictability.
If you'd like to learn the exact demand strategies we use for free, go to our blog or visit our resources section, where you can download guides, calculators, and templates we use for our most successful clients.
If you'd like to work with other experts on our team or learn why we have off the charts team member satisfaction score, then see our Careers page.
If you know another marketer who'd enjoy reading this page, share it with them via email, Linkedin, Twitter, or Facebook.