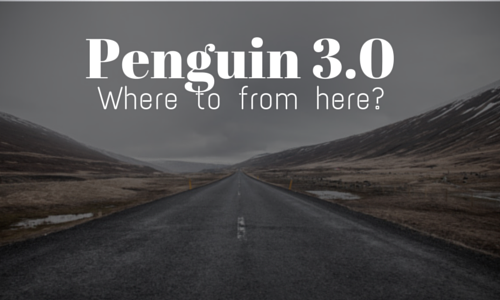 After a whole year since the last update, Google has confirmed that they have finally released the Google Penguin 3.0 Update on October 18th. This news has ignited the digital space with comments ranging from, "what update?", "It has destroyed all my sites", to "I have finally seen some improvement." With John Mueller just been quoted saying that Google Penguin 3.0 Update completely rolled out, was this algorithm update worth the wait?
This post is not about how to deal with the recent update, as it is the same with every Penguin Update, stop using unnatural link building tactics. If you don't use these black hat tactics for link building you shouldn't be targeted, and if you do, you will see a dramatic hit to your SERPs. This post is more of an accountability post on Google's slow release of slow updates.
Black Hatters finally reprimanded, however…
As with the previous Google Penguin updates, this was all about cleaning up unnatural and black hat link building tactics. With the number of sites that use black hat tactics constantly shrinking, the ones that still used these archaic methods (sites that appear to exist solely for link selling purposes) were specifically targeted with this update – an example of such targeting could be the fall of TOPSEOS.
However, one could argue that the time frame since Google's latest update has allowed this "archaic" method to succeed for the last year. This is way too long for the companies struggling to maintain their White Hat and legitimate strategies, to be overshadowed by the slow updates of Google.
"I fixed my site last Penguin Update. Finally seeing results"

Above is one of the many people that were affected by the last Penguin update who learned their lesson. However, even though they went through and cleaned up their entire site of unnatural links, it has taken a year before they have seen anything for their hard work. Given these were companies that used Black Hat tactics, some would say that they deserve not to be rewarded so quickly, and that they deserved their long awaited recovery. But I argue this point from the point of the future of SEO.
If it takes Google to recognize your efforts to eradicate unnatural links from your site a whole year, what happens to the individuals that were unknowing of the links, or susceptible to unethical SEO companies. If these companies worked hard to create their place online, then lost this due to the dealings of third parties sources, does Google thinks its fair for these hard working individuals deserve a whole YEAR to think about their wrong doings?
Is there light at the end of the tunnel?
With the new update now finally launched, Google has suggested a new system to allow refreshes to happen more frequently. However, this can neither be confirmed nor denied at this point in time. But, if Google can create quicker refreshes of unnatural link cleanup, along with rewarding sites that are focused on constantly improving their link building, the future Penguin Updates should not be such an important event because unnatural links would already be cleaned out.
Let's hope that this Update is not the last one we see again for a year, and that Google starts realizing that their current workings are creating no real motivation for black hatters to change, and sites that are following the guides are not being rewarded.
Question to You: Do you think that Google's Penguin Update was worth all the hype? Or do you think that this was another scheme to boost their stock prices? More on that later…