How Google My Business' New Graphical Summary Screen Will Help You
Last updated: May 3rd, 2023
Google My Business revealed a new graphical import summary screen that helps you, "review a summary of your spreadsheet's changes in the simplified import preview screen."
This can potentially be a massive time-saver and streamlined way to manage multiple locations.
"We're excited about the transparency Google My Business is providing in helping multi-location brands understand how their core data is affecting visibility in universal search and maps results," said Dev Basu, CEO of Powered By Search.
"When Powered by Search first started working on bulk imports for brands with 1000's of locations, we had to create rigorous processes to share the change history of each upload with our clients. This new update simplifies all of that and we couldn't be happier."
The import preview will warn you if there was any mistakes or issues in the spreadsheet, while giving you a bar graph to summarize your changes (if any). It also gives you a summary of how many of your locations will be affected by this upload.
The new import is available now and you can see a screenshot of it below.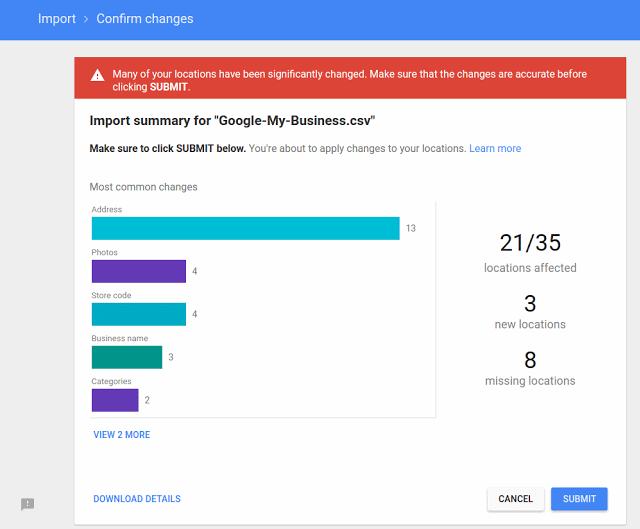 And speaking of Google, how is your Google AdWords campaign performing? We can help!

What you should do now
Whenever you're ready…here are 4 ways we can help you grow your B2B software or technology business:
Claim your Free Marketing Plan. If you'd like to work with us to turn your website into your best demo and trial acquisition platform, claim your FREE Marketing Plan. One of our growth experts will understand your current demand generation situation, and then suggest practical digital marketing strategies to hit your pipeline targets with certainty and predictability.
If you'd like to learn the exact demand strategies we use for free, go to our blog or visit our resources section, where you can download guides, calculators, and templates we use for our most successful clients.
If you'd like to work with other experts on our team or learn why we have off the charts team member satisfaction score, then see our Careers page.
If you know another marketer who'd enjoy reading this page, share it with them via email, Linkedin, Twitter, or Facebook.