When George Clooney said that famous people on Twitter were morons, he clearly hadn't done his research. Twitter can be a powerful tool, for celebrities and businesses alike. If you're a business owner or a marketer and you're taking a Clooneyesque attitude towards Twitter, you're missing out.
In this post I'll cover three examples of amazing Twitter campaigns that produced amazing results for the companies conducting them. You probably won't achieve the same results your first day on Twitter, but after you've got the basics, you'll have the tools at your disposal to devise your own successful Twitter campaign.
1. Network Solutions: Boosting sales & brand engagement
The campaign
My favourite example from Erica Swallow's Mashable list of Twitter campaigns to learn from is Network Solutions' Go Granny campaign. In 2011, the internet domain registrar and web hosting company GoDaddy had a series of aggressive (and very suggestive) ads during the Super Bowl to promote its .CO products. How does a company like Network Solutions compete with multi-million dollar ads (about $3 million each at the time) featuring leggy ladies to a viewership consisting largely of testosterone-pumped men? Oh yeah, on a $200,000 budget?
Parody. And Twitter.
Network Solutions created a spoof ad featuring the foul-mouthed, rambunctious Go Granny, portrayed by Academy Award-winner Cloris Leachman, "the original" who was supposedly out selling websites at the Super Bowl first. The ad was hosted on YouTube, and the video was promoted through Twitter.
@Go_Granny
got her own Twitter account, and on each day between Friday and Sunday of Super Bowl weekend, she took to Twitter for one hour. But she didn't just tweet silly things willy-nilly. The account targeted influencers.
Here's one of the beautiful things about Twitter: it can make the most influential people in any industry more accessible.
@Go_Granny managed to draw the attention of Guy Kawasaki, David Armano and Scott Monty, among others, who then drew further attention to Go Granny and Network Solutions' campaign.
https://www.youtube.com/watch?v=Nn25Lb8dick
The result
3,500 tweets inspired by the campaign (and if that's not engagement, I don't know what is);
20 million impressions on Twitter;
Tweets from a number of influencers;
500% increase in sales of .CO domain during Super Bowl weekend, resulting directly from the campaign.
What Twitter can do for you
Granted, the Network Solutions campaign wasn't conducted solely on Twitter; the YouTube video was a large component of the campaign. But there would have been no campaign without Twitter. Network Solutions wouldn't have been able to engage influencers without Twitter. A $200,000 budget wouldn't have gone far without Twitter — at least not to compete with a multi-million dollar ad campaign during the most watched American TV broadcast of the year. Twitter allowed Network Solutions to engage and interact with potential customers directly in a humorous fashion.
Leverage Twitter to boost sales and brand engagement.
2. Smart: addressing reputation issues & earning respect
The campaign
Smart Cars were apparently the butt of many jokes on Twitter. Consumer perception of the car's size, safety and style was not great, and smart launched a campaign to humour haters. As part of that campaign, smart targeted one particular tweet by @adtothebone claiming that a bird crapping on a Smart Car could total the small vehicle.
Smart USA responded with a tweet that made the company a finalist of the 5th Annual Shorty Industry Awards. The company actually did the math to see how many bird craps it would take to even dent a Smart Car. They turned their findings into an infographic and tweeted it back to @adtothebone, who was so impressed that he retweeted the response to his thousands of followers and wrote a popular blog post about the way smart earned his respect.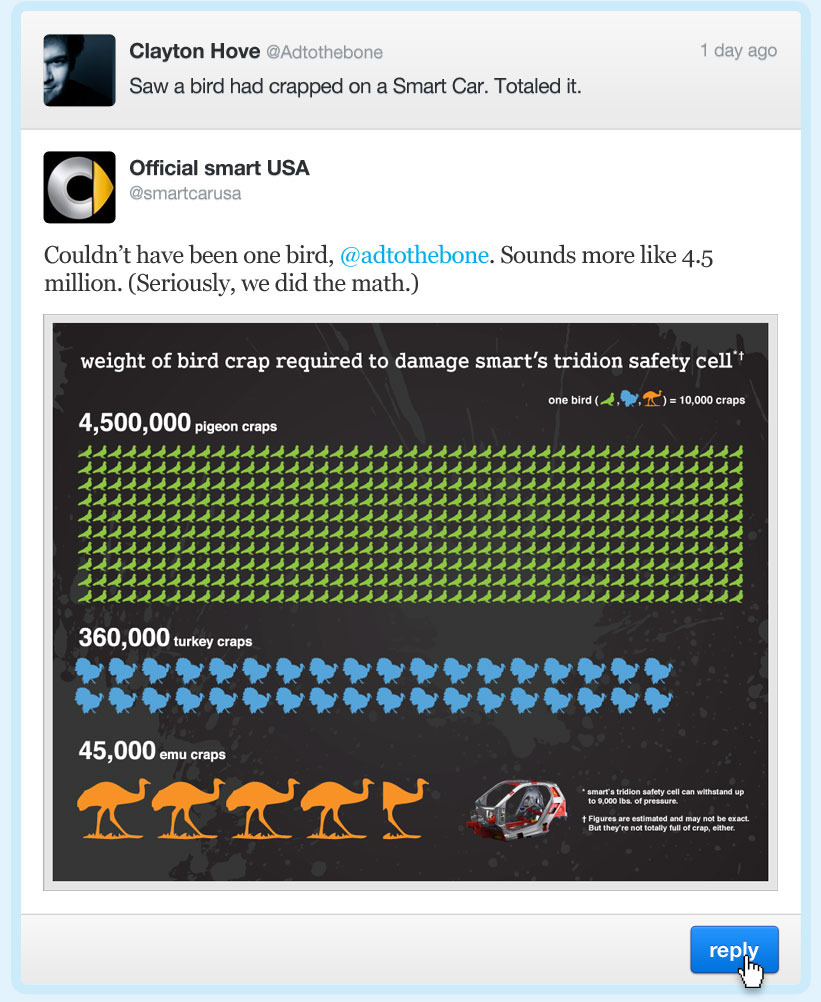 The result
Smart's case study video:

The tweet became a headline and news item internationally, receiving much praise;
22 million impressions in three days;
Number one spot on Reddit twice in 24 hours;
1,755% followers increase on Twitter;
2,200% increase in mentions;
Organic searches for "tridion safety cell" went up 333%;
15,400 clicks on the infographic. That's 82 times the brand's average;
Positive sentiment about the brand increased by 27% and negative sentiment dropped by 13%.
All that from a single tweet.
What Twitter can do for you
Twitter allows you to address negative comments about your brand directly and constructively. It provides a forum for creative responses outside the usual response that you might find on review sites, to the tune of "We are sorry to hear that you had a negative experience. Please contact our customer service team for a discount on your next visit."
Twitter can help you manage your reputation and attract positive attention to your brand.
3. CW: Innovative marketing & getting noticed
The campaign
In a media landscape oversaturated with ads, how do you capture the attention of your intended audience? One company found an innovative way to do that with Twitter.
The American TV network CW ran ads in Entertainment Weekly to promote its 2012 fall launch. "But wait a minute," I hear you say. "What do print ads have to do with Twitter?" CW included a live twitter feed in the hard copy magazine. That's right. Talk about integration across marketing channels.
Using a 3G data chip and a thin digital video screen, the magazine ad displayed CW's live Twitter feed. You can bet that ad stood out.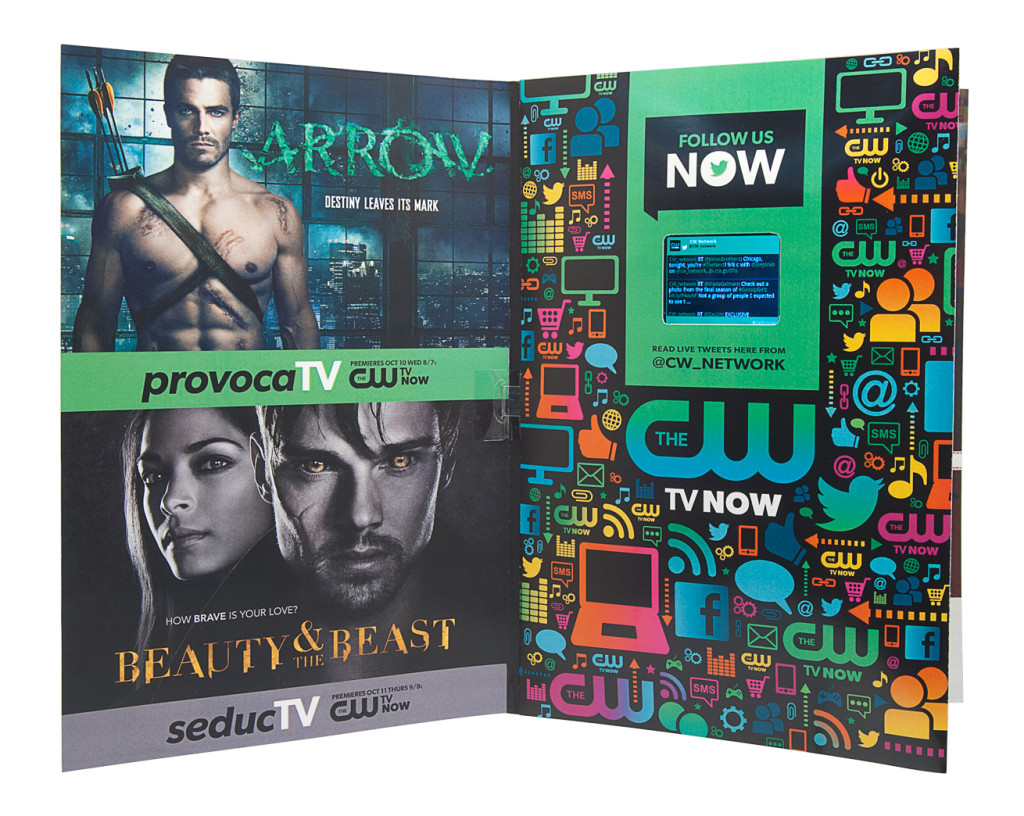 The result
725% over-delivery for its 227 million estimated impressions;
Coverage in high profile news sources and blogs;
36,000 social shares and thousands of tweets;
The show Arrow debuted with 4.02 million viewers and a 1.3 rating among adults aged 18 to 49.
What Twitter can do for you
With a little help from smartphone technology, Twitter became a great way to grab the consumer's attention. Could you imagine a similar ad with Facebook? Or Google+? Or a blog page? The nature of Twitter made this possible. Because tweets are limited to 140 characters, they can be created more frequently. This makes for a more dynamic, eye-catching feed, with information gleaned at a glance.
Conclusion
Twitter can be a powerful tool once you know how to use it. Fortunately, it doesn't take extensive training to master the platform. Once you have the basics, you can start connecting with influencers and customers to boost brand engagement and sales, manage brand reputation and get noticed.
Download The Beginner's Guide to Twitter to get the foundation you need to start developing your own epic Twitter campaign.
The Beginner's Guide to Twitter whitepaper was written by Myia Kelly and Chris Peirerra Jardine.