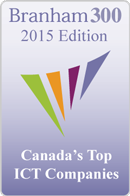 Toronto, Canada – April 24th, 2014: Powered by Search, Canada's premier inbound
marketing agency
proudly announced it has ranked 5th in the
Top 10 Growth Companies
on the
2015 Branham300
, with a massive growth change of +150%.
From a +33% change in growth in 2014 to a +150% change in 2015, it looks like nothing is going to slow Powered by Search down from leading the digital marketing industry in Canada.
Not only did Powered by Search rank as one of the Top Growth Companies in Canada, they also made it on the list of the Top 250 Information and Communication Technology (ICT) companies.
Out of the three digital agencies that made the list, Powered by Search had the most impressive growth rate of all.
This is the 3rd consecutive year that Powered by Search has been ranked in the Branham300, but by far the most successful year of all. The company continues to be the only inbound marketing agency to make the list every year.
"We're very pleased with being recognized for our strong growth on this year's Branham300 rankings. Having ranked on the list for the last 3 years consecutively is testament that good things happen when a company focuses on driving winning results for its people, clients, and industry. We're just getting started though and we need top talent to continue building a world-class team of digital marketing experts. Did I mention we're hiring?" said Dev Basu, CEO of Powered by Search.
About the Branham300:
The Branham300 features the top Canadian and multinational Information and Communication companies, as ranked by revenue. It demonstrates the depth and breadth of innovative technologies developed in Canada and is widely regarded as the leading authority figure on the Canadian ICT Industry.
About Powered by Search:
Powered by Search is a trusted digital marketing partner recognized for developing and executing customized, high ROI-focused strategies that turn consumer intent into high-quality leads.We are the go-to digital marketing partner for hundreds of small to medium enterprises and many of North American's largest enterprises including FedEx USA, RE/MAX, Rogers, Valvoline, TJX, Public Storage, Primus Telecommunications, and many other reputable organizations.
We are accredited as a Google Partner, Bing Ads Council Member, HubSpot Gold Certified Partner, Better Business Bureau member, and have been featured in the Globe & Mail, Financial Post, Toronto Star and CTV.
Contact Info:
Powered by Search
Joel Popoff, 1.866.611.5535
Marketing Manager
joel@poweredbysearch.com