Salesforce & HubSpot: How Using Both Tools Together Makes Marketing and Rev Ops More Effective
Last updated: July 19th, 2023
Salesforce is undoubtedly a powerful CRM, and its unlimited scalability makes it the best of the best for contact management.
However, many users quickly discover that the trade-off for such robust capabilities is that it doesn't offer many supporting features that are common with other CRMs out of the box.
As a result, Salesforce users typically have to build out many integrations with third-party tools to make it perform the necessary capabilities.
Purchasing multiple third-party tools can quickly become expensive, and the integration process is also time-consuming, pulling the sales team away from actually selling.
Many B2B SaaS companies have found that using HubSpot Sales Hub in tandem with Salesforce is a great solution, as HubSpot Sales Hub provides the marketing automation features that Salesforce lacks.
By integrating HubSpot Sales Hub with Salesforce, our clients can still enjoy the power of Salesforce without dealing with the headache (and expenses!) of building out endless third-party integrations.
In this post, we'll discuss how HubSpot compliments Salesforce (and why you don't have to give up Salesforce to reap the benefits of HubSpot), the key benefits of using both CRMs together, and some specific examples of how to use HubSpot and Salesforce together.
To learn more about how we can help boost Marketing Ops and Rev Ops performance for your B2B SaaS, get your free marketing and RevOps plan today.
Key Sales Enablement Features Salesforce Lacks that Hubspot Sales Hub Has
Salesforce has plenty of powerful capabilities but lacks some key sales enablement features that almost all B2B SaaS marketing and rev ops teams need. This means you'll have to purchase additional tools and integrate them with the Salesforce ecosystem.
Here are just a few of the features that Salesforce lacks and examples of tools you might purchase as integrations to make up for what Salesforce natively lacks:
Meeting booking: Calendly, Sumo Scheduler, Chili Piper
Email sequencing: MailChimp, Yesware
Call recording: Grain, Gong
Lead scoring: Salesloft, Breadcrumbs, Salespanel
Sales email reporting: Outreach, Cirrus Insight
Document tracking: DocuSign, PandaDoc
Website engagement tracking: Leadfeeder, Hotjar
Purchasing multiple tools and integrating them with Salesforce is expensive and time-consuming, and there's always the chance that the integrations will break and require more time and attention to fix.
This also adds more potential points of failure, making you more likely to encounter data inaccuracies.
Better Together: How HubSpot Sales Hub Compliments Salesforce
While Salesforce and HubSpot are often viewed as competitors, they work together quite nicely to provide the ultimate sales and marketing automation machine.
This is mainly because the HubSpot Sales Hub offers all of the sales enablement features mentioned above that Salesforce natively lacks.
Instead of purchasing multiple tools and integrating them with Salesforce individually, HubSpot Sales Hub gives you access to key sales enablement features and lets you connect the data in Salesforce with one simple integration.
As a result, you can reduce potential points of failure, onboard faster, and minimize third-party tool expenses.
While there may be some overlap in features between the two CRMs, HubSpot and Salesforce offer enough differentiated capabilities that make them both a worthy investment for established marketing and rev ops teams.
The Benefits of Using Salesforce and HubSpot Sales Hub Together
Rather than comparing Salesforce to HubSpot directly, here are some benefits of using Salesforce and HubSpot together versus Salesforce with multiple different integrations.
Move Faster and Use Time More Efficiently
HubSpot Sales Hub gives your team access to all of the above-mentioned features that Salesforce lacks, meaning you waste less time integrating multiple different tools and fixing broken integrations.
Therefore, your sales team can spend more time selling and less time on low-value activities related to tooling complications.
You'll also see a faster time to value because your sales team can spend less time onboarding and learning to use and navigate different tools.
Reduce Costs
Integrating multiple different sales enablement tools with Salesforce can quickly become expensive.
For example, if you're using DocuSign, Chili Piper, Yesware, Seismic, and other tools to cover the sales enablement features that Salesforce lacks, the cost of all of those tools combined will quickly add up to thousands of dollars each month.
In fact, here's a scenario of a real Salesforce customer's sales enablement tech stack and the cost associated with each tool: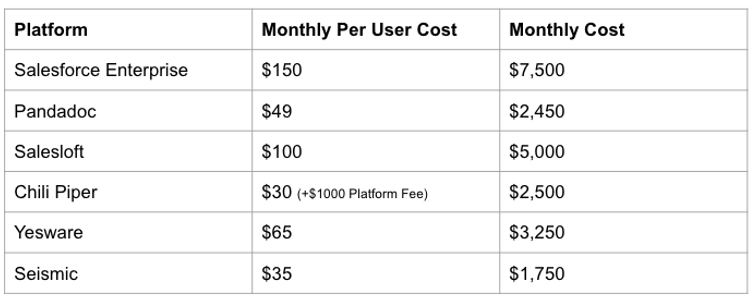 As each sales enablement tool often comes with many additional features you won't need, you'll probably overpay for the value derived from each one.
Instead, HubSpot's Sales Hub provides all the core sales enablement features marketing and rev ops needs from a CRM in a single tool, so you'll save thousands of dollars annually. Here's a breakdown of how much the above scenario's annual cost of ownership would be with Salesforce + add ons, versus using HubSpot's sales enablement features:

As you can see, it's much cheaper to simply integrate HubSpot with Salesforce than build out all of the necessary Salesforce integrations.
Improve Data Quality and Certainty
Every integration you add to Salesforce increases the risk of data leakage as each integration adds another potential point of failure.
For example, if there's an issue with your data and you're using six different integrations to gather your data, you'll have to look through each of those six tools to uncover the culprit.
In contrast, if you replace all of those third-party integrations with HubSpot Sales Hub, you'll only have one potential point of failure, making it easier to find the issue and fix the problem faster.
Another issue with using multiple integrations is that it significantly increases the chances of CRM data duplication.
For example, if a prospect converts on a LinkedIn lead form, fills in a Calendly form, and then signs a document in DocuSign, you must merge all three records in a single record in Salesforce. Merging these records can quickly become a major headache if the person signs up with a Gmail address that doesn't match the company name, as you'll have to go back and match it yourself manually.
HubSpot Sales Hub simplifies this because it automatically matches the IP address across the customer journey, and all records are in a single location – no merge required.
Access More Detailed Insight and Actionable Capabilities
Using multiple tools to patch the customer journey together also limits insights and can make it much more difficult to identify opportunities for improvement accurately.
First, most third-party tools have a unique method for calculating metrics, meaning some of your data may not add up correctly.
For example, let's say you're using Google Analytics to track traffic volume to a blog post, and you're also using Oribi to track how many of those blog post visitors click the "Schedule a demo" CTA within that blog post.
In this case, if Oribi's traffic calculations don't match the Google Analytics traffic calculations, the conversion rate from Oribi won't be accurate based on Google Analytics's traffic volume metric.
For example, if Google Analytics says you have 100 blog post visitors per month, and Oribi says you have a conversion rate of 15%, you should have 15 people clicking the CTA. However, if you notice you only have 11 people clicking the CTA, that means there is a traffic data discrepancy between the two tools.
This data discrepancy can become a major problem if you're using those conversion rates to calculate customer acquisition costs and other critical metrics.
Using HubSpot Sales Hub as a single tool that measures the entire customer journey with its own proprietary metrics solves this problem and makes your data more trustworthy.
Using multiple integrated tools patched together to track the customer journey also creates blind spots in your data.
For example, Calendly can tell you how many leads you booked, but it can't tell you how many meetings were booked by people in the healthcare vertical who first found you through paid search.
On the other hand, HubSpot can provide all that data because it tracks the entire customer journey.
Finally, Salesforce doesn't give you any tools to act on your data in an automated way.
In contrast, HubSpot makes it easy to build out marketing automations, like adding people to advertising audiences, email marketing campaigns, and other automated marketing channels.
Examples of HubSpot Sales Hub and Salesforce Working Together To Produce The Best Results
To help you visualize how HubSpot and Salesforce can work together, we'll walk you through an example of how we leverage them both for our own clients here at Powered by Search.
One of our clients, a publicly traded cybersecurity SaaS, uses Salesforce as their single source of truth, but they use HubSpot to manage all the automation.
For example, they have the opportunities section in Salesforce synced to HubSpot so that all of the properties are mirrored in both tools.
While they use Salesforce to manage all of the sales data, they use HubSpot to track the customer journey data.
So if you wanted to build a workflow for someone who's entered a certain pipeline stage, you can easily do that as the two tools are mirrored.
However, this wouldn't be possible in Salesforce alone.
Without using HubSpot combined with Salesforce, this client wouldn't be able to build pipeline marketing automation without adding multiple additional integrations, which would lead to lower win rates and lower sales velocity.
Learn More About How to Use HubSpot Sales Hub With Salesforce
HubSpot Sales Hub is an excellent alternative to using multiple different integrations with Salesforce, mainly because it saves you money and time purchasing and integrating multiple tools while simultaneously improving data quality and providing deeper insights into the customer journey.
To learn more about integrating HubSpot with Salesforce to unlock the next level of marketing insight and automation, schedule your free SaaS scale session today.
What you should do now
Whenever you're ready…here are 4 ways we can help you grow your B2B software or technology business:
Claim your Free SaaS Scale Session. If you'd like to work with us to turn your website into your best demo and trial acquisition platform, claim your FREE SaaS Scale Session. One of our growth experts will understand your current demand generation situation, and then suggest practical digital marketing strategies to double your demo and trial traffic and conversion fast.
If you'd like to learn the exact demand strategies we use for free, go to our blog or visit our resources section, where you can download guides, calculators, and templates we use for our most successful clients.
If you'd like to work with other experts on our team or learn why we have off the charts team member satisfaction score, then see our Careers page.
If you know another marketer who'd enjoy reading this page, share it with them via email, Linkedin, Twitter, or Facebook.