Today, digital marketers are faced with a challenge of multi-screen consumer engagement. Whether multiple devices are used simultaneously or sequentially, people utilize them to be more productive, learn new information and socialize. By observing user behaviors, you can get valuable insight about the content that your audience will like and engage with. So, what techniques can you apply to become more successful at multi-screen marketing?
Before we start talking about winning strategies of second-screen marketing, let's understand what it actually means:
Second-screen marketing/multiple-screen marketing is a form of digital marketing that aims to engage a consumer with multiple screens, often simultaneously. 
Cross-screen engagement is consumer engagement across a variety of screens, often simultaneously.
T-commerce is shopping behavior driven by TV viewing, whether it occurs directly on a smart TV or a secondary device.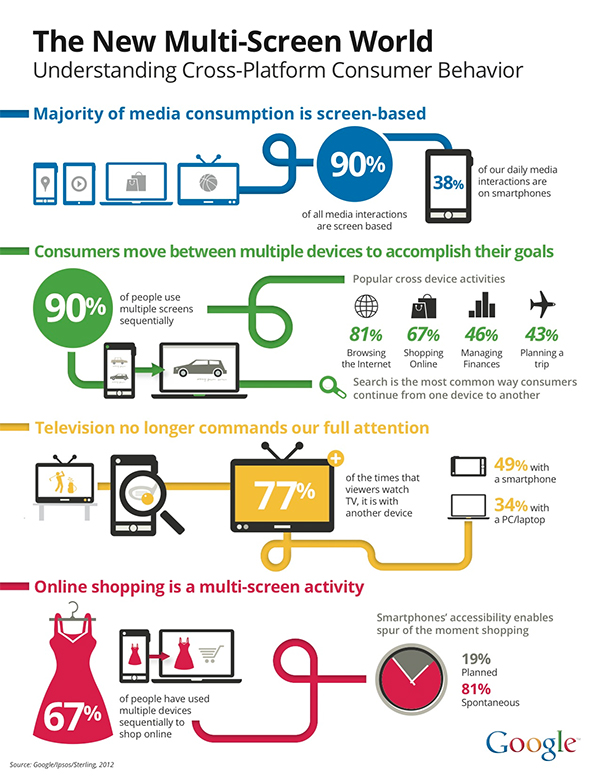 To summarize, multi-screen marketing techniques are focused on capturing and keeping consumer attention whilst delivering more targeted content to users. Here are some useful insights that may help you to achieve those goals.
1. Choose the right media to advertise on
When planning your multi-screen strategy, consider how consumers perceive advertising depending on the device they are using. According to Microsoft, consumers view TV, computer, and tablet advertising as being less intrusive, while advertising content on mobile and gaming platforms is less welcome
2. Recognize user behavior and plan your content accordingly
Microsoft Advertising identifies 4 different multi-screening behavior types:
Content Grazing – Simultaneous use of two or more devices to access unrelated content. Although, people engaging in content gazing sometimes feel like they are multi-tasking, most of the time this behavior is shaped by habits and a need for distraction.
Investigative Spider-Webbing – Simultaneous use of two or more devices to access related content. In search of additional information, consumers find relevant content that amplifies their multi-screen experience.
Social Spider-Webbing – Simultaneous use of two or more devices to communicate and share content. When users see a piece of interesting content, they are driven by the desire to share it, wishing to add value to their friends' day, receive opinions or start a conversation.
Quantum – Sequential use of two or more devices when an activity is started on one device and completed on another. Consumers following quantum behavior paths are looking to increase their productivity, that's why they choose to switch to a device that better suits their needs.
Aim to understand the motivations behind each behavior and create your content accordingly.
3. Schedule content throughout the day
Research by IPG Media Lab shows that people use different devices for a variety of purposes throughout the day. In the morning, people usually plan their day, and therefore might use multiple screens to watch TV, check email on the phone, and look at the calendar on a tablet. In the afternoon, people are more focused on one task and cross-screen engagement decreases between 12pm and 6pm. However, during evening hours (6pm to 12pm), cross-screen engagement peaks. Think about the purpose of your content and the best time to schedule it.
4. Adjust content to fit the context of each screen
By understanding how consumers interact with each device type, you could  be able to tailor content in order to improve the user experience. For example, although laptops are perceived as tools that teach and inform, they can also be associated with entertainment, shopping and productivity. On the other hand, mobile phones are relationship–building tools that are always there with you. They help you interact, communicate, and participate with peers in various discussions. By analyzing how people perceive digital devices in general, you can greatly improve your user engagement, brand reach, visibility, and ROI.
5. Use gamification
A great example of second screen marketing is pre-show advertising in movie theatres where movie-goers can participate in games on their smartphones. By playing, they collect points and can win prizes such as movie tickets or food court items.
6. Connect consumers to your shopping channel directly via a mobile app
To ensure a seamless transition from TV to their shopping channel, eBay has launched a mobile app called Watch with eBay. By downloading this app, users are able to discover and purchase items they see on TV, at awards shows, TV shows, and sports memorabilia. This is a great example of how the user experience can be started on one device and completed on another.
 7. Measure your reach
The more recognition multi-screen marketing gets, the more need there is to measure it. Nielson teamed up with Twitter to launch Nielsen Twitter TV Ratings, a metric that measures how much activity TV shows generate on Twitter. Although it might not necessarily measure a show's overall success, it demonstrates how much publicity a show receives. The connection between viewership and social media reach is yet to be established and tools like these can help digital marketers to do so.
8. Monetize second screen traffic
Multi-screen marketing is definitely all about audience engagement, but it also can become an opportunity for new revenue streams. A call-to-action on TV can bring a lead to your website. According to IPG Media Lab, 29% of 25-34 year-olds shop on their smartphones while watching TV. You should aim to create an experience where it is extremely convenient for a second screen user to simultaneously purchase items online with an app or browser.
9. Don't make them think
"The only thing that's easier than pressing one button is pressing no button at all" – Daniel Danker, Shazam
Popular music recognition app, Shazam, has introduced a new feature: now you have an option of turning on the auto-tagging system. This way the app will continuously listen for music content and list recognized tracks. This removes the need to return to the app every time you'dlike to tag a song and "shazam" it.
10. Create even deeper content integration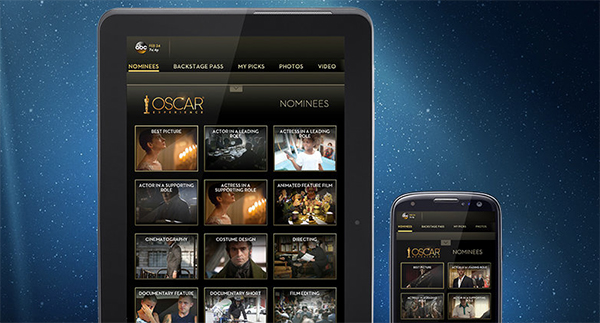 People looking for extended second screen experiences (because 'people' is plural) were pleased when an Official Oscars App was launched in 2013. Through this app, viewers were able to watch the ceremony from multiple cameras, get access to photos, and check out all of the latest social media buzz and behind the scene videos. This way, users got to see an official TV ceremony version as well as another perspective.
Summary
Although multi-screen marketing as an industry is still being developed, companies should view it as an opportunity to increase their revenues. By carefully analyzing their audience and understanding how users are interacting with various devices, marketers can create engaging content and take user experience to the next level.