The Future of Content Marketing
Last updated: April 19, 2013
Content marketing – that is, the use of high-quality content to generate inbound leads and sales – has been pegged as the way of the future.
It's easy to see why. Companies that blog get 55% more website traffic and 70% more leads than companies that don't blog. Not only that, but content marketing is significantly cheaper than alternative forms of marketing such as advertising.
Marketers already spend a quarter of their budget on content strategies and marketing, and in a recent poll more than 70% of brands said they plan on increasing that number in 2013.
Content marketing is not just a passing fad; it's here to stay.
In the years to come, we can expect this field to evolve as it gains more traction. The most successful businesses will be the ones that manage to stay ahead of the curve.
Here are five content marketing trends I predict we will see in the next few years.
1. Insourced content will become more common.
As businesses recognize the value of high-quality content, they'll start moving more and more  of their content production in-house. Paying a writer you found on a content farm $20 to pump out a 600-word post for your company blog will become a thing of the past.
Leveraging your own employees' time and expertise provides several benefits over outsourcing content, not least of which is that you have more control over the process. As well, attaching employee names and faces to your content humanizes your business and boosts its credibility. It provides an opportunity for you to engage in dialogue with your customers, and show them that you really know your stuff.
Once everyone starts to understand the value of good content, we'll wonder why we ever thought that outsourcing our content strategy for cheap was a good idea.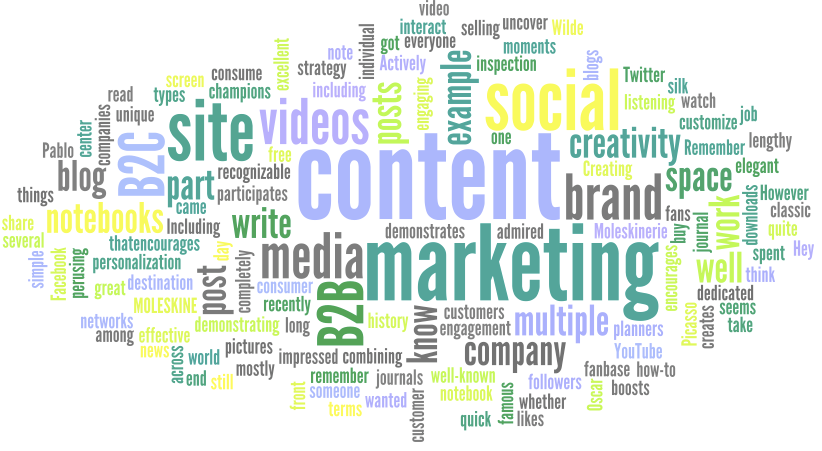 2. Long-form content will replace short-form content.
Not only will content start to become more employee-driven, it will become longer and more in-depth.
Neil Patel wrote a post on Quicksprout about how long-form content (2,000 words or more) is consistently favoured by Google over short-form content. This is not because Google determines lengthy content to be inherently more valuable than short content, but because lengthy content generates more links and social media shares than short content.
This is interesting, because people often assume that the Internet has impaired our capacity to consume and pay attention to long-form content. We skim through news articles, Tweet in 140 characters, and can only handle six seconds of a Vine video.
In fact, evidence shows that quality long-form content consistently generates more page views and shares than shorter content – something that we've definitely noticed from our own experience here at Powered by Search.
In an increasingly saturated Internet environment, businesses will be forced to produce more of this kind of content (e.g. whitepapers, e-books, hard-hitting blog posts) in order to compete.
3. Content will become increasingly visual.
If content is king, visual content is … whatever's more powerful than a king (emperor?).
Why? For starters, Facebook and Google+ give far more real estate to posts that contain pictures, making them stand out more in the news feed. Moreover, there's something about visual content that's inherently shareable. A picture speaks a thousand words.
Think about the kinds of things that get shared frequently on social media – picture quotes, internet memes, YouTube videos, infographics, gifs. All of these have visual components. Social media platforms like Pinterest and Instagram evolved largely in response to this demand for sharing visual content.
In the next few years, we can expect to see businesses capitalizing on these visual forms even more than they already do.
4. Targeting will become narrower.
Any marketer will tell you that targeting is the key to success. When it comes to inbound marketing, the first step is to develop your buyer personas. The second step is to tailor all your content toward your buyer personas.
Currently, many companies are executing on the first step, but not the second step. Every time you publish a piece of content, you should have a specific target persona in mind. Targeted content is content that converts.
Digital media companies have been operating content portals targeted toward specific verticals for many years. In the future we can expect to see more content marketers adopting this tactic.
A great example of a company that is already doing this is Procter & Gamble. For example, their Home Made Simple website is filled with content targeted toward modern mothers.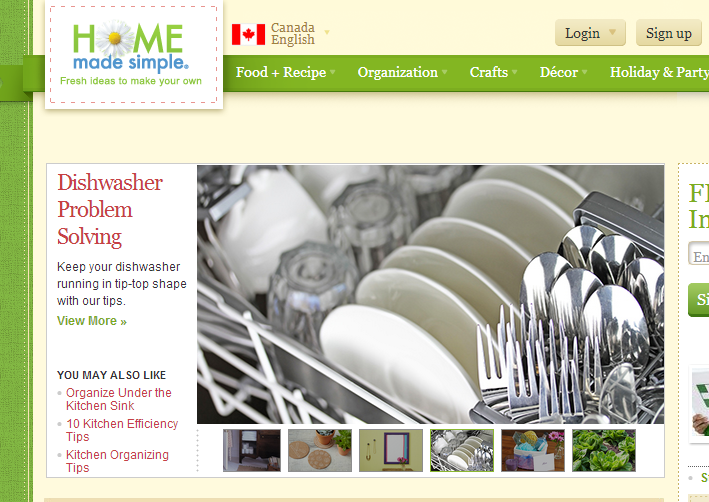 As more businesses hop on the content bandwagon, targeted websites like this will become more prevalent.
5. Content marketing software will become more sophisticated.
Content Management Systems (CMS) today make it easy to publish and modify content from a central location. In the future, we will start to see CMS functionality evolve to include more content production and distribution capabilities.
We already have computer software capable of automatically generating data-driven written reports. This technology will only become more sophisticated in the years to come, taking a lot of the grunt work out of content development.
There will still be a need for content marketers to oversee the creative process, of course, and to edit automated content when necessary. Computers won't be able to fully capture the human nuances of writing any time soon.
Nevertheless, as automated software and CMS develops,  content marketing will become increasingly more of a technical field.
Content marketing is not a new idea. Arguably, it's been around for centuries. But it's only now beginning to reach its full potential.
It's impossible to accurately predict exactly how the field will evolve from here. But one thing is for sure: it's going to be exciting to watch it all unfold.

If you want to learn more about how Content Marketing can boost your business, have a Free 25 minute marketing assessment with us.

What you should do now
Whenever you're ready…here are 4 ways we can help you grow your B2B software or technology business:
Claim your Free SaaS Scale Session. If you'd like to work with us to turn your website into your best demo and trial acquisition platform, claim your FREE SaaS Scale Session. One of our growth experts will understand your current demand generation situation, and then suggest practical digital marketing strategies to double your demo and trial traffic and conversion fast.
If you'd like to learn the exact demand strategies we use for free, go to our blog or visit our resources section, where you can download guides, calculators, and templates we use for our most successful clients.
If you'd like to work with other experts on our team or learn why we have off the charts team member satisfaction score, then see our Careers page.
If you know another marketer who'd enjoy reading this page, share it with them via email, Linkedin, Twitter, or Facebook.