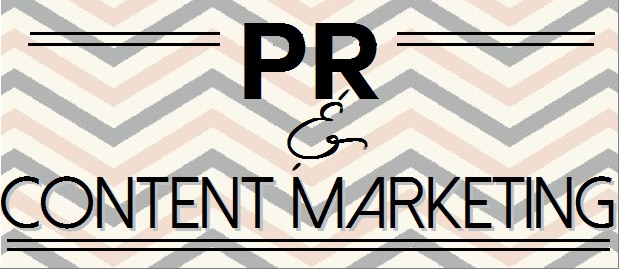 With the year quickly winding down, many experts are chiming in on their predictions for the upcoming year. Marketing Mag is no exception. They recently published an article featuring prominent Public Relations (PR) agencies with their 2014 predictions. The over-arching theme of post was the importance of content marketing. While I can't say this is ground-breaking news there is much truth to it.
For starters, let us define some of the keywords.
Owned vs. Earned vs. Paid
Owned Media: Owned media is, as the name suggests, content that an organization owns. In other words, those that the organization has complete control over. This includes blogs, social media accounts/pages, websites, etc.
Earned (also known as editorial) Media: Earned media, on the other hand, is content that you receive from pre-existing external outlets. This varies from guest blogs to Facebook likes to Pinterest Re-Pins.
Paid Media: This one is pretty self-explanatory. Paid media is what is considered to be traditional advertisements where you pay for a spot.
This chart by Forrester does a great job summarizing the 3 types of media.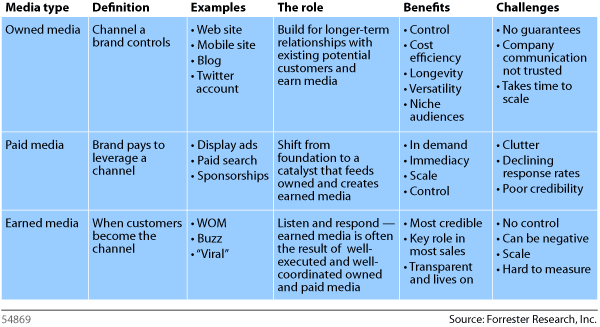 Content Marketing vs. Public Relations
Content Marketing: According to Content Marketing Institute, Content Marketing is a form of non-interruption marketing by communicating with your customers and prospects without selling. The idea is to give audiences information they actually want while educating them rather than pitching your services or products.
Public Relations (PR): In its essence, PR firms work with media to manage perceptions and increase awareness. Traditionally, the PR model is to  "spray and pray" press releases – write out a generic press release and send it to as many relevant publishers in hopes of getting editorial coverage.
Similarities between Content Marketing & PR
As you can probably infer by now, there are some obvious similarities between the two seemingly exclusive industries.
1. Common Goals
At the end of the day, both PR and Content Marketing share the same goal: to help clients sell more of something. The way this will be accomplished is through driving more traffic and increasing awareness.
2. Telling a convincing story
PR professionals basically moonlight as storytellers. They must present a resounding story about their client to the general public through pitches in hopes that they will get picked up by media. On the flip side, content marketers also tell stories day in and day out. The difference is where it gets published. Usually, the choice of publication for content marketers is through blogs.
3. Phenomenal Communication Skills
Along the lines of the second point, how can you expect to be a great storyteller without having the skill set to back it up? While it is true that we are moving into an image/video heavy society, as of right now, written publications are still at the forefront.
4. Convergence of Distribution Channels
Traditionally, after a PR firm whips out a pitch, they release it through means such as press releases and conferences, events, etc. Nowadays, they are slowly integrating into the content marketing realm of sharing such releases on social media and blogs as well.
Types of PR Content
Now that we've come full circle from defining PR and content marketing respectively, to exploring some commonalities between the two, here is a list of content that both PR professionals and content marketers can, should, and probably do already, put into practice:
Blog posts
Case Studies
Newsletters
White Papers
Events
Experts Weigh In
I think that's enough about the current landscape of where PR and content marketing is at now. It's about time we hear from some experts. I asked a couple of Toronto PR agencies one question "Given the hefty weight on content marketing in PR for the upcoming year, what was the most creative piece of content you've come up with for a client?". And this is what they had to say:
Tristan Roy, Edelman Digital for JELL-O Canada
Telling the story of one of Canada's most iconic brands is a major responsibility.  In 2012, Edelman Digital was asked to help launch and manage the JELL-O Canada Facebook page. The goal was simple: reconnect with consumers by spotlighting the endless possibilities of JELL-O and engaging them with content that is spontaneous, fun and includes playful recipes.
Since beginning our community management mandate, and with little paid media support, the JELL-O Canada Facebook page has seen tremendous growth, quickly garnering over 130,000 highly-engaged fans thanks to an effective creative content strategy that showcases recipe creations and positions the brand in fun, exciting ways. High-performing content includes:
JELL-O 1-2-3 Posts: We developed JELL-O recipes separated into three stages, which resonated deeply with the community and became our most popular monthly content series, receiving thousands of social engagements per post
JELL-O Stop Motion Videos: In Fall 2013, we developed a series of stop-motion videos that brought JELL-O recipes to life and demonstrated, through the playful style, how easy it is to create with JELL-O
High Road is lucky enough to produce a lot of content for some amazing clients, including Cadillac Fairview, Sun Life Financial and American Express. In the last year, some of our favourite content was for an American Express Canada program called Shop Small, which recently won two Canadian Marketing Association Awards. High Road produced a number of creative elements for program, including video content, infographics, photography assets and of course written content. Our design team worked closely with our communications team to make sure the right messages pulled through – they focused on encouraging Canadians to support small businesses in their communities by "shopping small".
One of the videos we worked on, which incorporated our creative direction:
Delphine Nicholls & Samantha Diamond, ROI Relations for Rethink Breast Cancer
We've collaborated with Rethink Breast Cancer on their PINK products campaign for two consecutive years (2012&2013). Their objective is to publicize Rethink's selection of PINK products for sale during Breast Cancer Awareness Month. Brands including Swarovski, Civello, Aerie, and OPI, amongst other beauty, fashion, and lifestyle companies, create exclusive PINK products that are sold through the month of October, with proceeds benefiting breast cancer education, support and research programs.
In addition to traditional outreach in the form of a press booklet and product mailer to Long and Short Lead media, we created and managed an unconventional contest, #BattlePink, pitting celebrities and media against one another in a creative challenge to see who styled each PINK product best. Participants were assigned one of the products and competed in a creative challenge, demonstrating through photography the different ways that they use and style the product. They were asked to encourage their networks (eg. Facebook, Twitter, Instagram, dot coms) to support them by voting for their submission and spreading the word about the contest.
Over the first two weeks of October, challengers competed for votes on Rethink Breast Cancer's website .  The contest went viral and over 15,000 votes were cast and Rethink received a sizeable donation from its #BattlePink partners. #BattlePink was mentioned in Marketing Magazine as one of the drivers behind Rethink's 'Marketer of the Year' status.
Our creative strategy enabled Rethink and their PINK partners to connect with consumers. It delivered their message directly and indirectly, helped them foster and develop relationships with notables and raise funds and brand awareness through digital and offline channels. We're definitely noticing a shift in the kind of PR that clients are looking for – the demand for a mix of traditional PR and content marketing is increasing.
And There You Go
I would hope that you now have a fairly good grasp on content marketing and PR. Has there been a brilliant piece of PR content that you've seen recently? Let me know in the comments section below!

If you want to learn more about how Content Marketing can benefit your business, have a Free 25 minute marketing assessment with us.