How B2B SaaS Companies Can Leverage a Hub & Spoke Content Strategy
Last updated: September 20th, 2023
The hub and spoke content model is well known for its SEO benefits – namely, helping your website:
Earn topical authority
Rank for long-tail keywords
Improve search engine crawlability.
However, most SaaS companies don't realize that it also greatly aids the buyer journey so that visitors can easily find the next right piece of content to navigate toward a purchase decision.
The B2B SaaS buying journey is often highly complex, involving multiple touchpoints, stakeholders, and decisions along the way, so it's essential that you have content for each of those touchpoints and the reader can easily find the content they need.
If you publish blog posts in isolation, you may answer some questions searchers have regarding a certain topic, but you'll likely have holes in your content strategy.
Or, even if you do have blog posts for all of the topics that the content addresses, readers probably won't be able to find it if there aren't clear links to the content.
Either way, users will likely leave your website and go to your competitors' sites to get the answers to their questions.
The hub and spoke content strategy model solves this problem as it ensures your content strategy thoroughly addresses each subtopic within a broader topic and gives your readers clear directions to each piece of content that they may want to view.
In this post, we'll share the intricacies of the hub and spoke model and how it can address common pain points in the B2B SaaS buying journey.
We help B2B SaaS businesses win new customers through search engine optimization (SEO), content marketing, and holistic demand generation. Get your Free Marketing Plan to learn more.
What is the hub and spoke content model?
A content hub is a strategically organized group of web pages that provides in-depth information on a given topic across all stages of the buying journey.
The hub page might target a general keyword (e.g., "cold emails") and the spoke pages cover subtopics (e.g., "how to increase cold email conversions" and "cold email templates").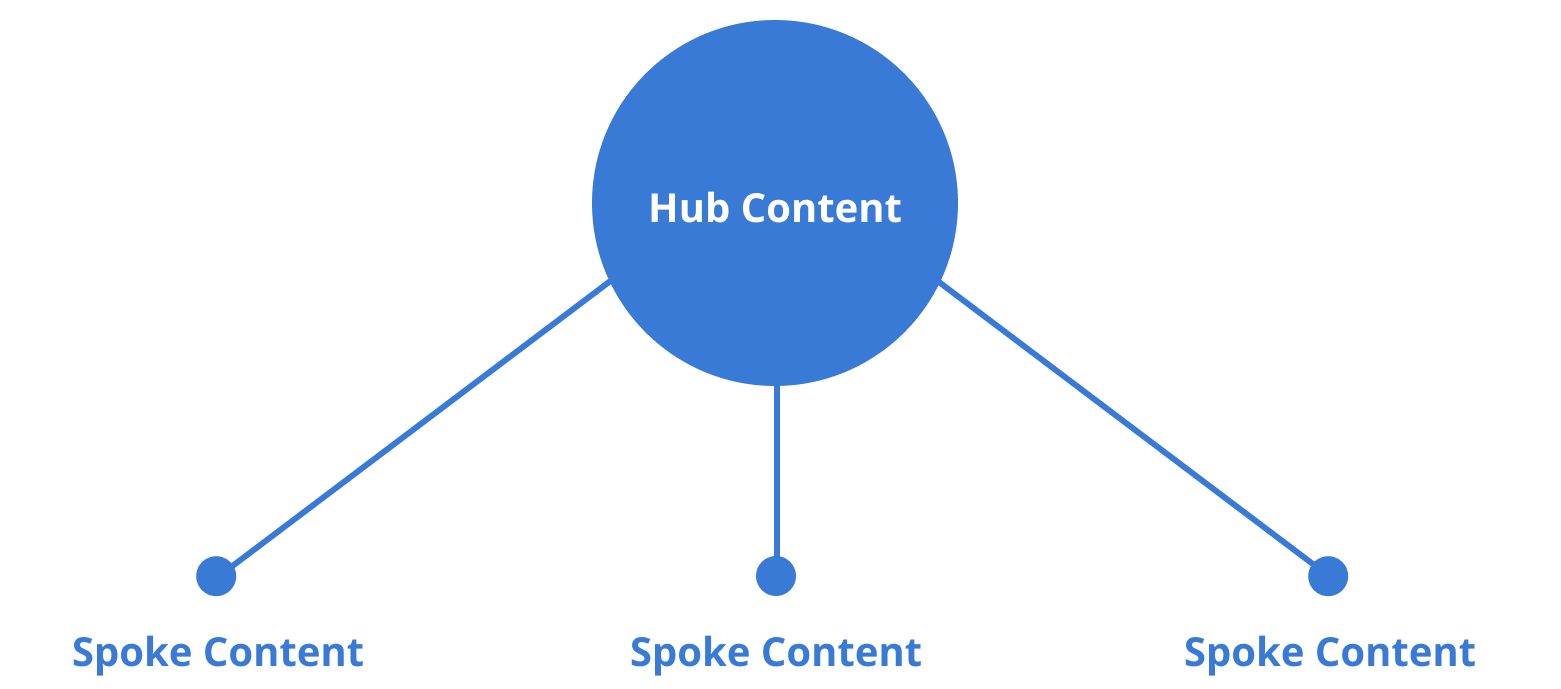 Then, the hub and spoke blog posts interlink to one another.
These internal links are the glue that hold hub and spoke pieces together and help search engines understand you're an authority on the topic.
It also makes it easier for your readers to find all of the related content that they need.
For instance, let's say you are selling construction management software.
Your hub page would be your "Construction Project Management" product landing page, and it will link out to several supporting pieces of 'spoke' content, like blog posts, white papers, etc., within the same topic category.
Then, all of the supporting pages will have internal links to each other as well as pointing to our hub product page, which will be optimized to reference all of the supporting pages.

Another advantage of this method is that you can turn the hub page into future lead magnets for paid campaigns and other marketing channels as the central source for all the content you have on the topic.
SEO Benefits of The Hub And Spoke Model
Modern search engine algorithms want to always show the reader accurate information, but they don't have the perfect capability to check a blog post's accuracy in isolation.
Therefore, they tend to rank content from websites that are clearly specialized authorities on a specific topic.
How do they know if your content is an authority?
In addition to backlinks, search engines look at how comprehensively you cover a topic. The hub and spoke strategy ensures you cover every aspect of a topic, and the internal links make it easy for crawlers to find that content.
As a result, you'll rank higher for your head terms and the subtopic blog posts will also help you capture more long-tail keywords. You'll also likely win People Also Asked questions, FAQs, and featured snippets, further increasing your brand's visibility in search results.
Finally, hub and spoke models deliver an excellent user experience, which improves user engagement. When search engines realize that users love your content, they'll rank you higher in search results.
How The Hub And Spoke Model Aids The B2B SaaS Buyer Journey
Many B2B SaaS websites create a single landing page for key product features and expect a visitor to convert after viewing that single page. This might work for visitors at the end of the buyer journey, but only a handful of visitors reaching that page are likely at the stage where they're ready to convert.
Most visitors are at earlier stages in the buyer awareness matrix and need more education before they'll be ready to make a purchase.
If you don't offer content for the stage of the buyer journey in which the visitor is currently at, you'll find that they'll just leave your website.
By deploying a hub and spoke strategy, you can offer resources for each person, regardless of their current stage in the buyer journey, and ultimately lead them from problem aware to purchase ready as the internal links point the reader to the next step in the buyer journey.
As a result, the hub and spoke model not only improves SEO performance but also increases conversions from organic traffic by helping potential customers navigate the buying journey.
How to Structure 'Hub & Spoke' Pages on Your B2B SaaS Website
Internal links are the glue that hold hub and spoke content together.
When we start working with clients that have implemented a variation of the hub and spoke strategy previously, we typically see that they are creating topically relevant content that is internally linked to create the 'hub and spoke' path for search engines.
However, they don't make the internal linking obvious to the actual visitors.
A page architecture that we recommend for a blog or resources section of our client's websites is to give readers a single page to visit that shows all the hub and spoke content for them to easily navigate.
This also has SEO benefits as search engines can crawl this page and quickly see the interlinking pages.
Here's an example of a template you could use to structure your hub page and link out to the spokes: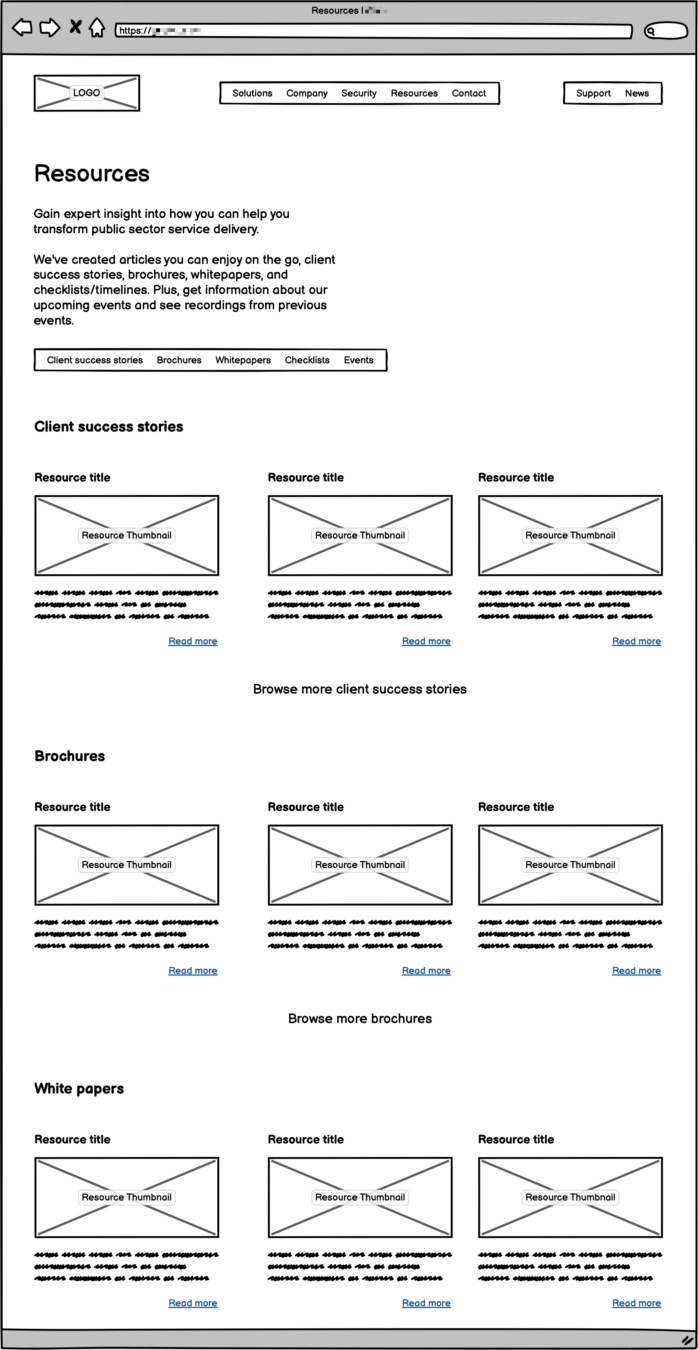 One thing to watch out for is that this page itself needs to be relevant enough for visitors and search engines to see it as valuable.
It's not enough to have a page with a bunch of related internal links on it. You need to create it with the same structural depth as you would any high-value landing page.
Our own B2B SaaS marketing strategy page is a great example of a hub page that you can use to model your own landing page.
You can also use a similar structure with your /blog page.
6sense, an ABM software company, has a great example of this as it divides the blog page into various hub pages. This makes it easy for search engines and visitors to quickly find related and relevant subtopic content.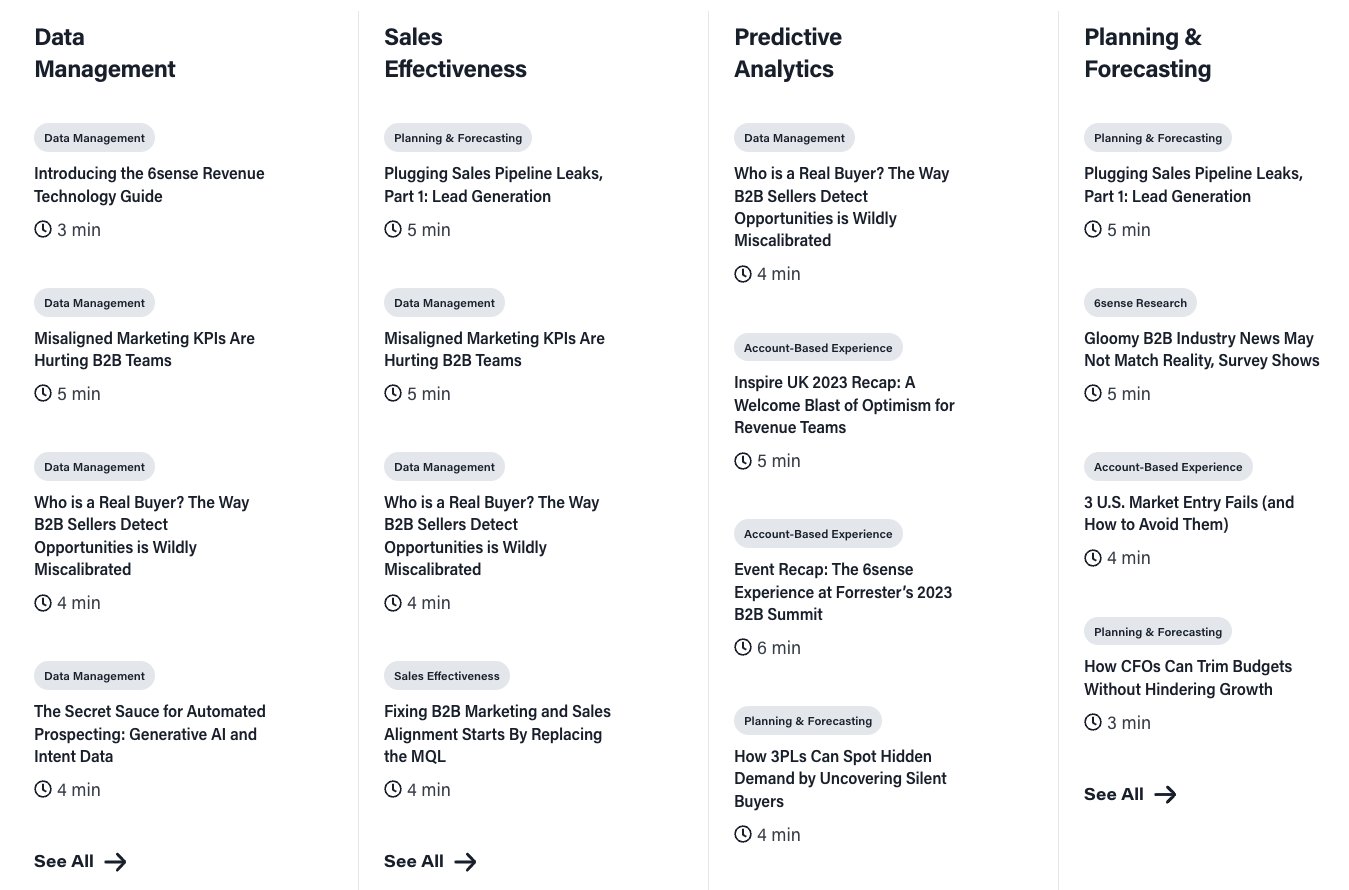 For example, if the visitor wants to learn about sales effectiveness, they can easily find all of the subtopics on sales effectiveness.
By implementing these structural opportunities, you can create a page architecture that not only has SEO benefits but also makes it easier for potential buyers to find and navigate to the right piece of content.
Hub and Spoke Model Example: Client Case Study
One of our clients, a B2B SaaS in the data governance sector, had relevant content across their solutions pages, blog, and resource pages, but they struggled to appear organically in searches for their core 'data governance' topic.
After analyzing their content strategy, we found that the content didn't include logical next steps for the buyer journey and lacked consistent internal linking. The existing content also lacked depth, making it more challenging to rank for relevant keywords.
To address this, we first deployed our content refresh strategy, which involved updating and improving existing content rather than creating entirely new content.
They were also missing content for critical pain points that their product solved, so following our B2B SaaS content strategy approach, we created spoke content that targeted those high-intent pain point keywords and internally linked them back to the hub content.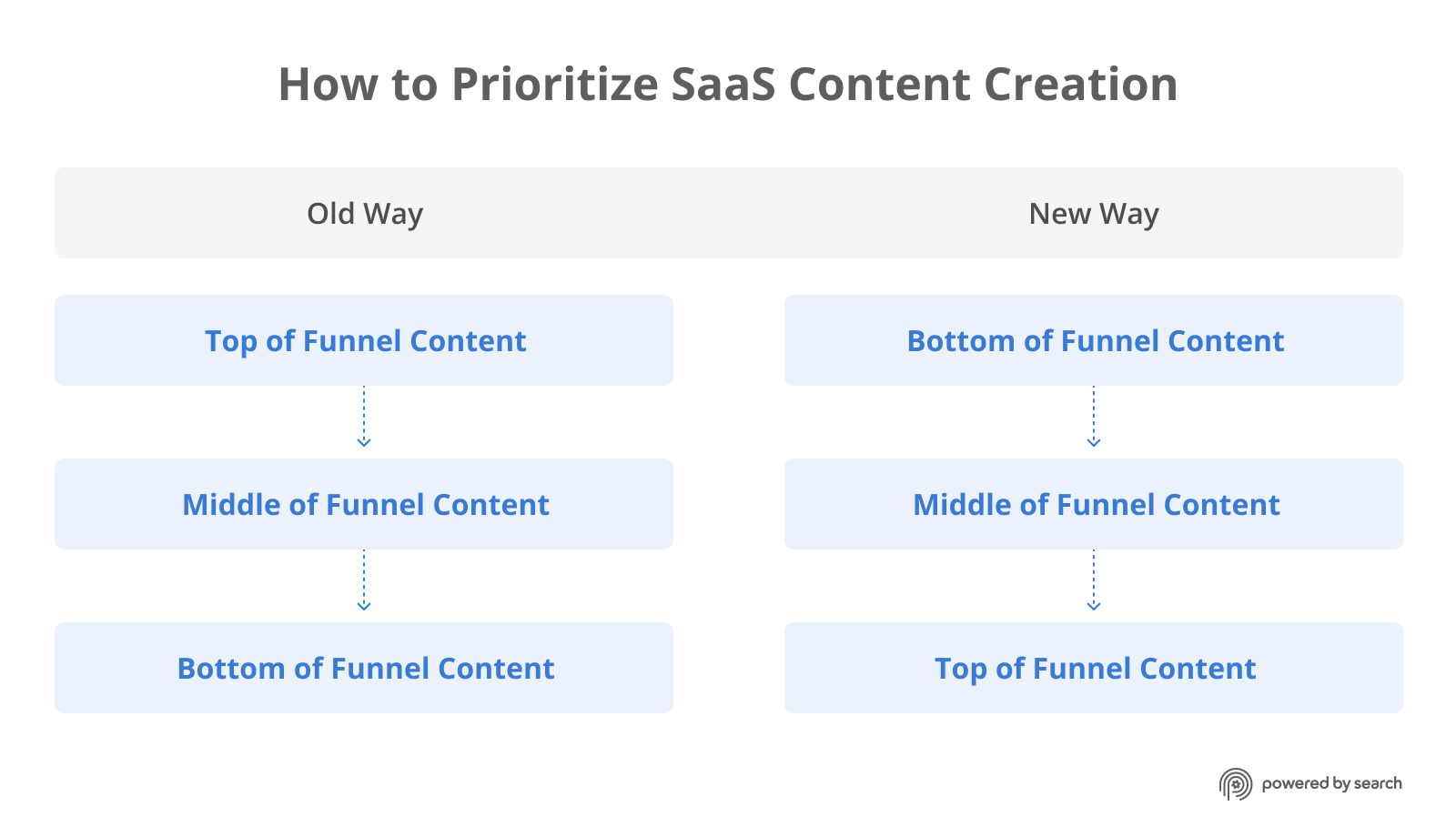 As a result, both traffic and conversions rose. Here's a brief overview of the high difficulty keywords they were able to dominate at the time:

We also nearly doubled the keyword visibility for data governance topics shortly after making these updates: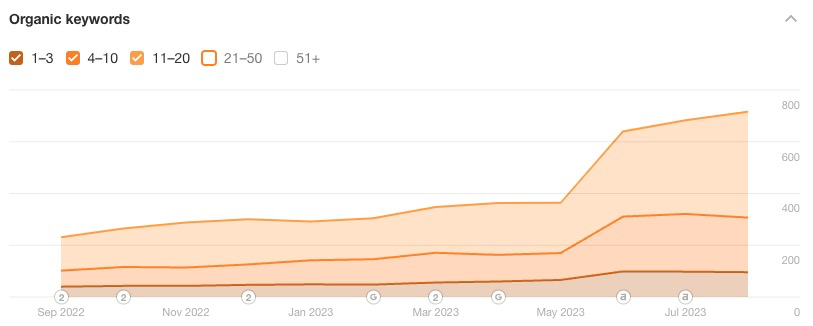 After refreshing existing content and creating new pain point content related to data governance, we increased organic traffic for relevant keywords by more than 140% over the following three quarters.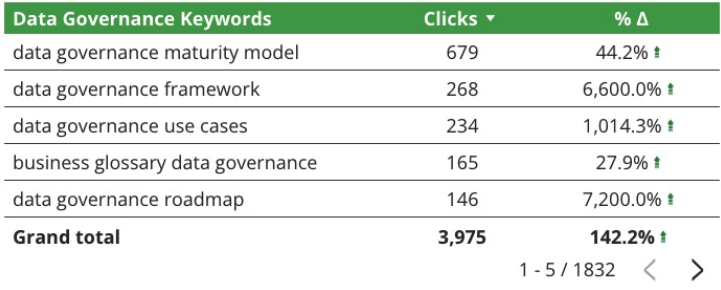 Additionally, we secured the top position for high-intent long-tail keywords, outperforming much larger competitors.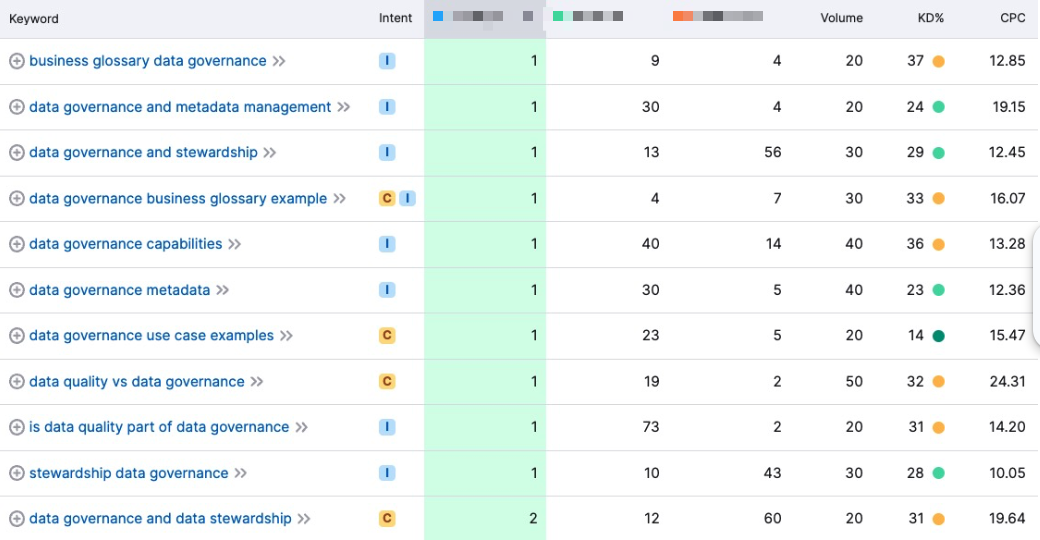 This approach not only improved SEO performance but also made it easier for potential customers to navigate their buying journey, demonstrating the dual benefits of the hub and spoke model.
Start Implementing The Hub And Spoke Model Today
The hub and spoke content strategy is a great way to improve SEO performance and also help you retain visitors and move them through the buyer journey, ultimately increasing conversions from organic traffic.
Are you interested in implementing a hub and spoke model on your SaaS website? Reach out for your free marketing plan.
What you should do now
Whenever you're ready…here are 4 ways we can help you grow your B2B software or technology business:
Claim your Free SaaS Scale Session. If you'd like to work with us to turn your website into your best demo and trial acquisition platform, claim your FREE SaaS Scale Session. One of our growth experts will understand your current demand generation situation, and then suggest practical digital marketing strategies to double your demo and trial traffic and conversion fast.
If you'd like to learn the exact demand strategies we use for free, go to our blog or visit our resources section, where you can download guides, calculators, and templates we use for our most successful clients.
If you'd like to work with other experts on our team or learn why we have off the charts team member satisfaction score, then see our Careers page.
If you know another marketer who'd enjoy reading this page, share it with them via email, Linkedin, Twitter, or Facebook.