I love doing marketing for companies that I care about. Maybe they've got an excellent product, a passionate team or an agile and creative marketing team. One of my favourite brands is Canadian Tire, so I thought I'd put together a public 1% audit for them including:
High Level Competitor Insights
eCommerce Strategy Opportunities
Automotive Strategy Opportunities
Over $420,000 worth of untapped search potential for Canadian Tire
While this is just the tip of the ice berg for Automotive & eCommerce SEO, in just this 1% audit I found over $420,000 worth of untapped search potential. That definitely left me itching to find out more!
What is Canadian Tire?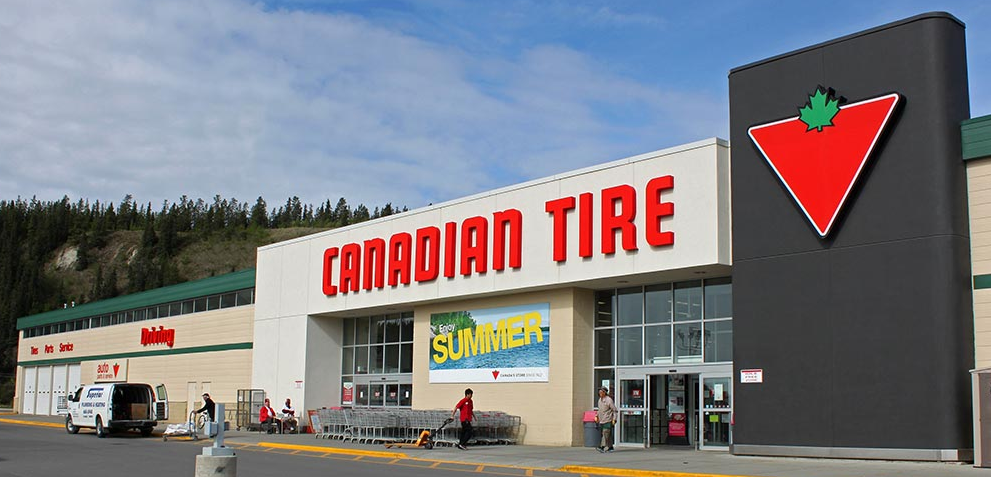 For those Canadians among you, I don't really need to say a lot about Canadian Tire. It's an eponymous brand when it comes to auto parts, and if you need something for your car, home, cottage or campsite you can find it at Canadian Tire.
The Canadian Tire brand is owned by Canadian Tire Corporation, which also contains Mark's—previously Mark's Work Warehouse—as well as Canadian Tire Bank, PartSource and other household names.
How is the Canadian Tire Online Experience?
Until recently I hadn't spent a lot of time on the Canadian Tire website, so I didn't realize that the experience had moved online. I'm used to walking into one of their locations, asking their specialists a dumb question about what type of lightbulb I need or how to fill in holes in walls left behind by old screws, and then leaving with a product.
The online experience at Canadian Tire is very similar to the store experience.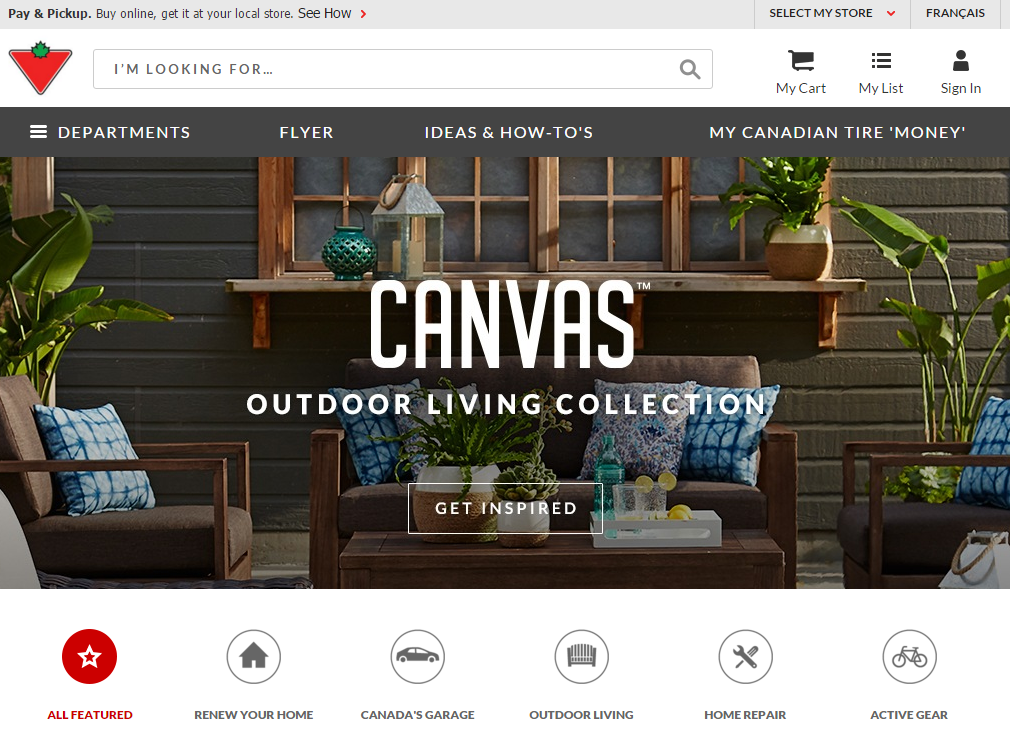 The home page emphasizes Ideas & How To content, covering topics from painting to repairing or replacing car tail lights. After being informed of the solution to my problem, I can venture deeper into the site to find the right product and either check out or see if my products are in a nearby Canadian Tire store. I can even see which aisles my products are in, which I found to be a great (and useful) feature.
The Competitive Landscape for Canadian Tire
Canadian Tire competes with a broad set of companies, so it'd be more revealing to look at competitors by category rather than an overall summation, but let's at least look at who is eating their lunch.

The size of the bubbles in this chart refer to the estimated amount of search traffic the website is receiving, which is the same as how high that bubble is on the graph. The further a bubble is to the right, the larger quantity of keywords the website ranks for. From this chart, you could say that Canadian Tire has a similar amount of traffic as Walmart Canada, but with less than half of the keywords.
When we take into account all categories, these competitors rise to the top:
Walmart
Costco
Home Depot
Lowes
I get the sense that Home Depot, outdoor living brands and many more automotive brands would rise to the top if we got more granular, especially into the brand's primary product categories. However, in doing this research I learned that Walmart does indeed sell tires and outdoor supplies with a fairly large catalog.
Without getting more granular, we know for sure that Walmart is taking a lot of market share from Canadian Tire, and Costco and Home Depot are still taking number one and two spots on many valuable search terms.
Looking at Canadian Tire, Home Depot and Walmart, for example, we can take a closer look into this dynamic.
In the above table you can see that for numerous high value cases, Canadian Tire ranks behind its competitors in search. For the "Patio Furniture" keyword, which is the second row in the table above, Canadian Tire takes the third spot, collecting only 9% of the total organic traffic compared to Home Depot's 31%. For Electric Fireplace, Canadian Tire is in position 9, getting around 3.7% of the search share while Home Depot collects 31% in first place. Position three isn't bad, but it receives a third of the traffic that a first place competitor gets.
Imagine taking that first spot!
What's Wrong With Our eCommerce?
Canadian Tire's website is an eCommerce platform, which means it competes across some fairly common eCommerce categories. For Product Category pages, such as "bbq," and products, such as "Cuisinart Ceramic 900 Propane BBQ," they're doing fairly well, especially around their bread and butter keywords.
Where Canadian Tire's online solution is lacking is with regards to the more subtle side of eCommerce, specifically breaking product category pages down into smaller subsets that drive huge numbers in revenue for companies like Walmart and Lowes.
A good example of this is the Brand + Category page. Canadian Tire has a category page for Car Batteries, which certainly fit into their bread and butter products. One of the more widely known brands for Car Batteries is Optima, which means there's a good amount of search volume for "optima car battery":


And Canadian Tire even has that brand filterable in their site structure: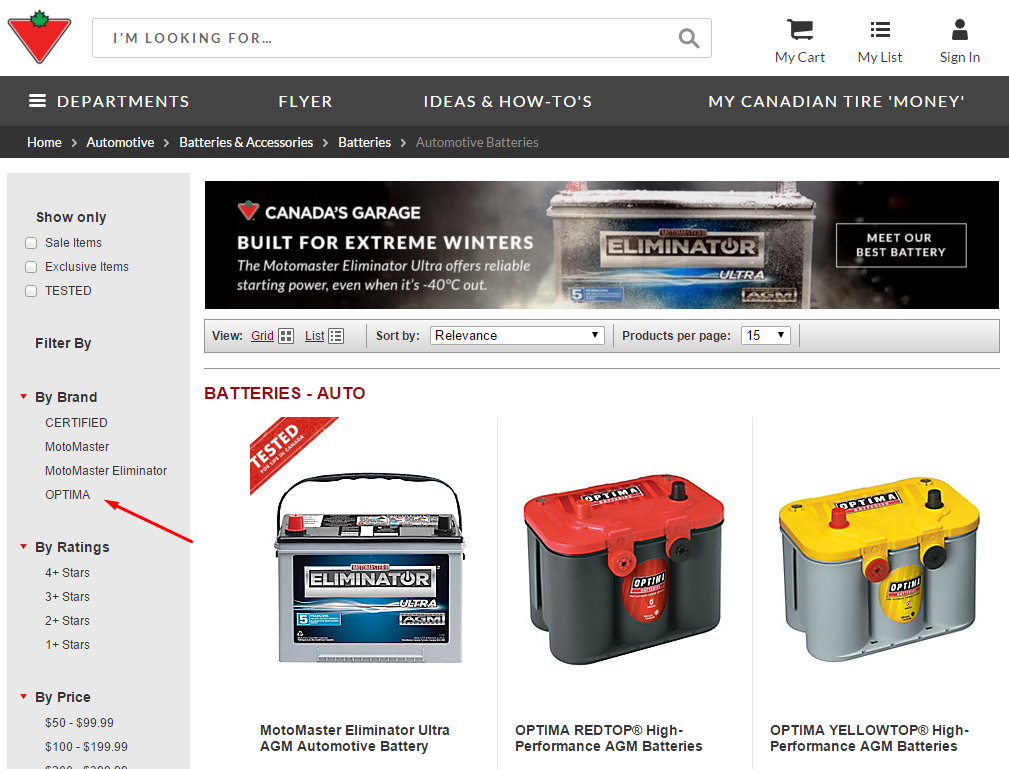 So why aren't they ranking anywhere for Optima Car Battery?
When you take a look at the page that's being linked to in that brand section, you'll notice  that it's a search page that hasn't been optimized for SEO. It doesn't have a unique URL, its content is generated via JavaScript, and it's disallowed to crawlers via Canadian Tire's robots.txt file:


Another segmentation of category pages that Canadian Tire may want to look at are Product Type or Use Case pages.
A really simple example is Canadian Tire's Table category page. That's a huge category that can easily be separated by use case. For example, Walmart has a Night Stands page and Lowes has a Coffee Tables page. Canadian Tire might prefer something like Dinner Tables or Accent Tables given their selection, but they're currently not even competing for those terms for any of their product categories.
While there would definitely be some effort involved in ranking for these types of keywords, the return is massive. Marketing managers frequently talk about pursuing opportunities to increase revenues in the 10% range—and they don't always succeed. The kinds of strategies outlined above can help us blow those goals out of the water.
Dominating the Tire and Auto Parts Markets
I'll admit, this isn't my or Powered by Search's first rodeo. We've been working successfully with massive international automotive companies for years, so I had a bit of a head-start when it came to identifying opportunities.
In eCommerce I mentioned that we need to target Brand + Product keywords—OPTIMA Batteries rather than just batteries—or Product Type keywords—Nightstand rather than just Table. When we pop into Tires and Auto Parts, the search market becomes extremely complex. We have to start thinking about:
Vehicle Class

Year

Manufacturer

Make

Model

Tire Size

And Season
People do indeed search for "2014 Acura MDX Tires" and "Acura MDX Winter Tires," and they expect to find a page dedicated to that search.
Let's get more granular. Only so many people search for "Tires," in Google, Bing or their search engine of choice. Many, many more search for some modification of that term that's equally if not more valuable. For example, here's the search volume on some simple Manufacturer + Tires searches:

Or break it down even more into Manufacturer + Make + Tires:

These searches represent a huge amount of traffic and revenue, and right now Canadian Tire doesn't have the assets in place to capture them—leaving millions of dollars on the table.
Plus, many major brands are already seeing the value of this strategy: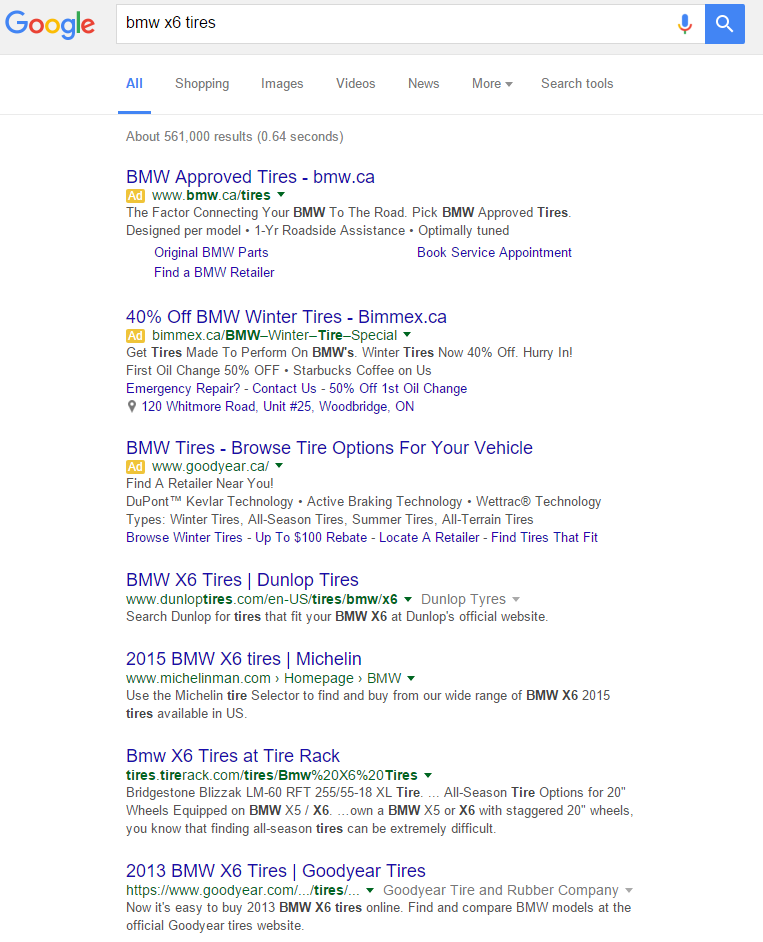 Where is Canadian Tire?
The Tip of the Iceberg: Not Competing for $420,000 Worth of Traffic?
One of the most effective brands using the Manufacturer + Tires strategy is Goodyear. I was wondering both how much money was being left on the table by Canadian Tire for this one tiny strategy, and how well Goodyear was already doing. So, I took the top 75 car and tire brands and compared the keywords where either Canadian Tire or Good Year rank.
As you can see in the able above, Goodyear ranks for many of the high volume keywords that this strategy includes, and Canadian Tire is only visible for a single keyword (Ford Tires) at the bottom of the first page. In just this tiny subset, Goodyear would have to pay $13,000 every month in paid search advertising to get the same traffic that they're getting for free organically. The traffic from being in position #1 for just these 75 keywords would cost just under $35,000 monthly in paid search.
That's a half a million dollars in annual ad spending, and therefore a lot of valuable traffic to just leave on the table.
And this doesn't just apply to tires. Many other classifications of auto parts break down into highly searched terms that Canadian Tire has the fantastic opportunity to pursue and so doing catch up to and exceed their competitors. This is just one of many areas that Canadian Tire isn't competing in, and isn't the largest by far. It's just the one that I wanted to dig into!
This industry as a whole is extremely competitive. Having worked with several multinational brands in the automotive industry, I can say that the only way to win is to strive to be as agile as possible online, especially when we're talking about opportunities of this scale. The implementation might seem daunting, but that's why you work with someone who has done it before.
Should Canadian Tire Invest in SEO?
I am an SEO. My general answer to this question is, "Yes." Maybe a better question might be, how valuable would it be to invest in SEO right now?
Take some of the insights and strategies we looked at already. Canadian Tire has opportunities around:
Becoming more visible for Product Brand Keywords, such as "Optima Car Battery."
Clawing back rankings from competitors around Products and Product Categories.
Leveraging Best in Class online marketing expertise within the Automotive space.
I've mostly left aside the technical SEO side of things since this article is really just the tip of the iceberg. That having been said, massive gains could be had by improving site speed from 10-15s to closer to 4-5s; title and heading tags are in dire need of re-targeting; Best in Class content blocks are missing from priority pages and dragging down rankings; and… Of course, there's much much more.
Odds are that the Canadian Tire team is aware of some of these issues and opportunities, and it's just a matter of having the resources and expertise to chase those Big Hairy Audacious Goals.
Maybe we can help.
[lmpromo]