The latest updates to Facebook may make it a more powerful lead generating tool than Google Adwords.
Facebook recently announced a series of new features including the ability to:
Order a product, buy a ticket, ask for a quote, or book an appointment directly through a Facebook business' page

Ask for recommendations from your friends, when shopping around
These updates are positioned as ways to make a user's life easier, but they actually unlock a potentially massive way for businesses to attract new bottom-of-funnel leads.
Be Ready When People are Ready to Buy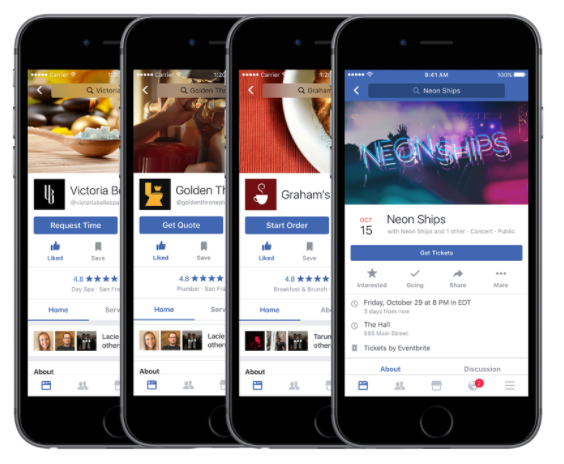 The ability for people to find you/ buy from you from within Facebook is a massive game-changer.
A user can now go from seeing a picture of dumplings in their newsfeed, wanting dumplings, then finding your business and ordering them in less than 2 minutes.
"We're starting to roll out these initial experiences in the US today," said Facebook in yesterday's announcement.
"This is the first step, and over the coming months we'll be launching even more new features that will make it easier to get things done, make confident decisions and communicate directly with businesses on your time and terms."
Like any new innovation, it comes with both potential and responsibility. It's important for you to properly leverage this new tool, and ensure your social presence is set up in a way that stands above the competition. This update can either be really good news for you, or be really good news for "The other guys," depending on who acts first, and acts correctly.
Increase Your Social Credit With Facebook Recommendations  
The other update helps users leverage their fleet of friends when trying to make a purchase decision.
Like the other update, this can either be good news or bad news. It's good news if you're already a business that's mindful of:
Creating a brag-worthy experience for your customers

Managing your online reputation

Asking your customers for good reviews, or testimonials
To start, this update will only be available on the desktop site, and not mobile. This will likely change, as 54% of Facebook users access the service only on mobile. It will be interesting to see how these changes will eventually roll over into the mobile app, and how this will affect the battle for local business.
Want To Start Generating More Leads Right Now?
Watch this brief video to learn 7 proven lead generation plays for Facebook.
https://www.poweredbysearch.com/resources/7-lead-generation-plays-for-facebook