How to Write a Google Reconsideration Request that Gets Accepted [Example]
Last updated: February 25th, 2013
Recently we've been approached by prospects who haven't had much success with getting their first Google Reconsideration request being accepted, including one brand who had 5 consecutive requests being turned down with the following Google Webmaster Tools message:
Dear site owner or webmaster of http://www.REDACTED.com/,
We received a request from a site owner to reconsider http://www.REDACTED.com/ for compliance with Google's Webmaster Guidelines. We've reviewed your site and we still see links to your site that violate our quality guidelines. Specifically, look for possibly artificial or unnatural links pointing to your site that could be intended to manipulate PageRank. Examples of unnatural linking could include buying links to pass PageRank or participating in link schemes.
We encourage you to make changes to comply with our quality guidelines. Once you've made these changes, please submit your site for reconsideration in Google's search results. If you find unnatural links to your site that you are unable to control or remove, please provide the details in your reconsideration request. If you have additional questions about how to resolve this issue, please see our Webmaster Help Forum for support.
Sincerely,
Google Search Quality Team
Ouch! Reconsideration FAIL.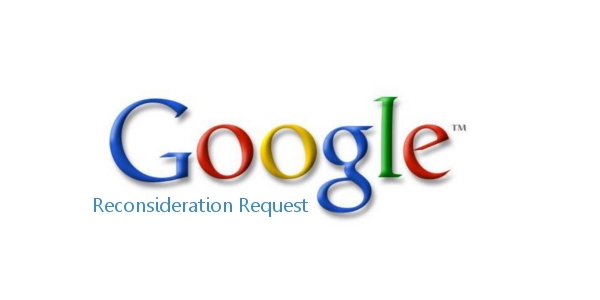 The anatomy of a successful reconsideration request involves three key elements:
Explaining that you've done a great job of understanding Google's best practices on submitting an appropriate reconsideration request.

Demonstrating that you've done everything in your power to remove unnatural links, including examples of removal requests, email followups, screenshots, and a list of the links that have been removed.
A status update on the fact that all your current site promotion activities are within Google's quality guidelines.
Keeping these elements in mind, here is a sample reconsideration request that we've successfully used to recover site's from Penguin based penalties.
—–
Hello Google Search Quality Team,
Since receiving your response to our original reconsideration dated MM/DD/YY we have been diligently working to remove all unnatural links pointed towards our site at www.DOMAIN.com. We believe we have been successful in making our site compliant with your search quality guidelines and have reviewed the quality guidelines multiple times before submitting this reconsideration request.
Here are the specific changes we've made since our original reconsideration request:
1. Watched multiple Google webmaster videos on submitting an appropriate reconsideration request at https://www.google.com/support/webmasters/bin/answer.py?answer=35843&hl=en
2. We have closely examined the links report in Google Webmaster Tools and assessed whether these links were likely to be considered to be 'unnatural' by Google. We have made a concerted effort to remove these links by contacting the webmasters controlling these domains. Evidence of this communication is available in the following Google Docs document:
[INSERT GOOGLE DOCS outlining Email Communication]
In total we were able to remove [123] links from a total of [500] follow ups and contacts.
3. We were unable to remove [350] links due to no response after multiple attempts from webmasters who control domains which have unnatural links pointed to our domain. We have disavowed these links using the Google Disavow Links tool.
In addition to the above, we wish to confirm the following:
a) Our site has been made for users, not search engines
b) We do not have any hidden links, doorway pages, cloaking, or sneaky redirects
c) We do not keyword stuff any of our content or have irrelevant keywords on our pages.
d) Our site has original, well-researched content
e) We have never bought paid links.
f) We do not participate in any link schemes.
g) We do not have any pages that contain malware or have any malicious content.
e) There is no advertising or affiliate program content on our site that does not add value to the user first.
—
We are committed to doing whatever it takes to meet the Google Search Quality guidelines. If you or your team still finds links that do not meet the guidelines, we would highly appreciate an example of the specific links that are outside the guidelines to help our efforts in removing these links.
Thank you for your time and your consideration.
Sincerely,
FIRSTNAME LASTNAME
—-
Extra Reconsideration Tips
Google is more likely to open supporting documents which are part of Google Docs, so refrain from using any 3rd party hosting services for supplemental information about your reconsideration request.

If you have used any link building programs, private blog networks or link networks in the past, highlight this in your reconsideration request.
Do not repeatedly submit your reconsideration request. Follow ups from the Search Quality Team can take anywhere from a week to a month.
If you need more help with your digital marketing efforts, be sure to schedule a free 25 minute marketing assessment with us.
What you should do now
Whenever you're ready…here are 4 ways we can help you grow your B2B software or technology business:
Claim your Free SaaS Scale Session. If you'd like to work with us to turn your website into your best demo and trial acquisition platform, claim your FREE SaaS Scale Session. One of our growth experts will understand your current demand generation situation, and then suggest practical digital marketing strategies to double your demo and trial traffic and conversion fast.
If you'd like to learn the exact demand strategies we use for free, go to our blog or visit our resources section, where you can download guides, calculators, and templates we use for our most successful clients.
If you'd like to work with other experts on our team or learn why we have off the charts team member satisfaction score, then see our Careers page.
If you know another marketer who'd enjoy reading this page, share it with them via email, Linkedin, Twitter, or Facebook.