InboundTO 21 Recap: How to Create Amazing Landing Pages
Last updated: November 24th, 2014
On November 20 2014, the 21th InboundTO event took place at the BNOTIONS headquarters in downtown Toronto. This month's InboundTO played host to lively discussions and presentations o "How to Create Amazing Landing Pages that Actually Convert."
What an awesome night of landing page fun. Firstly, a great big thank you to Tim Paige from LeadPages to join us (virtually) and teaching his landing page secrets. Secondly, another, if not just as big of a thank you to all that attended. It is extremely rewarding to see new faces, and the regulars, month in and month out, which is why we went out with a bang for our final 2014 InboundTO Meetup.
Tim Paige | Lead Pages Conversion Educator
Tim Paige (all round top bloke with a beard to match) was first up, and from the start he had us all captivated and excited. With some great actionable tips, he was highly focused on creating the greatest impact with the least amount of effort. These were to focus on the two key pages for lead generation: the resource page and thank you page.

We have included his entire presentation here, so check out the entire video for his thought leadership and tips and tricks to get you greater conversions! Click here to download Tim's deck.
Joel Popoff & Goran Popavic |  The Ultimate Marketing Team at Powered by Search
Joel and Goran continued the night with more actionable content, giving the 6 key elements of Successful Landing Page. Check out their slide deck here:
Matthew Hunt | Digital Genius and COO of Powered by Search
Our final presentation of the night was a more personal touch, giving our meetup audience the opportunity to have their landing pages audited by our COO Matthew Hunt. This actionable end of the evening gave everyone a real life experience of how to take their low converting landing pages and make them successful – while getting some quick hints on SEO and generating traffic.
Concluding an amazing 2014 of InboundTO
Our final InboundTO of the year couldn't have been a better send off, especially with the amazing comments we received after the event.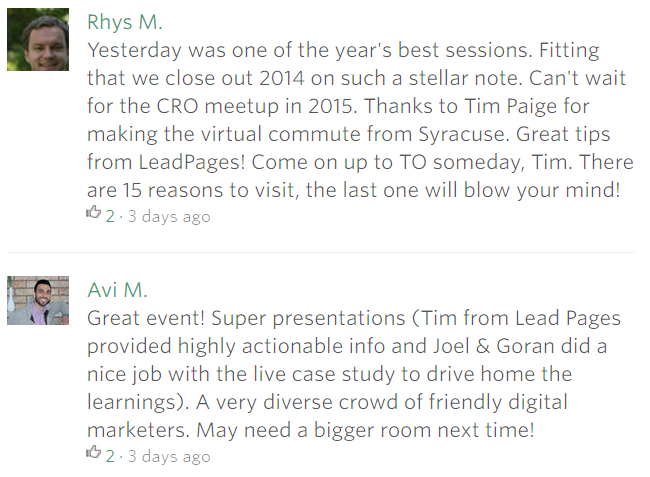 With 21 meetups under our belt, and over 1000 members (and growing) we aim to make InboundTO bigger and better next year. We look forward to bringing you more value in the future, but if you require help with building up a perfect landing page, or any other digital marketing help, please contact us and get your free 25 minute marketing assessment.

What you should do now
Whenever you're ready…here are 4 ways we can help you grow your B2B software or technology business:
Claim your Free SaaS Scale Session. If you'd like to work with us to turn your website into your best demo and trial acquisition platform, claim your FREE SaaS Scale Session. One of our growth experts will understand your current demand generation situation, and then suggest practical digital marketing strategies to double your demo and trial traffic and conversion fast.
If you'd like to learn the exact demand strategies we use for free, go to our blog or visit our resources section, where you can download guides, calculators, and templates we use for our most successful clients.
If you'd like to work with other experts on our team or learn why we have off the charts team member satisfaction score, then see our Careers page.
If you know another marketer who'd enjoy reading this page, share it with them via email, Linkedin, Twitter, or Facebook.