Years ago I read a post on a (ahem) webmaster forum. The premise of the post was that if, for the rest of the author's life, he could use only one link building method, which one would he choose and why?
His answer was guest posting. Anthony Pensabene reminded me that this was still hugely important:

The question has stuck with me as the most hard-hitting question I could ask to discover a given SEO's methods.
I wanted to know what Anthony Pensabene, Vinny La Barbera, Alessio Madeyski, Rand Fishkin and Dharmesh Shah do to gain links. So I asked them!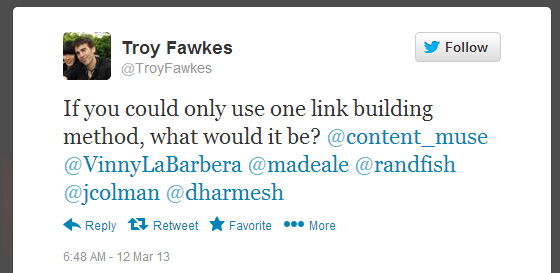 I'll include some of their answers below.
But more recently I had a chance to chat separately with Brendan Soucie of Demac Media and Geoff Kenyon of Distilled about link building.
Hopefully the answers from Twitter and the conversations with these awesome SEO Specialists will be enlightening.
First I'd like to introduce Brendan Soucie and Demac Media, in Brendan's words.
Demac Media is an award winning eCommerce development agency based out of Toronto. As the largest Magento Gold Partner in Canada, Demac was awarded the 2011 Magento Partner Excellence Award, which placed the company among the top 10 Magento Partners worldwide. We specialize in Front End Design and UX, Web Development and Back End Systems Integration. I am the Search Engine Marketing Coordinator, my primary role is working directly with our merchant partners on their PPC Campaigns and SEO efforts.
As well as Geoff Kenyon and Distilled, in Geoff's words:
Distilled is a full-service online marketing agency. We help people with their website's optimization and content marketing, link building, PR, PPC, and CRO. I'm a Lead SEO consultant – I do everything from the planning and strategy for a project to the execution.
There isn't just one answer.
Both Geoff and Brendan started off a little hesitant to answer the main question. And this makes sense. A full service SEO has a lot of link building methods at their disposal.
Brendan: The one link building method we would use for Demac Media is pretty standard, but then of course there's link building for eCommerce sites which is a whole other story.
Geoff: I think it really depends on the situation and what the company's strengths are. At the highest level, it would be 'do awesome stuff' but this can look so different for different companies. You should play to your strengths and your niche. … Is that too general? I have some specifics…Do you want me to commit?
How does Brendan Soucie build links? Relationship SEO!
Brendan: We build all of our content through our blog where our Developers write specifically about Magento Development, I write about SEM and SEO, Katie [Hudson] will publish everything eCommerce related. Since Magento is a huge community of developers, we'll share that stuff through Reddit, Twitter, Facebook, LinkedIn etc… And we target other devs who face the same challenges.
Brendan: As for Katie and I, we've seen a lot of success by networking, meeting people and building relationships. Katie does it a lot through Social Media, but our Meet Ups have definitely helped, hence you and me connecting for your previous post [Ed: Three Must Have SEO Tools].
Brendan: We call it Relationship SEO.
Brendan: So basically to answer your question, if we had 1 way, it would definitely be to build relationships online and offline, meet the faces behind the scenes and make a good impression on them, for us at least that has been a great way to get Quality links.

I took Brendan's answer to mean that there're two facets to building links: having excellent, specific content to link to, and building relationships with the people who might be interested in linking to it.
Troy: Building relationships by itself doesn't guarantee a link; is there a specific goal with some relationships? Do you go in with a project in mind or does that kind of just happen?
Brendan: I think we've been fortunate enough that it kind of just happens. Like you for example, you had an article you were writing, and I happened to be a good candidate to contribute. Since we are very niche and focus on eCommerce, specifically Magento Development, you're right that building relationships doesn't guarantee a link, but since we are so engaging, and really do engage with people in the Digital World, people always recognize opportunities to write something for us, and we do the same.
Brendan: Another good example is with Dx3, the Digital Trade Show, I read a post that their content manager who I went to high school with wrote, we ended up meeting up and I introduced them to our company, and as they were going through talks about attending/exhibiting, Katie offered guest spots on their blog for spots on ours and built that out around that relationship.
Troy: I'm jealous of you guys going to Dx3 by the way, I was completely out of the loop on that.
Brendan: Haha next year man. Btw I can intro you to their content manager once they are back from the grave, they are just picking themselves back up from the show. He is always looking for opportunities to work with people creating valuable content.
Brendan: See, right there, relationship building and networking! Now back to your point: that doesn't guarantee a link lol.
Brendan: That's where this method does lack though, you can get quality links, but quantity is tricky.
Demac Media is a great organization and they do very well by their friends. I think the worry about quantity of links is slightly misplaced; the links that they do get are fantastic. They have an excellent relationship with the community of developers around Magento and eCommerce which provides them very targeted, if less powerful, links.
Personally I've been approaching the relationship aspect of link building the same way, though I actively build projects within my network as well. For example, I spoke to a large group of experts who I've been following for a while to put together an SEO Tools post that did fairly well. I'm creating this post with the input of almost ten people in my network.
How does Geoff Kenyon build links? Publishing Valuable Content.
Content is King… Right, we've been over that! So what's valuable about Geoff Kenyon's content?
Geoff: In most cases, I would choose publishing valuable content. Creating content that adds something interesting or useful to the web – I think typically the best way to do this is by utilizing data.
Geoff: Kane Jamison did a presentation and wrote a post about this but you should be leveraging what assets you have to create content other people can't. This can be data that you have from your userbase, research you've done through a service like AYTM, or compiling data from different sources to make something more complete or it can be simply experience – If you've been doing something for a while, odds are you can contribute a lot of value by sharing your experienced based opinion.
Troy: I've been thinking a bit about using analytics data and such for building content, but I'd never heard of AYTM. Have you used them before? Could you walk me through that?
Geoff: AYTM stands for Ask Your Target Market. They let you create your own surveys and have their (huge) panel. They have used it to create a lot of infographics in the past, here's an example: Angry Birds Addiction. Using AYTM you can survey people to get data if you can't find it any where on the web.
Troy: So excellent, data-driven content. Why that instead of anything else?
Geoff: If you're arguing something, it will be easier to convince people you're right. When people argue the same point in a blog post down the road, it gives them credibility to mention a data source (which is you since you created the data).
Geoff: Basically it gives you more credibility and will likely lead to links down the road.
Here I'm thinking back to what Anthony had said, "It would be providing guest content.. not just written..but video, audio, infographics, etc.." To me that also meant putting the same effort you put into your own content into guest posts.
Troy: Is this content usually posted on the client's blog or do you guest post with it?
Geoff: Putting it on your own blog is the best thing to do. You want to be associated with the data. You want people to see you as the one doing research in your field or providing new insights. And you want to be the one they link to down the road.
This makes a lot of sense. If I'm creating reference material for my industry, I want my brand, my site and myself to be associated with it. If it's tangentially related, I might feel more comfortable guest posting about it; for example travel is something that I enjoy and know a bit about, but it's not a service that Powered by Search provides or that I'm interested in financially, so I'd feel comfortable creating data-driven, viral content for someone else's website in the travel niche as a guest post.
I wanted to push Geoff a bit further to see what kinds of content he considered exceptional since the last person I spoke to about content was Jonathon Colman whose take on the idea was slightly different.

Structured, quality content experiences backed with data sounds great to me. But what makes a piece of content successful?
Geoff: I think you need three things: good content, credibility, and reach/distribution.
Geoff: Having good content isn't enough, you need to have credibility to speak from. You mentioned Rand earlier. He has credibility that he's built over many years. People trust what he writes. But credibility doesn't always have to be experience, you can lean on data as your credibility.
Geoff: Finally, you need to be able to get your content in front of people.
Geoff: If have a really strong site or blog, great, there's your reach. Likewise, if you have a strong social presence, you can leverage that to get people to see your content
Geoff: If you don't have those things, you have to either create them, or get people who already have that reach/distribution to share your content.
Troy: So if you don't have reach, you need friends who do?
Geoff: Exactly.
So what goes into creating successful content is:
A structured, quality content experience
Credibility
Distribution
We've all heard a lot about content experiences, but credibility is a little less well-covered.
Rand is well known in the industry and you hear his name everywhere; Data obviously grants credibility as well. Having credible organizations vouch for you is another way–PROFIT vouched for Powered by Search. Being a leader and organizer in the industry, especially in the "real world" breeds credibility–Distilled hosts a couple of big events including SearchLove in Boston. And as much as I personally see us moving away from print news, it's still nice to have a vote from the Globe and Mail: Powered by Search, "Inbound Marketing: the Customer Finds You".
How do you distribute content?

Troy: I want to get back to what Rand said; he just hits publish. That made me think a lot about distribution and having our own list. Obviously we have followers and people who like the Powered by Search brand, but not nearly as many as Rand and SEOMoz do. I imagine Demac would love a huge list as well. Is building that following a big focus for you guys?
Brendan: That's what we are hoping to do through our Meet Ups and Events. Katie really puts a lot of time into it. I love how Rand says he just hits publish lol, but my favourite post he ever did was when he was about to hire SEOMoz's 100th employee so he was reflecting on the early days, working 24 hours a day, running around meeting new people, developing new ideas etc. So Rand built an SEO mafia. We want to do the same for eCommerce.
Troy: With a little help from your friends?
Brendan: Haha with a little help from our friends.
Troy: Goeff, any tips on getting people to distribute content for you?
Geoff: Help people out, do favors for them.
Geoff: I think Rand talks about this in his White Board Friday.
Troy: So if I come to you as a new client with little existing distribution to leverage, but a content strategy seems like the best bet, what are the steps to implementing your strategy?
Geoff: Start by building great, data backed content – This is the foundation of the other two elements.
Geoff: Then work on establishing your credibility and reach – a lot of activities will benefit both of these.
Geoff: Do things like speaking at meetups/conferences, reaching out to more influencial people on social networks, and building trust there, and doing whatever you can to meet people in your industry (when you do this, take a genuine interest in them, don't just think of them as using them to do something to benefit you. If you don't people will see through you).
Troy: Yeah I think that's a valuable lesson.. Anthony Pensabene (whom I stalk on Twitter) gave me the same advice at a time where I really took it to heart.

So what one link building method is the best? I don't know. But the experts I've spoken to recommend creating excellent content; building relationships and credibility; and having and using large distribution channels.
The last thing I'd like to add to this post is Alessio Madeyski's response:

Alessio translated an awesome, free book from English to Italian so that it could affect the education system in Italy. It got him a link from Seth Godin, but it also got him a lot of respect for having done something great for people.
Hopefully you've gained something from this article.
You can follow Brendan Soucie at Demac Media and subscribe to Demac Media's Twitter feed. Keep up with Geoff Kenyon at the Distilled Blog, on his Twitter feed or on Geoff's personal website.
Of course I want you to keep up with me and Powered by Search as well! Subscribe to our RSS feed, check out what presentations we're brewing on the Powered by Search Slideshare, or follow Powered by Search on Twitter.

Don't let your competitors leave you behind, have a Free 25 minute marketing assessment with us.