Guide To Rank For The Google Answer Box
Last updated: March 8, 2019
Often referred to as "position zero", the answer box is a rich snippet feature by Google which provides an immediate answer to a users question appearing above the search results.  The answer box is selected from one of the results on the first page of Google which best answers the question asked. Within this article, we will provide guidance and tips that we use today on how to rank for the Google answer box.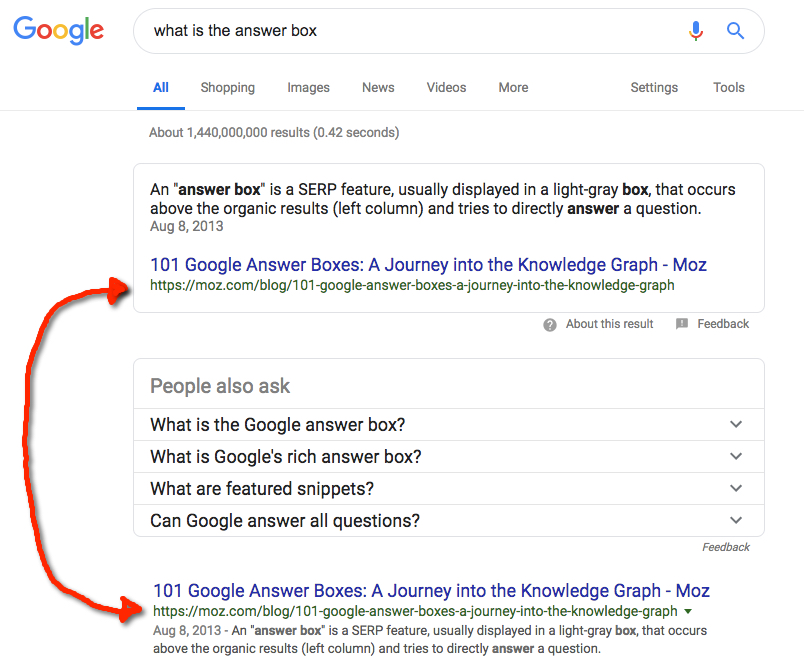 Why do we want to rank for these answer box queries?
Simply put, by ranking for the answer box, you can generate more authority and organic traffic to your website.  Owning answer box queries is a positive signal from Google which implies that your website has the best possible answer for users searching a question or term according to their search algorithm.
How can you rank for the Google answer box?
Unfortunately, there is no exact formula to rank for the Google answer box.  However, there are certain steps that you can do which will give you a better chance.  Of course, it depends on the keyword. These steps include:
Target complex keywords that are obtainable
When strategizing for the answer box, it is important to select keywords that are obtainable as certain keywords will be just too competitive. Sometimes, they will be owned by official sources and brands.  For example, it would be near impossible to rank for the keyword, "can you download netflix" since the answer box is owned by Netflix themselves and links to their help page.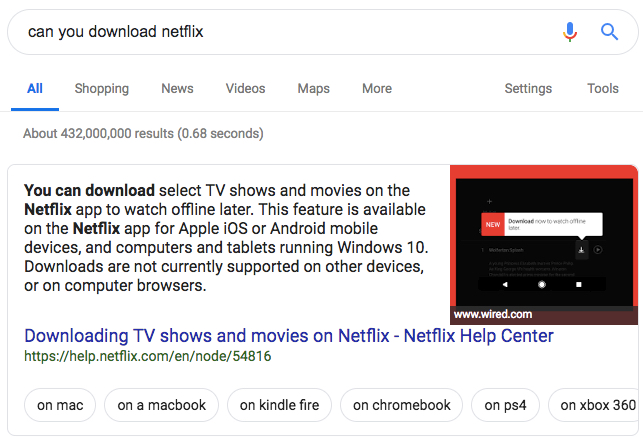 You also want your keyword to be complex enough that it will force people to click through to your website wanting more.  If the question & answer are too basic, people will consume the result on the SERP page and have no reason to take the next step and visit your page. This is the main reason why some people do not try to rank for the answer box because they feel as if it can steal your website traffic.
Other factors like search volume, keyword difficulty, and backlinks will also play a factor when trying to rank.  Picking competitive keywords with high volume will always be harder to rank for as well, and that is why selecting low hanging long-tail keywords will have a higher obtainment rate. To find out how competitive a keyword is, use a tool like Ahrefs, SEMRush, or a free tool like Google Keyword Planner. 
Your content must logically answer the question in detail
Google has consistently stated that they want to serve the best results to its users time over time. If you pose a question within the body of your content, an answer should immediately follow the question and be as concise as possible. There is limited real estate in the answer box, so the more concise, the better.
Sometimes content is designed to pose a question, but not reveal the answer until much further down the body of the content.  In these scenarios, it will be harder to rank for the answer box.
Your answer must also be accurate.  The amount of misinformation on the internet is becoming a big problem, and Google has recognized this. If they decide that your answer is misleading, inaccurate, or not complete, say goodbye to your chance to rank in the answer box, but also on the front page as well. 
*TIP* A good way to prove your information is accurate is to reference authoritative external sources to reinforce your answer.  You can do this by linking to these sources within your content.
Use structured data and formatting
There are three big types of answer box results which you can use different formatting techniques to strengthen your content:
Paragraph answers
List answers
Table answers
Paragraph answers are the most common form of answer box snippets.  Formatting and optimizing your page is very important.  I like to use a combination of formatting techniques to ensure success.  For example, having your keyword in your page URL, page title, and page headers are key.  
When you have your keyword listed in these places, such as a page header, you are helping Google understand what your page is about.  Kind of like a chapter in a book. 
List answers are another type of answer box query that Google loves to display.  I have had great success ranking for these types of keywords by using consistent and well-structured formatting.  
For example, let's examine the keyword: what is the best alternative to cable.  This is a question which will yield multiple results based on varying factors like price, accessibility, quality, etc. These types of answers can easily be tailored into a list style post.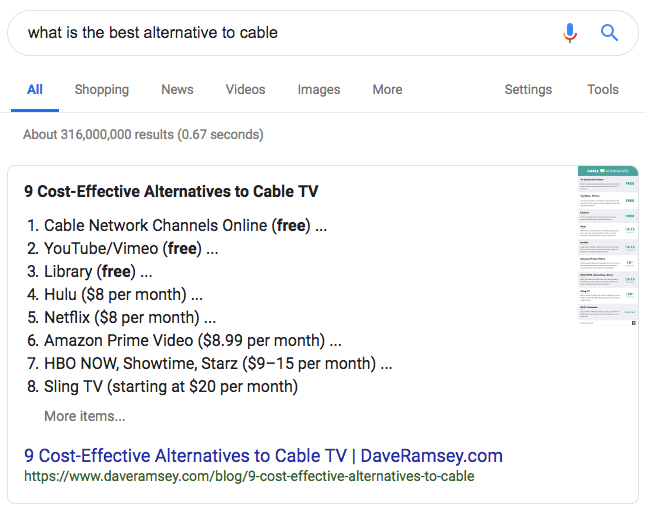 The website which owns this answer box did a great job of optimizing the list to not only give alternatives to cable, but also gave another piece of information which might be more important: the price.  The author of the page used H2 headers for each numbered list item that named the service, and the price, giving two bits of information in one line. Following the H2 header is a descriptive explanation as to why this service is a good alternative to cable.

*TIP* With list-style answers, create an image to accompany the list.  An infographic which can clearly depict the content of your list is a great idea.  If you can condense the information on the page into a graphic, people can easily share it across their network.
Table answers are similar to list answers in the sense that they depict a series or matrix of information in a structured format.  To optimize for table answers, ensure that the first row displays a category, and the data properly aligns within each column.  
A description or caption with a strong header should appear above the table describing what it is very clear.
Use Google features to help identify search trends
There are many features embedded within Google that we often overlook. These features can give us great insight into what people are searching for and what is trending, rather than leaving it to guesswork or by using robust SEO tools.   
Google autocomplete: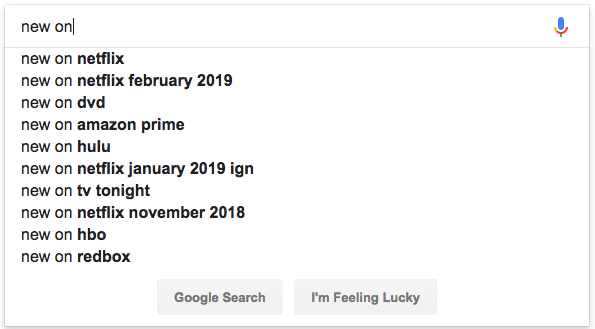 This feature uses a variety of factors to serve you results as you type into the search bar in real time:
Search terms (what you have initially started to type)
Previous searches (if you have Web & App Activity enabled)
What is currently trending based off

Freshness
Popularity
Searches within your proximity
People also ask:

This section of Google is meant to show you questions and answers for queries closely related to your search.  The questions expand like an accordion to show their answers, and new questions will continue to populate as you open them.
If you are building content around a topic and need ideas, this is a great feature because it will give you unlimited relatable questions you can incorporate.  
Searches related to your keyword:

The list of searches related to your query can also help generate ideas around what people are also searching for.  Clicking these results will bring you to a new SERP page with a new set of results. The related searches can be found at the bottom of the search page.
Crush it with your content
Let's face it, in order to rank in the top positions, you need content that goes the extra mile.  It's difficult to outrank people if their content is superior.
Supporting your answers with an array of formatting techniques, images, videos, and social media embeds are some of the key things we have used at Powered By Search to make that killer content that ranks.
As mentioned in the previous section within this article for using structured data and formatting, how you lay out your content is critical.  It has to be easy on the eye and consumable so people can skim your post, and find the information they are looking for with little difficulty.
Adding a table of contents to the top of your page, lists (either numbered or bulleted), strong headers, and bolding/underlining keywords you want to stand out will all help. Making your paragraphs short and digestible also helps with readability. 
Images should also be properly optimized to depict what your content is referencing.  Use keywords in your filenames for your images, make sure they have accurate ALT text/captions, and of course make sure your image is compressed.  Using custom images will always be better than using stock photography as well.
*TIP* Social embeds are highly consumable.  People eat them up like hotcakes and will help keep people on your page and interested.  Social media is highly addictive, and people can't help but gravitate towards reading opinions and facts from verified accounts.
TFW you get that #Google answer box you've been optimizing for the last three months. #SEOLife #contentmarketing pic.twitter.com/JkjGZU8YpV

— Conductor (@Conductor) April 5, 2018
A final secret tip for you to rank in the Google Answer Box
This final tip is a bit of a secret which I haven't shared with too many people and have had great success with.
Target answer box keywords that are owned by Wikipedia.  My theory is that since the information can be questionable and subject to edit by just about anyone, Google does not love using Wikipedia in their answer box.  Google would rather display an answer coming from an official source or from a page with accurately researched and sourced information.
I thought about this concept when I saw my friend James was listed as one of the best basketball players of all time from Canada on a Wikipedia page.  This was blatantly not true, but the edit stuck around for months before it was finally corrected.
How many times has a teacher said to you, do not use Wikipedia as a source for your research? If it is frowned upon as a source academically, chances are Google has a similar opinion.  
Got banned from Wikipedia for making all the verbs on the Ray Romano page hypothetical 🙁 pic.twitter.com/MzwufmB8p6

— Mike Rosenthal (@VectorBelly) January 5, 2016
Need help with your answer box content strategy?
If you are still stuck implementing or coming up with ideas to rank in the Google answer box, contact us to see how we can help you.
What you should do now
Whenever you're ready…here are 4 ways we can help you grow your B2B software or technology business:
Claim your Free SaaS Scale Session. If you'd like to work with us to turn your website into your best demo and trial acquisition platform, claim your FREE SaaS Scale Session. One of our growth experts will understand your current demand generation situation, and then suggest practical digital marketing strategies to double your demo and trial traffic and conversion fast.
If you'd like to learn the exact demand strategies we use for free, go to our blog or visit our resources section, where you can download guides, calculators, and templates we use for our most successful clients.
If you'd like to work with other experts on our team or learn why we have off the charts team member satisfaction score, then see our Careers page.
If you know another marketer who'd enjoy reading this page, share it with them via email, Linkedin, Twitter, or Facebook.