What do you do when your consumers don't think this is a great time to spend? Do you resign yourself to a bad quarter? Do you throw yourself at them desperately with steep discounts and aggressive advertising?
Here's a more viable strategy: let me tell you what your customers are thinking and feeling, what they're actually doing right now, and how best to reach them in light of their mindset and actions.
Nielsen's Consumer Confidence Report
Consumer and market research company Nielsen has recently released its "Consumer Confidence – A Canadian Perspective, Q2 2013" report. Canadian consumer confidence is down four index points since the first quarter of 2013, but don't start slashing your inventory just yet – consumers are also spending more.
The details of Nielsen's report are outlined below to help guide your retail and marketing decisions.
Lower overall consumer confidence
From Q2 2012 to Q1 2013, Canada's consumer confidence level rose from 94 to 102.
Consumer confidence dropped to 98 in Q2 2013, down four index points since Q1 2013.
A score of 100 indicates a neutral level of confidence, while numbers above and below 100 reflect optimism and pessimism respectively.
More optimism towards recession and employment
47% of Canadians said they believed the country was in a recession, as opposed to 50% at the same time last year.
51% responded that job prospects were excellent or good, versus 50% last quarter. Additionally, 41% rated job prospects as bad or not good, down from 43% last quarter.
The increase in positive perception reflects a positive reality: the most recent data from Statistics Canada indicates that August saw a 59,000 increase in employment numbers, and an average of 12,000 per month over the last six months.
Canadians more pessimistic about spending… but continue to spend
When asked whether now was a good time to purchase the things they want and need given their current financial situation, only 42% of Canadians said yes.
The number of Canadians who felt their finances were good dropped from 60% last year to 51% this quarter.
40% of Canadians are using their spare money to pay off debt, versus 25% of global respondents and 30% of US respondents.
Although six in ten Canadians say they have altered their spending habits to save money, in nine out of the fifteen polled cost-cutting strategies, less Canadians are cutting back: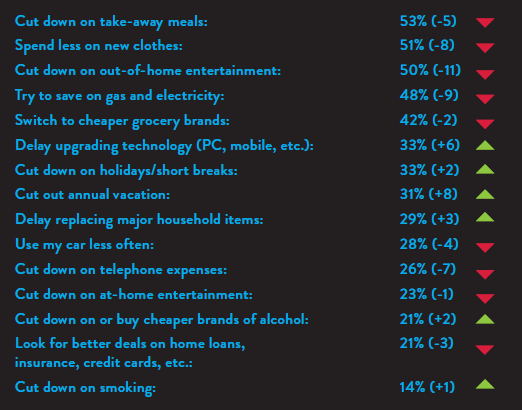 Online sales on the rise
Digital marketing is a retailer's friend when it comes to capitalizing on Canadians' willingness to spend. In its "Canadian Online Retail Forecast, 2013 To 2018," Forrester outlines the state of retail sales, currently valued at C$20.6 billion, and predicts a 37% increase in online spending for a total of C$33.8 billion by 2018.
Forrester lists five sales categories as accounting for half of the money spent online:
Clothing and accessories
PCs
Consumer electronics
Event tickets
Groceries
Is your digital marketing strategy allowing you to benefit from that boom in online sales?
How to increase online sales
Retailers in one of the above five areas seeking to compete with giant retailers, as well as retailers in other areas seeking to tap into the online sales market, can do certain things to attract Canadian customers to their online stores.
In another report titled "The State Of Canadian Online Retail — 2013," Forrester identified certain factors inhibiting Canadians from purchasing online from Canadian retailers. Below are some of the common problems and solutions you can apply to increase online sales.
Cost
68% of Canadian online shoppers said that shipping costs were too high in Canada.
62% said price was the main factor influencing their purchases.
Solution: The obvious thing to say would be "Lower your shipping costs." If only it were that easy. Canadian geography is partly to blame for this problem. Having a relatively small population spread out over a huge stretch of land makes it difficult for retailers to open shipping centres in different parts of the country – the smaller number of customers in each region just doesn't justify the cost. Instead, you can focus on addressing the other major issues with your online store, the ones that drive Canadians to other websites even when it means paying more.
Online infrastructure
37% of Canadian online shoppers said Canadian online stores are too difficult to navigate.
32% of these ended up purchasing from US retailers, despite the higher shipping and duties costs.
Solution: You can have the best prices on the internet, but it won't matter if your customers can't find what they are looking for. Don't just focus on getting traffic to your website! Effective SEO means focusing on your customers, optimizing their experience, and making sure your website is designed for easy navigation. Aesthetic appeal helps, too.
Omnichannel strategy
65% of Canadian online shoppers said the ability to return in-store the products they purchased online was an important or critical factor in deciding whether or not to purchase.
61% said being able to view in-store products online was important or critical.
Solution: If you want to push the envelope of your retail process, having a good digital strategy means more than having a stellar website. It means making sure your digital marketing strategy is effective across all channels. That means on mobile, social media, and in-store, too. The luxury fashion brand Burberry saw an 18% increase in sales in Q1 2013. Burberry also happens to have designed clothing and accessories with tags that can be scanned in-store by a mirror or with a mobile device, triggering a video showing how a given item was manufactured. Their in-store representatives are armed with iPads and the company has a very active social media presence, not only on Facebook and Twitter but also on Chinese social media sites.
QR code walls are another emerging cross-channel digital marketing technique. In waiting areas like public transit stops and airports, images of different products are displayed on a wall, each accompanied by a QR code. Customers can use their phones to scan the code for the products they wish to purchase, and the items are delivered to their home. The practice was initiated by Tesco in 2011 in South Korea and has since been adopted by retailers and manufacturers throughout the world, including giants like Walmart, Procter & Gamble, and Mattel.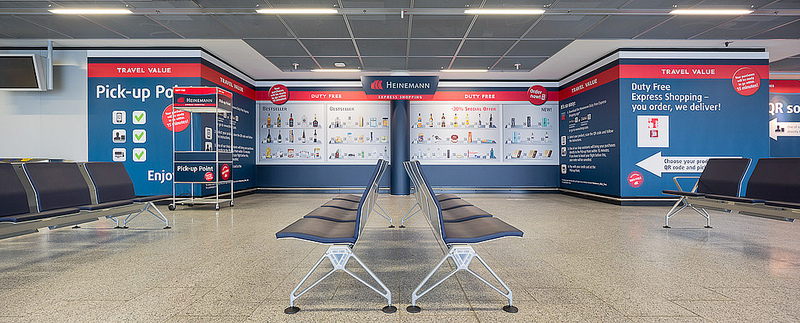 Making shopping easier, more interactive and more engaging, regardless of the channel, are key factors in turning visitors into customers.

Don't let your competitors leave you behind, have a Free 25 minute marketing assessment with us.