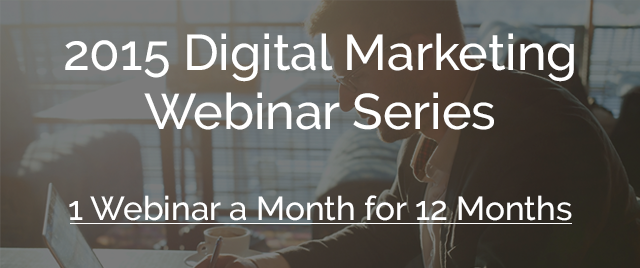 We're excited to team up with some of the industry's biggest stars to bring you our first ever Digital Marketing Webinar Series. Tune in starting on January 29 to see expert debates and discussions about the hottest digital topics ranging from SEO to remarketing.
The Format
The 2015 Digital Marketing Webinar Series will feature a total of 12 webinars, covering the latest trends and talking points such as: multi-location SEO strategies, PPC & social media budgeting, the power of native advertising, and so much more!
Date & Time: the Digital Marketing Webinar Series will be hosted on the final Thursday of every month at 2:00 PM Eastern, starting on January 29.
How much: all of our webinars will be free to attend, so register now to reserve your spot before it's too late.
Each webinar will play host to 3 – 4 industry leading experts in their respective fields.
SEO for Multi Location Businesses
Webinar Experts
Bryan Eisenberg
Bryan Eisenberg is an internationally recognized authority and pioneer in online marketing, improving online conversion rates, persuasive content, and persona marketing. Bryan was been recognized by eConsultancy members as one of the top 10 User Experience Gurus, he was selected as one of the inaugural iMedia Top 25 Marketers, and a Marketing Edge Rising Star Award winner in 2010.
George Freitag
George started out as an online writer in 2007 and has worked professionally in SEO since 2008. Since then, he has written for various sites about SEO, spoken about online marketing, and even created a few free SEO tools. He has a strong focus in local search, having worked with over 1000 small businesses across the U.S. and Canada.
Eric Enge
Eric Enge is the lead co-author of "The Art of SEO" (along with Stephan Spencer, and Jessie Stricchiola. Eric writes for Forbes, Search Engine Land, and the Digital Marketing Excellence blog, and also speaks at many industry conferences. Eric is also the CEO of Stone Temple Consulting, a 45+ person SEO firm with offices in Massachusetts and California.
And don't forget that you can sign up early for all of webinars to reserve your spot. See you soon!