This blog post contains edited excerpts from our free whitepaper: The Ultimate Guide to Inbound Email Marketing. Get the full guide for more details on how to successfully incorporate email marketing in your inbound strategy.
Let's be honest—the words "email marketing" tend to be associated with emails that end up in the junk folder because they are filled with undesirable offers from shady email addresses. Thankfully, the world of email marketing is evolving beyond that into the realm of inbound marketing, meaning marketers are at least learning to target people who have already indicated interest in their company.
But spam email marketing still exists, and some inbound email marketing can be misconstrued as spam when not done properly. In fact, according to HubSpot, in 2012, 70% of spam complaints were caused by marketing emails.
The Ultimate Guide to Inbound Email Marketing
has been designed to help you implement a successful inbound email marketing strategy that targets interested customers in order to nurture leads and strengthen relationships, rather than drive potential customers away.
To get you started, I'll be covering the opening chapter of the guide to help you build and grow your email list.
Building & growing your email list
Doubtless if you're reading this, you already know better than to collect random emails just to reach as large an audience as possible. Building the right email list means valuing the quality of leads over quantity. To build a useful list, you should collect the emails of people who have given you permission to market to them—a particularly important strategy as consumers become expert at tuning out traditional marketing methods.
The clear value proposition
Before we jump into the methods you can use to build your list, there is one crucial point to remember: all methods of list-building must include a clear value proposition designed to appeal to your target market.
Asking people to "subscribe" or "join email list" isn't very enticing. It frames the offer as a plea rather than an offer. It's a lot more powerful to provide a clear incentive by stating clearly what customers will get for signing up. This could be anything, as long as it provides value to your target audience—special email discounts, industry-related information, product updates, and so on.
Another way to build your email list is to provide free content, like whitepapers, webinars, eBooks, or any other valuable content that can only be accessed when consumers submit their email address through a form. Let your visitors know about these offers by posting calls to action on every page, for instance in the sidebar. Make it extra easy by allowing your visitors to sign up without having to navigate away from the page. You could also simply include a "Sign up for email" button that redirects your visitors towards a landing page where your offer is outlined in more detail.
Check out the following example of an email signup offer from Aldo: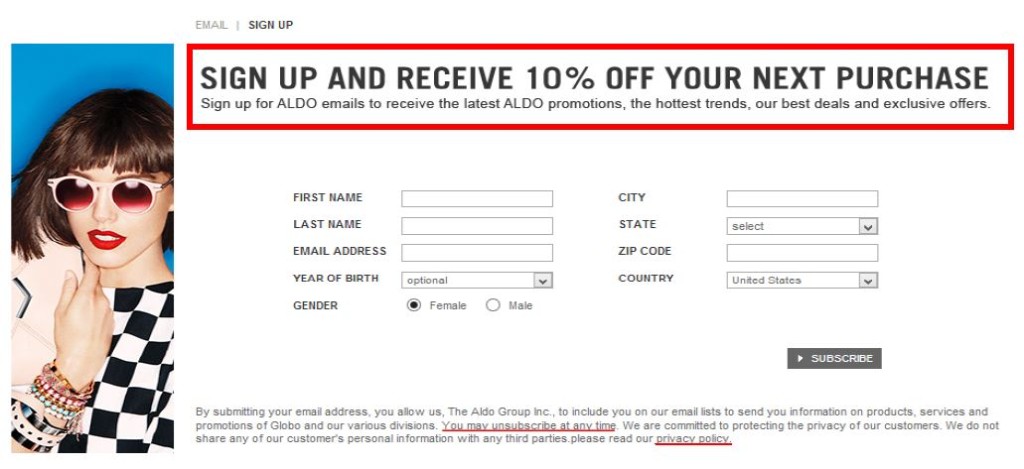 The value proposition is crystal clear: get 10% off your next purchase. Additionally, the page makes clear that customers are free to unsubscribe at any time and it links to the privacy policy. These are factors that help put the customer at ease, making the offer even more enticing. The benefit of getting your visitors to sign up for email through your website is that it converts anonymous site visitors into leads with whom you can follow up.
Get quality leads
It would also help to have your current customers on your email list. New customers cost more to acquire than old ones cost to retain. Don't focus so closely on the cost of a single customer transaction that you lose sight of the entire lifetime value of each potential customer. Email marketing is a great way to nurture relationships with customers until they are ready to purchase again. Additionally, delivering consistently high-quality content to your customers can help them spread the word about your brand.
Getting your customers to register when purchasing products online is another easy way to create an email list of good leads. To avoid people navigating away from the page in their reluctance to sign up, you can make it an optional feature, while also enticing people to sign up by making clear the convenience of having their preferences and information automatically retrieved the next time they check in. No online purchase option? No problem—you can get your sales staff at the register to ask customers whether they would like to sign up for updates, newsletters, occasional discounts, etc.
Take a look at the following checkout example from American Apparel: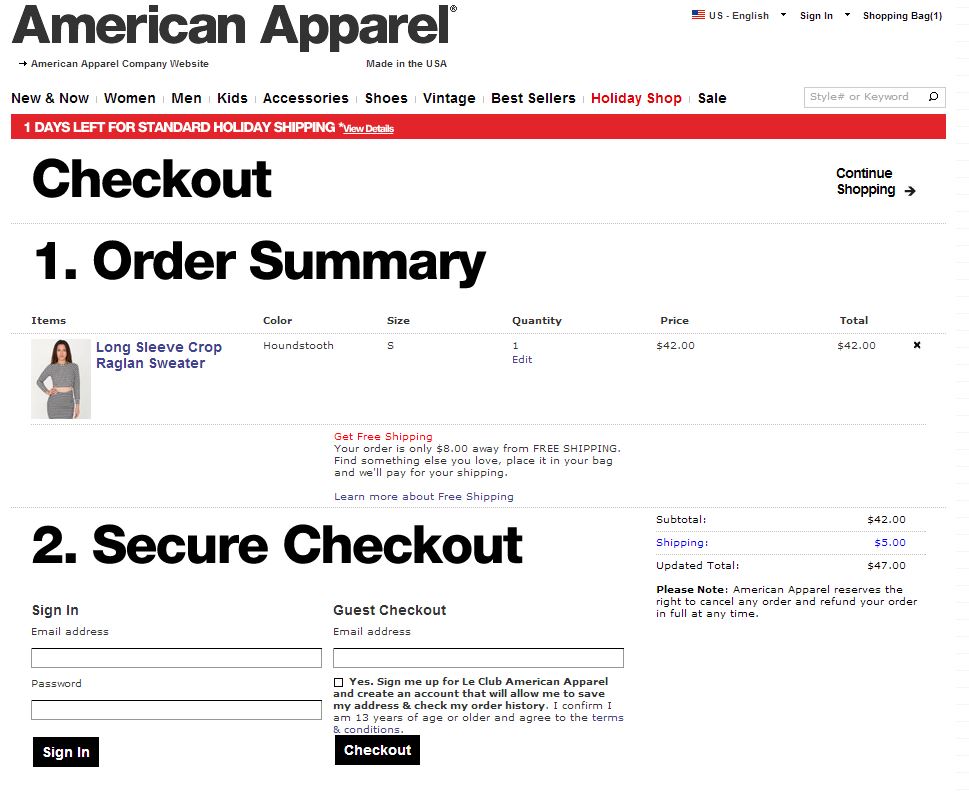 American Apparel offers the option to check out without creating an account, but customers are still asked whether they wish to sign up for "Le Club American Apparel" and create an account to make the checkout process easier next time.
A word of caution on getting quality leads: don't purchase email lists! This goes back to the quality over quantity principle. Better to have a smaller list of highly useful leads than a massive list of uninterested people. Plus, if you send messages to people who have not expressed any interest in your company or your product, you run the very high risk of getting your emails flagged as spam.
Conclusion
By now you know how to use enticing offers to build an email marketing list of valuable contacts. Now it's time to learn how to use it! This blog post covered only the introduction and first chapter of The Ultimate Guide to Inbound Email Marketing. The full guide includes more detailed steps to follow in order to design and implement a successful email marketing strategy. The full guide will walk you through the following aspects of developing a strategy:
Segmenting Your List
Types of Marketing Emails
Measuring Results
Inbound Email Marketing Dos and Don'ts
Download The Ultimate Guide to Inbound Email Marketing and turn your valuble email list into a powerful marketing tool!
The Guide to Inbound Email Marketing was written by Brittney Stephenson.
If you want to learn more about how Email Marketing can benefit your business, have a Free 25 minute marketing assessment with us.