10 Steps to Turn Brand Mentions into Links (#7 is the Money Maker)
Last updated: July 31st, 2014
Turning non-backlinking URLs mentioning your brand is one of the easiest and most effective link building strategies in existence! It's like meeting to a girl who already knows your name and holds a high opinion of you, then asking for a date – expect a high score conversion rate! But you need to find her first…
"Brand mentions are the new links" – You may have watched Matt Cutts' video earlier this month where he states "Google is getting better and better at understanding actual language", and how Google can associate brand mentions with your site's content which may impact search. However, backlinks will continue to play a huge role as a ranking factor for years to come.
Key Benefits of turning brand mentions into links:
Increase authority and search rankings
Establish new relationships
Manage reputation
Audience insights
Follow these 10 steps to turn mentions into links:
1. Benchmark Your Metrics
It's important to measure the outcomes of your marketing effort for on-going optimization, but many of don't have enough time to conduct experiments. So try recording a few basic metrics like:
Keyword Ranks: Number of targeted keywords which moved up vs. down. Use SERPS.
Website Metrics: of the page's you're building links to including visits and conversions.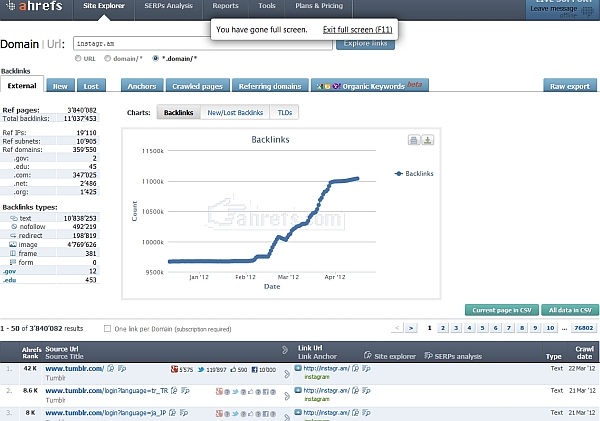 2. Choose Your Weapon
There's many methods and tools available to discover brand mentions online. For this example, I'm using Link Prospector but here are a few more tools:
 3. Construct Your Footprint
Craig's post on SEJ suggests creating advanced searches for a specific type of mentions. This tactic could align with your content strategy to make outreach efforts more effective. Here's a few of them:
General Search Query: "client name" -site:client.com
Blog Posts Mentions: "client name" -site:client.com –site:yelp.com blog OR post
Partnerships, Testimonials, About Us: "client name" -site:client.com -site:yelp.com about OR testimonial OR partnership
Now let's say your brand name is a person who's a dentist. To avoid getting other mentions of people with the same name, add niche related terms into the mix:
"client's name" +dentist -site:client.com
"client's name" +orthodontist -site:client.com
TIP: Use the "~" operator to search for synonyms of the niche keyword as shown below. This will save you from writing multiple queries and cover more synonyms than you originally thought. For example, "client's name" ~dentist delivers these synonyms:

Add Exclusions to Minimize Junk
Excluding social networks prevent non-valuable link prospects from appearing in your search results. Exclusions must be added to the same line in Scrapebox, whereas Link Prospector allows you automatically use exclusions which are setup at the user account and campaign levels. Common exclusions may include: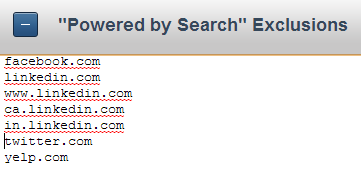 4. Run the Search
In this example, I'll be searching for mentions of our agency, Powered by Search. I've also decided to add "Dev Basu",  our founder to the search to discover those hidden gems. Using Link Prospector, I ran a scrape for those two queries and it's now time to export the URLs. Choose "Export Paths" to get the exact page URLs you'll be building backlinks from and want to monitor in BuzzStream.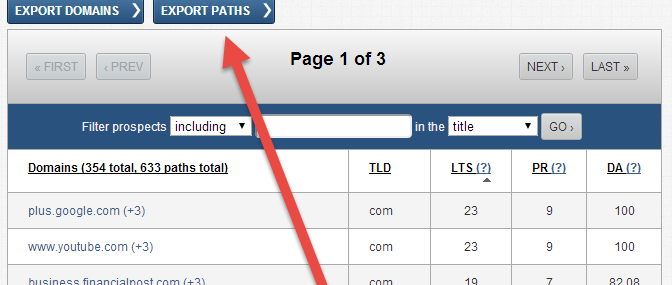 5. Plan Your Outreach Strategy
Who said you need to start with a goal? Our initial goal was to turn unlinked brand mentions into backlinks, but let's get more specific… Let's say our goal is to increase search rank for the following phrases. We should then request links to a page on our domain which is most authoritative for that query, targeted and relevant to the prospects content, right? Here are our targeted keywords and the page we'll build links to:
"SEO agency Toronto" – specific SEO related content, build links to SEO Service page
"Internet marketing company" – general content about internet marketing, build homepage links
6. Analyze & Categorize
Analyzing your mention URLs and placing them into common themes will allow you to brainstorm an outreach strategy. Common themes you may uncover include:
Expert Advice / Quotes from your client: Request a link to the most relevant page / client's bio
Product/Service Comparisons: Offer link to your comparison matrix, prod/service page, updated spec sheet
Testimonials: Sincerely thank them, maybe offer a gift of appreciation
7. Setup Outreach Campaign
For outreach, I'm using BuzzStream, but before you begin, ensure your site and URL structure is SEO friendly and won't be changing anytime soon. Any URL updates or 301s in the future could result in a decreasing your juice flow by 5-10%. Once the project has been created in BuzzStream, enter your domain and ensure you're tracking backlinks to any page.

Now import your CSV.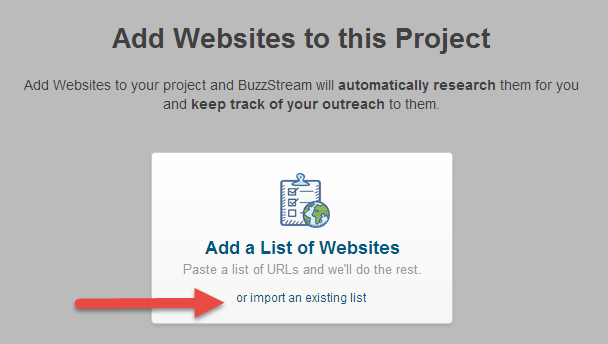 Choose the proper import template: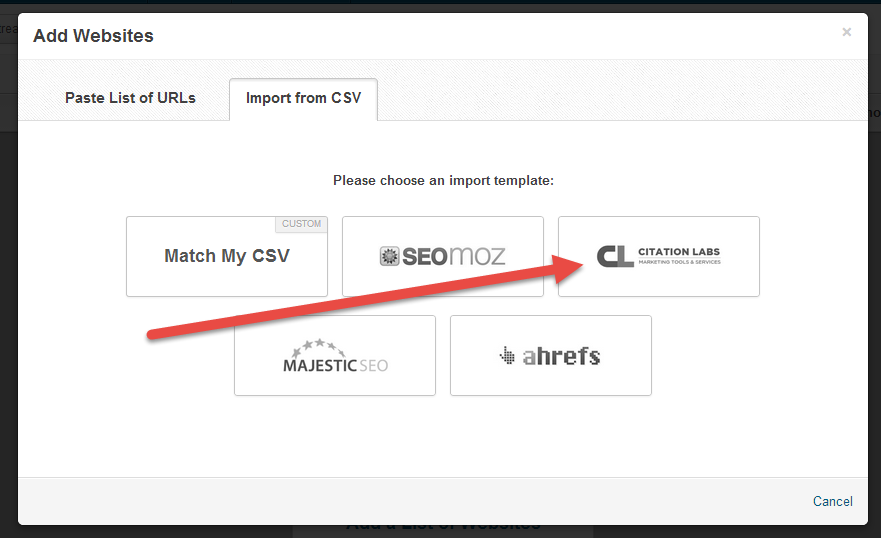 Choose "Paths" then match the fields: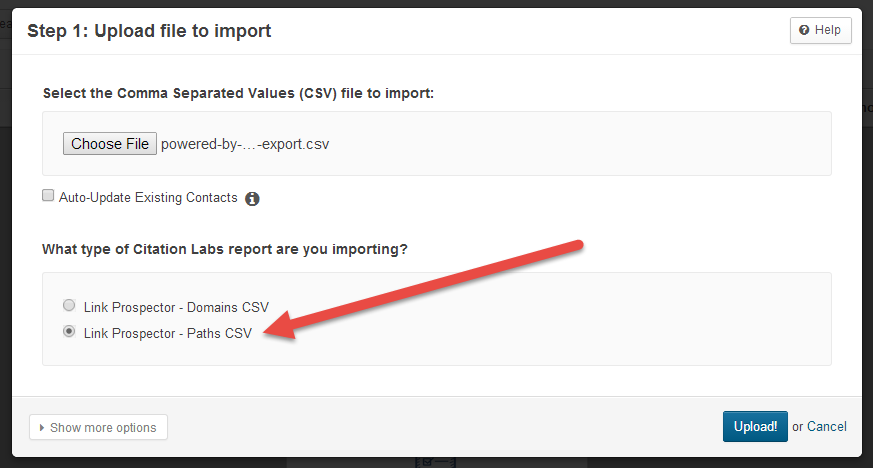 Go to the "Link Monitoring" tab, click "select-all", check the top check box, then click "Check Backlinks":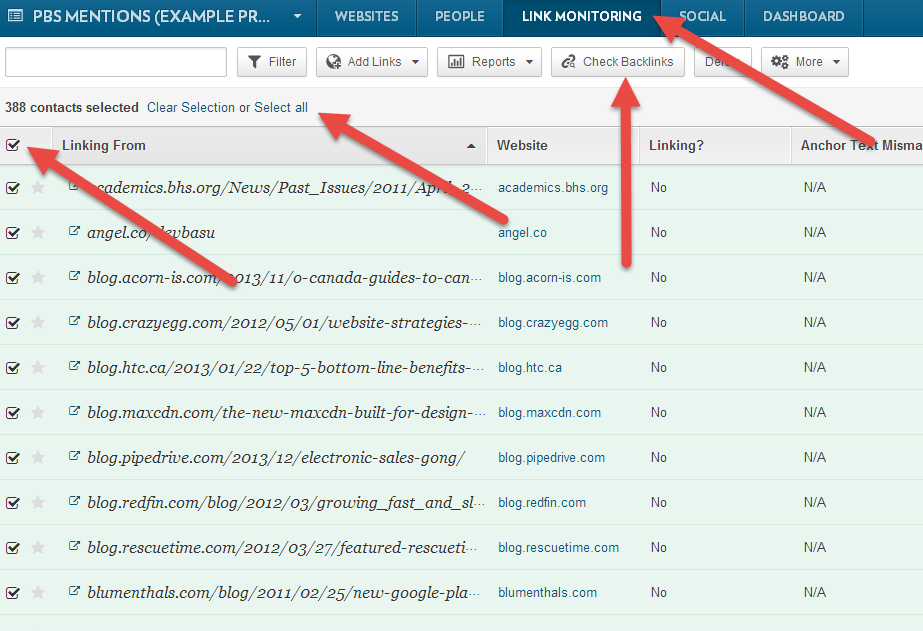 Prioritize Link Prospects: Always go for the "lowest hanging fruit" first to get those quick wins. Filter the list based on performance metrics like:
High DA/PA
Number of incoming links
Low number of outbound links
Relevant content
8. Create Your Outreach Email
Asking someone for something on the first touch is hard, but there's proven ways to get the highest possible success rate. As Neil Patel mentions on his post about email outreach and link building:
Keep the subject lines in lower case letters – I do this because I want the email to seem casual as if a friend was sending you an email.
Be creative – plain, boring emails tend to be considered spam in many cases.
Personalize – you have to include the person's name and the website name in the email so it doesn't come off as spammy.
Of course, there are a lot of other factors that come into play as well, including the perceived site authority, the sender's email address, site look, etc.
9. Review and Contact Link Prospects
Now that you've assembled the strategy, contacts, and email, it's time to get'er done. BuzzStream makes it easy to execute and manage outreach campaigns, keep track of statuses and communication. Check out BuzzStream University to learn more.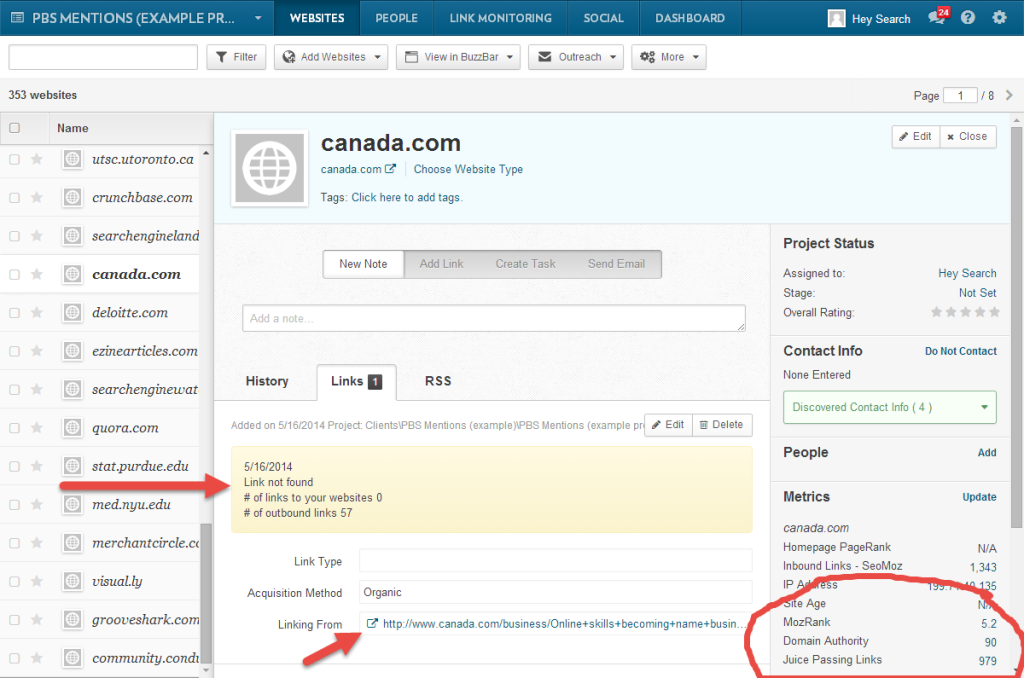 10. Setup Brand Monitoring
The early bird gets the worm – this holds true for so many things in life.  Speaking in terms of outreach and link building, contacting a link prospect as soon as the opportunity first arises ensures the highest chance of success.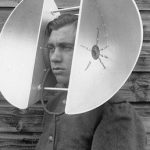 After your initial outreach campaign, setting up a brand monitoring tool (Aka. listening station) is fast and takes little maintenance and optimization. Two tools I recommend are Mention and Fresh Web Explorer. Then, when you receive a new (and worthy) mention, fire it into BuzzStream to get the page metrics and contact info.
Hope this helps!
We're always improving our link building and outreach strategies to gives our client the best service possible. We're also striving to foster a strong Inbound Marketing community by sharing this knowledge. If you have any tips to make this resource better, please leave a comment below!
Want to know more about how we can help your business reach it's goals? Contact us today for a free 25-minute Marketing Assessment!

What you should do now
Whenever you're ready…here are 4 ways we can help you grow your B2B software or technology business:
Claim your Free Marketing Plan. If you'd like to work with us to turn your website into your best demo and trial acquisition platform, claim your FREE Marketing Plan. One of our growth experts will understand your current demand generation situation, and then suggest practical digital marketing strategies to hit your pipeline targets with certainty and predictability.
If you'd like to learn the exact demand strategies we use for free, go to our blog or visit our resources section, where you can download guides, calculators, and templates we use for our most successful clients.
If you'd like to work with other experts on our team or learn why we have off the charts team member satisfaction score, then see our Careers page.
If you know another marketer who'd enjoy reading this page, share it with them via email, Linkedin, Twitter, or Facebook.